Prince Harry: No guest list yet for wedding to Meghan Markle
Asked on a BBC radio program whether he would invite former US President Barack Obama Harry swerved ..
Asked on a BBC radio program whether he would invite former US President Barack Obama Harry swerved the question, saying he didn't want to "ruin that surprise."There has been speculation in the UK media that British officials fear the political consequences if the couple decide to invite Barack and Michelle Obama, with whom they are friends, but not President Donald Trump. Markle, an American actor, has been critical of Trump in the past, and there is already widespread controversy in the UK over the prospect of an official visit by the President to the UK.The wedding is not a full state occasion and the guest list is being drawn up by Buckingham Palace, with the British government in a consultative role. It is not clear whether Downing Street would insist on Trump or a representative being invited, or whether it could block an invitation being extended to the Obamas.The vexed issue came up when Harry appeared as guest editor on BBC Radio 4's flagship morning program, Today, on Wednesday. After a pre-taped exchange between Harry and Obama, the Prince was asked whether his friendship with the former President warranted an invitation to the wedding."We haven't put the invites or the guest list together yet so who knows whether he's going to be invited or not. I wouldn't want to ruin that surprise," the prince said.Harry has become close to the Obamas through their support for the Invictus Games, an event for injured servicemen and women that was started by the UK royal in 2014. The Prince conducted the interview with Obama for BBC Radio 4's Today program while he and the former US President were in Toronto, Canada, for this year's Games. The Prince and Markle, who announced their engagement last month, have set May 19 as their wedding date. The ceremony is to be held in St George's Chapel at Windsor Castle, west of London. UK newspapers have already begun speculating over who might be on the guest list, which could bring together an intriguing mix of British and showbiz aristocracy.The wedding is expected to be a smaller affair than that of Harry's brother, Prince William, in 2011. He and his wife, Catherine, had two receptions in Buckingham Palace: a traditional lunch for over 600 guests, which was hosted by the Queen and included dignitaries and officials, and a more intimate evening party for roughly 300 friends and family.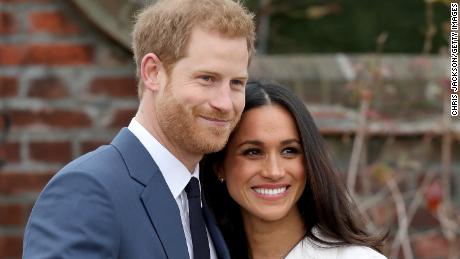 St George's Chapel was most recently the scene of the wedding of Peter Phillips — son of Princess Anne and cousin to Harry — who married Canada-born Autumn Kelly there in 2008.Harry and Markle spent Christmas with Queen Elizabeth and Prince Phillip, as well as other family members, at Sandringham, the Queen's country estate in rural Norfolk, about 100 miles north of London.Asked on air Wednesday how his first Christmas was with Markle, Harry said they had had an "amazing time" and a lot of fun with William and his family. "Oh it was fantastic, she really enjoyed it. The family loved having her there," he said of his fiancee.Related: How much does a royal wedding cost?
CNN's Hilary McGann and Amanda Coakley contributed to this report.
Original Article
The post Prince Harry: No guest list yet for wedding to Meghan Markle appeared first on News Wire Now.
Post-Brexit trade: Is red tape chaos just 'teething trouble' as the UK government argues?
January has seen Brexit set in motion for real — but for many businesses, operations have ground to a standstill as they struggle to shift goods across new borders.
With the UK now outside the EU's Single Market and Customs Union, importers and exporters on both sides of the English Channel say the new rules have brought a nightmare of red tape and extra costs.
Paperwork and border checks have led to seafood being left stranded in ports, and empty shelves in some supermarkets as deliveries failed to materialise.
Supplies from Great Britain to Northern Ireland have also been hit as the need to keep an open land border on the island of Ireland means the North is largely following EU rules.
The UK government has attributed much of the chaos to "teething problems", arguing the longer term will bring great opportunities. But some trade experts say some of the new burdens on business are here to stay.
The nature and scale of the problem is illustrated by this selection of some of the hassles reported by traders:
"My regular logistics partner has suspended their service completely from the EU to the UK until February. These guys operate in 31 countries & know how to move stock quickly, but the paperwork nightmare is just too much for them" — Daniel Lambert (Wines), wine import company, Bridgend, Wales. He wrote a 22-point Twitter thread detailing problems encountered.
"It's not good. This situation, for me it's too much paperwork, too much wait, wait, all the time is wait. This is not good." — UK-based Polish lorry driver Petar Loba, stuck in a queue near Dover.
"A shipment that used to cost £95 (€107) and take five minutes to organise will now take an afternoon and cost £400 (€452)" — Richard Townsend of Bailey Paints, a small business which exports paint from Stroud in England to Ireland.
"We can't get deliveries you know. Companies are taking orders and then they're ringing us back going, 'we can't deliver that until further notice'." — Kieran Sloan of Sawers delicatessen in Belfast, on supply problems from Britain.
"The first days were difficult, there were a great deal of delays. Some of our drivers had to wait a week on the British side to make export declarations… (There were) customers who'd declared nothing, those who'd made admin mistakes… queues to obtain documents in England." — Benoît Lefebvre of French firm Sonotri, on transporting chemical products to England.
"All the EU (countries) that used to buy a lot of our fish, they've kind of stopped because the fish that were getting transferred were going off, going bad. So we've lost our entire export market." — Ben Vass, fisherman, Devon, England.
"80% of our sales get shipped to the EU, so obviously now it's all stopped. Our prices have dropped. All our fish is getting frozen." — Nathan Daley, fisherman, Devon, England.
"We have had to completely suspend the sending of all our consumer parcels to the EU. We had a bounce-back of every single parcel that we sent from 4th January onwards… It's because you now need a health certificate even for a consumer parcel. The cost of a health certificate is £180 (€203) per consignment." — Simon Spurrell, Cheshire Cheese Company.
"A customer… had to pay over 50% of what his overall parcel was worth to get it out of customs and we had to send him a VAT invoice… It's been horrible and it's almost gotten to the point where we'll have to probably stop trading with the EU, which is going to cost us thousands of pounds over the next three months." — Joycelyn Mate of Afrocenchix, exporting afro hair products from the UK.
Why are traders suffering like this?
The Brexit trade deal struck on Christmas Eve was celebrated as a great success. It certainly brought huge relief, avoiding an even more chaotic no-deal scenario with just days to spare.
The agreement means trade can continue between the UK and the EU, free of tariffs (import taxes) and quotas.
Boris Johnson has claimed, wrongly, that there are no non-tariff barriers. The reality is — as seen by the above examples — is that the new trading regime has brought a mountain of extra bureaucracy and costs.
Firms now need to fill out customs declarations. The process involving codes and new IT systems can lead to significant delays. Slower procedures mean higher costs. There are also new regulatory checks for food, with meat, dairy and fish products needing health certificates.
There is a risk that supplies get stuck. Under the "groupage" system, multiple consignments often travel in one trailer. But all may need to be checked, and problems or mistakes can hold up the whole shipment.
There are also complications over "rules of origin" regulations, and VAT (Value Added Tax), as the UK is no longer part of the EU's VAT area. EU exporters sending goods to the UK have to register with UK authorities and may have to pay UK import VAT. VAT and excise duties are also due on goods entering the EU from the UK.
Some changes have been unexpected. Ireland, for instance, has discovered that it has been sometimes hit by EU import duties. Despite the no-tariff Brexit deal, there is no exemption if goods pass through Britain on their way to or from the continent, as they are no longer considered to be of EU origin.
The European Commission warned last July of significant border disruption from the end of the transition period, regardless of whether a trade deal was agreed.
What have industry bodies been saying?
The UK's Road Haulage Association says so worried are exporters over customs demands or the danger of getting stuck in port — not to mention the additional burden of COVID-19 tests for drivers — that many are not sending at all.
The RHA has reported that at least 40% of lorries bringing goods from the EU to Britain are returning to the continent empty, which has a "huge impact on the supply chain".
The British Meat Processors Association has said the post-Brexit problems "are now causing a serious and sustained loss of trade with our biggest export partner".
"If continental supermarkets are unable to have products delivered the way they need them to be, this trade will simply be lost as EU customers abandon UK suppliers and source product from European processors," said Nick Allen, BMPA's Chief Executive.
"Members are already being told by their EU customers that they'll be looking to Spain and Ireland to buy products from now on."
The fishing industry, whose produce is equally highly perishable, has echoed such complaints. The Scottish seafood industry in particular has been sounding the alarm.
EU vaccine delays dog effort to speed up COVID inoculations
AstraZeneca's EU vaccine shipments will be delayed, the EU's health commissioner said, in yet another obstacle to the bloc's COVID-19 vaccination rollout.
"The EU Commission and Member States expressed deep dissatisfaction with this," Stella Kyriakides tweeted on Friday after member states heard from AstraZeneca representatives.
The AstraZeneca/Oxford vaccine is expected to receive approval from the European Medicines Agency this week, and any delay or shortage of doses could be a significant speed bump as member states race to vaccinate their populations amid a worsening COVID-19 crisis.
The emergence of more transmissible variants of coronavirus has caused significant concern in Europe with the UK reporting record daily hospitalisations and deaths due to the virus mutations.
Johnson warned on Friday that early evidence showed the new variant could be more deadly as well.
Countries are racing against the clock to vaccinate as many people as possible before the variants spread further.
But Pfizer said just last week that fewer doses would be available in the EU in late January and early February due to quality tests at the manufacturing plant in Belgium.
Some EU countries have since had to cut vaccinations amid the delays, prompting criticism of the pharmaceutical companies behind the vaccines.
Domenico Arcuri, Italy's coronavirus commissioner, said that vaccinations had been cut from 80,000 a day to 28,000 a day, Italian media reported. He said Italian authorities were considering taking legal action against Pfizer, AP reported.
Authorities in Germany's most populous state said that due to delays in delivery of the Pfizer/BioNtech vaccine they would halt first vaccinations. North Rhine Westphalia had received 100,000 vaccine doses less than originally planned, the state said.
Germany's health minister Jens Spahn said that "we are currently in a phase in which the worldwide demand for corona vaccines is very high."
Member states agreed on Thursday that vaccine deliveries should be coordinated and distributed at the same time after the bloc's most recent Steering Committee meeting, where vaccinations are discussed.
"We are determined to provide more predictability and stability to the delivery process, and we look forward to more vaccines and more doses coming on stream soon," Commission President Ursula Von der Leyen said on Thursday.
She also called for more testing and increases in sequencing amid the more transmissible mutations of the virus.
It comes as the bloc urged member states to speed up vaccinations, setting an ambitious goal to vaccinate 70% of the EU population by summer 2021. By March, the EU commission says they hope that 80% of vulnerable individuals and healthcare workers can be vaccinated.
In order to speed things along, countries have in some cases delayed second doses as much as possible and begun pulling sixth doses from a vaccine dial instead of five, in accordance with the EU regulator's recommendation.
Some EU member states secure vaccines outside of bloc
However, some EU states appeared to also go rogue recently in terms of vaccine procurement, a move EU officials said was unnecessary as the bloc had secured enough vaccines for the entire EU population.
Hungary's foreign minister said the country had procured two million doses of the Russian coronavirus vaccine.
They are the only EU country to approve the vaccine, Sputnik V, which has not been approved by the European Medicines Agency.
Foreign minister Peter Szijjarto said the vaccines will arrive in three stages, with the first doses delivered within a month.
A Commission spokesperson told Euronews prior to Hungary's announcement that "member states may have a separate negotiation if it's about a vaccine that's not covered by the portfolio if it's with a company that we are not having negotiations with."
Germany's government, meanwhile, said in a statement to Euronews that it had bilateral negotiations with some pharmaceutical companies that would not impact the EU vaccine agreement.
It remains unclear, however, if vaccine doses secured bilaterally by the country would arrive before or after doses as part of EU contracts and whether those negotiations were outside the joint member state negotiations.
Read from source: https://www.euronews.com/2021/01/23/eu-vaccine-delays-dog-effort-to-speed-up-covid-inoculations
Economists revise eurozone growth for 2021 downwards amid second COVID wave
Positive growth forecasts for the eurozone economy have been cut by economists as the ongoing coronavirus pandemic look set to slow down its post-COVID-19 recovery, according to a European Central Bank (ECB) survey.
Economists polled in the ECB's annual Survey of Professional Forecasters (SPF) published on Friday predicted real GDP growth would fall to 4.4 per cent this year amid further lockdowns and pandemic-related restrictions, down from 5.3 per cent in the previous quarter's predictions.
Speaking to journalists on Thursday, the president of the ECB Christine Lagarde said the pandemic posed "downside risks" to the prospects for a rapid return to growth in the eurozone.
"The intensification of the pandemic poses risks to short-term economic prospects," said Lagarde after the institution's governing council left its monetary support programme for the coronavirus-hit economy unaltered.
Forecasts for 2020 fared better than previously predicted, rising to 3.7 per cent compared to forecasts of 2.6 per cent in the last survey published in October.
The long-term forecast showed the eurozone economy expanding by just 1.4 per cent in 2025.
Mentioning "serious risks" and "risks of deterioration" for the eurozone economy, the ECB chief nevertheless considered the latest forecasts by the Frankfurt institution to remain "largely valid".
"The start of vaccination campaigns in the euro area is an important step in the resolution of the current health crisis. But the pandemic continues to pose serious risks to public health and to the economies of the eurozone and the world," she said.
Lagarde had previously warned in an interview with the French newspaper Le Monde in October last year that Europe's economic recovery risked "running out of steam" as a second wave of coronavirus gripped the continent.
"The second wave of the epidemic in Europe, particularly in France, and the new restrictive measures that accompany it add to uncertainty and weigh on the recovery," she said.
Of particular concern, she said, was job losses due to the pandemic. The EU unemployment rate in October hovered around 7.6 per cent, one per cent higher than at the same time the previous year.
Read from source: https://www.euronews.com/2021/01/22/economists-revise-eurozone-growth-for-2021-downwards-amid-second-covid-wave