When Sunderland AFC gave Spain a lesson in football it sparked national introspection
Sunderland AFC playing Spain in 1934. Journal La Educacion Fisica, Author provided
Losing to S..
Sunderland AFC playing Spain in 1934. Journal La Educacion Fisica, Author provided
Losing to Sunderland in 1934 forced Spanish writers and commentators to look beyond football for answers.
By David Hewitt, University of Leeds
In May 1934, the Spanish Football Federation invited Sunderland AFC to Spain to help them prepare for the World Cup in Italy. For all their troubles now (they were relegated to Englands third tier in April), in the mid-1930s Sunderland were one of Europes strongest sides. As the Spanish sporting newspaper El Mundo Deportivo noted, they represented the "the essence of English football in its purest sense".
Germany took a similar approach, playing against Derby County. But while the Nazi regime relished the chance to demonstrate their superiority against English opponents, in Spain the Sunderland tour was rather a chance to hold a mirror up to Spanish football – and indeed to Spanish society in general – and recognise its shortcomings.
Three matches were played in just six days. The first, on May 14 in Bilbao, featured a more experimental Spanish XI. Most notably, Ricardo Zamora, Real Madrids goalkeeper and the undoubted star of Spanish football, did not feature. The match finished 3-3, with Sunderland scoring twice in the final minutes. A second match, at Madrids Chamartín stadium, finished in a 1-1 stalemate. Finally, the two teams met in Valencia where Sunderland beat Spain 3-1.
National regeneration
Far from taking heart from the series, the matches were held up as evidence of Spains footballing shortcomings. In the pages of the leading sports newspapers, Spains poor showing was blamed not solely on the players skills or the managers tactical acumen but rather on deeper faults. To a significant extent, the theories put forward in the match reports and associated editorials – and the language used to make such arguments – were representative of a wider debate concerning national regeneration (regeneracionismo) that had been dominating Spanish intellectual life for more than three decades.
Defeat in the Spanish-American War and the loss of Cuba in 1898 (known as El Desastre) caused many to question what was "wrong" with Spain. The answers put forward were many and varied. One common idea was that Spain had become physically weak or, in the words of writer, polymath and leading regenerationist thinker Joaquin Costa: "a nation of eunuchs".
At the same time, several other thinkers lamented the perceived deficiencies of the Spanish people. As the essayist and politician Salvador de Madariaga argued: "Indifference, laziness and passivity are all part of the Spanish character. But above all, the Spanish are a profoundly individualistic people.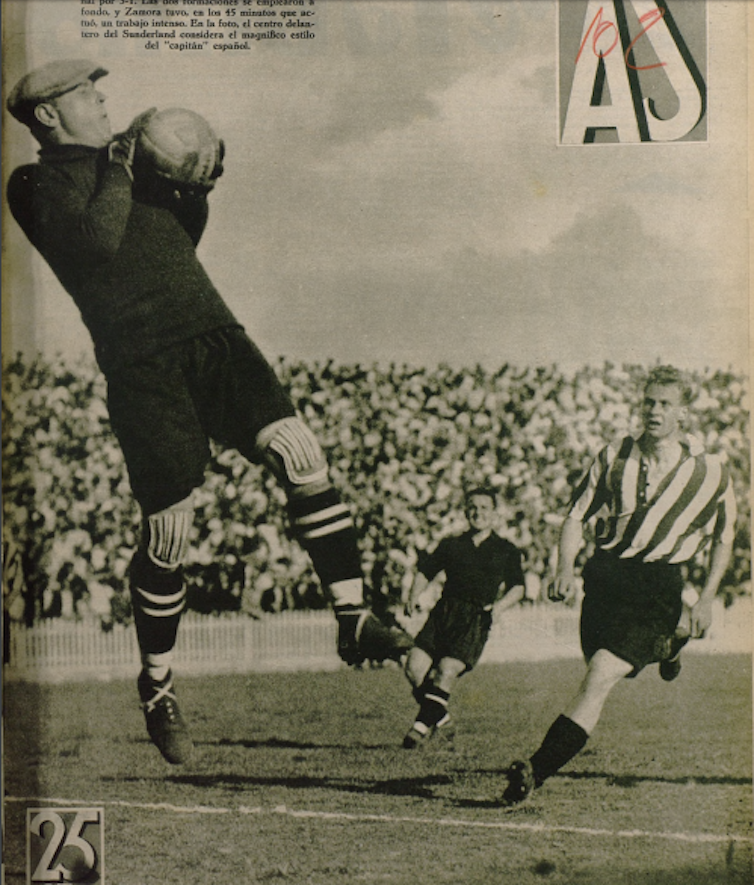 A photograph of the front page of Spanish sport magazine, AS, from 1934. AS, Author provided
From the turn of the century, team sports, most notably those imported from England, were recognised as one way of regenerating the "Spanish race". Far from simply concerning themselves with gossip and match reports, the sporting press lobbied for individualistic, militaristic gymnastics to be replaced by team sports within Spains education system.
When the Second Republic was declared in April 1931, sport was seen as one means of building a new society, of converting the subjects of the Bourbon monarchy into citizens of a democracy. The prime minister, Manuel Azaña, himself noted:
"Sport not only strengthens the body, but instils in those that practice it a spirit of cooperation, of subordination of the individual to the collective, and so contributes to correct the fierce individualism of our people."
The sporting press largely agreed – and saw in the May 1934 matches evidence to support their arguments. The English press praised the superior skills of the Sunderland players, as well as the "scientific tactical method" of manager Johnny Cochrane.
Just individuals thrown together
In Spain, however, reports published in, among others, El Mundo Deportivo, AS and the more education-focused Educación Física attributed Sunderlands dominance to other factors. They praised the speed, strength and fitness of the Sunderland players. Even though the English players had played more games over the previous season, AS noted:
"Spain have shown a terrible tiredness … the players seemed completely exhausted and lacking any energy to make any real, sustained effort."
Indeed, their stamina – and conversely Spains lack of it – was seen as the reason the hosts conceded two late goals in Bilbao and one reason why they would struggle in Italy.
But above all, Spanish "individualism" was blamed for this difference in class. "Moving together, Sunderland were a harmonic unit like we have never seen before in Spain," Educación Física concluded. Similarly, AS summed up the series by observing:
"All the evidence shows that Sunderland is a team that can teach Spain a real footballing lesson: not a lesson in individual skill, but a lesson in playing as a team."
While for El Mundo Deportivo, the hosts shortcomings were similarly obvious: "The English are masters of football. Together, they play as one team – unlike Spain, who are just individuals thrown together."
For all the pessimism, Spain were hardly humiliated in Italy. After a celebrated 3-1 victory over Brazil, they lost in a quarter-final replay to the hosts (arguably thanks to some questionable refereeing decisions). This was to be Spains last World Cup until 1950. By that point, Spanish football had been embraced as a propaganda tool by the Franco dictatorship.
Unlike during Spains shortlived experiment with liberal democracy, teamwork and a sense of collective spirit was no longer promoted as the idea. Instead, the Spanish press would denigrate the weakness of other nations, including their technicality and tactics. The directness and aggression of the "Furia Roja" (Red Fury – the popular nickname for the Spanish football team) was paramount and would arguably remain so for more than 50 years.
David Hewitt, PhD researcher, School of Modern Languages, Cultures and Societies, University of Leeds
This article was originally published on The Conversation. Read the original article.
Catalan regional election to be held on February 14, court confirms
Convicted leaders of the 2017 secession attempt in Catalonia who are serving time in regional prisons walked out on Friday after the Catalan government granted them a more open regime. Approval of the tercer grado, which allows prisoners to spend only nights in prison, coincided with the start of an election campaign in Spain's northeastern region.
Also on Friday, the High Court of Catalonia (TSJC) confirmed that an upcoming regional election will take place on February 14, not on May 30, ending weeks of uncertainty over the date of the polls.
The Catalan government had sought to postpone the original date on the grounds that the coronavirus crisis would make it difficult for many people to vote while staying safe. Critics said the date change was politically motivated and unlawful.
The TSJC court had provisionally upheld an appeal against the change, and on Friday it confirmed this decision, which could still be challenged before the Supreme Court but would not alter the election date.
Released prisoners
The separatist leaders on a more flexible regime will now be able to take part in their own parties' campaign events if they wish to.
Dolors Bassa, who was a Cabinet member at the time of the unilateral independence declaration of October 2017, was the first of the group to walk out of prison on Friday. After leaving the women's facility of Puig de les Basses in Figueres (Girona) at around 8.45am, she urged sympathizers to go vote on February 14 "to win again."
At 10.30am, Lledoners prison in Barcelona released Jordi Sànchez and Jordi Cuixart, leaders of two civil society groups convicted of participating in the breakaway attempt, and the former Cabinet members Oriol Junqueras, Raül Romeva, Jordi Turull, Joaquim Forn and Josep Rull. The group emerged carrying a sign calling for "amnesty." The only member of the group to remain in prison is former Catalan parliament speaker Carme Forcadell, who is still awaiting a decision.
All nine were convicted of sedition and misuse of public funds by Spain's Supreme Court and are serving sentences ranging from nine to 13 years. The Catalan government granted them tercer grado status once before last year, but the move was struck down by the Supreme Court in December and the group returned to prison. However, eligibility for this regime undergoes review every six months, and the regional executive, which is headed by a separatist coalition, has again granted them this status.
Prosecutors are planning to appeal the decision, but the timing of legal procedures means that the separatist leaders will be on daytime prison leave for much of the election campaign, if not all of it. While none of them are running as candidates, their presence could help energize pro-independence voters. Inversely, if they were sent back to prison it would provide fuel to the movement's claims of political repression.
Election dates
Secessionists are also framing the legal tussle over the election date as further proof of alleged meddling in Catalonia's political and institutional life.
In a rare agreement between separatist and conservative parties, the postponement to May had been backed by all political groups in the regional parliament except for the Catalan Socialists (PSC) – the Catalan branch of the Spanish Socialist Party (PSOE) – who had insisted on preserving the February date.
Salvador Illa, the Spanish health minister until this week, has stepped down to run for the regional premiership with the PSC, and a recent poll by the state-funded Center for Sociological Studies (CIS) research center suggested the possibility of a technical tie between the PSC and the Catalan Republican Left (ERC), one of the two partners in the Catalan government coalition.
Both ERC and its partner Together for Catalonia believe that the PSOE is behind the legal challenge to the May postponement, and that the real reason is a desire to make the most of the impact on public opinion from the news that the high-profile Illa will be the Socialist nominee to lead the region.
But a more recent poll by the Catalan government's Center for Opinion Studies (CEO) shows ERC winning on February 14 with 34 to 35 seats in the regional parliament, followed by Together for Catalonia with 32 to 34. This would ensure the separatist bloc's absolute majority in the 135-strong house with 51.2% of the vote.
The election will seek to bring stability to a government that's been under an acting leader, Pere Aragonés, ever since September, when the Spanish Supreme Court upheld an 18-month ban from public office against Quim Torra in connection with violations of institutional neutrality during an earlier election campaign.
After Catalans go to the polls, Spaniards are expecting a two-year period of rest in a country that has been through four national elections, a European vote, regional and municipal polls, and two no-confidence motions in parliament since 2015.
Read from source: https://english.elpais.com/spanish_news/2021-01-29/catalan-regional-election-to-be-held-on-february-14-court-confirms.html
Madrid, Basque Country, Valencia announce new coronavirus restrictions
The relentless advance of the coronavirus in Spain is leading some regional governments to introduce even more severe restrictions on mobility. Madrid, the Basque Country and the Valencia region on Friday announced new measures that will go into effect soon.
Madrid
In Madrid, the deputy public health chief Antonio Zapatero announced more perimetral lockdowns, now affecting 56 basic health zones and 25 municipalities that are home to 24% of the region's residents but account for 30% of all coronavirus cases.
The director general of the Public Health agency, Elena Andradas, said that nine basic health zones – administrative areas that do not necessarily coincide with neighborhoods or districts – and six municipalities have a 14-day cumulative number of cases per 100,000 inhabitants above 1,000 and will be subject "to special restrictions on mobility." The decision expands on the list of health zones and municipalities that came under mobility restrictions last week.
The new affected municipalities are Cercedilla, Navacerrada, Collado Villalba, Rivas-Vaciamadrid, Los Molinos, Quijorna, Serranillos del Valle and Colmenar de Oreja. The new affected health zones are Las Ciudades, in Getafe; as well as La Rivota, Ramón y Cajal, Doctor Trueta and Pedro Laín Entralgo, in Alcorcón.
Additionally, the overnight curfew will begin at 10pm and businesses must close by 9pm, including food and drink establishments. Authorities are also banning meetings inside homes with members of other households, while the upper limit on the number of people from different households who may gather outside the home in food or drink establishments is now four, down from six.
These measures will be adopted starting on Monday, January 25 and last at least two weeks.
Basque Country
On a day when the number of new reported cases nationwide set a record high for the second day in a row, authorities in the Basque Country said they will seal off all of the region's 252 municipalities beginning on Monday. Social gatherings will be reduced to four people.
The 14-day cumulative number of cases per 100,000 inhabitants in the region was above 500 cases on Friday, twice the figure considered an extreme risk scenario (which also takes into account other variables such as pressure on hospitals). Right now over 70% of Spain's territory is in the extreme risk category.
The Basque city of Bilbao and 50 other locations came under a perimetral lockdown in the early hours of Friday because of their high incidence rate. After the weekend, every other city, town and village in this region of 2.2 million people will be sealed off as well. Only essential trips that can be justified will be allowed across municipal lines. This is on top of the provincial and regional lockdowns that are already in effect.
The Basque health chief, Gotzone Sagardui, said the decision was a response to the worsening epidemiological figures. "This is not the time to relax, but to act with utmost anticipation on preventive action," she said.
The curfew starting time has not been altered, despite the Basque government's wishes to bring it forward to 8pm from the current 10pm. The move was debated on Wednesday at a meeting of central and regional health officials but did not gain support from the central government.
Food and drink establishments must close at 8pm except in locations with an incidence rate of over 500, where they must close altogether. This is currently the case in Bilbao.
The measures will be in effect for 20 days, subject to review.
Valencia region
The Valencian government is preparing an "imminent" decree to forbid members of different households from meeting inside homes. Exceptions will be made for people who need to provide care, couples who don't live under the same roof and elderly people who live by themselves and may stay with family members.
Deputy premier Mónica Oltra made the announcement on Friday following a meeting of regional government officials. Earlier this week, Valencian authorities ordered all food and drink establishments to shut down for 14 days and told retail stores to close at 6pm as the virus continues to expand in the region at "an extraordinary rate," in the words of regional premier Ximo Puig.
The Valencia health department has started to contact neighborhood associations to get the word out that people should self-confine due to the severity of the situation, the regional daily Diario Información reported.
Rafael Ruiz, president of Alicante's Provincial Federation of Neighborhood Associations, told this newspaper that he received a call from the district's healthcare center: "They are asking for people to stay at home. They are scared because the situation is getting out of hand."
All three provinces in the region – Castellón, Valencia and Alicante – are in the extreme risk scenario. The 14-day cumulative number of cases per 100,000 inhabitants has been climbing almost vertically since the end of the Christmas period, and on Friday stood above 1,000. Some Covid-19 patients are already being transferred to field hospitals as healthcare facilities struggle to deal with a tremendous surge in infections.
A home confinement cannot be legally imposed in Spain under the current emergency state approved by parliament in late October and due to expire in May. But the string of increasingly strict restrictions imposed by regional governments is coming close to a de facto lockdown.
Read from source: https://english.elpais.com/spanish_news/2021-01-22/madrid-basque-country-valencia-announce-new-coronavirus-restrictions.html
Storm Filomena: Spain sees 'exceptional' snowfall
Storm Filomena has blanketed parts of Spain in heavy snow, with half of the country on red alert for more on Saturday.
Road, rail and air travel has been disrupted and interior minister Fernando Grande-Marlaska said the country was facing "the most intense storm in the last 50 years".
Madrid, one of the worst affected areas, is set to see up to 20cm (eight inches) of snow in the next 24 hours.
Further south the storm caused rivers to burst their banks.
Four deaths have been reported so far as a result of Filomena. Officials said two people had been found frozen to death – one in the town of Zarzalejo, north-west of Madrid, and the other in the eastern city of Calatayud. Two people travelling in a car were swept away by floods near the southern city of Malaga.
As snow fell on Madrid on Friday evening, a number of vehicles became stranded on a motorway near the capital.
The city's Barajas airport has closed, along with a number of roads, and all trains to and from Madrid have been cancelled.
Firefighters were called in to assist drivers who had become stuck. In some areas the military were called in to help clear roads.
Spanish Prime Minister Pedro Sánchez urged people to stay at home and to follow the instructions of emergency services. King Felipe and Queen Letizia took to Twitter to urge "extreme caution against the risks of accumulation of ice and snow".
The country's AEMET weather agency said the snowfall was "exceptional and most likely historic".
A number of people were seen making the most of the snowy scenery, walking through Madrid's Puerta del Sol square.
Large parks in Madrid have since been closed as a precaution, AFP news agency reports.
One man was pictured skiing along the Gran Via, the capital's famous shopping street.
In Cañada Real, the largest shanty town in western Europe, residents were seen creating a bonfire to keep warm.
The cold weather is set to continue beyond the weekend with temperatures in Madrid predicted to hit -12C on Thursday.
Read from source: https://www.bbc.com/news/world-europe-55586751