Backlash in Mexico at Trump plan to list cartels as 'terror' groups
MEXICO CITY: Donald Trump's plan to designate Mexican drug cartels as terrorist organisations h..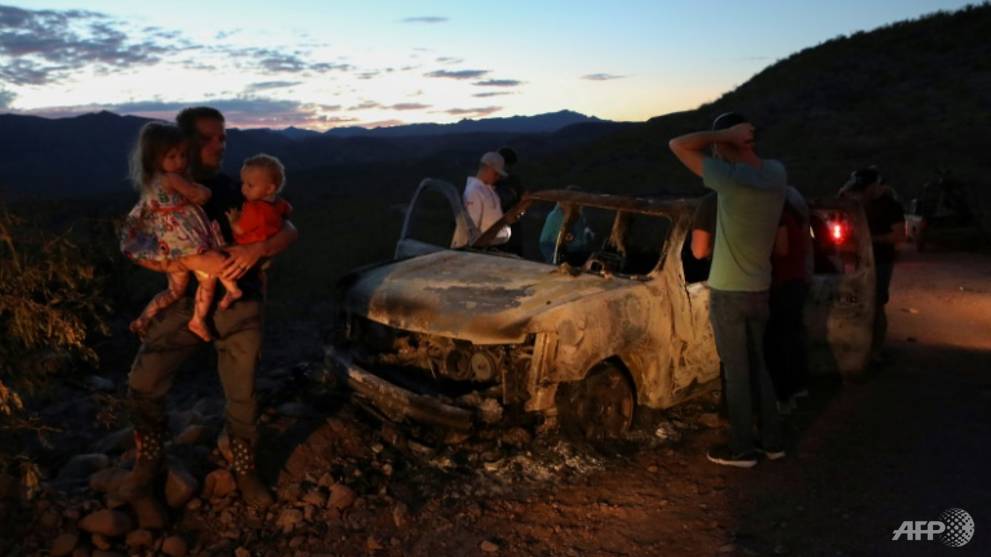 MEXICO CITY: Donald Trump's plan to designate Mexican drug cartels as terrorist organisations has ignited a raging debate in Mexico on whether the groups' horrific violence should be considered terrorism.
Mexicans broadly agree on one thing, though: They don't want the American president's help.
Advertisement
Advertisement
Mexico's powerful cartels have certainly sown terror in recent years, whether throwing grenades into a packed crowd, hanging headless corpses from bridges, laying siege to city streets or – the incident that drew Trump's attention – massacring nine Mormon women and children who had dual US-Mexican citizenship.
But experts say that on one key point, organisations like the Sinaloa or Jalisco New Generation cartels differ from the groups the United States has blacklisted as Foreign Terrorist Organisations.
Whereas Al-Qaeda, the Islamic State group, ETA, the Revolutionary Armed Forces of Colombia (FARC) and the rest of the 68 groups on the list have political or religious motives, drug cartels' main goal is making money.
"Mexican cartels can't be compared to the FARC, for example, which certainly had links to drug trafficking but was not exclusively an organised crime group," said Jorge Castaneda, a Mexican academic and former foreign minister.
Advertisement
Advertisement
"This is the first and only time" the US has moved to add mafia groups to the list, he told AFP.
"And the reason is that there's no easy comparison. These organisations have no political component."
"THEY ARE TERRORISTS!"
The debate goes back to Nov 4, when alleged members of the La Linea drug cartel fired a hail of bullets at three SUVs in a remote, lawless region in northern Mexico.
Inside were 17 members of three Mormon families, including 14 children. The gunmen killed three women and six children, including twin eight-month-old babies, and set one of the vehicles on fire with the occupants still inside.
Prominent members of one of the families, the LeBarons, sent a petition to the White House urging Trump to designate Mexican cartels as terrorist groups.
"Their unbridled acts of violence and murder have overrun our borders and created an international crisis," it said.
"They are terrorists, and it's time to acknowledge it!"
That triggered a politically charged debate in Mexico.
On social media, the hashtags "traitors" and "LeBarons get out of Mexico" went viral.
But others rallied behind the family's call to label narco-violence terrorism.
"That is what they try to provoke: terror. Leaving dismembered bodies in public with threatening messages causes terror among the civilian population," said Diego Sinhue Rodriguez, governor of the central state of Guanajuato and an opponent of leftist President Andres Manuel Lopez Obrador.
MINIMAL IMPACT ON THE GROUND
But Mexicans have broadly rejected Trump's offer of "help", which revived bad blood going back centuries.
The statement came in response to a question from conservative media host Bill O'Reilly, who asked whether the president would react to the Mormon massacre by "hitting (Mexican cartels) with drones."
Any hint of US intervention, military or otherwise, is an instant insult to national pride in Mexico, which still resents losing more than half Read More – Source
Spain drafts new foreign policy that incorporates gender perspective
The Spanish government has updated its guidelines for international relations. A draft of the 2021-2024 Foreign Action Strategy, which the Cabinet is planning to send to parliament on Tuesday, discusses the "opportunity" to improve relations with the United States now that Joe Biden is the new US president. It also emphasizes the need for "a feminist foreign policy" and "humanitarian diplomacy."
This document will replace the previous foreign policy strategy drafted in 2015. Although it only represents the government's opinion, other sources were consulted – including regional, provincial and local authorities, and national agencies such as the Council of State, the government's top advisory body.
The 100-page text draws a somber picture of a fractured global scenario where the concept of multilateralism is in crisis. "We live in an increasingly volatile and fragmented world that tends to generate two opposing trends: an outward force of disunity marked by the rise of populisms and exclusionary nationalisms, and an inward force with inclusive answers to global challenges," reads the document.
In this context, Spain hopes to gain added relevance in the international arena with a policy based on "reformed and reinforced multilateralism." The strategy, drafted in the middle of the coronavirus pandemic, holds that the health crisis has accelerated processes that were already underway, but that it is still too soon to know whether we are immersed in "an era of change or in a change of era."
The following are some of the main points:
United States. The Biden administration "opens up a more optimistic scenario" and "an opportunity that has to be taken." Spain wants "a broader agenda for bilateral relations in the economic and trade spheres," and will seek to get "unfair unilateral trade measures lifted," alluding to tariffs on olive oil and wine. The existing cooperation on defense issues should be maintained, and the Cervantes Institute will open a new branch in Los Angeles, adding to the ones in New York, Chicago and New Mexico.
Europe. Spain will encourage "a more federal European Union" with greater strategic autonomy, competence over more policy areas, and more matters that may be approved through qualified majorities rather than unanimous votes. Spain will play an active role in the Conference on the Future of Europe, which will address necessary reforms for the EU, and encourage the integration process when it holds the six-month rotating EU presidency in the second half of 2023. The document calls for the consolidation of permanent tools of joint debt issue and for Europe to create its own resources, as well as for a harmonized tax system that ends competition within the EU. The United Kingdom's withdrawal from the EU is described as "a great opportunity for Spain to take on greater leadership towards a more global Europe."
Feminism. Spain will approve a Feminist Foreign Policy Strategy to incorporate gender issues "in all areas of foreign action" and it will "lead by example" by encouraging a greater presence of women in Spain's external activities. Women currently represent 28% of diplomats and 20% of mission heads. Spain will also lead initiatives to promote diversity, "particularly LGTBI rights and the rights of all communities that are underprivileged or discriminated against."
Latin America. Spain will encourage relations between the EU and Latin America and support the completion of an agreement with the Mercosur trade bloc. The king and queen will visit Chile to celebrate the 500th anniversary of the first documented circumnavigation of the globe. Several Central American countries, as well as Peru and Mexico, are also celebrating the bicentennial of their independence. The latter country is also observing the controversial 500th anniversary of Hernán Cortés' conquest, and Spain will work towards "a constructive dialogue about the celebration of historical milestones." In Venezuela, "the priority will be restoring the democratic framework and providing support for overcoming the political and humanitarian crisis." As for Cuba, the country is "updating its political and economic model" and Spain must stimulate this process "through critical yet constructive support."
Immigration. Spain supports a European System of Immigration and Asylum guided by the principles of solidarity and equally shared responsibility. It wants to see "integral management of borders," a zero-tolerance policy against smuggling rings, and the creation of "safe, regular and orderly migration channels."
Health. Spain will support the European Commission's efforts to create the foundations for "a European health union," as well as the reform and reinforcement of multilateral global institutions such as the World Health Organization (WHO).
United Nations. Spain will apply to sit on the UN Human Rights Council for the 2025-2027 period. The technological platform for the UN system in Quart de Poblet (Valencia) will be consolidated and expanded.
China. Spain will seek "more balanced relations" with China, especially on economic issues, avoiding "dynamics of confrontation." It will encourage a strategic relationship through the EU, without ignoring "clear elements of rivalry in terms of values and interests" especially on human rights issues and unfair competition.
Development aid. The document maintains a commitment to earmark 0.5% of Spain's gross domestic product (GDP) to development aid. A new law on international cooperation for sustainable development will be passed, and the Spanish International Cooperation Agency will undergo reform.
Climate. Spain wants to lead agreements on climate change with a "climate diplomacy." It will encourage an international coalition on green hydrogen (hydrogen production from water) and will commit to the protection of biodiversity.
Western Sahara. Spain's priority with regard to its former colony is to "contribute to the UN's efforts to reach a political solution to the conflicts in the region in accordance with international parameters."
Gibraltar. Gibraltar is only mentioned in reference to the recent agreement of December 31 laying out the groundwork to incorporate the British Overseas Territory into the Schengen space. Spain will "encourage the negotiation process for an agreement between the EU and the UK with regard to Gibraltar."
Read from source: https://english.elpais.com/politics/2021-01-26/spain-drafts-new-foreign-policy-that-incorporates-gender-perspective.html
Ukraine nursing home fire: Four arrested after Kharkiv blaze leaves 15 dead
Ukrainian authorities have arrested four people in connection with a deadly fire at a retirement home in Kharkiv.
15 people were killed after a blaze ripped through the nursing home on Thursday afternoon in the eastern Ukrainian city, according to emergency services.
Nine others were rescued, five of whom have been taken to hospital for treatment.
Pictures from the scene showed blackened rooms and barred windows on the upper floor of the two-storey building, which had been converted into a home for the elderly. 50 firefighters attended the incident to extinguish the flames.
In a statement on Facebook, the country's attorney general, Iryna Venediktova, said four people have been arrested.
The suspects include those who owned and rented the building, as well as the manager of the retirement home. Authorities say they are investigating if the fire was started by arson or the short circuit of an electrical appliance.
Ukraine's President Volodymyr Zelensky visited the centre in Kharkiv and has announced a national day of mourning for Saturday.
In an earlier tweet, the President called on local authorities to do "everything possible" to help victims and relatives who had lost loved ones.
Read from source: https://www.euronews.com/2021/01/21/ukraine-nursing-home-fire-15-dead-and-five-hospitalised-after-blaze-in-kharkiv
Europe's space leaders seek to boost sector in light of Brexit, COVID and international competition
The European Space Conference in Brussels takes place this week, so Euronews spoke to European Space Agency Director General Jan Wörner about the challenges the sector faces in 2021.
Brexit troubles Europe's space sector
Brexit is a headache for the European space sector, as the UK is a permanent and committed member of ESA, but is now outside the EU. Leaving the EU has made everything more complicated: under the terms of the agreement signed in December 2020 the UK can continue to be part of the Copernicus Earth observation programme at least until 2028, as both the EU and ESA contribute funding to it. However, it loses access to high-quality positioning from the EU's Galileo satellites, and is now out of EGNOS. The British stop being a full member of the European space debris tracking system, but still have access to it as a non-EU partner.
There are outstanding questions over the role of British companies in building spacecraft for EU-related projects. ESA DG Jan Wörner told Euronews he believes 'it is possible to have a solution', given that non-EU countries like Switzerland and Norway are able to take part in the construction of satellites under Brussels contracts. However, the sheer size of the UK space sector is an issue. "Some fear in Brussels that if a big member state is doing something different, then this could be a magnet for other countries to do the same," admits Wörner.
EU project to beam internet to all
A hot topic around the virtual and real water coolers at the Brussels Space Conference will be the Commission's new plans to create a network of low-Earth orbiting internet satellites, which should offer broadband, 5G and more to rural communities across the bloc.
The initiative is being spearheaded by Commissioner for Internal Market, Thierry Breton, with a broad consortium of space industry players comprising Airbus, SES, Arianespace, Eutelsat, OHB, Orange, Telespazio and Thales Alenia Space.
The vision is similar to the Starlink and OneWeb systems, both of which have already launched satellites aimed at offering a new kind of holy grail in communications, a low-flying communications network from orbit which allows everyone, at least in theory, to enjoy high-speed connectivity.
The European version would be a public-private partnership, and initial work will begin this year.
Defining ESA-EU relations
The EU's enthusiasm for space is clear: just before Christmas the European Commission and Parliament approved a 14.8 billion euro budget for EU space activity. The funding for the period 2021 to 2027 includes 9 billion for Galileo and 5.4 billion for Copernicus.
It's part of a continued and rising commitment to developing Europe's space sector, but it does beg the question of just how close ESA and the EC would like to become? For Wörner, moving further in the EU's direction is a 'political decision' but not one that necessarily fits with ESA's principals on return on investment, which see agency member states receiving reciprocal industrial contracts which are very close in size to their level of investment in a given programme. "The link between what ESA is doing and what states want to happen is very close, and a really big advantage," he says.
The current director of Earth Observation at ESA, Josef Aschbacher, has said that defining the relationship between the two organisations is one of his main objectives when he replaces Wörner in July 2021.
Competition from US and China
A key focus of the Brussels Space Conference is the desire for Europe to develop a vibrant and independent private space sector. So far, major initiatives like Galileo and Copernicus have spawned a large number of small and specialist space startups selling value-added services based on the free data from these two projects. However, the old continent has so far struggled to create the kind of attention-grabbing commercial space firms like SpaceX and Planet Labs that NASA has helped foster in the US.
Then, there's the speedy growth and unbridled ambition of the Chinese to take into account. When Jan Wörner first came to his job in 2015 he made a media splash with his dreams of creating a 'village on the Moon'. In late 2020, however, he could only watch in awe as the Chinese sent a robotic mission to fetch samples from the Moon. It's something only the Soviet Union and the United States have achieved before.
"My first thought was congratulations, of course," he says, "but I quickly thought 'ah, they are fast, and we should be faster'". He told Euronews he hopes the joint ESA-NASA Mars Sample Return mission will be even more inspiring and impressive and give Europe's exploration programme a much-needed boost in publicity.
There are areas where ESA is a leader, particularly in Earth observation thanks to the Sentinel fleet. Catching space debris and working out how to deflect an asteroid on a collision course with Earth are another two of the growth areas for public and private initiatives in Europe. ESA is also pushing ahead with its Space Rider vehicle, an un-crewed flying machine which resembles a mini-Shuttle, and could offer commercial and institutional clients a relatively low-cost means of reaching orbit, and returning home afterwards.
However, the new Ariane 6 rocket continues to face delays. Much vaunted as a flexible new vehicle to compete in this highly-competitive market, the replacement for the heavy-lift Ariane 5 is now only due to launch in the second quarter of 2022. Arianespace has called on European governments to step up their commitment to launchers to better compete with SpaceX, which has grown rapidly on the basis of lucrative American government launch contracts.
Read from source: https://www.euronews.com/2021/01/11/europe-s-space-leaders-seek-to-boost-sector-in-light-of-brexit-covid-and-international-com