Search engine startup asks users to be the customer, not the product
Enlarge / Neeva doesn't even have a logo yet, let alone any useful screenshots—so enjoy this re..
In November 2017, Sridhar Ramaswamy—the head of Google's $95 billion advertising arm—left the company after a scandal concerning advertisements for major corporations found on YouTube videos that put children in questionable situations. Ramaswamy told The New York Times that shortly after that incident, he decided that he needed to do something different in his life—because "an ad-supported model had limitations."
Ramaswamy's startup company, Neeva, is that "something different"—and though it, too, is a search engine, it seeks to sidestep some of Google's problems by avoiding the ads altogether. Ramaswamy says that the new engine won't show ads and won't collect or profit from user data—instead, it will charge its users a subscription fee.
Neeva's approach follows an old truism that says if you pay for something, you're a customer—but if you get it for free, you're a product. That's likely to be a very difficult sell, to a public that has come to expect a service to be "free" and doesn't often care very much about privacy aspects. Even if we handwave the difficulty of acquiring a market, other privacy-focused players are expressing significant doubt about Neeva's approach.
Privacy-focused competitors have doubts
Search engine DuckDuckGo is probably the best-known privacy-focused Google competitor. DuckDuckGo serves ads but doesn't track its users individually—its CEO, Gabriel Weinberg, says the ads are a practical necessity. "If you want the most impact to help the most people with privacy, you have to be free," he said, "because Google will be free forever."
However, DuckDuckGo may not be the most relevant comparison to Neeva. The new search engine is planned to be a second-tier provider, with public results sourced from Bing, Weather.com, Intrinio, and Apple. It also plans to offer its users the ability to link cloud accounts such as Google G Suite, Microsoft Office 365, and Dropbox. In addition to providing search results directly from these private sources, Neeva will include that data in building a profile to personalize search results for each user.
Startpage is a closer analogue to Neeva's proposed model. Like Neeva, Startpage sources search results externally—in its case, directly from Google. Unlike Neeva, Startpage still shows Google ads and collects a cut of the proceeds. But it shows those ads without attempting to personalize them for the user—no profile is built, and the user's potentially identifying information is stripped from the queries passed along to Google as well.
Startpage CEO Robert E.G. Beens reached out to Ars by email shortly after Neeva's launch. He expressed extreme skepticism about Neeva's model—he describes the connections to private data, personal profile building, and long-term data retention as "a hacker's dream, and a user's nightmare." He expressed equally strong opinions about Neeva's actual privacy policy, calling it "a joke—and not a funny one," after remarking that "marketing messages can claim almost anything, but a privacy policy has legal status."
We should note that there are two different sections of Neeva's site that appear to address privacy concerns—a Digital Bill of Rights prominently featured in the company's about page, and the official Privacy Policy, linked more austerely from the footer of each page.
Problematic privacy policy
Neeva's Digital Bill of Rights appears to be just the sort of marketing message Beens alluded to. It makes lofty statements about users' rights to privacy, controls to data collection, data usage transparency, and user ownership of their own data. It further declares that companies in general should respect those rights—but it makes no outright promises about whether or how Neeva will respect them. The closest thing to a concrete statement of policy on the page is a line at the bottom stating "we at Neeva stand by [these values], in solidarity with you."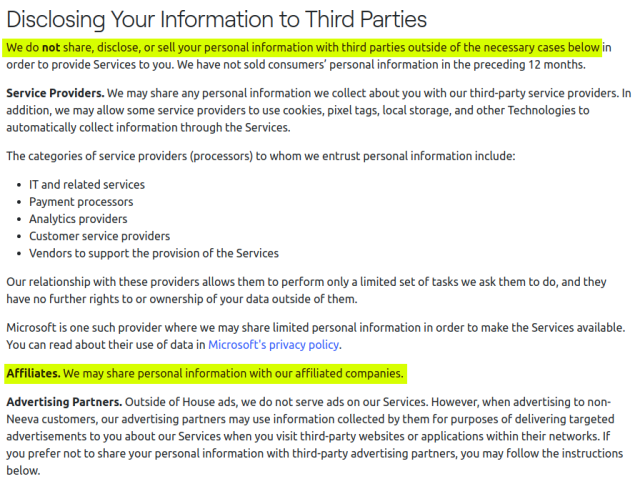 BLACKBERRY PHONES TO STOP WORKING AS COMPANY FINALLY PULLS PLUG
independent– BlackBerry phones, once the height of mobile devices, are finally being shut off.
The company announced that services for the older devices will be brought to an end on 4 January. At that point, they will "no longer reliably function", BlackBerry said, and will be unable to get data, texts or make phone calls, including to emergency numbers.
It is just the latest in a series of endings for the once equally beloved and hated name, which helped drive the mobile revolution and was at the forefront of business and technology. While the BlackBerry has been declared dead a number of times before, the latest move means that the phones themselves will actually stop working.
In 2016, after its phones had been replaced largely by smartphones from Apple and others, BlackBerry announced that it had transitioned away from phones and into making software and that it would focus on providing security tools to companies and governments. It has sold the BlackBerry brand to other companies, who have created devices bearing the name.
In 2020, BlackBerry said that with that move complete, it would start taking offline the legacy services that allowed those old devices to keep working. Phones that run any of BlackBerry's own operating systems – BlackBerry 7.1 OS and earlier, BlackBerry 10 software – were given an "end of life or termination date" at the start of 2022.
Next week, that date will finally arrive and support will end. While the phones will still be able to perform some of their functions without BlackBerry's services, many of their central features will be removed, and the phones will not work reliably.
BlackBerry said the support was being removed in recognition of the fact that it now works in security software and that the old products did not reflect its business. It had prolonged support in the years since that transition "as an expression of thanks to our loyal partners and customers", it said.
70 Jupiter-sized 'rogue planets' discovered in our galaxy
independent– A team of astronomers discovered at least 70 'rogue' planets in our galaxy, the largest collection ever found to date.
While conventional planets (like those in our Solar System) orbit a star, rogue planets roam freely without travelling around a nearby star.
"We did not know how many to expect and are excited to have found so many," said Núria Miret-Roig, an astronomer at the Laboratoire d'Astrophysique de Bordeaux.
­It would usually be impossible to detect rogue planets because they are hard to spot far from a star's light. One key fact of their existence made them visible: these planets still give off enough heat to glow millions of years after their creation, making them visible to powerful telescopes.
This heat allowed the 70 planets – each with masses close to that of Jupiter – to be discovered in the Scorpius and Ophiuchus constellations.
"We measured the tiny motions, the colours and luminosities of tens of millions of sources in a large area of the sky," explained Ms Miret-Roig. "These measurements allowed us to securely identify the faintest objects in this region, the rogue planets."
The astronomers' study suggests there could be many more elusive, starless planets yet to be discovered, numbering in the billions in the Milky Way alone.
By studying these planets, astronomers believe they could unlock clues as to how the mysterious objects come to be. It is hypothesised they are generated from the collapse of gas clouds too small to create stars, but they could also have been ejected from a parent system.
"These objects are extremely faint and little can be done to study them with current facilities," says Hervé Bouy, another astronomer at the Laboratoire d'Astrophysique. "The ELT [Extremely Large Telescope, currently being built in Chile] will be absolutely crucial to gathering more information about most of the rogue planets we have found."
The exact number of rogue planets discovered is vague, because the observations made by the researchers do not allow them to measure the mass of the objects. Bodies with a mass 13 times greater than that of Jupiter are unlikely to be planets, but relying on brightness makes this figure unclear.
The brightness of these objects is also related to age, as the older the planet is the dimmer it will be. The brightest objects in the sample could have a mass greater than the upper limit but be older and therefore dimmer. Researchers estimate there could be as many as 100 more planets yet to be discovered because of this uncertainty.
Sign up to The Independent's free cryptocurrency expert panel event
independent– The price of cryptocurrency is seemingly in constant flux which causes a gauntlet for investors to run week to week and day to day.
Bitcoin remains in limbo following last week's flash crash, which some analysts mistook for the start of a bear market that would see its price continue to tumble in the short term.
None of this is new with cryptocurrency making headlines for years, but its unpredictable nature and complex myriad of currencies means for many it is an area too daunting to delve into.
For those who have taken the plunge and invested there have been those who have become millionaires and even billionaires as a result, while there are those who have also lost a considerable amount as the price proves to be a constant rollercoaster for investors.
To decipher exactly how cryptocurrency works, how to invest and what the future looks like for the likes of bitcoin (BTC), Ethereum (ETH) and Cardano (ADA),The Independent is hosting an expert panel to explore the ins and outs of digital money.
The virtual event, which is free to attend, will be hosted by our own crypto expert, tech writer Anthony Cuthbertson and he will be joined by digital currency leaders who will be able to give their first-hand account of trading in the online market.
One of the panellists is none other than Fred Schebesta, a co-founder of financial comparison website Finder, self-made entrepreneur with an estimated net worth of $214million.