Trump Covid: US president has mild symptoms – White House
Media playback is unsupported on your device
US President Donald Trump has mild symptoms of Covid-1..
US President Donald Trump has mild symptoms of Covid-19 after he and his wife Melania tested positive for the coronavirus, the White House says.
Mr Trump's chief of staff said the president was "on the job" and "in good spirits", adding that he expected him to make a quick recovery.
The news comes just over a month before presidential elections, where he will face Democratic challenger Joe Biden.
Mr Biden himself and his wife Jill tested negative on Friday.
"I hope this serves as a reminder," he tweeted after the result. "Wear a mask, keep social distance, and wash your hands."
Mr Biden's staff said he would travel to Michigan on Friday as planned for several campaign events.
Other close members of Mr Trump's family have tested negative.
Officials said the process of tracking all the president's contacts in recent days was ongoing, adding that Mr Trump was considering how he might address the nation or otherwise communicate with the American people on Friday.
But he pulled out of a video conference call with vulnerable seniors scheduled for Friday, leaving Vice-President Mike Pence to chair the meeting.
On Thursday, the first couple said they intended to self-isolate after one of Mr Trump's closest aides, Hope Hicks, tested positive. Soon afterwards, they too received positive test results.
But there has been criticism of Mr Trump's decision to go to a fundraiser attended by dozens of people in New Jersey on Thursday, apparently when officials already knew about Ms Hicks's symptoms.
Ms Hicks, 31, travelled with Mr Trump on Air Force One to the first presidential TV debate with Mr Biden in Ohio on Tuesday. Some of Mr Trump's family members who attended the debate were seen not wearing masks.
Mr Trump has mostly spurned mask-wearing and has often been pictured not socially distanced with aides or others during official engagements.
The coronavirus has infected more than 7.2 million Americans, killing more than 200,000 of them.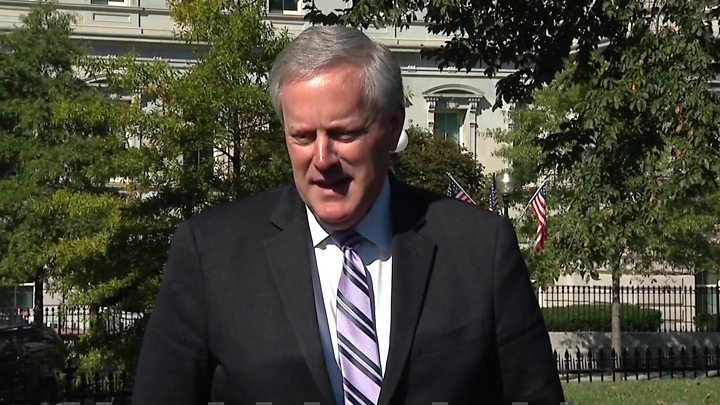 What do we know about Trump's condition?
White House Chief of Staff Mark Meadows said Mr Trump was experiencing mild symptoms, but that he and Melania were "in good spirits". He said he was optimistic the president would make a speedy recovery.
He was on the job and would remain on the job, Mr Meadows added, saying updates on his health were expected later on Friday.
Earlier Mr Trump wrote on Twitter: "We will get through this together."
Melania Trump tweeted that she was looking forward to a speedy recovery.
"Thank you for the love you are sending our way. I have mild symptoms but overall feeling good," she said.
Mr Trump's physician, Dr Sean Conley, released a statement late on Thursday, saying the president and the first lady were "both well at this time, and they plan to remain at home within the White House during their convalescence".
According to Mr Trump's most recent physical examination earlier this year, he weighed 244lbs (110.7kg). This is considered to be obese for his height of 6ft 3ins.
But Dr Conley stated at the time that the president "remains healthy". Mr Trump will also have the best medical care available.
America's Centers for Disease Control and Prevention (CDC) says a person must self-isolate for 10 days after a positive test.
It is not clear how Mr Trump's positive test will affect arrangements for the second presidential debate, which is scheduled for 15 October in Miami, Florida.
Mr Trump is not the first world leader to have tested positive. Earlier this year, British Prime Minister Boris Johnson and Brazil's President Jair Bolsonaro were infected. They both have since recovered, although Mr Johnson had to receive regular oxygen treatment to help his breathing during hospitalisation.
Contest has been fundamentally altered
The US presidential election has been turned on its head.
That sentence could have been written about any number of moments in a tumultuous year in American politics, but nothing quite like this has occurred this year, this decade, this century.
Just 32 days before the presidential election, Donald Trump has tested positive for Covid-19. Given his age, 74, he is in a high-risk category for complications from the disease. At the very least, he will have to quarantine while he is treated, meaning the US presidential contest – at least his side of it – has been fundamentally altered.
The initial implications are obvious. The president's rigorous campaign schedule – which included visits to Minnesota, Pennsylvania, Virginia, Georgia, Florida and North Carolina in just the past week – is on indefinite hold.
Trump will certainly have surrogates on the trail for him, but given that he has relied heavily on his family and senior administration and campaign officials for such tasks in the past, and many of them may have to quarantine because of their own exposure to the virus, that campaign operation will be disrupted as well.
Who else has been tested?
Vice-President Pence and his wife were tested on Friday morning, and the results were negative, Mr Pence's press secretary Devin O'Malley tweeted.
Later House Speaker Nancy Pelosi, who would in theory take charge of government if both the president and vice-president were incapacitated, said she had been tested on FridaRead More – Source
Queen Elizabeth and Duke of Edinburgh receive Covid-19 vaccine
Queen Elizabeth II and the Duke of Edinburgh have received their Covid-19 vaccinations, a Buckingham Palace spokesperson said Saturday.
The inoculations were administered by a household doctor at Windsor Castle, a royal source said.
To prevent inaccuracies and further speculation, Her Majesty, who 94, decided that she would let it be known that she has had the vaccination, the source added. Her husband is 99 years old.
The couple's son, Prince Charles, tested positive for coronavirus and went into isolation in March. The 72-year-old later said he was lucky to only experience mild symptoms, adding he'd "got away with it quite lightly."
Meanwhile, their grandson Prince William, second-in-line to the British throne, also tested positive for coronavirus earlier this year, UK media reported, though exactly when he contracted the virus is unclear.
The UK has recorded more than 3 million cases of Covid-19 and more than 80,000 deaths, according to figures from Johns Hopkins University on Saturday.
The UK reported 1,325 coronavirus-related fatalities on Friday — its highest ever daily increase in deaths.
Health officials face a deadly start to 2021 as a new coronavirus variant, first detected in the UK, sweeps the nation.
In the capital, London's mayor declared a "major incident" on Friday, warning that hospitals in the city were close to being overrun.
"The situation in London is now critical with the spread of the virus out of control," Mayor Sadiq Khan said in a statement.
"The number of cases in London has increased rapidly with more than a third more patients being treated in our hospitals now compared to the peak of the pandemic last April.
"We are declaring a major incident because the threat this virus poses to our city is at crisis point," Khan added. "If we do not take immediate action now, our [National Health Service] could be overwhelmed and more people will die."
Dozens killed in suspected jihadist attack in Niger
Dozens of people were killed in an attack in Niger on Saturday, in a suspected jihadist attack.
The attack took place around 12:00 CET in the Tchomo-Bangou village in Tillabéri, a western region bordering Mali.
"The assailants surrounded the village and killed up to 50 people," a local radio journalist said anonymously. "The wounded have been evacuated to the hospital in Ouallam."
It came on the day provisional results for the first round of the presidential election, held on December 27, were released.
Mohamed Bazoum, the candidate for the ruling Party for Democracy and Socialism (PNDS) and a former interior minister, is in the lead with 39.3 per cent of the votes. Bazoum has vowed to strengthen the country's fight against Islamist groups.
The second round of the election is to be held on February 21.
Niger has been a target for jihadist attacks for years, particularly in the western and southeastern parts of the country.
On December 21, six days before the presidential poll, seven soldiers were killed in Tillabéri. In May 2020, twenty people, including children, were also killed in two of the region's villages.
Read from source: https://www.euronews.com/2021/01/03/dozens-killed-in-suspected-jihadist-attack-in-niger
Niger votes in presidential and legislative elections
People in Niger began voting in the country's presidential and parliamentary elections on Sunday.
Mohamed Bazoum, the right-hand man of outgoing President Mahamadou Issoufou is the favourite to win.
The sixty-year-old former interior minister is aiming for outright victory in the first round — something that no candidate has done before.
He's focussing on security and education.
Over 7 million people are eligible to vote. But some voters, like Gambina Moumouni, simply want a president they can trust.
"We pray to Allah to choose us the president who has the most mercy for the people, a president who will not betray the country and who will not betray the trust of the people, that is our wish. It is also our wish that Allah may help to make the poor, the peasants, the (cattle) breeders happy.
Thirty candidates are standing including two former presidents and two former prime ministers, but according to seasoned observers in the region, the poll is arousing little enthusiasm among the population.
Niger is the world's poorest according to the UN's Human Development Index and also one of those hardest hit by climate change.
Read from source: https://www.euronews.com/2020/12/27/niger-votes-in-presidential-and-legislative-elections