Masks made Czech Republic the envy of Europe. Now they've blown it
There are currently more new Covid-19 cases per million people recorded in the Czech Republic than i..
There are currently more new Covid-19 cases per million people recorded in the Czech Republic than in any other major country in the world. On Friday, more than 11,100 new cases were reported in a single day, a new record. In the first 17 days of October, more people have died of the virus in the Czech Republic than during the previous eight months of the epidemic combined. The Czech Medical Chamber and the health minister have called on Czech doctors living abroad to return home to help fight the virus. Medical students and people with medical training have also been encouraged to come forward. More than 1,000 qualified nurses who've left the profession have offered to come back to help.For now, the Na Bulovce hospital has enough beds for everyone. But it's preparing for the worst. "We have other back-up beds prepared in other departments in case the capacity exceeds our current possibilities," said Dr. Hana Rohacova, the head doctor at the hospital's infection disease clinic. This weekend, the government began setting up a temporary field hospital in Prague. Czech Health Minister Dr. Roman Prymula told CNN he expects the extra beds will be needed as soon as the end of this month. It's a stunning development. Less than two months ago, the Czech Prime Minister Andrej Babis boasted his country was among the "best in Covid."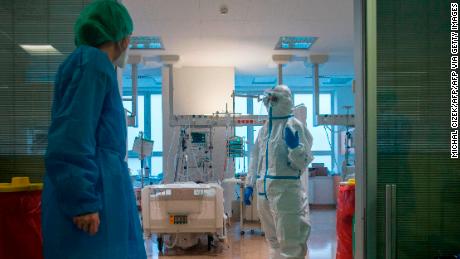 While the Czech Republic is technically experiencing the second wave of the epidemic, the first one this spring looks like an insignificant blip on the radar in comparison to the current state. The Czech Republic was once one of the most successful countries in Europe at controlling the spread of the virus. Babis' populist centrist government moved quickly to close the borders and implement a nationwide lockdown. Many other countries did the same, but what set the Czechs apart was the requirement to wear face masks by everyone, everywhere outside of the home.Czech data scientist Petr Ludwig was among those pushing for that mask mandate back in mid-March, months before western health authorities or even the World Health Organization was recommending them.Ludwig had just flown from New York to Prague, and says he was the only person on his flight with a face covering. When he arrived home, he dug through the scientific evidence supporting face coverings and made a YouTube video explaining why he was convinced masks were the answer. The Czech-language video attracted more than 600,000 views, in a country of only 10 million.An English version of the video has been viewed more than 5.7 million times.Days later, Babis announced the mask mandate. "We didn't convince the government, we convinced public by [social media] influencers and then government followed because our government is slightly populist. So they followed the opinion of the public," Ludwig told CNN.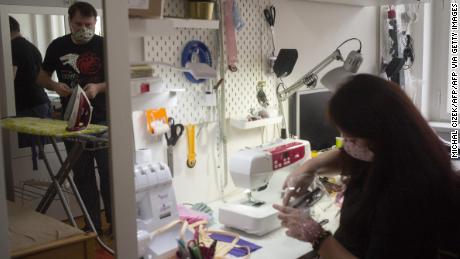 Medical masks were in short supply at the time, which was one of the reasons why the WHO didn't recommend their use. Faced with the shortage, thousands of Czechs dusted off their sewing machines and became part of a wartime-like effort to make and distribute masks where they were needed. One group of volunteers created an interactive map of need which resulted in more than 600,000 masks, made mostly by individual volunteers, to be handed out around the country. The Prime Minister was converted — he even tweeted some advice to US President Donald Trump on March 29, "Try tackling virus the Czech way. Wearing a simple cloth mask, decreases the spread of the virus by 80% … God bless America!"Most Czechs obeyed the mask rule. The measure wasn't particularly popular with the masses, but it was wildly effective in controlling the spread of the virus. And it made the country an outlier. "Some people from the WHO, for example, told us that this is nonsense. Many other countries around Czech Republic told us that wearing masks is nonsense. But the Czech people were doing well," said microbiologist Dr. Omar Sery, who was also one of the early advocates for face masks.The Czech Republic's first wave of infection peaked in late March at 408 cases in one day. The highest single-day death toll was just 18, in April. On June 30, the Czech Republic recorded no new Covid-19 deaths. That same day, an outdoor street party in Prague celebrated the end of the pandemic. Masks were not part of the dress code. Theaters reopened, indoor dining returned, people were allowed to travel abroad. Even Babis, the Prime Minister, went to Greece for a vacation.In almost every way, the country had regained the normalcy that people in across Europe were craving. It wouldn't last long."We didn't see dead people, we didn't see people with coronavirus in hospitals — the Czech people thought that this is nonsense and we don't need to wear masks," said Dr. Sery.
Bosnia: Icy struggle for many migrants stuck in freezing tents
Thousands of refugees and migrants urgently need proper shelter in Bosnia-Herzegovina after weeks outdoors in freezing cold, the UN has warned.
Some 2,500 people are in unheated tents or sleeping rough near the northern town of Bihac. A UN official says some are now being moved to heated tents.
Local authorities have refused to reopen a nearby reception centre.
Instead hundreds have been forced to return to a temporary camp that was ravaged by fire last month.
Peter Van der Auweraert of the UN's International Organisation for Migration (IOM) has tweeted photos of the basic tents erected at the Lipa camp by the Bosnian army a few days ago.
But his latest post is upbeat. Lipa is carpeted with heavy snow, he says, so the relocation of migrants to heated tents, now under way, is an "important step forward". The new tents were brought in by the army.
The camp was set up hastily in the summer when the coronavirus pandemic forced crisis measures including border closures.
But aid agencies pulled out of the camp in December, saying it was unsustainable without water and electricity.
Some residents forced to leave the facility looted equipment and set fire to tents, police said.
However, about 900 migrants had to go back there, after local officials refused to let them move to the empty reception centre in Bihac. Another 1,500 are struggling in primitive conditions elsewhere near the town.
The migrants are from South Asia, Africa and the Middle East, and got stuck in Bosnia while trying to reach Croatia, an EU member state seen as a gateway to the EU.
Some of the migrants have refused to use the tents in Lipa because they lack heating and sanitation. Some also went on hunger strike, angry at the lack of amenities.
But on Tuesday many did receive Red Cross food parcels.
"We want people in proper reception centres where they have access to services, like the 6,000 other people in Bosnia," Mr Van der Auweraert, the IOM's head in Bosnia-Herzegovina, told the BBC's Balkans correspondent Guy De Launey at Lipa.
The IOM says about 8,500 non-EU migrants are living in Bosnia, still hoping to get to northern Europe.
"Here is too much cold. You know, the weather is rainy and the weather is very cold, and we can't sleep in here," one migrant told our correspondent.
In recent years thousands of people, including refugees from the conflicts in Afghanistan and Syria, have entered Bosnia hoping to get asylum in the EU.
Bosnia's central government ordered the reopening of a reception centre in an old factory on the outskirts of Bihac, but the local authorities refused.
The city's mayor, Suhret Fazlic, told the BBC: "We are not satisfied with approach of EU – people coming from Greece and Bulgaria want to get to Croatia, but stuck in Bihac."
The EU has told the Bosnian authorities that they "must assume their responsibilities". The country of 3.5m has ambitions to join the EU.
On Wednesday the bloc's foreign policy chief Josep Borrell said the EU had funded the still empty shelter in Bihac, but Bosnian officials had "ignored repeated appeals to provide basic and secure living conditions and humane treatment".
His spokesman Peter Stano said "over the last two years, we provided over 90m euros (£81m; $110m) for centres, equipment, medical and social care.
Covid: Sweden official defends Christmas trip to Canary Islands
A top Swedish official involved in the coronavirus response has defended a Christmas holiday in the Canary Islands in the face of heavy criticism.
Dan Eliasson is head of the civil contingencies agency, which earlier in December had texted all Swedes urging them to avoid travel.
He was photographed in Las Palmas airport on the island of Gran Canaria.
Mr Eliasson insisted the trip was necessary "for family reasons".
He told Swedish media that he had "given up a lot of trips during this pandemic" but thought this one was necessary because he had a daughter living in the Canaries.
"I celebrated Christmas with her and my family," he told Expressen newspaper. He also said he had been worked remotely while in the Canaries.
Sweden has had 437,000 confirmed cases and 8,700 deaths – many more than its Scandinavian neighbours. The country has never imposed a full lockdown.
However, alarmed by rising numbers of cases last month, the Swedish government reversed some of its guidance and sent a text message to all Swedes asking them to read updated guidelines.
The guidelines included asking Swedes to avoid unnecessary trips and not to make new contacts during a journey or at the destination.
Mr Eliasson was then photographed several times in Gran Canaria, including at the airport.
There have been calls for Mr Eliasson, an experienced official who has worked at several important departments, to be fired.
Prime Minister Stefan Löfven and other ministers have not yet commented, according to Swedish media.
Read from source: https://www.bbc.com/news/world-europe-55523587
UK regulator approves Oxford/AstraZeneca coronavirus vaccine
UK regulators have approved the use of the Oxford University/AstraZeneca coronavirus vaccine, which is cheaper and easier to distribute than some rivals and could in time offer a route out of the pandemic for large parts of the world.
The UK government said it would follow a new immunization strategy for the vaccine, which will prioritize giving the first in a series of two vaccine doses to as many people as possible, before administering a second dose up to 12 weeks later.
This will apply to both the newly approved Oxford/AstraZeneca vaccine and the Pfizer/BioNTech vaccine which is already being administered.
"This is important because it means that we can get the first dose into more people more quickly and they can get the protection the first dose gives you," UK Health Secretary Matt Hancock told Sky News on Wednesday.
"The scientists and the regulators have looked at the data and found that you get what they call 'very effective protection' from the first dose. The second dose is still important — especially for the long-term protection — but it does mean that we will be able to vaccinate more people more quickly than we previously could."
The UK is the first country to approve the Oxford University/AstraZeneca vaccine, which will be rolled out there from January 4. The news represents a glimmer of hope for the UK at a time when its health services are struggling to cope with soaring infection rateslinked to a new, more contagious variant of the virus.
The approval comes weeks after the country became the first in the world to start inoculating its citizens with the rival Pfizer/BioNTech coronavirus vaccine. Margaret Keenan, 91, received her second dose of that vaccine on Wednesday, three weeks after she became the first patient outside of clinical trials to receive it.
The Oxford University/AstraZeneca vaccine has the potential swiftly to protect millions more people around the world as and when other nations' regulators grant approval.
AstraZeneca has promised to supply hundreds of millions of doses to low and middle-income countries, and to deliver the vaccine on a not-for-profit basis to those nations in perpetuity.
The vaccine is significantly cheaper than others which have been approved and, crucially, it would be far easier to transport and distribute in developing countries than its rivals since it does not need to be stored at freezing temperatures.
Hancock said Wednesday that the UK had 100 million doses of the Oxford/AstraZeneca vaccine on order, which, combined with 30 million doses of the Pfizer/BioNTech vaccine, would be enough to vaccinate the entire UK adult population.
The country already has 530,000 doses of the Oxford/AstraZeneca vaccine ready to begin inoculations on Monday, he told the House of Commons. "Today's news means that everyone who wants one can get a vaccine," Hancock said, adding that AstraZeneca is due to supply millions more doses from the beginning of February.
Earlier, Hancock told Sky News the NHS was "standing ready to deploy, at the sort of pace that is needed to be able to help us to get out of this pandemic by the spring."
UK Prime Minister Boris Johnson tweeted that the vaccine's approval was "truly fantastic news — and a triumph for British science." He added: "We will now move to vaccinate as many people as quickly as possible."
'No corners cut'
The UK's National Health Service (NHS) is coming under increasing pressure as Covid-19 cases soar in many regions. The UK recorded a further 53,135 coronavirus cases on Tuesday, breaking its daily record since the pandemic began for a second day in a row.
More areas of England were move into the toughest level of restrictions from Thursday, amid attempts to limit the spread of the new, more infectious variant. Three-quarters of England's population will be under the strict rules, which mandate the closure of all non-essential retail, gyms, close-contact services such as hair salons, and all hospitality venues.
Hancock told the House of Commons that more than 21,000 people were currently in hospital with coronavirus in England. "Unfortunately this new variant is spreading across most of England," he warned.
Some scientists have called on the government to impose even tougher restrictions to rein in the virus' spread, such as delaying children's return to in-person teaching in schools next year or imposing a full national lockdown.
Authorities declared a major incident Wednesday in the county of Essex, northeast of London, in response to "significant growing demand" on local hospitals after a surge in coronavirus cases there.
Dr. June Raine, chief executive of the Medicines and Healthcare products Regulatory Agency (MHRA) — the UK regulatory body — told a televised Downing Street briefing Wednesday that the newly approved Oxford/AstraZeneca vaccine could save "tens of thousands" of lives.
And she insisted that the public could have every confidence in its safety, effectiveness and quality.
"Our teams of scientists and clinicians have very carefully, methodically and rigorously reviewed all the data on safety, on effectiveness and on quality as soon as they have become available, and have done so around the clock, looking at all the tests and trials … no corners, whatsoever, have been cut," she said.
Professor Wei Shen Lim, chair of the Joint Committee on Vaccination and Immunisation, told the briefing that "we can expect that the amount of vaccine available for use in the UK will substantially increase, very very soon. This increase in the vaccine supply will in turn allow a much higher rate of vaccine deployment across the UK, to all parts of the country."
He added that the second vaccine dose was still important "because it may impact on the duration of protection."
Both approved vaccines will be used across the UK, Lim said. "To facilitate rapid deployment within a mass vaccination program, and to avoid substantial vaccine wastage, it may be that in certain settings, one vaccine is offered in preference over another," he said, adding that the deployment of both vaccines would allow for "rapid and high levels of vaccine uptake" across the country.
The Oxford/AstraZeneca vaccine can be kept at refrigerator temperatures of 2 to 8 degrees Celsius (36 to 46 degrees Fahrenheit) for at least six months.
Moderna's vaccine has to be stored at minus 20 degrees Celsius (minus 4 degrees Fahrenheit) — or at refrigerator temperatures for up to 30 days — and the Pfizer/BioNTech vaccine has to be stored at minus 75 degrees Celsius (minus 103 degrees Fahrenheit), and used within five days once refrigerated at higher temperatures.
The vaccines are based on different technology. AstraZeneca's offering — like Johnson & Johnson's vaccine and Russia's Sputnik V — uses an adenovirus to carry genetic fragments of coronavirus into the body.
Updated advice
Previously, the team developing the Oxford/AstraZeneca vaccine said it had an "an average efficacy of 70%," with one dosing regimen showing an efficacy of 90%.
But the experts who gave Wednesday's Downing Street briefing said a full analysis of the trial data had not borne out the team's finding that that regimen — in which a half dose was followed by a full dose — was more effective. The MHRA approved the vaccine at two full doses, which has an efficacy of 62%.
Prof. Munir Pirmohamed, chair of the Commission on Human Medicines' Expert Working Group, said the trial data had led scientists to recommend giving as many people as possible their first dose of vaccine with a second dose following within 12 weeks.
"Because of the design of the trial, some people got second doses at different time intervals. This allowed for an analysis of the effectiveness of the vaccine if you were to be able to delay between 4-12 weeks," he said. "This showed that the effectiveness was high, up to 80% when there was a three month interval between first and second doses, which is the reason for our recommendation."
Pirmohamed noted that partial immunity only kicked in 22 days after the first dose and urged people to continue to follow social distancing guidelines even once they have had their first jab.
UK government scientific adviser Professor Calum Semple welcomed what he called a new, "sophisticated approach," telling Sky News that a "one-dose approach to start with will protect a great many people." According to Semple, evidence from vaccine trials has shown that a single dose has not only prevented people from getting severe disease, but also has prompted a "very good immune response" in frail and elderly people.
However, some scientists called for greater clarity over the data underpinning the latest vaccine approval and the country's new immunization strategy.
Dr. Jonathan Stoye, of the Francis Crick Institute, told the UK's Science Media Centre that important questions remained unanswered, including the real efficacy of the vaccine, how well it worked in older people and whether it prevented transmission between people.
"It remains unclear exactly how much protection is offered, and the regulators are using unpublished data to come to their judgment," said Dr. Simon Clarke, Associate Professor in Cellular Microbiology at the University of Reading.
"When questioned, the regulators floated an efficacy of 70% between 22 days and 12 weeks, but it seems likely that this is a fleeting maximum rather than a consistent level of protection. The vaccine's efficacy after two doses is 62%, so it looks likely that the higher number would only be very short-lived.
"At a time of increasing rates of infection, hospitalization and death from Covid-19, greater clarity is urgently needed over any risks associated with extending the second dose window to 12 weeks."
The UK also updated its advice on administration of the Pfizer/BioNTech vaccine Wednesday.
It now recommends an interval of at least 21 days between the first and second dose, rather than requiring the second dose to be 21 days after the first.
The vaccine can now be considered for use in pregnancy when the potential benefits outweigh the risks, following an individual discussion with every woman, Raine said. Woman who are breastfeeding can now also be given the vaccine, subject to that individual discussion.
The vaccine can also now be given to people with allergies, provided they are not allergic to any of the ingredients in the vaccine, she said.