Los Angeles Dodgers and Tampa Bay Rays meet in World Series like no other
Appearing in their third World Series in four years, the Dodgers have not won a title since 1988, a ..
Appearing in their third World Series in four years, the Dodgers have not won a title since 1988, a barren run of 32 years. The Rays meanwhile are starring in just their second World Series, hoping to claim their maiden title.With the coronavirus pandemic playing havoc with the Major League Baseball season, it will be a Fall Classic the likes of which we have never seen.It will be the first World Series to be held on a neutral site — at the newly-opened Globe Life Field in Arlington, Texas — with just a small fraction of fans allowed in.And after each team reached the World Series in dramatic fashion, with a whole host of star players and storylines aplenty, spectators will have plenty to watch out for when the two teams with the best records in each league — the Dodgers from the National League and the Rays from the American League — and meet in the seven-game season finale.READ: Athletes across US sports take a stand, as games are called off in solidarity with Bucks' boycott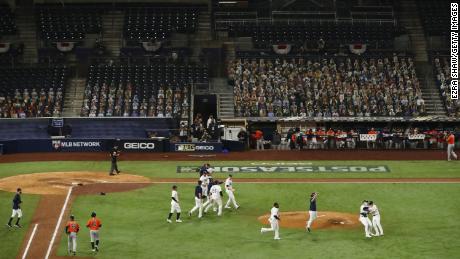 Getting over the hump
After acquiring the four-time All-Star Mookie Betts from the Boston Red Sox in February and with eight-time All-Star Clayton Kershaw, the Dodgers were one of the favorites to win the World Series.And despite having to combat a season full of postponements, cancellations and disruptions due to Covid-19, the LA team lived up to the billing, finishing with a league-best 43-17 record.Their dynamic offense posted a plus-136 run differential, by far the best in baseball, helping them romp to National League Championship Series (NLCS) title.However, their season looked like it was almost over just a few days ago as they had to rally from 3-1 down to beat the Atlanta Braves 4-3 to reach the season finale.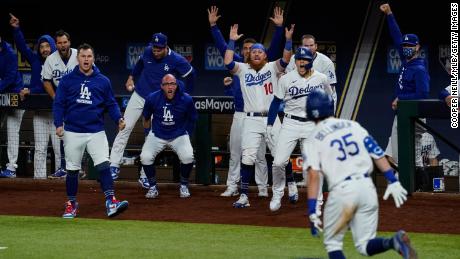 And making up for past mistakes is what is on the line for the Dodgers, in an "extremely special" World Series."2017 happened, 2018 happened, we fell short. Now we are back," Dodgers infielder Enrique Hernandez said."The past is in the past. This one feels super special because it is in front of us and it is happening. I am not going to take anything away from the other two, but this one is extremely special; we were able to stay COVID-free throughout the whole season."We took care of business in the regular season, we took care of business against the Brewers, we took care of business against the Padres, we took care of business against the Braves. It was a little harder than we thought it was going to be, but I am glad we pulled it off. Being down 3-1 then coming back and winning in seven games, it's something that I will never forget. It is special for sure."READ: US golfer Kirk Triplett explains why the Black Lives Matter movement is so important to him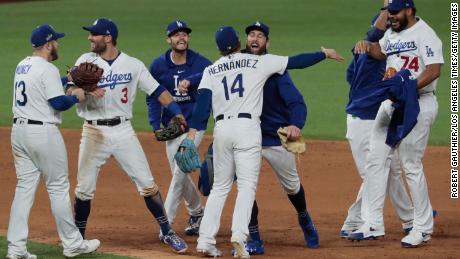 Reaching the promised land
While the Dodgers are all about their offense, the Rays are all about their group of pitchers.Comprised of Blake Snell, Charlie Morton and Tyler Glasnow, the Rays' rotation of pitchers have caused opposing sides no end of worries and were a key part in their 4-3 victory over the Houston Astros in the American League Championship Series (ALCS).Not many would've predicted the Florida team to reach the World Series at the beginning of the MLB season. But the ability to overcome the perceived bigger names has contributed to their special run. And with a tiny budget in comparison to the Dodgers — the Rays' 2020 salary was $28.3 million while the Dodgers' was $107.9 million — the Rays will be once again up against it. "It's a pretty special feeling," Rays manager Kevin Cash said after the victory. "I don't know if I've had many better, other than getting married and having three kids."This is right there below that. It can't get much better than that. This is a special group to be a part of. It's fun to see them win games and just to be a part of it."READ: WNBA superstar Sue Bird: 'Women's soccer players generally are cute little White girls&#0Read More – Source
'QAnon Shaman' Jake Angeli charged over pro-Trump riots
A prominent follower of the baseless conspiracy theory QAnon has been charged over the US Capitol riots.
Jacob Anthony Chansley, known as Jake Angeli, is in custody on charges including violent entry and disorderly conduct.
Mr Chansley, who calls himself the QAnon Shaman, is allegedly the man pictured with a painted face, fur hat and horns inside Congress on Wednesday.
Donald Trump faces another impeachment charge for his role in the unrest.
Democrats accuse the president of encouraging the riots, in which five people died.
The FBI has been appealing to the public to help bring the assailants to justice.
Mr Chansley has not commented publicly on the charges.
A statement from the federal attorney for Washington DC said: "It is alleged that Chansley was identified as the man seen in media coverage who entered the Capitol building dressed in horns, a bearskin headdress, red, white and blue face paint, shirtless, and tan pants.
"This individual carried a spear, approximately 6 feet in length, with an American flag tied just below the blade."
The statement said police had also detained a man from Florida believed to have been photographed carrying House Speaker Nancy Pelosi's lectern from the House of Representatives chamber.
Adam Johnson, 36, is being held on charges including one count of theft of government property and one count of violent entry.
Also among those charged is West Virginia lawmaker, Derrick Evans. He is alleged to have posted a video of himself online, standing outside the building with Trump supporters, and then going inside.
He was arrested on Friday and is also accused of violent entry and disorderly conduct on Capitol Grounds, the Department of Justice statement said.
More than a dozen people have now been charged in offences related to the assault on the Capitol building. They include an Alabama man allegedly found with 11 Molotov cocktails near the unrest.
Mr Trump is due to leave office in 11 days. Democrats in the House of Representatives plan to introduce an article of impeachment against him on Monday, for "incitement of insurrection".
US election: Trump tells Georgia election official to 'find' votes to overturn Biden win
US President Donald Trump has been recorded telling Georgia's top election official to "find" enough votes to overturn the election result.
"I just want to find 11,780 votes," Mr Trump told Republican Secretary of State Brad Raffensperger in a recording released by the Washington Post.
Mr Raffensperger is heard replying that Georgia's results were correct.
Mr Biden won Georgia alongside other swing states, winning 306 electoral college votes to his Mr Trump's 232.
Since the 3 November vote, Mr Trump has been alleging widespread electoral fraud without providing any evidence.
He tweeted on Sunday that Mr Raffensperger had not given details of the fraud the president alleges. "He has no clue!" the president tweeted.
All 50 states have certified the election result, some after recounts and legal appeals. So far, US courts have rejected 60 challenges to Mr Biden's win.
Congress is due to formally approve the election result on 6 January.
Mr Biden, a Democrat, is due to be inaugurated as president on 20 January.
Voters in Georgia are due to vote again on Tuesday to elect two senators for the state. The result could determine the balance of power in the Senate – if the two Democrat contenders win, then there will be equal numbers of Republican and Democratic senators and Democratic Vice-president-elect Kamala Harris will have the deciding vote.
Mr Biden's Democrats already control the lower House of Representatives.
What happened during the call?
In the excerpts released by Washington Post, Mr Trump can be heard alternately cajoling and pressurising Georgia's secretary of state.
He insisted that he had won the election in Georgia and told Mr Raffensperger that there was "nothing wrong with saying you have recalculated".
Mr Raffensperger responded by saying: "The challenge you have Mr president is that the data you have is wrong."
Later in the call Mr Trump said the rumour was that ballots had been shredded and voting machinery had been removed from Fulton County in the state – a charge Mr Raffensperger's lawyer said it was not the case.
The president then threatened the official with possible legal consequences.
"You know what they did and you're not reporting it. That's a criminal offence. You can't let that happen. That's a big risk to you and to Ryan, your lawyer," Mr Trump said.
He told Mr Raffensperger he should re-examine the result in the state.
"You can re-examine it, but re-examine it with people who want to find answers, not people who don't want to find answers," he said.
"Mr President, you have people who submit information and we have our people that submit information and then it comes before the court and the court has to make a determination," Mr Raffensperger replied. "We have to stand by our numbers, we believe our numbers are right."
Read from source: https://www.bbc.com/news/election-us-2020-55524838
Fact-checking Trump's conspiracy theory connecting Georgia's secretary of state to China
In the waning days of his presidency, Donald Trump continues to spread nonsense conspiracies over the 2020 election and the officials who oversaw it, attacking Georgia's governor and secretary of state on Twitter Tuesday.
Following Secretary of State Brad Raffensperger's announcement that a ballot signature match audit found no evidence of absentee voter fraud in Cobb County, Georgia, Trump tweeted a conspiracy theory linking Raffensperger to the Chinese government.
Trump tweeted that Raffensperger has a brother who "works for China," insinuating some nefarious, pro-China plot to have Trump lose the race in Georgia.
"Now it turns out that Brad R's brother works for China, and they definitely don't want 'Trump'. So disgusting!" the President tweeted after attacking Georgia's Republican Gov. Brian Kemp.
Facts First: This is false. A spokesperson for Raffensperger told CNN that the secretary of state has no siblings who work for China, as Trump baselessly alleged.
"There are no relatives who work for China or are affiliated with China," said Georgia Deputy Secretary of State Jordan Fuchs.
Though it's unclear exactly where Trump is getting the idea that Raffensperger's brother works for China, it's possible he is picking up on a false conspiracy theory spread by former political consultant Dick Morris, who made the allegation during an interview on Newsmax Tuesday evening and on his personal website.
In the interview, Morris leveled several false or misleading accusations against Raffensberger, including that Raffensperger is related to Ron Raffensperger, the chief technology officer of the Chinese company Huawei Enterprise Storage Solutions. Fuchs said that the secretary of state does not have a sibling named Ron.
Georgia Public Broadcasting reported Wednesday "public documents and records [show] that Raffensperger does have four siblings, including a brother, but none of them are named Ron, none work for Chinese technology companies."
Morris also falsely accused Raffensperger of standing in the way of recounts and refusing to verify signatures. Georgia conducted a statewide audit, hand-counting about 5 million ballots and Raffensperger oversaw an additional recount. And in addition to the state's existing signature verification process that occurs twice in the case of absentee ballots requested by mail, Raffensberger announced his office would help conduct a signature match audit statewide to further verify signatures on absentee ballots.
In a statement, Newsmax told CNN:
"Newsmax has never made any claim of impropriety by Georgia Sec. of State Brad Raffensperger or any member of his family. On Tuesday night, while appearing on the network, commentator Dick Morris claimed he was reporting on Dickmorris.com an allegation that Raffensperger had a brother who worked at a Chinese company. This claim was apparently inaccurate. During the segment the Newsmax host was highly skeptical of Mr. Morris' claims and suggested there was no evidence behind Mr. Morris' assertion, and specifically asked Mr. Morris to provide evidence of his claim."
CNN has attempted to reach Morris for comment but has yet to receive a response.