States file their Covid-19 vaccine plans to CDC without plans to pay for them, officials say
Friday was the deadline for states to submit their plans to the US Centers for Disease Control and P..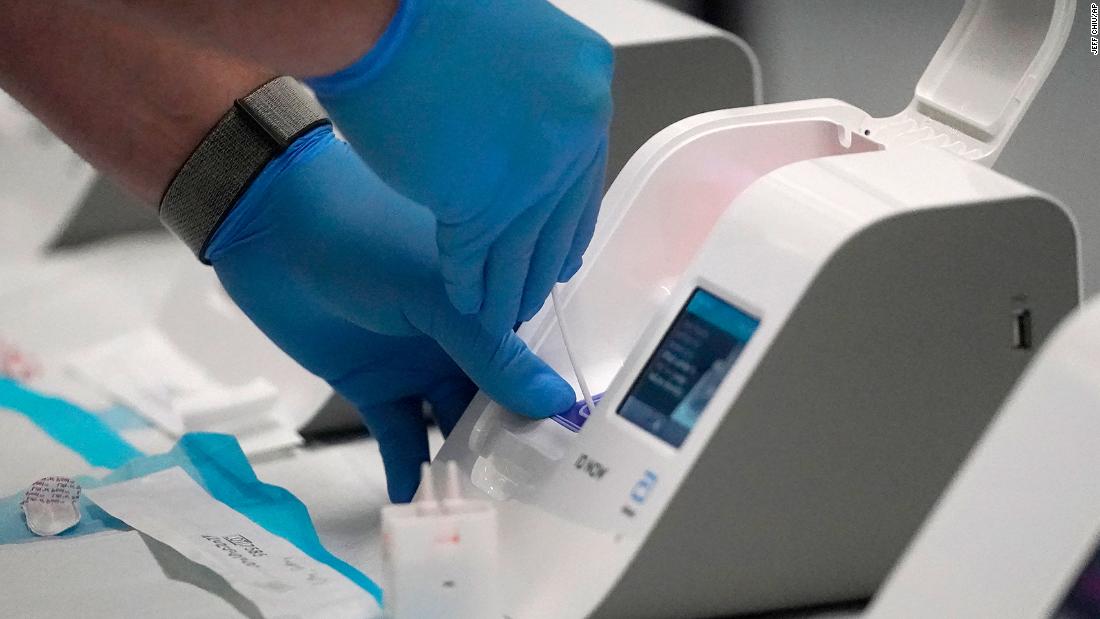 Friday was the deadline for states to submit their plans to the US Centers for Disease Control and Prevention, but they still don't have the needed federal money to help carry them out, officials said."As it stands now, we do not have any capability to fund the imminent implementation of the plan," James Blumenstock, senior vice president for pandemic response and recovery at the Association of State and Territorial Health Officials, told reporters Monday.The CDC distributed $200 million to states for preparedness and planning, Blumenstock said, which "certainly would not be sufficient at all for a campaign of this magnitude and duration."The association has asked Congress for $8.4 billion to help states distribute and administer vaccines to people once they became available."Even if the money was appropriated today, it would take time for those funds to reach the jurisdictions that in turn would need it," Blumenstock said.The funding for vaccines isn't the only problem. Health officials are also having to deal with a very skeptical public. Dr. Anthony Fauci, the director of the National Institute of Allergy and Infectious Diseases, said Monday it may be a challenge to get people to take the vaccine."It would be a terrible shame if we have — and I think we will have — a safe and effective vaccine but we're not able to widely distribute it to those who need it," Fauci said in a virtual event for the National Academy of Medicine on Monday.People at the highest risk of Covid-19 should get a vaccine once one is shown to be safe and effective, whereas healthy young people could possibly consider waiting for another vaccine, Fauci told CNN Chief Medical Correspondent Dr. Sanjay Gupta on Monday.The vaccine dilemma comes as Covid-19 cases continue to soar across the country. The next few months will be the "darkest of the pandemic," Michael Osterholm, director of the Center for Infectious Disease Research and Policy at the University of Minnesota, told NBC's "Meet the Press" on Sunday.As of Monday, there were more than 8.2 million cases and 220,088 coronavirus deaths in the United States, according to data from Johns Hopkins University.Osterholm highlighted the 70,000 cases of Covid-19 reported on Friday, which matched the largest number seen in the peak of the pandemic. Between now and the holidays, the US will see numbers "much, much larger than even the 67 to 75,000 cases," he said.LIVE UPDATES: The latest on the coronavirus pandemicFauci, however, said a nationwide lockdown is not the way forward unless the pandemic gets "really, really bad.""No, put shutdown away and say, 'We're going to use public health measures to help us safely get to where we want to go,'" he said in an interview on CBS' "60 Minutes" on Sunday night.
Fauci looks to the FDA for vaccine safety
It has long been anticipated that there will likely be more than one Covid-19 vaccine made available in the coming months.Fauci said whether people should get the first iteration of vaccine depends on a number of factors, including each individual's level of risk and how effective the vaccine is shown to be uniformly among different demographic groups."If you have an underlying condition and you find that you are in a high-risk situation, and you have a vaccine that's of reasonable efficacy, I would go ahead and take that vaccine if you're really at a higher risk. If you're an otherwise very healthy young person, you might want to wait and see what the next iteration would be," Fauci said. When one is made available, Fauci said in the "60 Minutes" interview, he will take it after looking at the data and whether the US Food and Drug Administration has approved it.Dr. Nirav Shah, director of Maine's Center for Disease Control and Prevention, said his state and likely others could probably get started vaccinating frontline health care workers once a vaccine became available, because they will be in easy-to-reach places such as hospitals and clinics.What will be more difficult, he said, will be reaching the people designated as high risk of severe complications for coronavirus who are not frontline medical and emergency workers, such as people with underlying health conditions.States will face considerable difficulties distributing coronavirus vaccines, especially as some require special ultra-cold handling conditions. Record-keeping will also be complicated because some vaccines will require two doses. The vaccines made by different companies have very different formulations, so if more than one is authorized, clinics will have to keep careful note of which vaccines patients get so they get a second dose of the same brand of vaccine.But Osterholm said that vaccines won't be available "in any meaningful way" until the third quarter of next year and even when they are, half the US population is skeptical of even taking one.The vaccine development process has stirred controversy as politicians have called for one to be released quickly, prompting some to question whether the politicization of the issue will affect the safety and efficacy of a possible vaccine. But many health experts have said that the agencies in charge will hold to high vaccine standards."The commissioner of the FDA has been very public that he will not let politics interfere. We have an advisory committee to the FDA who are made up of independent people who I trust," Fauci said. "Put all those things together, if the final outcome is that the FDA approves it, I will take it."In an open letter published Friday by Pfizer Chairman and CEO Albert Bourla, the company said it plans to apply for emergency use authorization from the FDA for its Covid-19 vaccine as early as the third week of November.Once a vaccine is approved in the US, CVS and Walgreens pharmacies have been designated to help distribute free vaccines to long-term care facilities, federal officials confirmed. Health and Human Services Secretary Alex Azar said he believes there will be enough vaccines by the end of December to vaccinate the most vulnerable populations in the United States. By the end of January, he said, there will be enough to vaccinate all seniors and health care workers and first responders."By the end of March, early April, we believe we will have enough vaccine produced to vaccinate anybody in the United States who wanted to get vaccinated," Azar said.
27 states reporting rising numbers of new cases
New coronavirus cases have been climbing across nearly all of the country over the past week.Florida's daily case count has remained above 2,000 for six days in a row, CNN's tally shows.The state is among 27 that have seen a 10% increase or greater of average daily cases over the week. The others are: Alabama, Arizona, Colorado, Connecticut, Idaho, Illinois, IndiRead More – Source
'QAnon Shaman' Jake Angeli charged over pro-Trump riots
A prominent follower of the baseless conspiracy theory QAnon has been charged over the US Capitol riots.
Jacob Anthony Chansley, known as Jake Angeli, is in custody on charges including violent entry and disorderly conduct.
Mr Chansley, who calls himself the QAnon Shaman, is allegedly the man pictured with a painted face, fur hat and horns inside Congress on Wednesday.
Donald Trump faces another impeachment charge for his role in the unrest.
Democrats accuse the president of encouraging the riots, in which five people died.
The FBI has been appealing to the public to help bring the assailants to justice.
Mr Chansley has not commented publicly on the charges.
A statement from the federal attorney for Washington DC said: "It is alleged that Chansley was identified as the man seen in media coverage who entered the Capitol building dressed in horns, a bearskin headdress, red, white and blue face paint, shirtless, and tan pants.
"This individual carried a spear, approximately 6 feet in length, with an American flag tied just below the blade."
The statement said police had also detained a man from Florida believed to have been photographed carrying House Speaker Nancy Pelosi's lectern from the House of Representatives chamber.
Adam Johnson, 36, is being held on charges including one count of theft of government property and one count of violent entry.
Also among those charged is West Virginia lawmaker, Derrick Evans. He is alleged to have posted a video of himself online, standing outside the building with Trump supporters, and then going inside.
He was arrested on Friday and is also accused of violent entry and disorderly conduct on Capitol Grounds, the Department of Justice statement said.
More than a dozen people have now been charged in offences related to the assault on the Capitol building. They include an Alabama man allegedly found with 11 Molotov cocktails near the unrest.
Mr Trump is due to leave office in 11 days. Democrats in the House of Representatives plan to introduce an article of impeachment against him on Monday, for "incitement of insurrection".
US election: Trump tells Georgia election official to 'find' votes to overturn Biden win
US President Donald Trump has been recorded telling Georgia's top election official to "find" enough votes to overturn the election result.
"I just want to find 11,780 votes," Mr Trump told Republican Secretary of State Brad Raffensperger in a recording released by the Washington Post.
Mr Raffensperger is heard replying that Georgia's results were correct.
Mr Biden won Georgia alongside other swing states, winning 306 electoral college votes to his Mr Trump's 232.
Since the 3 November vote, Mr Trump has been alleging widespread electoral fraud without providing any evidence.
He tweeted on Sunday that Mr Raffensperger had not given details of the fraud the president alleges. "He has no clue!" the president tweeted.
All 50 states have certified the election result, some after recounts and legal appeals. So far, US courts have rejected 60 challenges to Mr Biden's win.
Congress is due to formally approve the election result on 6 January.
Mr Biden, a Democrat, is due to be inaugurated as president on 20 January.
Voters in Georgia are due to vote again on Tuesday to elect two senators for the state. The result could determine the balance of power in the Senate – if the two Democrat contenders win, then there will be equal numbers of Republican and Democratic senators and Democratic Vice-president-elect Kamala Harris will have the deciding vote.
Mr Biden's Democrats already control the lower House of Representatives.
What happened during the call?
In the excerpts released by Washington Post, Mr Trump can be heard alternately cajoling and pressurising Georgia's secretary of state.
He insisted that he had won the election in Georgia and told Mr Raffensperger that there was "nothing wrong with saying you have recalculated".
Mr Raffensperger responded by saying: "The challenge you have Mr president is that the data you have is wrong."
Later in the call Mr Trump said the rumour was that ballots had been shredded and voting machinery had been removed from Fulton County in the state – a charge Mr Raffensperger's lawyer said it was not the case.
The president then threatened the official with possible legal consequences.
"You know what they did and you're not reporting it. That's a criminal offence. You can't let that happen. That's a big risk to you and to Ryan, your lawyer," Mr Trump said.
He told Mr Raffensperger he should re-examine the result in the state.
"You can re-examine it, but re-examine it with people who want to find answers, not people who don't want to find answers," he said.
"Mr President, you have people who submit information and we have our people that submit information and then it comes before the court and the court has to make a determination," Mr Raffensperger replied. "We have to stand by our numbers, we believe our numbers are right."
Read from source: https://www.bbc.com/news/election-us-2020-55524838
Fact-checking Trump's conspiracy theory connecting Georgia's secretary of state to China
In the waning days of his presidency, Donald Trump continues to spread nonsense conspiracies over the 2020 election and the officials who oversaw it, attacking Georgia's governor and secretary of state on Twitter Tuesday.
Following Secretary of State Brad Raffensperger's announcement that a ballot signature match audit found no evidence of absentee voter fraud in Cobb County, Georgia, Trump tweeted a conspiracy theory linking Raffensperger to the Chinese government.
Trump tweeted that Raffensperger has a brother who "works for China," insinuating some nefarious, pro-China plot to have Trump lose the race in Georgia.
"Now it turns out that Brad R's brother works for China, and they definitely don't want 'Trump'. So disgusting!" the President tweeted after attacking Georgia's Republican Gov. Brian Kemp.
Facts First: This is false. A spokesperson for Raffensperger told CNN that the secretary of state has no siblings who work for China, as Trump baselessly alleged.
"There are no relatives who work for China or are affiliated with China," said Georgia Deputy Secretary of State Jordan Fuchs.
Though it's unclear exactly where Trump is getting the idea that Raffensperger's brother works for China, it's possible he is picking up on a false conspiracy theory spread by former political consultant Dick Morris, who made the allegation during an interview on Newsmax Tuesday evening and on his personal website.
In the interview, Morris leveled several false or misleading accusations against Raffensberger, including that Raffensperger is related to Ron Raffensperger, the chief technology officer of the Chinese company Huawei Enterprise Storage Solutions. Fuchs said that the secretary of state does not have a sibling named Ron.
Georgia Public Broadcasting reported Wednesday "public documents and records [show] that Raffensperger does have four siblings, including a brother, but none of them are named Ron, none work for Chinese technology companies."
Morris also falsely accused Raffensperger of standing in the way of recounts and refusing to verify signatures. Georgia conducted a statewide audit, hand-counting about 5 million ballots and Raffensperger oversaw an additional recount. And in addition to the state's existing signature verification process that occurs twice in the case of absentee ballots requested by mail, Raffensberger announced his office would help conduct a signature match audit statewide to further verify signatures on absentee ballots.
In a statement, Newsmax told CNN:
"Newsmax has never made any claim of impropriety by Georgia Sec. of State Brad Raffensperger or any member of his family. On Tuesday night, while appearing on the network, commentator Dick Morris claimed he was reporting on Dickmorris.com an allegation that Raffensperger had a brother who worked at a Chinese company. This claim was apparently inaccurate. During the segment the Newsmax host was highly skeptical of Mr. Morris' claims and suggested there was no evidence behind Mr. Morris' assertion, and specifically asked Mr. Morris to provide evidence of his claim."
CNN has attempted to reach Morris for comment but has yet to receive a response.