COVID-19 pandemic will slow already miniscule progress in women's rights: UN report
NEW YORK: The COVID-19 pandemic threatens to grind down progress toward gender equality that already..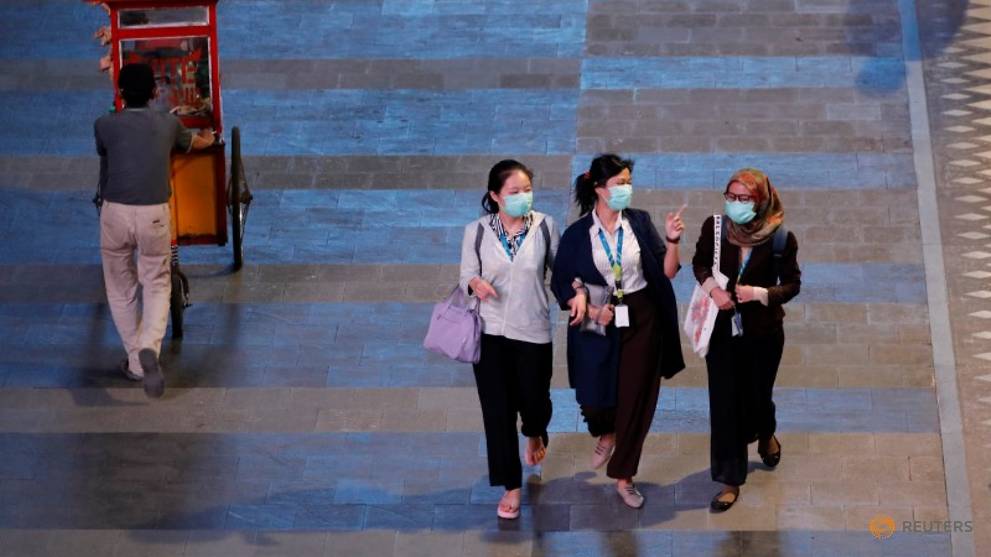 NEW YORK: The COVID-19 pandemic threatens to grind down progress toward gender equality that already was creeping along at a snail's pace, the United Nations said on Tuesday (Oct 20).
Gender-based violence and inequities in the workplace and political leadership are nearly as bad as they were 25 years ago, the global agency said in a report "The World's Women 2020".
Advertisement
Advertisement
Only modest gains in education and lowered maternal mortality have taken place since the UN's 189 members made a commitment to women's rights at a landmark conference in Beijing in 1995, Secretary-General António Guterres said.
"Progress towards equal power and equal rights for women remains elusive," Guterres said in a statement.
"No country has achieved gender equality, and the COVID-19 crisis threatens to erode the limited gains that have been made."
Advertisement
Advertisement
Not only did UN members make the pledge in China a quarter-century ago, but achieving gender equality by 2030 was one of the global goals adopted five years ago to tackle social ills like poverty and conflict.
The UN report found boys and girls are equally likely to go to primary and secondary school, and women are more likely than men to enrol in higher education, but fewer than half of women work in the paid labour market compared with three-quarters of men.
That is the same gap that existed in 1995, it said.
"Too many people think 'Oh, well it's good that girls are finishing school and more women are going to university,' but clearly that's not enough," said Jeni Klugman, managing director of Georgetown University's Institute for Women, Peace and Security.
Advertisement
Women's workforce participation is particularly low, below 30 per cent, in Southern Asia, Northern Africa and Western Asia, the UN said.
PROGRESS IN POLITICAL LEADERSHIP ALSO SLOW
Progress in gender parity in political leadership is also slow, the UN said, with only eight more female heads of state or government – monarchs, presidents or prime ministers – today than in 1995.
The proportion of women in managerial positions is nearly the same as it was in 1995, the UN said.
Slowing women's progress is the unpaid work they are likely expected to do at home, it said.
Among single women aged 25 to 54, four out of five are employed, but if they have a partner and child, the rate drops below half, it said.
The findings come as the coronavirus pandemic, which has infected more than 40 million people and killed 1.1 million people worldwide, according to a Reuters tally, deepens underlying inequalities, the UN said.
According to data from 38 countries and territories, women were more likely than men to be infected, possibly because about 70 per cent of health-care workers are female, it said.
"They are at high risk of contracting the disease, and they are also, of course, at the frontlines fighting the pandemic on behalf of everyone," saRead More – Source
Ukraine nursing home fire: Four arrested after Kharkiv blaze leaves 15 dead
Ukrainian authorities have arrested four people in connection with a deadly fire at a retirement home in Kharkiv.
15 people were killed after a blaze ripped through the nursing home on Thursday afternoon in the eastern Ukrainian city, according to emergency services.
Nine others were rescued, five of whom have been taken to hospital for treatment.
Pictures from the scene showed blackened rooms and barred windows on the upper floor of the two-storey building, which had been converted into a home for the elderly. 50 firefighters attended the incident to extinguish the flames.
In a statement on Facebook, the country's attorney general, Iryna Venediktova, said four people have been arrested.
The suspects include those who owned and rented the building, as well as the manager of the retirement home. Authorities say they are investigating if the fire was started by arson or the short circuit of an electrical appliance.
Ukraine's President Volodymyr Zelensky visited the centre in Kharkiv and has announced a national day of mourning for Saturday.
In an earlier tweet, the President called on local authorities to do "everything possible" to help victims and relatives who had lost loved ones.
Read from source: https://www.euronews.com/2021/01/21/ukraine-nursing-home-fire-15-dead-and-five-hospitalised-after-blaze-in-kharkiv
Europe's space leaders seek to boost sector in light of Brexit, COVID and international competition
The European Space Conference in Brussels takes place this week, so Euronews spoke to European Space Agency Director General Jan Wörner about the challenges the sector faces in 2021.
Brexit troubles Europe's space sector
Brexit is a headache for the European space sector, as the UK is a permanent and committed member of ESA, but is now outside the EU. Leaving the EU has made everything more complicated: under the terms of the agreement signed in December 2020 the UK can continue to be part of the Copernicus Earth observation programme at least until 2028, as both the EU and ESA contribute funding to it. However, it loses access to high-quality positioning from the EU's Galileo satellites, and is now out of EGNOS. The British stop being a full member of the European space debris tracking system, but still have access to it as a non-EU partner.
There are outstanding questions over the role of British companies in building spacecraft for EU-related projects. ESA DG Jan Wörner told Euronews he believes 'it is possible to have a solution', given that non-EU countries like Switzerland and Norway are able to take part in the construction of satellites under Brussels contracts. However, the sheer size of the UK space sector is an issue. "Some fear in Brussels that if a big member state is doing something different, then this could be a magnet for other countries to do the same," admits Wörner.
EU project to beam internet to all
A hot topic around the virtual and real water coolers at the Brussels Space Conference will be the Commission's new plans to create a network of low-Earth orbiting internet satellites, which should offer broadband, 5G and more to rural communities across the bloc.
The initiative is being spearheaded by Commissioner for Internal Market, Thierry Breton, with a broad consortium of space industry players comprising Airbus, SES, Arianespace, Eutelsat, OHB, Orange, Telespazio and Thales Alenia Space.
The vision is similar to the Starlink and OneWeb systems, both of which have already launched satellites aimed at offering a new kind of holy grail in communications, a low-flying communications network from orbit which allows everyone, at least in theory, to enjoy high-speed connectivity.
The European version would be a public-private partnership, and initial work will begin this year.
Defining ESA-EU relations
The EU's enthusiasm for space is clear: just before Christmas the European Commission and Parliament approved a 14.8 billion euro budget for EU space activity. The funding for the period 2021 to 2027 includes 9 billion for Galileo and 5.4 billion for Copernicus.
It's part of a continued and rising commitment to developing Europe's space sector, but it does beg the question of just how close ESA and the EC would like to become? For Wörner, moving further in the EU's direction is a 'political decision' but not one that necessarily fits with ESA's principals on return on investment, which see agency member states receiving reciprocal industrial contracts which are very close in size to their level of investment in a given programme. "The link between what ESA is doing and what states want to happen is very close, and a really big advantage," he says.
The current director of Earth Observation at ESA, Josef Aschbacher, has said that defining the relationship between the two organisations is one of his main objectives when he replaces Wörner in July 2021.
Competition from US and China
A key focus of the Brussels Space Conference is the desire for Europe to develop a vibrant and independent private space sector. So far, major initiatives like Galileo and Copernicus have spawned a large number of small and specialist space startups selling value-added services based on the free data from these two projects. However, the old continent has so far struggled to create the kind of attention-grabbing commercial space firms like SpaceX and Planet Labs that NASA has helped foster in the US.
Then, there's the speedy growth and unbridled ambition of the Chinese to take into account. When Jan Wörner first came to his job in 2015 he made a media splash with his dreams of creating a 'village on the Moon'. In late 2020, however, he could only watch in awe as the Chinese sent a robotic mission to fetch samples from the Moon. It's something only the Soviet Union and the United States have achieved before.
"My first thought was congratulations, of course," he says, "but I quickly thought 'ah, they are fast, and we should be faster'". He told Euronews he hopes the joint ESA-NASA Mars Sample Return mission will be even more inspiring and impressive and give Europe's exploration programme a much-needed boost in publicity.
There are areas where ESA is a leader, particularly in Earth observation thanks to the Sentinel fleet. Catching space debris and working out how to deflect an asteroid on a collision course with Earth are another two of the growth areas for public and private initiatives in Europe. ESA is also pushing ahead with its Space Rider vehicle, an un-crewed flying machine which resembles a mini-Shuttle, and could offer commercial and institutional clients a relatively low-cost means of reaching orbit, and returning home afterwards.
However, the new Ariane 6 rocket continues to face delays. Much vaunted as a flexible new vehicle to compete in this highly-competitive market, the replacement for the heavy-lift Ariane 5 is now only due to launch in the second quarter of 2022. Arianespace has called on European governments to step up their commitment to launchers to better compete with SpaceX, which has grown rapidly on the basis of lucrative American government launch contracts.
Read from source: https://www.euronews.com/2021/01/11/europe-s-space-leaders-seek-to-boost-sector-in-light-of-brexit-covid-and-international-com
Queen Elizabeth and Duke of Edinburgh receive Covid-19 vaccine
Queen Elizabeth II and the Duke of Edinburgh have received their Covid-19 vaccinations, a Buckingham Palace spokesperson said Saturday.
The inoculations were administered by a household doctor at Windsor Castle, a royal source said.
To prevent inaccuracies and further speculation, Her Majesty, who 94, decided that she would let it be known that she has had the vaccination, the source added. Her husband is 99 years old.
The couple's son, Prince Charles, tested positive for coronavirus and went into isolation in March. The 72-year-old later said he was lucky to only experience mild symptoms, adding he'd "got away with it quite lightly."
Meanwhile, their grandson Prince William, second-in-line to the British throne, also tested positive for coronavirus earlier this year, UK media reported, though exactly when he contracted the virus is unclear.
The UK has recorded more than 3 million cases of Covid-19 and more than 80,000 deaths, according to figures from Johns Hopkins University on Saturday.
The UK reported 1,325 coronavirus-related fatalities on Friday — its highest ever daily increase in deaths.
Health officials face a deadly start to 2021 as a new coronavirus variant, first detected in the UK, sweeps the nation.
In the capital, London's mayor declared a "major incident" on Friday, warning that hospitals in the city were close to being overrun.
"The situation in London is now critical with the spread of the virus out of control," Mayor Sadiq Khan said in a statement.
"The number of cases in London has increased rapidly with more than a third more patients being treated in our hospitals now compared to the peak of the pandemic last April.
"We are declaring a major incident because the threat this virus poses to our city is at crisis point," Khan added. "If we do not take immediate action now, our [National Health Service] could be overwhelmed and more people will die."