What we know about the DOJ's antitrust case against Google so far
Enlarge / If the company got broken up, maybe each business would take a different color with them w..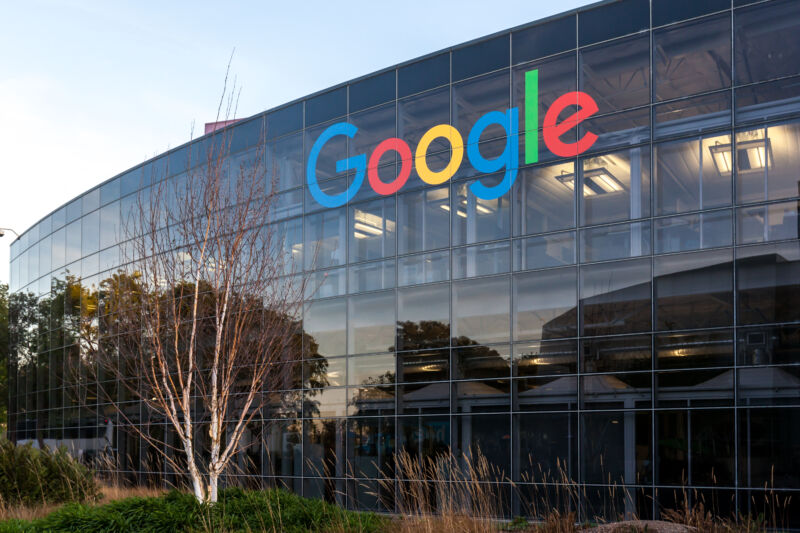 The Justice Department today filed a landmark antitrust case against Google. The hotly anticipated, long-awaited lawsuit accuses Google of using its market dominance to force unfair contract terms on suppliers and competitors to the detriment of competition and the marketplace.
The suit might just be the biggest thing in antitrust since the DOJ sued Microsoft in the 1990s… or it might not. Even though the investigation that led here has been going on for 16 months, a suit like this is the beginning, not the end, of the process. So here's everything we know—and more importantly, everything we still don't—about what this blockbuster case really means.
What does the suit allege?
The complaint (PDF) lays out the case that Google used "exclusionary agreements and anticompetitive conduct" to become dominant in the search marketplace, and then kept abusing that market dominance to prevent nascent rivals from gaining enough of a toehold potentially to become real competition.
The suit is focused on Google's search business, including search advertising and "general search text advertising," which the DOJ alleges the company has "monopolized" for more than a decade.
"For years, Google has entered into exclusionary agreements, including tying arrangements, and engaged in anticompetitive conduct to lock up distribution channels and block rivals," the DOJ writes in the suit. It goes on:
Google pays billions of dollars each year to distributors—including popular-device manufacturers such as Apple, LG, Motorola, and Samsung; major U.S. wireless carriers such as AT&T, T-Mobile, and Verizon; and browser developers such as Mozilla, Opera, and UCWeb—to secure default status for its general search engine and, in many cases, to specifically prohibit Google's counterparties from dealing with Google's competitors. Some of these agreements also require distributors to take a bundle of Google apps, including its search apps, and feature them on devices in prime positions where consumers are most likely to start their internet searches.
Although there are alternative search engines in the world, such as DuckDuckGo or Bing, the DOJ argues that Google's scale and anticompetitive behaviors have at this point made its dominance insurmountable without intervention.
Google's full response claims that the DOJ filed "a deeply flawed lawsuit that would do nothing to help consumers." Consumers, however, aren't the major target of the complaint. Competitors are. The complaint does not particularly address potential harms we, the end consumers, may experience as a result of this monopoly. Instead, it focuses on all the harms Google has allegedly done to other businesses in the digital supply chain.
Just search, though? That's it, really?
That's it, really. The DOJ's lawsuit is pretty narrow at this time and mainly focuses on just one of Google's sprawling business ventures. There are, however, plenty of other Google behaviors to complain about.
For example, a blockbuster report released earlier this month by a House Judiciary subcommittee found not only that Google was abusing its power in the search market but also that it was abusing its control over the digital advertising market. Google achieved its dominance through a series of acquisitions it lied about, the House alleged, and also through illegally tying other apps, products, and services into the Android platform. The House report also cited the intertwining of Chrome, Google Maps, and Gmail into each other and into other Google services as anticompetitive behavior.
Previous probes into Google's behavior have also taken issue with a much wider array of anticompetitive behaviors. In 2013, the company reached a settlement with the Federal Trade Commission in which it agreed to "change its business practices" across several segments of its sprawling business to avoid being sued for antitrust violations.
Two years later, however, The Wall Street Journal obtained a 160-page internal FTC document from the investigation leading to that settlement. The document showed that the agency's competition bureau found Google "used anticompetitive tactics and abused its monopoly power in ways that harmed Internet users and rivals." Agency staff recommended taking stronger antitrust action against Google at the time, but the commissioners decided that asking Google to behave better, instead of going to litigation, would result in faster change and less harm to competition and consumers.
DOJ officials declined to tell press in a call if they plan to add additional allegations to the existing suit or even file additional suits down the line. But they did confirm several times that their investigations into Google and other major digital platforms are still ongoing, implying that there's room for additional complaints if the DOJ decides the evidence merits it.
So is Google going to get broken up?
It's definitely possible—but also definitely not at all guaranteed. DOJ officials did not say they were looking for a breakup, but they also didn't rule it out. "Nothing is off the table" is all they would say.
The suit is very vague about what specific relief the government seeks. As a start, the DOJ asks the court to rule that Google broke the law and to order Google not to do anticompetitive things anymore. It then also asks the court to "enter structural relief as needed to cure any anticompetitive harm" as well as any relief "necessary and appropriate to restore competitive conditions in the markets affected by Google's unlawful conduct."
In general, "structural remedies" tend to imply divestments or breakups—you're literally changing the structure of the company to fix the problem. (In contrast, "behavioral remedies" imply requirements for or against specific behavior, as often seen with merger conditions.) The case is likely to be extremely long and complicated, and by the end of it, the court may determine that, yes, Google needs to be broken up to restore competitive conditions… or it may not. At this point, guessing that outcome is Magic 8 Ball territory.
What other outcomes might we see?
While this is a new kind of case for US antitrust enforcement, regulators on the other side of the Atlantic have been busily probing Google for most of the last decade. They have perhaps left us some guideposts for potential outcomes.
Google has faced several antitrust investigations in Europe as well. The EU fined Google for violation of antitrust law three separate times in recent years: €2.4 billion ($2.7 billion) in 2017, related to search; €4.3 billion ($5 billion) in 2018, related to Android; and €1.5 billion ($1.7 billion) in 2019, related to AdSense.
In the wake of those cases, Google had to make some changes to the way it operates inside the EU. In 2018, Google confirmed that Android device manufacturers would be allowed to unbundle the Android app package—for a fee. At the time, access to a license could run between $2.50 and $40 per device depending on country and on quality of device.
Google also now allows European Android users to select an additional preferred search engine and Web browser at device setup, rather than installing only Google and Chrome by default.
Those changes, however, do not appear to have altered the landscape in any significant way, in part because the slots allotted for competitors are doled out through an auction process. In short, as privacy-focused search engine DuckDuckGo complained in September, "The long-term result is that the participating Google alternatives must give most of their preference menu profits to Google!"
The various successes and failures of the EU approach are likely to come up from at least one side during the US legal process. But guessing whether a US court would choose to go the same way is, again, Magic 8 Ball territory.
Is this a big deal? It seems like a big deal.
The suit certainly has the potential to be a big deal. Google has thoroughly cemented its status as one of the biggest companies in the world by making its services utterly integral to the lives of billions of people. Stronger regulatory and legal action could have a profound effect on basically everyone, including a huge swath of businesses.
It's also now shockingly rare for the DOJ to pursue antitrust cases of this type anymore. Antitrust enforcement in the United States has declined enormously since the late 1970s, and both civil and criminal antitrust filings have contracted even more in the first two decades of this century. There have been two (2) previous major tech antitrust cases pursued in the last 50 years, and DOJ officials are leaning in hard to the idea that this could be a third to add to that tiny collection.
"As with its historic antitrust actions against AT&T in 1974 and Microsoft in 1998, the Department is again enforcing the Sherman Act to restore the role of competition and open the door to the next wave of innovation—this time in vital digital markets," Deputy Attorney General Jeffrey Rosen said of the suit.
"Decades ago the [DOJ's] case against Microsoft recognized that the antitrust laws forbid anticompetitive agreements by high-technology monopolists to require preinstalled default status, to shut off distribution channels to rivals, and to make software undeletable," a DOJ press release added. "The complaint alleges that Google is using similar agreements itself to maintain and extend its own dominance."
What about the other investigations into Google?
Google—along with its fellow Big Tech firms Apple, Amazon, and Facebook—has for the last year been under a veritable bevy of probes, and we still only know the outcomes of half of them at most.
Congress finished up with its investigation and released its report earlier this month, and today's DOJ lawsuit is clearly a milestone in that investigation. That leaves at least two major outstanding probes.
The first is in Europe. The EU is again actively investigating if Google broke antitrust law in that region. This time, the focus of the investigation is on Google's collection and use of user data, including across search services, online advertising, login services, Web browsers, and other platforms.
A bipartisan coalition of attorneys general representing 50 states and territories also opened a joint probe into Google last year. The group included attorneys general from 48 states, Puerto Rico, Read More – Source
The Spanish YouTuber who made €1 million in a week
"YouTube needs people to spend all day watching videos," says Romuald Fons, an entrepreneur and YouTuber, with 721,000 subscribers to his channel on how to get websites rated in Google's top search results.
Fons, 43, from Barcelona, knows all about YouTube. He spent two years maneuvering his channel into position and analyzing other channels to see what works best. His most viral video wasn't even related to digital marketing – it was about how he got a six-pack in six months. "It was an experiment," he explains to EL PAÍS from his office in Barcelona's Poblenou neighborhood.
In December, he put all his advice in a course called CreceTube, which he sold for a week for €700 as a special introductory offer. Around 1,500 people bought it, according to the documents Fons showed to EL PAÍS, earning him over €1 million in seven days.
Attention-harvesting algorithms that promote extreme viral and extreme content are the subject of growing controversy. YouTube is one of the main platforms accused of pushing users into ever more radical political positions by promoting increasingly outrageous videos to keep them hooked.
But this is not Fons' field of concern. "YouTube's algorithms can be hacked," he says. "It's not like Google [YouTube and Google are owned by the same company, Alphabet]. Google has to show the user what they want to find because otherwise, they will stop using it. YouTube promotes clickbait [content designed to drive traffic to a website] in an extreme way."
His course is for people who are starting out on YouTube and want to grow their audience. It includes tricks with names like SEOshock, Instaclick and SEOcreto to improve video content and rankings – if you type "YouTube course" into Google and YouTube, Fons' videos are in the top results. "I've bought every course there is and I explain things that have never been explained," he says. "We explain how to use Google so you know what type of content to create." Among the comments on the course, there are, of course, users who think it's a scam, and have created their own YouTube videos with their own explanations. But Fons is unfazed: "Clickbait is what you have to do," he says.
Neither is Fons concerned about the Spanish YouTubers who make off to Andorra for tax reasons. "It's not my place to give my opinion on what they do," he says. "I am not strictly a YouTuber. I am an entrepreneur who has a YouTube channel. It is different. In my case, the money coming in is part of the business. I generate wealth in Spain and will continue to be taxed here. I don't have that option [to go to a tax haven]. If I wanted to do that I would have to take advantage of legal loopholes and I'm not going to."
Fons' main global competitor is the Briton Neil Patel, who has 100,000 more subscribers than Fons but fewer total views despite having posted more videos. Forty percent of Fons' audience is in Latin America – YouTube provides YouTubers with this kind of data in the form of graphs. "It has one that shows the average retention of all YouTube videos of the same length as yours," he says. "If your video is above average, it promotes you."
Rags to riches
Fons' recent success is the latest step forward in a long, and not always successful, career in digital marketing that started in earnest in 2013 when he decided to specialize in search engine optimization (SEO) – the name given to strategies to increase website traffic from search engines. Today SEO is a basic tool for most companies with digital interests: businesses that do not appear on page one of Google's results, do not exist. Now, as Fons points out, the coronavirus pandemic has meant that even long-established businesses have had to close their doors if they have failed to devise a digital strategy.
In January 2013, Fons did nothing but create websites in order to get them to show up in Google searches, place ads on them and attract hits. The first month, he created 10 websites and made €2.48. He could be forgiven for feeling discouraged.
But, the self-taught Fons plowed on. In order to learn which criteria Google rewarded in its results, he ended up creating 1,430 websites. Each one had something different. "I was seeing which ones worked well and which ones didn't," he says. "I started to create my own positioning strategy."
The choice of sites was not random. He looked for the ones that had the most searches and paid the most for ad clicks: "Paella, Inem courses [courses run by the National Institute of Employment], outlets," he says. "For recipes, I had the 220 keywords with the most traffic: mojitos, baked chicken…." Fons wrote the content for each page and used Adsense, a Google tool, to fill the pages with ads. When someone clicked, Fons earned money. Within a year, he was earning €1,500 a month. In 2016, three years after starting out, he was making more than €18,000 a month.
Put like that, it sounds easy, but Fons scarcely made €1,300 in the whole of 2013. At the time, he was living in Spain's Valencia region and was making a living by writing texts at night for €4 each for the website, Fiber.
Fons' story is typical of a tech entrepreneur – he's had several failures, has fully committed to getting better at what he does, has made a video that leads to something new and has put in long working hours. His first failure was as a student and musician. After enrolling to study architecture, he left university to go on a six-year tour as a singer of a band called Rembrandt42, which is still on the music-streaming site Spotify. He met his ex-wife during a concert and, subsequently settled down to a job at a family-run water treatment company. "We were cleaning legionella tanks," he recalls.
But Fons had big dreams. "I wanted to do like [Facebook founder Mark] Zuckerberg and blow things apart," he says. First, he created a social network for collectors, called Nakoko. "It wasn't much of a start-up," he says. "It was just me putting all my work and money into it. I went totally broke." After that, he tried to set up a Spanish eBay, called lovende. "I got even more broke," he says. "When I couldn't even afford to pay for my son's optional vaccinations, everything changed. They cost €80 and I didn't have the money. That's when I stopped blaming others."
During this period, he had, however, learned something about SEO and digital marketing. Then he saw a video of entrepreneur Pat Flynn, who was earning passive income from Google. "I thought, if this guy can do it, so can I," he says.
"Companies would call me and ask me why I was being ranked above them," he says. "That's when I set up the agency." After two years of quietly carving his own niche, he began to make a name for himself. Now, his business BIGSEO Agency, has a staff of 41. Each client pays him more than €30,000 a year for his services. In 2020, his company had a turnover of €4 million.
Thanks to his own personal journey, Fons has been able to observe the evolution of SEO. Google has always aimed to be the gateway to the internet. If the search engine didn't work well, users would not be using the site millions of times a day. According to Fons, typing in the keywords is no longer enough. Google should also know whether someone searching for Nike sneakers wants to buy a pair for running or is an Air Jordan collector. "It's about understanding the user's intent even if the keyword isn't there," he says. "Whether the search is for boilers or cheap flights, the question is – what's the problem?" Google will reward whichever website knows how to answer this best. "Getting customers for boilers is no longer about positioning 'boiler service' in Google," he clarifies.
As a YouTuber, Fons has been a public figure with an impact on thousands of people. His community of followers is called Marketing Furious and they have a Facebook page with 75,000 members. That has also led him to address mental health issues that members of his community are increasingly open about. "Our brains are not wired to absorb thousands of opinions about us a day," he says. "YouTuber El Rubius is under brutal pressure. But over a thousand people have paid me more than €700 to teach them something. The pressure is cranked up. Your subconscious gets the better of you. You think you're strong and you can do it, but you can't." Fons has also encountered angry followers out and about. "When you have millions of views, anything can happen," he says. "Think of a full Barça [soccer] stadium; 100,000 people. I'm sure there are 10 that are nuts."
Fons is focused on video survival in an era when the apps TikTok and Instagram Reels are taking off. In his favor, his old videos keep popping up at the top of digital marketing searches. "On the other networks, you make a video and after eight hours no one sees it," he says. "You can reach an audience, but turning it into a business is another matter. TikTok is all about short attention spans."
Read from source: https://english.elpais.com/science_tech/2021-01-22/the-spanish-youtuber-who-made-1-million-in-a-week.html
Google suspends 'free speech' app Parler
Google has suspended "free speech" social network Parler from its Play Store over its failure to remove "egregious content".
Parler styles itself as "unbiased" social media and has proved popular with people banned from Twitter.
But Google said the app had failed to remove posts inciting violence.
Apple has also warned Parler it will remove the app from its App Store if it does not comply with its content-moderation requirements.
On Parler, the app's chief executive John Matze said: "We won't cave to politically motivated companies and those authoritarians who hate free speech!"
Launched in 2018, Parler has proved particularly popular among supporters of US President Donald Trump and right-wing conservatives. Such groups have frequently accused Twitter and Facebook of unfairly censoring their views.
While Mr Trump himself is not a user, the platform already features several high-profile contributors following earlier bursts of growth in 2020.
Texas Senator Ted Cruz boasts 4.9 million followers on the platform, while Fox News host Sean Hannity has about seven million.
It briefly became the most-downloaded app in the United States after the US election, following a clampdown on the spread of election misinformation by Twitter and Facebook.
However, both Apple and Google have said the app fails to comply with content-moderation requirements.
Analysis: Necessary or draconian action?
By Shayan Sardarizadeh, BBC Monitoring
For months, Parler has been one of the most popular social media platforms for right-wing users.
As major platforms began taking action against viral conspiracy theories, disinformation and the harassment of election workers and officials in the aftermath of the US presidential vote, the app became more popular with elements of the fringe far-right.
This turned the network into a right-wing echo chamber, almost entirely populated by users fixated on revealing examples of election fraud and posting messages in support of attempts to overturn the election outcome.
In the days preceding the Capitol riots, the tone of discussion on the app became significantly more violent, with some users openly discussing ways to stop the certification of Joe Biden's victory by Congress.
Unsubstantiated allegations and defamatory claims against a number of senior US figures such as Chief Justice John Roberts and Vice-President Mike Pence were rife on the app.
Google and Apple say they are taking necessary action to ensure violent rhetoric is not promoted on their platforms.
However, to those increasingly concerned about freedom of speech and expression on online platforms, it represents another example of draconian action by major tech companies which threatens internet freedom.
This is a debate which is certain to continue beyond the Trump presidency.
In a statement, Google confirmed it had suspended Parler from its Play Store, saying: "Our longstanding policies require that apps displaying user-generated content have moderation policies and enforcement that removes egregious content like posts that incite violence.
"In light of this ongoing and urgent public safety threat, we are suspending the app's listings from the Play Store until it addresses these issues."
Apple has warned Parler it will be removed from the App Store on Saturday in a letter published by Buzzfeed News.
It said it had seen "accusations that the Parler app was used to plan, coordinate, and facilitate" the attacks on the US Capitol on 6 January.
Mr Matze said Parler had "no way to organise anything" and pointed out that Facebook groups and events had been used to organise action.
But Apple said: "Our investigation has found that Parler is not effectively moderating and removing content that encourages illegal activity and poses a serious risk to the health and safety of users in direct violation of your own terms of service."
"We won't distribute apps that present dangerous and harmful content."
In a related development, Google has kicked Steve Bannon's War Room podcast off YouTube, saying it had repeatedly violated the platform's rules.
The ex-White House aide's channel had more than 300,000 subscribers.
"In accordance with our strikes system, we have terminated Steve Bannon's channel 'War room' and one associated channel for repeatedly violating our Community Guidelines," Google said in a statement.
"Any channel posting new videos with misleading content that alleges widespread fraud or errors changed the outcome of the 2020 US Presidential election in violation of our policies will receive a strike, a penalty which temporarily restricts uploading or live-streaming. Channels that receive three strikes in the same 90-day period will be permanently removed from YouTube."
The action was taken shortly after the channel posted an interview with Donald Trump's personal lawyer Rudy Giuliani, in which he blamed the Democrats for the rioting on Capitol Hill on Wednesday.
One anti-misinformation group said the action was long overdue after "months of Steve Bannon calling for revolution and violence".
"The truth is YouTube should have taken down Steve Bannon's account a long time ago and they shouldn't rely on the labour of extremism researchers to moderate the content on their platform," said Madeline Peltz, Senior Researcher at Media Matters for America.
Read from source: https://www.bbc.com/news/technology-55598887
20 years of tech with Jeff: From green iMacs and DVDs to the iPhone era
When I started covering technology here two decades ago, I didn't own a cellphone, nor did my company deem it in their interests to buy me one.
My tenure at USA TODAY pre-dates text messages, soundbars, talking speakers, QR codes, video chat, Uber, DoorDash, Zoom calls, YouTube, Wi-Fi, affordable flat-screen TVs….you get the idea.
So many changes in such a short period of time! This is my last column for USA TODAY as your Talking Tech columnist. Let's say goodbye by celebrating how far we've come through the years.
My stint started in 2000 – I began at USA TODAY earlier, covering entertainment – at a time when we spent a lot of time talking about the big three tech companies: AOL, Yahoo and Microsoft. AOL had just shocked the world by buying Time Warner for $165 billion. (You know how well that turned out. But I digress.)
We did use computers, yes indeed, mostly desktops, and they were Windows machines with black-and-white monitors. We weren't online; we went online, with a phone line attached to our computers. You know, the type we used on our landlines. Remember them?
Apple back then had less than 3% market share. It wouldn't start its evolution into the world's most valuable $2 trillion company until 2001, when it introduced the iPod MP3 music player and helped bring digital music to the masses. This is after the short-lived Napster popularized MP3s by showing how easy it was to copy licensed music. In 2003, the iPod shifted into a mainstream product when CEO Steve Jobs (who rejoined the company in 1997) opened it up to be used on Windows computers with the iTunes music store, the first easy to use, legitimate avenue for buying music, back then at 99 cents a song. Streaming and the celestial jukebox was a far off dream.
We started Talking Tech in 2006 as a weekly, ahead-of-its-time video series, produced bicoastally on two webcams. The first episode – with my former partner, Edward C. Baig – was a review of the Flip Video camera. Remember that one, kids?
By 2010, Flip was soon to be gone, as Apple introduced the iPhone 4, the first iPhone with a decent camera. Kodak became a memory, Canon, Nikon, Olympus and other mainstays of the camera business saw their sales tumble, as people preferred the camera that was in their pocket, their phone.
But I have to admit, I never foresaw just how great the smartphone cams would become. I always loved using them, but there was a stigma to "cellphone video." Now we can shoot 4K video that looks nearly as good as what you get from a traditional camera, mostly due to computational photography tricks. But I'm not complaining. Have you seen my iPhone sunsets?
Then there's Google and Facebook.
It was in 2000 that Yahoo handed over its search keys to a scrappy startup that said it had a method for more effective online searches. From there, we got Google stepping out onto its own in 2003 by sending people to its website and popularizing the verb, "Google It." We got Google Maps (remember life without it?), Gmail (free e-mail without being tied to our internet provider), Google Translate, Google Photos and so many other features that I don't think we could live without today.
That's the good side.
There's also Google tracking our every move, in order to put personalized ads in front of us everywhere we go, and saying goodbye to our privacy. Google will claim that much of the privacy invasion is "opt-in" and that we agreed to it when we signed up for services. But who remembers doing that?
Facebook took the snooping to an even greater level. But today's column is about celebrating tech. So let's bypass the misinformation and online rage that erupted from the social network and instead just give props to a site that reconnected some 2 billion people with old friends and family. I announced my pending exit on my newsletter, Twitter, Instagram, LinkedIn and Facebook. You know where I got the lion's share of responses? Facebook, hands down.
Amazon. Who believed you could order anything you ever wanted with one click, and have it arrive the next day? By 2001 Amazon had announced its first profit, but it was more recently that we saw Amazon really showcase what was it was to become, by acquiring Whole Foods and launching Amazon Fresh, the supermarket with a radical cart that automatically tallied up your purchases, launching the smart speaker craze with Echo and Alexa and being a dominant force in streaming with Fire TV.
But Amazon missed out on phones. Google got in early, in 2008, with the Android operating system, which it grew by giving it away for free to companies like Samsung, LG and Huawei. That business model would enable Android to claim a whopping 85% market share, where it's featured on so many low-cost phones.
If I had to pick the most influential tech device of my generation, there's no hesitation. It's the iPhone, hands down, even bigger than the VCR or the personal computer.
Because the iPhone (and other smartphone brands to follow) put the computer into our pockets, untethered and presented in a easy, intuitive way that appealed to the masses. Listen to music, answer the phone, watch TV, surf the net, all on one device. One in which we can also monitor our daily steps, show us how to get around and take amazing photos. (Again, those sunsets!)
I love my laptop, but it didn't change my life.
So what of the future?
In 2016, I did a column quoting analysts saying that the smartphone as we know it, would cease and morph into some form of eyewear within the next few years. I didn't believe it then, I don't believe it now.
Having stuff flying in front of your eyes as you walk down the street is a distraction. (Take that, Google Glass.) We watched screens in the 1950s. We're going to be looking at screens in the 2020s and 2030s.