Can France's Emmanuel Macron save EU in 2018?
His improbable rise to the French presidency, the near-historic parliamentary majority achieved just..
His improbable rise to the French presidency, the near-historic parliamentary majority achieved just a month later by his fledgling movement, and the reform of France's notoriously rigid labor laws were all derided as pipe dreams … until he proved that they were not. A dose of luck and good timing undoubtedly helped, but so too did his determination and the almost messianic sense of mission that he seems to bring to everything he does. Now he wants to bring it to Europe. In his New Year's Eve address he told not only the French, but also his "fellow European citizens," that the European Union needed to rediscover its ambition in order to become "a more sovereign, more united, more democratic" union. It is a theme he is likely to raise again this week in his New Year wishes to the French diplomatic corps.His plan is no mystery since it was the subject of three major speeches in 2017 and has already been presented to the European Council. And it is, as you would expect, nothing if not ambitious. The French President wants to do away with the Europe of nations to create something much closer to a nation of Europe. He wants the EU to have its own finance minister, its own budget, its own economic governance. He believes it should have its own army and border police force. He wants a harmonized tax system and, politically, a stronger European Parliament with transnational parties and lists.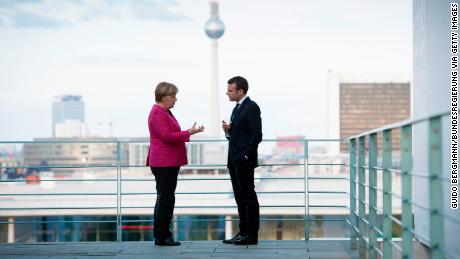 In short, the sort of federal Europe that has, over the last few decades, been an almost taboo subject, spoken of in hushed voices in the corridors of Brussels, and certainly not called for by the leader of one of Europe's most powerful nations.In order to achieve that, he wants a consultation this year with Europe's people and its nations, several of whom have spoken of their outright opposition to any moves toward federalism, precisely because their governments face electorates that have, in the past few years, voted for less Europe rather than more of it. Among them are not just the Eastern countries, which would be excluded from the heart of the multi-tiered union that Macron envisages, but Germany, Holland and, possibly soon, Italy, which goes to the polls this year.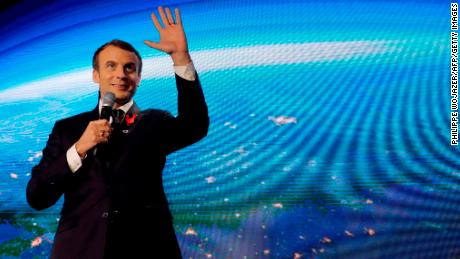 Jean Monnet, one of the architects and founding fathers of the EU, had predicted that Europe would be forged in its crises. But the recent ones, focused on sovereign debt and migrants, were born precisely of the fact that Europe had not yet forged itself, and seemed therefore to threaten the union existentially by reinforcing the positions and popularity of those who wanted it destroyed — the very nationalists and skeptics that Macron is calling on Europeans to resist. The answer, he believes, is for Europe at last to answer the question of what it is: a loose federation of European nations or a federal European Union. It is the question that has divided and bedeviled Europe since its creation. And until Macron's meteoric rise to power, the former had been defended with far more vigor than the latter. Now the latter has a champion, willing not only to speak up for it, but to stake his substantial political capital on the necessity of its success. The real question is whether in 2018 — after all that has happened these last few years, from the debt crisis to Brexit — it is too late or, on the contrary, precisely the right time.If Macron gets his way, Europe will take a massive leap to become much closer, in the end, to what its founding fathers had envisaged, but very different from what it has become. And, as with so many things in France these days, the feeling seems to be that if he can't do it, then it simply cannot be done.
Original Article
Russia to pull troops back from near Ukraine
After weeks of tension over a build-up of Russian troops close to Ukraine's border, Russian Defence Minister Sergei Shoigu has ordered a number of units in the area back to their bases.
The EU estimated that more than 100,000 Russian soldiers had amassed near the border as well as in Crimea, which was seized and annexed by Russia in 2014.
Speaking in Crimea, Mr Shoigu said units on exercise would return to base.
The aims of the "snap checks" had been achieved, he added.
Ukrainian President Volodymyr Zelensky, who earlier challenged Russian President Vladimir Putin to meet him in the conflict zone, welcomed the decision to "de-escalate" tensions at the border.
"The troops have demonstrated their ability to provide a credible defence for the country," the Russian defence minister said, adding that he had instructed the commanders of units from the 58th and 41st armies as well as several airborne divisions to start returning to their permanent bases on Friday and to complete the operation by 1 May.
President Zelensky raised the troop build-up with European leaders last week. Ukraine's armed forces chief said Russian military units had been moving into the Rostov, Bryansk and Voronezh regions as well as Crimea, while battalion tactical groups were stationed on the border.
Following Mr Shoigu's announcement, Nato said that any move towards reversing the escalation would be "important and well overdue". It added that the Western military alliance remained vigilant.
Nato leaders have called a summit in June when Russia will be high on the agenda.
Although Russia has shrugged off the build-up as training exercises in response to "threatening" actions from Nato, it is also said to be planning to cordon off areas of the Black Sea to foreign shipping. Ukraine fears its ports could be affected.
Russia said all along that these were nothing more than military exercises.
But Moscow knew very well that its troop movements close to Ukraine and in annexed Crimea were making a lot of people very nervous: in Ukraine, Europe and in America.
Moscow may well have been using the build-up of troops to send a signal to Kyiv, Brussels and, especially, to Washington that Russia is a force to be reckoned with.
US President Joe Biden took notice. Last week, he telephoned President Putin and proposed a summit. True, he also imposed a new round of sanctions over Russia's "malign activity". But inside Russia these were perceived as not particularly tough.
A reduction in tension, however, does not mean the end of tension. Russia's defence minister has made it clear that "Russia is taking measures in response to threats from Nato".
For example, Moscow is planning to block areas of the Black Sea to foreign shipping for six months.
In a state-of-the-nation address on Wednesday, President Putin warned the West against "crossing a red line".
Speaking to reporters after the order for troops to return to base, Mr Putin said as far as bilateral relations were concerned "we are ready to welcome the president of Ukraine at any time that is convenient for him", but in Moscow.
However, he stressed if Mr Zelensky wanted to discuss eastern Ukraine, then he should first meet the leaders there.
Conflict in eastern Ukraine broke out in 2014, after the seizure of Crimea from Ukraine. Russian-backed troops captured large areas of the Luhansk and Donetsk regions and declared them both peoples' republics.
There have been a number of breaches of a ceasefire in the east in recent weeks. A Ukrainian soldier was fatally wounded in shelling on Thursday, in what Ukrainian forces said was a deliberate violation of the ceasefire. Some 14,000 people have died since the conflict began.
European Parliament meeting assess migrant workers conditions in Gulf region
By Lailuma Sadid
Qatar is the first county that brings changes into it's landmark reforms in the Gulf.
The first country in the gulf region is Qatar who introduces a non-discriminatory minimum wage, which is part of a series of landmark reforms to the country's labour laws. Success in the GCC countries depend on having solid labour laws that are linked to international standards and convections and the implementation of these laws. If the law isn't good enough then the implementation will be a non-starter.  Mr Houtan addedd.
He said that the collaboration of some international and national organisations brought up really solid laws. They are not being perfectly implemented at once since all revolutionary changes in the labour market takes time and if they happen overnight, it's not sustainable he added.
In the mean time he also mentions how these labor laws benefit both employers and employees.
Indeed, these laws allow employers to find more local workers with the same skills at a lower cost and employees to be more satisfied because they benefit from a greater power to negotiate and discuss. It's a win- win situation. The wage issue is a common issue acrosse the GCC region , he said.
According to Mr. Houtan  access to Justice variesfrom  country to country. It is very common to hear that an employee who has worked for the past six months is only paid for the last three months of his work and according to some this is fair and justice has been done. This is no rocket science, this is not justice.
He said: No worker should go a day without being paid or receive their salary a day late. This matter is serious and needs to be more focused on. To overcome this problem, we have the structures in place in the regions that are working, although they need to be improved. They work because everyone comes together, with the support of the European  Unions, trade union and employers etc.
According to Mr. Houtan, That's is success model that we need to replicate across the GCC countries. In addition, it is obvious that we should not denigrate the importance of Labour inspection and occupational safety and health. It has to be considered as a priority.
Also, another very important point is engaging with the private sector which is key, the role is fundamentally important.
Of course the trade unions as well as the government, the ministry of Labour have been really keen pushing forward the agenda but if the employers don't play ball again it will be a very slow progress.
The key word for him is coordination and cooperation between different organizations to achieve successful changes in the GCC countries.
Hassan AL-Thawadi is representing of Qatar Ambassador in this meeting, he said:Qatar's commitment to improving labour related matters and improving lives is constant. The commitment is intrinsic to our national values.
The commitment is intrinsic to our national values enshrined in our constitution and ais the key tenants to our Islamic principles. He added
Mr. Hassan said, these reforms combined with bolstered enforcement mechanisms including electronic based wage protection system demonstrates a commitment to sustainable long-term change that I mentioned previously however we acknowledge that there is a long journey ahead of us and more needs to be done as of the case in every nation of the world. In some countries still not possible to change employers without permission in other countries, but in Qatar it is possible.
Mark from European Delegation, with the contribution for workers to the numbers is only 500,000 workers 50 years ago and 25 million demanded today for the whole Peninsula. However, much more needs to be done to ensure access to dignified living and working conditions of Migrant workers and their families.
In addition to the basic minimum monthly wage of 1000 Qatari riyals 275 $, the legislation ensures that employers must pay allowances of at least 300 and 500 QAR for food and accommodation respectively, if they do not provide them.
Legislation passed last year provided for a six-month transition period for employers to prepare for the new minimum thresholds. First country in the region is Qatar to introduce a non-discriminatory minimum wage, which is part of a series of landmark reforms to the country's labor laws.
Post-Brexit trade: Is red tape chaos just 'teething trouble' as the UK government argues?
January has seen Brexit set in motion for real — but for many businesses, operations have ground to a standstill as they struggle to shift goods across new borders.
With the UK now outside the EU's Single Market and Customs Union, importers and exporters on both sides of the English Channel say the new rules have brought a nightmare of red tape and extra costs.
Paperwork and border checks have led to seafood being left stranded in ports, and empty shelves in some supermarkets as deliveries failed to materialise.
Supplies from Great Britain to Northern Ireland have also been hit as the need to keep an open land border on the island of Ireland means the North is largely following EU rules.
The UK government has attributed much of the chaos to "teething problems", arguing the longer term will bring great opportunities. But some trade experts say some of the new burdens on business are here to stay.
The nature and scale of the problem is illustrated by this selection of some of the hassles reported by traders:
"My regular logistics partner has suspended their service completely from the EU to the UK until February. These guys operate in 31 countries & know how to move stock quickly, but the paperwork nightmare is just too much for them" — Daniel Lambert (Wines), wine import company, Bridgend, Wales. He wrote a 22-point Twitter thread detailing problems encountered.
"It's not good. This situation, for me it's too much paperwork, too much wait, wait, all the time is wait. This is not good." — UK-based Polish lorry driver Petar Loba, stuck in a queue near Dover.
"A shipment that used to cost £95 (€107) and take five minutes to organise will now take an afternoon and cost £400 (€452)" — Richard Townsend of Bailey Paints, a small business which exports paint from Stroud in England to Ireland.
"We can't get deliveries you know. Companies are taking orders and then they're ringing us back going, 'we can't deliver that until further notice'." — Kieran Sloan of Sawers delicatessen in Belfast, on supply problems from Britain.
"The first days were difficult, there were a great deal of delays. Some of our drivers had to wait a week on the British side to make export declarations… (There were) customers who'd declared nothing, those who'd made admin mistakes… queues to obtain documents in England." — Benoît Lefebvre of French firm Sonotri, on transporting chemical products to England.
"All the EU (countries) that used to buy a lot of our fish, they've kind of stopped because the fish that were getting transferred were going off, going bad. So we've lost our entire export market." — Ben Vass, fisherman, Devon, England.
"80% of our sales get shipped to the EU, so obviously now it's all stopped. Our prices have dropped. All our fish is getting frozen." — Nathan Daley, fisherman, Devon, England.
"We have had to completely suspend the sending of all our consumer parcels to the EU. We had a bounce-back of every single parcel that we sent from 4th January onwards… It's because you now need a health certificate even for a consumer parcel. The cost of a health certificate is £180 (€203) per consignment." — Simon Spurrell, Cheshire Cheese Company.
"A customer… had to pay over 50% of what his overall parcel was worth to get it out of customs and we had to send him a VAT invoice… It's been horrible and it's almost gotten to the point where we'll have to probably stop trading with the EU, which is going to cost us thousands of pounds over the next three months." — Joycelyn Mate of Afrocenchix, exporting afro hair products from the UK.
Why are traders suffering like this?
The Brexit trade deal struck on Christmas Eve was celebrated as a great success. It certainly brought huge relief, avoiding an even more chaotic no-deal scenario with just days to spare.
The agreement means trade can continue between the UK and the EU, free of tariffs (import taxes) and quotas.
Boris Johnson has claimed, wrongly, that there are no non-tariff barriers. The reality is — as seen by the above examples — is that the new trading regime has brought a mountain of extra bureaucracy and costs.
Firms now need to fill out customs declarations. The process involving codes and new IT systems can lead to significant delays. Slower procedures mean higher costs. There are also new regulatory checks for food, with meat, dairy and fish products needing health certificates.
There is a risk that supplies get stuck. Under the "groupage" system, multiple consignments often travel in one trailer. But all may need to be checked, and problems or mistakes can hold up the whole shipment.
There are also complications over "rules of origin" regulations, and VAT (Value Added Tax), as the UK is no longer part of the EU's VAT area. EU exporters sending goods to the UK have to register with UK authorities and may have to pay UK import VAT. VAT and excise duties are also due on goods entering the EU from the UK.
Some changes have been unexpected. Ireland, for instance, has discovered that it has been sometimes hit by EU import duties. Despite the no-tariff Brexit deal, there is no exemption if goods pass through Britain on their way to or from the continent, as they are no longer considered to be of EU origin.
The European Commission warned last July of significant border disruption from the end of the transition period, regardless of whether a trade deal was agreed.
What have industry bodies been saying?
The UK's Road Haulage Association says so worried are exporters over customs demands or the danger of getting stuck in port — not to mention the additional burden of COVID-19 tests for drivers — that many are not sending at all.
The RHA has reported that at least 40% of lorries bringing goods from the EU to Britain are returning to the continent empty, which has a "huge impact on the supply chain".
The British Meat Processors Association has said the post-Brexit problems "are now causing a serious and sustained loss of trade with our biggest export partner".
"If continental supermarkets are unable to have products delivered the way they need them to be, this trade will simply be lost as EU customers abandon UK suppliers and source product from European processors," said Nick Allen, BMPA's Chief Executive.
"Members are already being told by their EU customers that they'll be looking to Spain and Ireland to buy products from now on."
The fishing industry, whose produce is equally highly perishable, has echoed such complaints. The Scottish seafood industry in particular has been sounding the alarm.