Opinion: Why a second Brexit vote would be a bad idea
Right about what about would happen if Britain held a second EU referendum. Right that a second vote..
Right about what about would happen if Britain held a second EU referendum. Right that a second vote on EU membership anytime soon would kill, possibly forever, any chance of rebuilding a meaningful relationship with the EU. Right that Remainers should be careful what they wish for.The passionate demand for a second vote echoes loudly on social media, which has rather too much influence on British political debate. Go to Twitter or Facebook and invoke the letters FBPE (Follow Back, Pro-EU) and you'll soon get the impression that simply everyone agrees Brexit is a disaster, that everyone now realizes that Leavers (poor, gullible fools) were tricked into voting Leave and will now welcome the chance to change their mind and keep us in.But step out of the bubble, and leave London (or its cultural suburbs in Brighton, Oxford, Bristol and Cambridge) and you'll discover that precious few Leavers have changed their minds. Brexit may well be a disaster in the making, but it's a disaster that millions of people have yet to see or experience. Indeed, the most remarkable thing about public opinion on Brexit is not how many people have changed their minds since the referendum, but how few: opinions remain remarkably stable and consistent in almost all polling.Of course, that could change in the event of a second referendum. Perhaps the Remain campaign would learn from its 2016 failures and do better this time, engaging with the cultural and social factors that drove the Leave vote instead of relying on a dry economic threat. But so far, there is no sign of the arch-Remainers doing so: Too many still believe that all that's needed is another lecture on the horror of Brexit and the Leavers (poor, simple-minded folk) will final realize how stupid they've been and recant. Or die: Perhaps the most horrible and counterproductive Remain trope is that Leavers are all elderly pensions who will pass away soon, leaving Britain with a pro-EU majority. Leaving aside how distasteful this is, and how statistically dubious, it's also very revealing: if you're relying on the Grim Reaper to help you, you're admitting you can't win the argument by force of persuasion.Or perhaps to win Britain back into the fold, the EU27 would suddenly make a big, generous concession on, say, freedom of movement? Again, there seems little sign of other EU nations wanting to reverse the British referendum. The Union has already started to move on to other priorities and debates. Ask yourself how far Emanuel Macron would go do bring Britain back into the EU? And how would the UK's liberalising Anglo-Saxon presence at the Council table help him advance his plans for a "Europe that protects"? So absent a better Remain campaign and a better EU offer, what else would UK voters be presented with at the second referendum? An angry, motivated and battle-hardened Leave machine driven by the narrative of betrayal and outrage.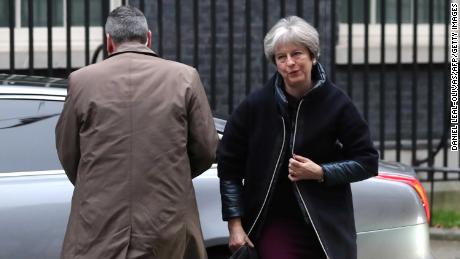 "You voted already. You know what you voted for — but these people just won't listen to you. You need to shout louder," Farage could say in that campaign. "What part of 'Leave the EU' didn't they understand? Use your vote this time to make sure these sneering, London elites finally get the message."And he would, I suspect, find himself on the same side of the referendum as not just the Conservative Party leadership, but Jeremy Corbyn's opposition Labour team too.My guess is that such a campaign would not just win but win by a wider margin than in 2016. And my fear is that in winning after a campaign charged with even greater anger and vitriol than in 2016, Britain would be left with an even more divided and dysfunctional politics than it has today.Instead of pursuing the risky dream of a second referendum, a better use of Remainer energy is the Single Market. There is very likely a majority in Parliament for a Brexit that keeps Britain in the Single Market, and very likely a majority in the country for it too. Remainers can still bring this about, but instead of trying to reverse the 2016 referendum, they need to find allies on the other side: the Leavers who would back the Single Market, who believe that "Norway" or EFTA membership or some similar deal can both honor the demand to leave the EU and avoid huge economic harm to the UK.So Remainers should pay close attention to Mr. Farage today. He's right, sadly.
Original Article
Turkey's Erdogan set for economic U-turn and steep interest rate hike
Turkey is poised to reverse some of the unorthodox economic policies of President Recep Tayyip Erdogan as his new economic team tries to bring down rampant inflation.
Less than a month after Mr Erdogan won re-election, interest rates are expected to rise dramatically from the current level of 8.5%.
Inflation is almost 40% and Turks are in the grip of a cost-of-living crisis.
But Turkey's leader has so far insisted on keeping interest rates down.
The big question is how far the key policy rate will rise. Economists are divided on how sharp the hike will be, with US-based investment bank Morgan Stanley suggesting an 11.5-point increase to 20%, while Goldman Sachs expects the rate could hit 40%.
Other economists believe the rise will be steep, but possibly more gradual.
President Erdogan's problem is that Turkey's inflation rate remains stubbornly high and its central bank's reserves have fallen to critically low levels, after it spent billions of dollars trying to prop up the lira.
Economists widely advocate raising interests to tackle high inflation, but Turkey's leader sacked three central bank governors in less than two years when they tried to stick to orthodox policies.
Interest rates have come down from 19% two years ago to 8.5% in recent months. Now they are set to rise again, and that will have repercussions for a country already in economic crisis.
"It is a risk, but it's a difficult circle to square," says Ozge Zihnioglu, senior politics lecturer at the University of Liverpool. "He has to do something for the economy, but a clear shift to orthodox economic policies would hit a large section of society and he wouldn't want to have that impact on local elections [next year]."
Turkey's economy grew dramatically in the early years of President Erdogan's leadership. But in recent years, he has ditched traditional economic wisdom by blaming high inflation on high borrowing costs and seeking to stimulate economic growth.
In the past five years, the Turkish currency has lost more than 80% of its value and foreign investment has plummeted. Turks are now trying to move foreign cash out of local banks.
Mehmet Kerem Coban of Kadir Has University said Turkey's economic model needed capital to survive because its reserves had melted away.
Mr Erdogan has been in power in Turkey for more than 20 years. He defeated his opposition rival last month in elections that international observers said suffered from an "unlevel playing field" that gave the incumbent president an unjustified advantage.
During the election campaign, he maintained his mantra that interest rates would stay low as long as he was in power, guaranteeing that there would be no change in economic policy. The opposition promised to reverse his focus on low interest rates.
And yet within days of his re-election, he signalled a change.
First, he appointed former banker and economist Mehmet Simsek as finance minister. Although a former member of Erdogan's government, Mr Simsek has made clear Turkey's only economic choice is to return to "rational ground" and "compliance with international norms".
Next, he appointed Hafize Gaye Erkan, 44, as Turkey's first female central bank chief. A well-known figure on Wall Street, she has never had a role in Turkey before and was chief executive of US bank First Republic before its collapse.
Mr Erdogan said last week that his position on interest rates had not changed, but "we accepted that [Mr Simsek] should take the necessary steps rapidly and effortlessly with the central bank".
Emerging markets specialist Timothy Ash believes Ms Erkan will have to "front-load rate hikes", rather than introduce them gradually. The risk, he warned on Twitter, was that she would share the same fate as a predecessor, "always playing catch-up with the market and waiting in the ante-room of the presidential palace to plead for rate hikes".
Turkey presidential election decides if Erdogan should have five more years
Turks are voting in a momentous presidential run-off to decide whether or not Recep Tayyip Erdogan should remain in power after 20 years.
His challenger Kemal Kilicdaroglu, backed by a broad opposition alliance, called on voters to come out and "get rid of an authoritarian regime".
The president, who is favourite to win, promises a new era uniting the country around a "Turkish century".
But the more pressing issue is rampant inflation and a cost-of-living crisis.
Voters have nine hours to cast their ballots before 17:00 (14:00 GMT) and many were already waiting outside a polling station in central Ankara before the doors opened. One woman of 80 had set her alarm for 05:00 to be sure of arriving on time.
Turnout in the first round was an impressive 88.8%, and Mr Erdogan's lead was 2.5 million votes. That is why both candidates have their eye on the eight million who did not vote – but could this time.
Ahead of the run-off Mr Kilicdaroglu accused his rival of foul play, by blocking his text messages to voters while the president's messages went through. After voting in Ankara he urged Turks to protect the ballot boxes.
Opposition parties are deploying an army of some 400,000 volunteers in a bid to ensure no vote-rigging takes place, both at polling stations and later at the election authority. But among the volunteers, they need lawyers such as Sena to accompany the ballot boxes.
International observers spoke of an uneven playing field after the first round. But there was no suggestion that any irregularities in voting would have changed the result.
As he voted in Istanbul, President Erdogan said Turkish democracy was going through a second round in a presidential election for the first time and suggested Turks should make use of it.
Mr Kilicdaroglu promised a very different style of presidency on his final day of campaigning: "I have no interest in living in palaces. I will live like you, modestly… and solve your problems."
It was a swipe at Mr Erdogan's enormous palatial complex on the edge of Ankara which he moved to when he switched from prime minister to president in 2014. After surviving a failed coup in 2016 he took on extensive powers, detained tens of thousands of people and took control of the media.
So it was laden with symbolism when he paid a campaign visit on Saturday to the mausoleum of a prime minister executed by the military after a coup in 1960.
"The era of coups and juntas is over," he declared, linking Turkey's current stability to his own authoritarian rule.
Turkey, however, is deeply polarised, with the president reliant on a support base of religious conservatives and nationalists, while his opposite number's supporters are mainly secular – but many of them are nationalist too.
For days the two men traded insults. Mr Kilicdaroglu accused the president of cowardice and hiding from a fair election; Mr Erdogan said his rival was on the side of "terrorists", referring to Kurdish militants.
But after days of inflammatory rhetoric about sending millions of Syrian refugees home, the opposition candidate returned to Turkey's number-one issue – the economic crisis, and in particular its effect on poorer households.
A 59-year-old woman and her grandson joined him on stage to explain how her monthly salary of 5,000 lira (£200; $250) was now impossible to live on as her rent had shot up to 4,000 lira (£160; $200).
It may have been staged, but this is the story across Turkey, with inflation at almost 44% and salaries and state help failing to keep pace.
Economists say the Erdogan policy of cutting interest rates rather than raising them has only made matters worse.
The Turkish lira has hit record lows, demand for foreign currency has surged and the central bank's net foreign currency reserves are in negative territory for the first time since 2002.
"The central bank has no foreign currency to sell," says Selva Demiralp, professor of economics at Koc University. "There are already some sort of capital controls – we all know it's hard to buy dollars. If they continue with low interest rates, as Erdogan has signalled, the only other option is stricter controls."
East of Ankara, gleaming tower blocks have been springing up in Kirikkale. It looks like boom-time for this city, run by the president's party.
But many people here are struggling.
Fatma has run a hairdresser's for 13 years but for the past two, work has dried up, and the cost of rent and hair products has soared.
She voted for an ultranationalist candidate who came third, and does not trust the two men left in the race.
A few doors up the street, Binnaz is working a sewing machine at a shop for mending clothes.
People cannot afford new dresses so she is earning much more, even if her monthly rent has trebled to to 4,000 lira. Despite Turkey's stricken economy, she is putting her faith in the president.
Outside a supermarket, Emrah Turgut says he is also sticking with Mr Erdogan because he has no faith in the other option, and believes the president's unfounded allegations that the biggest opposition party co-operates with terrorists.
Turkey's second-biggest opposition party, the HDP, denies any link to the militant PKK, but President Erdogan has used their backing for the rival candidate to suggest a link to terrorists.
Whoever wins on Sunday, Turkey's parliament is already firmly in the grip of Mr Erdogan's Islamist-rooted AK Party and its far-right nationalist ally, the MHP.
The AKP also has the youngest MP, who arrived in parliament on the eve of the presidential vote.
Zehranur Aydemir, 24, believes if Mr Erdogan wins then he will lay the foundations for a century in which Turkey will become a global power: "Now Turkey has a bigger vision it can dream bigger."
It is another grandiose Erdogan project, but Turkey's economy is likely to prove a more pressing task, whoever wins the run-off.
Read from: https://www.bbc.com/news/world-europe-65732194
Corriere della Sera: Belgian judges exerted illegal & undue pressure on Eva Kaili
Madrid Journal – Italian and Greek media seem to lose patience with how the Belgian authorities are dealing with corruption case in the European Parliamentary. The ill treatment of the Belgian judiciary became very obvious where the prosecution is practically employing blackmail as a tactic to get Eva Kaili to confess despite her pleading innocence from day one. According to the report of the Italian newspaper, the Belgian judges investigating the Qatargate scandal allegedly exerted illegal undue pressure on Eva Kaili, suggesting that she confess her guilt, with the promise that she will be released from prison.
It should be noted that after the conclusion of the last hearing, the lawyers of Eva Kaili complained that their client was kept in solitary confinement for six hours, speaking of torture reminiscent of the Middle Ages and a violation of human rights.
Today the Italian newspaper brings to light the aforementioned claim of the well-known criminologist Michalis Dimitrakopoulos.
"She has not agreed to confess to something she has not done" 
"From the first moment they suggested that Eva Kaili plead guilty and be released from prison so that she can finally hug her daughter again," says Dimitrakopoulos, clarifying however that his client , who has been claiming innocence since day one, has always denied it.
"Despite the fact that being away from her little girl is the greatest psychological torture, she has not agreed to confess to something she has not done," adds the Greek lawyer.
As also stated in the publication "she does not want her daughter to inherit the stigma that her mother was a corrupt female politician, because it is not true".
The same publication also states that: "The former Greek TV journalist was immediately acquitted by her partner Giorgi, but the investigators did not believe the couple's version, convinced that the woman belonged to Pantzeri's network and tried to help him disappear the money from the funds. In fact, they accused her of bribery and of trying to hide the fruits of a crime."
What will be her next move
The next moves Dimitrakopoulos plans for Eva Kaili are to build a profile of a woman deeply scarred by the month and a half she spent behind bars in Haren prison, the newspaper says.
"She was shaking as she told the judge, who was also a woman, about the torture she suffered, not in prison, but in a police cell. What he experienced – says the lawyer – is reminiscent of the movie 'Midnight Express', but unfortunately this is happening in the center of Europe".
The indictment against the allegedly aggressive methods of the Belgian justice system ends with the announcement of the next legal move by Eva Kaili's defense team: "Next week we will appeal to the Supreme Court, announces Dimitrakopoulos. When someone is arrested they are immediately protected by the law. I wonder if it was the same in Brussels."