Mexico earthquake: Helicopter crashes in emergency killing 14
Media playback is unsupported on your device
A helicopter carrying senior officials has crashed whi..
A helicopter carrying senior officials has crashed while they assessed damage from Friday's earthquake in Mexico, killing at least 14 including a baby.
Mexico's interior minister and the governor of the south-west Oaxaca state were on board, but neither was hurt.
The aircraft's pilot lost control as it was coming in to land, Interior Minister Alfonso Navarrete said.
The 7.2-magnitude quake's epicentre was in Oaxaca but it shook buildings in Mexico City, 350km (217 miles) away.
No deaths have been reported from the earthquake itself.
Officials said the military helicopter had crashed on top of several vans carrying earthquake survivors in a field while trying to land in the village of Santiago Jamiltepec, not far from the epicentre.
Fourteen people – including a six-month-old baby – were killed in the crash, the Oaxaca prosecutor's office said.
Witnesses say the village had been affected by a power cut and it was dark when the helicopter approached to land.
It circled the village several times, raising a thick cloud of dust and further reducing visibility.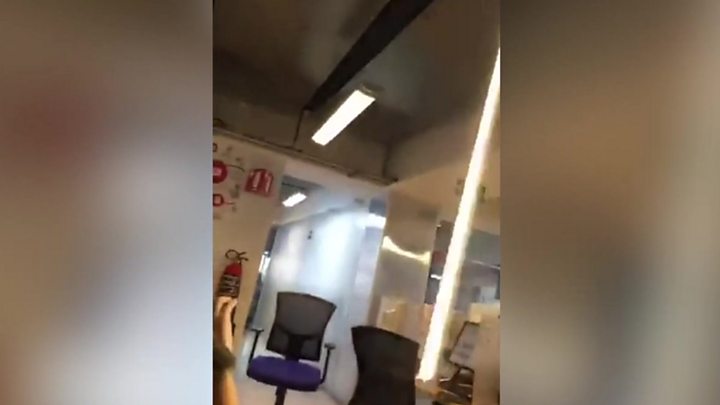 It is not clear whether anyone in the aircraft was among the dead, although Mr Navarrete said some passengers were injured.
Friday's quake was 24.6km underground and some buildings were damaged. The epicentre was near the town of Pinotepa de Don Luis.
After the tremor, thousands of people were seen fleeing buildings in Mexico City as the ground shook.
Some were crying, while others hugged each other on the streets of the capital. Traffic stopped for a few minutes.
The authorities activated earthquake alert systems in four states, and Mexico City. They urged residents to stay outdoors.
Last September, two devastating earthquakes in Mexico killed hundreds of people.
There were clouds of dust near buildings already damaged by the September quakes.
Mexico is one of the most seismically active regions in the world, sitting on top of three of the Earth's largest tectonic plates – the North American, Cocos and Pacific plates.
Honduras prison violence: Dozens killed in women's jail riot
At least 46 women have been killed in a riot at a women's prison in Honduras on Tuesday.
It is understood that a fight broke out between rival gangs, after which one gang set a cell alight.
Officials say most of those who died were killed in the fire but others were shot, stabbed or beaten to death.
An investigation is under way to determine how the inmates managed to smuggle automatic weapons and machetes into the jail.
President Xiomara Castro, who last year launched a crackdown on gangs, said on social media that she was "shocked by the monstrous murder of women" and would take "drastic measures" in response.
She has dismissed Security Minister Ramón Sabillón and replaced him with the head of the national police force, Gustavo Sánchez.
Survivors of the deadly incident told local media that it was triggered by rivalries between two of Central America's most notorious criminal organisations: the 18th Street Gang and MS-13.
They said members of one gang had been taunting their rivals, who then set fire to the mattresses in the cell holding those taunting them.
Videos posted on social media showed a huge cloud of grey smoke rising from the women's prison, which is located about 25km north of the capital, Tegucigalpa, and holds approximately 900 inmates.
While the warring factions are locked up in different parts of the jail, the wings are located close to each other.
The unrest broke out early in the morning local time on Tuesday.
Survivors said that many of those who died had been seeking refuge from the flames in a bathroom. Their burnt bodies were found piled on top of each other.
Others were shot dead and stabbed by gang members in the corridors and a prison courtyard.
Some of the victims are not thought to have been linked to either of the two gangs but were caught up in the incident.
Among them is a former police cadet who was serving a 15-year prison sentence after confessing to killing a fellow police officer.
Another of those killed was only days away from being released after serving her sentence for kidnapping.
Honduras is known for corruption and gang violence, which have infiltrated government institutions and seen the homicide rate soar.
Along with neighbours El Salvador and Guatemala, the country is a major transit route for cocaine coming from South America to the United States.
It also has a history of deadly prison riots, which are often linked to organised crime.
At least 18 people were killed in gang violence at a prison in the northern port city of Tela in 2019.
Read from: https://www.bbc.com/news/world-latin-america-65969092
Colombian plane crash: New clues found in search for lost children
A desperate search for four children who have been missing since their plane crashed in the Colombian jungle on 1 May has yielded new clues.
Items belonging to the siblings, who are aged between 11 months and 13 years, have been found in two different locations in the rainforest.
Their mother and the other adults on board the plane died in the crash.
But search teams say small footprints found last week indicate that the children survived the impact.
The footprints were spotted on Thursday and specialists said most likely belonged to the children.
Earlier last week, search teams had found a child's drinking bottle, a pair of scissors and a hair tie, as well as what appeared to be a makeshift shelter made from branches and a half-eaten passion fruit.
The children belong to the Huitoto indigenous group and members of their community have expressed the hope that their knowledge of fruits and jungle survival skills will have given them a better chance of surviving the ordeal.
But despite more than 100 soldiers combing the jungle, no further traces were found until the early hours of Wednesday.
The latest items were spotted by an indigenous woman some 500m (1,640ft) from the crash site.
She found a dirty nappy, a green towel and shoes, which judging by their size are thought to belong to the second youngest of the missing siblings, who is four years old. The nappy is believed to have been worn by the 11-month-old baby.
At a separate location, the search team found another nappy, a mobile phone case and a pink cap which matches the drinking bottle found last week.
Indigenous people have joined the search and helicopters have been broadcasting a message from the children's grandmother recorded in the Huitoto language urging them to stay put and to stop moving so as to make them easier to locate.
The latest traces are further indication that the four siblings survived the plane crash which killed their mother and the plane's pilot and co-pilot, the Colombian army said.
But it warned that the state of the items suggested that they had not been abandoned there recently, but "sometime between 3 and 8 May".
The army added that it was encouraged by the fact that none of the items showed traces of blood.
The army colonel in charge of the search also said that all indications were that the four children were roaming the jungle on their own.
Last week, Colombia's president came under criticism when a tweet published on his account announced that the children had been found.
He erased the tweet the next day saying that the information – which his office had been given by Colombia's child welfare agency – could not be confirmed.
Read from: https://www.bbc.com/news/world-latin-america-65699761
Pedro I: Emperor's embalmed heart arrives in Brazil
The embalmed heart of Brazil's first emperor, Dom Pedro I, has arrived in the capital Brasilia to mark 200 years of independence from Portugal.
The heart, which lies preserved in a flask filled with formaldehyde, was flown on board a military plane from Portugal.
It will be received with military honours before going on public display at the foreign ministry.
The heart will be returned to Portugal after Brazil's independence day.
Portuguese officials gave the go-ahead for the preserved organ to be moved from the city of Porto for the celebrations of Brazil's bicentenary.
The organ arrived on a Brazilian air force plane accompanied by the mayor of Porto, Rui Moreira.
Mayor Moreira said it would return to Portugal after having basked "in the admiration of the Brazilian people".
"The heart will be received like a head of state, it will be treated as if Dom Pedro I was still living amongst us," Brazil foreign ministry's chief of protocol Alan Coelho de Séllos said.
There will be a cannon salute, a guard of honour and full military honours.
"The national anthem [will be played] and the independence anthem, which by the way was composed by Dom Pedro I, who as well as an emperor was a good musician in his spare time," Mr Séllos said.
Dom Pedro was born in 1798 into Portugal's royal family, which at the time also ruled over Brazil. The family fled to the then-Portuguese colony to evade Napoleon's invading army.
When Dom Pedro's father, King John VI, returned to Portugal in 1821, he left the 22-year-old to rule Brazil as regent.
A year later, the young regent defied the Portuguese parliament, which wanted to keep Brazil as a colony, and rejected its demand that he return to his home country.
On 7 September 1822 he issued Brazil's declaration of independence and was soon after crowned emperor.
He returned to Portugal to fight for his daughter's right to accede to the Portuguese throne and died aged 35 of tuberculosis.
On his deathbed, the monarch asked that his heart be removed from his body and taken to the city of Porto, where it is kept in an altar in the church of Our Lady of Lapa.