The one thing Joanna Lumley says you should never do in an argument, if you want your marriage to last
In a new romantic comedy film Finding Your Feet, Joanna, 71, stars alongside Imelda Staunton and Celia Imrie, who all find a new lease of life in a colourful community dance class.
She will present the 2018 BAFTAS next Sunday (18 February), taking over from Stephen Fry. Married to conductor, Stephen Barlow, 63, for over 31 years, the couple live in London. She has one son, Jamie, 50, and two granddaughters, aged 15 and 14. Here, she opens up about taking buses and the Tube – and her passion for peanuts…
I loved the positive message of my new movie. I thought the story was enchanting because it is a love story where somebody changes quite late in life from what they were always rooted in. The film also shows the positive power of dance, which I've always loved. All these great things that nature gives us, we sometimes forget to use to make ourselves feel better!
I think it's important to keep romance alive in a relationship. Stephen and I have been together a long time and I think it'..
In a new romantic comedy film Finding Your Feet, Joanna, 71, stars alongside Imelda Staunton and Celia Imrie, who all find a new lease of life in a colourful community dance class.
She will present the 2018 BAFTAS next Sunday (18 February), taking over from Stephen Fry. Married to conductor, Stephen Barlow, 63, for over 31 years, the couple live in London. She has one son, Jamie, 50, and two granddaughters, aged 15 and 14. Here, she opens up about taking buses and the Tube – and her passion for peanuts…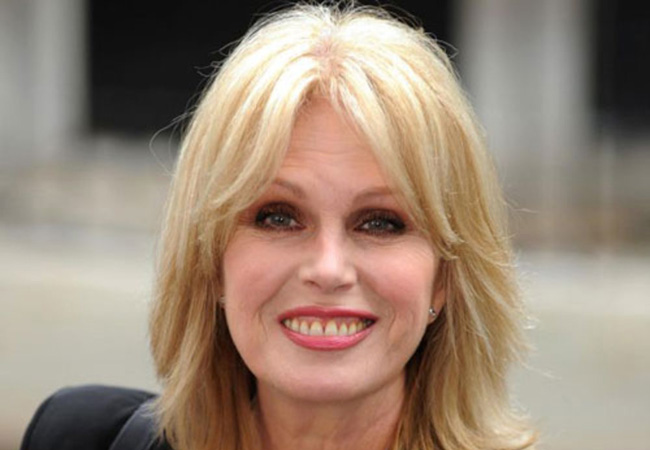 I loved the positive message of my new movie. I thought the story was enchanting because it is a love story where somebody changes quite late in life from what they were always rooted in. The film also shows the positive power of dance, which I've always loved. All these great things that nature gives us, we sometimes forget to use to make ourselves feel better!
I think it's important to keep romance alive in a relationship. Stephen and I have been together a long time and I think it's very easy to preach when you are happily married, but what I would say is never look down on your partner, on what they say or what they do. Respect them. We quite often go away from each other for various things; he has to work away from home sometimes and I go on these long trips, so we never take each other for granted.
I dream of sitting and drawing landscapes but I never have time… Hopefully in my next life! I love walking, I walk to the Tube and I like catching buses, I rush around. I am busy, active. I say use it or lose it! I try and have good posture, too. If you hold yourself well, move well, you make yourself well. It's impressive to see how it can alter the way you feel.
I'm lucky that I'm healthy but I do believe being vegetarian has something to do with it. I've been one for about 40 years. That helps. Not that I have a sweet tooth, but I think I am fairly careful about not sitting down and eating 17 cakes in a row. I have lucky genes and a kind of self-discipline. But I have to tell you, salted peanuts are my guilty pleasure – very, very bad indeed. I can eat 3kg at one sitting. And one of the blissful things about having been Patsy is that people tend to say, 'Oh, Joanna's coming, we must give her a glass of champagne!' And you go, 'Oh my gosh, what a surprise!' I don't drink a lot but a little treat occasionally, an unexpected glass of champagne – not vases of it – is gorgeous.
There is something lovely in that I've known Jennifer [Saunders] solidly for 25 years. We've never drifted apart. We're hopeless at keeping in touch outside work though, we're both always so busy and go, 'When will this ever end?' She is being brilliant in a play at the moment. It has just opened and I am going to see it when the dust has settled. Another Ab Fab? That's up to Jennifer. But we all agree that we so adored everything we got to do with the show, including the film, that sometimes it is better to leave it.
I love being a grandmother. My two granddaughters live in the north of Scotland. I adore them! However, I'm not a traditional grandma, in the sense that they can't come back to my house for tea after school, but they often visit for a week at a time, and the younger one, Emily, is playing electric guitar in rock group at the school concert, so I'm flying up for that. And I've been up to see Alice, the elder one, in the school play, too. She's doing brilliantly. I just feel as proud as punch.
I am so excited to be presenting the BAFTAs. Isn't it thrilling? To have a passion for films, and now to have the Fellowship of BAFTA and to have won BAFTAs too…it's such a huge honour. I've known Stephen Fry for ages and I spoke to him, and he couldn't have been more encouraging and darling about it. I'm not nervous at all. I'm excited and I can't wait!

✱ Finding Your Feet is released across the UK on 23 February
The post The one thing Joanna Lumley says you should never do in an argument, if you want your marriage to last appeared first on Woman Magazine.
The 5 new and best anti-wrinkle creams of 2023
There is a positive factor in the inexorable passage of time, the progression of scientific and cosmetic research. A factor that leads, year after year, to the formulation of increasingly effective and delicate anti-wrinkle and anti-aging creams for the skin of the face. 2023 brings with it a host of new treatments for you to try. Changing cream is a stimulus for the skin, destined to approach new active ingredients and new formulation stimulations.
The new anti-aging creams to try for 2023 combine ceramides – lipids naturally present in the skin – of vegetable extraction, extracts of rare and precious truffles and ancient Japanese remedies. The winter season immediately offers specific treatments which, while preventing aging, defend the skin from external aggressions, typical of the period, protecting it from the cold.
THE IDEAL ANTI-WRINKLE CREAM FOR WINTER
N°1 de Chanel Creme Riche Revitalisante by Chanel is the ideal cream to be able to carry on an anti-aging beauty routine during winter. The House's new treatment has borrowed the red camellia's great staying power and resilience. This new anti-aging cream, enriched with camellia ceramides, extracted using a 100% natural method, protects the skin from external aggressions. While revitalizing cellular activity. Its formula is ninety-four percent natural in origin and has been tested, in real conditions, by a group of women in Canada.
THE ANTI-WRINKLE CREAM THAT INCREASES CELLULAR ENERGY
Estée Lauder captures the essence and power of the rarest and most prized truffle, the Black Diamond Truffle, found in the southwestern region of France. With her exclusive extract, she fills the heart with the Re-Nutriv Ultimate Diamond skincare collection and especially the formula of the latest treatment born Re-Nutriv Ultimate Diamond Sculpted Transformation Cream. Every drop of the exclusive truffle extract is the result of almost ten thousand hours of production. The skin benefits are significant and are generated by an increase in the skin's cellular energy levels.
THE ANTI-WRINKLE CREAM INSPIRED BY ANCIENT JAPANESE REMEDIES
Daughter of the Aman luxury resorts, Aman Essentials is the new skincare line formulated entirely in Japan. Composed of five treatments, it supports the skin every day, defends its barrier, encourages deep hydration and offers help against stressful factors. Radiance Face Cream is a rich face cream that promotes skin radiance. Inside, an oil extracted from camellia seeds, a beauty ingredient used for over a thousand years by Japanese women and an oil extracted from macadamia nut.
THE ANTI-WRINKLE CREAM THAT PROTECTS AGAINST THE EXPOSOME
The revitalizing face cream, AgeFactor Cream by Rhea Cosmetics has a single action to protect against exposome. In other words, the whole set of environmental exposures smog, UV rays, stress and nutrition which can accelerate skin aging. Its formula is made up of a pool of active ingredients that work to counteract the appearance of age-related imperfections, forehead wrinkles, expression lines, nasolabial folds and periocular wrinkles.
THE ANTI-WRINKLE CREAM THAT NEUTRALIZES GLYCATION
The new Dermosthétique line from La Biosthetique, enriched with AGE3 Age Reversal Technology, is able to exert a scientifically proven impact on the skin's regenerative processes. Age Reversing Day Cream has a biomimetic formula that blends with the hydrolipidic film of the epidermis. While it strengthens it, it supplies it with important nutrients and lipids. Its extracts of red sage, tiger grass, rosemary and rice neutralize free radicals and eliminate glycation, responsible for the appearance of signs of ageing.
This article was originally published on Harper's Bazaar Italy
Lip make-up: Tricks to enhance a metal lipstick
Healthy complexion, deep but natural look, slightly dewy cheekbones and lips. This is the look for the spring summer 2023 make-up that comes directly from the fashion shows. A perfect mood to start experimenting at this beginning of the year to shine on Saturday evening and at every social event. We have seen it on the catwalks of the Japanese brand Ujoh and the sustainable fashion brand Botter. In the center, in both cases, lipsticks in bright colors, from orange to lilac, rigorously metallic. Complete with a contrasting lip contour pencil for a totally new lip art, made up of broken lines and metallic explosions.
Ultra violet + ruby red, Holographic blue + brick, Bronze + fuchsia, make way for the imagination in color combinations, of course, but also in the design of the lips that everything can be anything but precise. With outlines over the line or even broken in half.
How to wear makeup on Saturday night: lips are metallic
For spring, the lips with a very bright semi-transparent effect are back in vogue, in an irrepressible way. The desire to see them more and more fleshy and luminescent will increase with the arrival of the first heat. Even the companies that still offer the mat now do it in a less exasperated way.
Guerlain, for example, has found the right compromise. The lipsticks of its Rouge G Luxurious Velvet Metal line combine a velvety effect with a bold metallic finish. It's the new matte metal trend, inspired by the play of reflections generated by the flutter of butterflies' wings. "With their captivating colors, these insects offer a magical show", says Violette, Guerlain make up creative director, who admits "I've always dreamed of being able to reproduce these glitters on my lips".
Contrasting matte lip pencil for creative strokes
With a lipstick as important as the metallic one, the lip contour pencil should be as neutral as possible, in a natural, even transparent shade. But no! This spring, ultra-matte finishes and contrasting colors win, even as bright as fuchsia. To put on make-up on Saturday night, therefore let your imagination run wild.
As for the line, the trend of over-the-line lips continues, appearing larger and plumper without the need to resort to touch-ups from an aesthetic doctor. But this diktat is accompanied by another one, that of the lip art which highlights only a part of the outline. It can be the upper one or vice versa lower. Sometimes the line is even broken midway through the cupid's bow. A perfect technique for those who don't want to go unnoticed and already have plump lips.
Pay attention to the texture of the pencil which must be strictly long-lasting and non-transfer so as not to ruin the work of art. Outline Waterproof Lip Pencil by Astra Make-Up, for example, is ultra-resistant but not dry, its formula, enriched with hyaluronic acid and ceramides, helps the lip mucosa retain hydration for a comfort effect that lasts all day.
Read more from the source AMICA
Pixie Cut: Ideas for wearing short hair during 2023
The Pixie Cut was born to be a symbol of rebellion and, in a sense, it is also a trend in 2023. A light, cheeky and fun short haircut that rejects traditional aesthetic conventions. In the 1920s and then in the 1950s, in fact, the Pixie cut was the tomboyish look to show off as an alternative to long hair.
A shortcut with an androgynous charm which, also for 2023, refers to icons of the past, which have made the Pixie Cut timeless, such as Audrey Hepburn, Twiggy, Mia Farrow, and Sharon Stone. Without giving up a touch of novelty. The classic silhouette of a haircut like the Pixie is transformed in 2023 and conquers the stars of the moment.
Pixie Cut is very short and feminine but capable of conquering even with its androgynous soul. The classic short garçonne cut for 2023 is further shortened, revealing all the beauty of a micro fringe or lengths so mini that they almost completely vanish. The most interesting element of the short Pixie Cut is the innate elegance of this cut. To be worn straight or curly, it is the right idea to give 2023 hair a futuristic, almost alien allure.
Mixie and Bixie are the hybrid short cuts of 2023
Mixie cut blends the silhouette of the mullet with the typical lengths of the Pixie cut. A balance to be maintained through a skillful game of scaling.
On the other hand, the union between bob and Pixie Cut is the basis of another great hair trend for the season, in this the short hair lengthens slightly, almost as if to reach the typical lengths of the bob. A soft cut that wraps around the face and frames it lightly.
Pixie Cut 2023 medium and long
Forget dramatic shaves and sharp layers, the Pixie Cut 2023 is a homogeneous cut. A game of volumes and movements, which lengthens the strands of the cut to obtain a soft and texturized effect. A silhouette that seems to conform to that of the bowl cut thanks to its roundness, without actually being so. A fundamental element is a fringe. Full coverage on the forehead, it softens according to the natural texture of the hair. The medium-long Pixie Cut is perfect also, accompanied by a side tuft. The effect is elegant and refined, but also extremely sensual.
This article was originally published on AMICA