By moving its embassy from Tel Aviv to Jerusalem, Washington is choosing to be part of the problem in the Middle East rather than working towards a solution, Turkish President Recep Tayyip Erdogan said.
"The United States has chosen to be a part of the problem rather than the solution with its latest step and has lost its mediating role in the peace process," Erdogan said in a speech at Britains Chatham House think tank on Monday, as quoted by Reuters.
Read more
The statement comes as the US moves its embassy from Tel Aviv to Jerusalem on Monday, a day which marks the anniversary of Israels founding according to the civil calendar. Washington has been preparing for the move since President Donald Trump formally acknowledged Jerusalem as Israels capital in December. While that move was hailed by Israel itself, the US received widespread condemnation from other countries and world bodies including the UN and EU.
Ankara was one of the loudest critics of Trumps decision, with Turkish Foreign Minister Mevlut Cavusoglu calling the move "wrong and unacceptable" at the time. In February, the ministry wrote in a statement that the US move proves that Washington "insists on destroying the grounds for peace by violating international law, United Nations Security Council resolutions on Jerusalem, and the established UN parameters."
Turkish citizens have also spoken out against the move, with several thousand hitting the streets of Istanbul to protest on Friday. They held signs reading "Palestine belongs to the Palestinians" and "Al-Quds (Arabic name for Jerusalem) belongs to Muslims."
Read more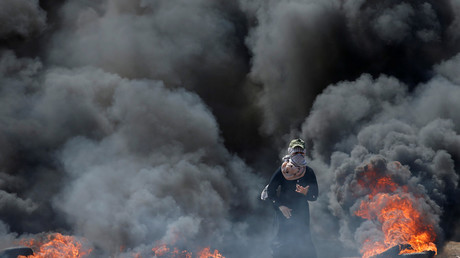 The embassy move is just one of many tensions surrounding Washington and Ankara. The two NATO members have also clashed over Turkeys Operation Olive Branch, which was launched against Kurdish fighters in Afrin on January 20. That prompted the top US commander in the US-led coalition against Islamic State (IS, formerly ISIS) to say that Turkey would face a sharp response if it struck Manbij as part of the operation.
Erdogan snapped back by saying that "those who say they will give a sharp response if they were hit, have not been hit by the Ottoman slap." That remark was in reference to a Turkish martial arts move that involves an open-palm hit resulting in a one-hit knockout or even skull fractures or death.
Tensions also reached the boiling point in October when Turkey arrested a US consulate worker for alleged ties to exiled cleric Fethullah Gulen, whom Ankara blames for the 2016 failed coup attempt. Turkey has slammed the US for refusing to extradite Gulen, who lives in Pennsylvania, while Washington and other Western governments have criticized Turkey for its post-coup crackdown.
Protests are also underway in Gaza to denounce the embassy move. Israeli forces killed dozens of Palestinian protesters on Monday, with two children among the fatalities, according to Palestinian health officials. More than 500 protesters have been injured, it is reported. The Israeli military also dropped leaflets and fired tear gas into the area on Monday morning, warning Palestinians to stay away from the Israeli border.
If you like this story, share it with a friend!