Venezuela election: Everything you need to know
Venezuela is choosing its next president on Sunday – in an election widely seen as a foregone conclu..
Venezuela is choosing its next president on Sunday – in an election widely seen as a foregone conclusion.
After years of turmoil which at one point saw almost daily street protests, President Nicolas Maduro is looking to consolidate his power.
The opposition, however, refuses to even take part.
Who's going to win?
Most analysts agree that President Maduro is likely to win on Sunday. His opponents say they expect widespread electoral fraud – and are resigned to it.
The elections were supposed to be held in December 2018, but the National Constituent Assembly, filled exclusively with Mr Maduro's supporters, brought them forward.
The opposition Democratic Unity coalition is currently divided, and says the elections have been moved to take advantage of its disarray. Its two biggest candidates were also barred from running, and others have fled the country.
Of course, Mr Maduro has many vocal supporters who will be delighted if he does win.
So there's no opposition taking part?
Not quite. There are a handful of minor candidates who don't stand any real chance – and one viable alternative to Mr Maduro.
That's Henri Falcón.
Mr Falcón was a governor under former President Hugo Chávez. He came from the same socialist party as President Maduro, but left in 2010 to join the opposition.
So, if there's an opposition boycott, why is he running?
Mr Falcón says the only way to dislodge President Maduro is through elections. He believes the majority of Venezuelans want rid of the controversial president – and that they should be given the chance to vote him out.
The rest of the opposition, however, has frowned on his breaking ranks – with some even branding him a traitor.
But is the election legitimate or not?
Mr Maduro's camp and the government claim the election is a fair process. Not everyone agrees.
Part of the reason behind the opposition boycott is the result of elections for state governorships last year. Mr Maduro's party won 17 of 23 states – and his opponents cried foul.
That was after the company that makes Venezuela's voting machines said, in July last year, that the figures had been tampered with during the controversial election of the constituent assembly.
It does not help that the electoral commission is mostly made up of government supporters – like the powerful constituent assembly and the supreme court.
All of this had led to a situation where international observers like the EU and US have suggested they might impose sanctions on Venezuela if democracy is undermined.
And some of Venezuela's Latin American neighbours may not officially recognise the outcome.
Given all the uncertainty, it is expected that many citizens simply will not vote at all.
What about ordinary Venezuelan people?
Things are hard in Venezuela – with an inflation rate measured in several hundred percent.
An economic crisis means the economy has shrunk dramatically every year – so for the average citizen, there's a shortage of basics like food and medicine.
In some poorer parts of the country, 70% of children suffer from malnutrition.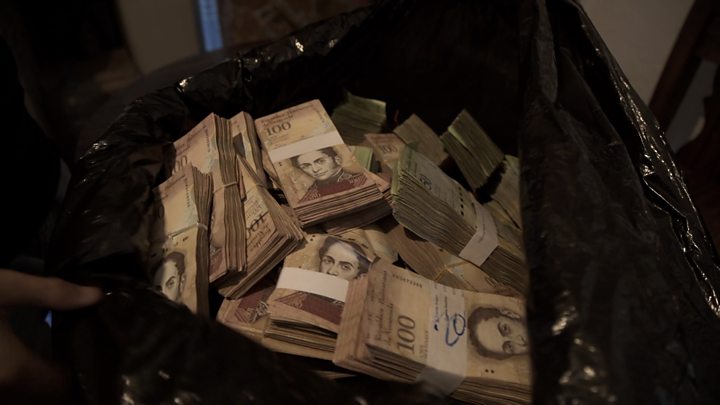 The national currency, the bolívar, is virtually worthless, and long queues form at banks where there simply isn't enough cash to make purchases.
Residents carry large bags, filled with banknotes – or try to pay with cards where possible.
Faced with the difficulties of life at home, hundreds of thousands have fled the country – many to neighbouring Colombia or Brazil.
Colombian plane crash: New clues found in search for lost children
A desperate search for four children who have been missing since their plane crashed in the Colombian jungle on 1 May has yielded new clues.
Items belonging to the siblings, who are aged between 11 months and 13 years, have been found in two different locations in the rainforest.
Their mother and the other adults on board the plane died in the crash.
But search teams say small footprints found last week indicate that the children survived the impact.
The footprints were spotted on Thursday and specialists said most likely belonged to the children.
Earlier last week, search teams had found a child's drinking bottle, a pair of scissors and a hair tie, as well as what appeared to be a makeshift shelter made from branches and a half-eaten passion fruit.
The children belong to the Huitoto indigenous group and members of their community have expressed the hope that their knowledge of fruits and jungle survival skills will have given them a better chance of surviving the ordeal.
But despite more than 100 soldiers combing the jungle, no further traces were found until the early hours of Wednesday.
The latest items were spotted by an indigenous woman some 500m (1,640ft) from the crash site.
She found a dirty nappy, a green towel and shoes, which judging by their size are thought to belong to the second youngest of the missing siblings, who is four years old. The nappy is believed to have been worn by the 11-month-old baby.
At a separate location, the search team found another nappy, a mobile phone case and a pink cap which matches the drinking bottle found last week.
Indigenous people have joined the search and helicopters have been broadcasting a message from the children's grandmother recorded in the Huitoto language urging them to stay put and to stop moving so as to make them easier to locate.
The latest traces are further indication that the four siblings survived the plane crash which killed their mother and the plane's pilot and co-pilot, the Colombian army said.
But it warned that the state of the items suggested that they had not been abandoned there recently, but "sometime between 3 and 8 May".
The army added that it was encouraged by the fact that none of the items showed traces of blood.
The army colonel in charge of the search also said that all indications were that the four children were roaming the jungle on their own.
Last week, Colombia's president came under criticism when a tweet published on his account announced that the children had been found.
He erased the tweet the next day saying that the information – which his office had been given by Colombia's child welfare agency – could not be confirmed.
Read from: https://www.bbc.com/news/world-latin-america-65699761
Pedro I: Emperor's embalmed heart arrives in Brazil
The embalmed heart of Brazil's first emperor, Dom Pedro I, has arrived in the capital Brasilia to mark 200 years of independence from Portugal.
The heart, which lies preserved in a flask filled with formaldehyde, was flown on board a military plane from Portugal.
It will be received with military honours before going on public display at the foreign ministry.
The heart will be returned to Portugal after Brazil's independence day.
Portuguese officials gave the go-ahead for the preserved organ to be moved from the city of Porto for the celebrations of Brazil's bicentenary.
The organ arrived on a Brazilian air force plane accompanied by the mayor of Porto, Rui Moreira.
Mayor Moreira said it would return to Portugal after having basked "in the admiration of the Brazilian people".
"The heart will be received like a head of state, it will be treated as if Dom Pedro I was still living amongst us," Brazil foreign ministry's chief of protocol Alan Coelho de Séllos said.
There will be a cannon salute, a guard of honour and full military honours.
"The national anthem [will be played] and the independence anthem, which by the way was composed by Dom Pedro I, who as well as an emperor was a good musician in his spare time," Mr Séllos said.
Dom Pedro was born in 1798 into Portugal's royal family, which at the time also ruled over Brazil. The family fled to the then-Portuguese colony to evade Napoleon's invading army.
When Dom Pedro's father, King John VI, returned to Portugal in 1821, he left the 22-year-old to rule Brazil as regent.
A year later, the young regent defied the Portuguese parliament, which wanted to keep Brazil as a colony, and rejected its demand that he return to his home country.
On 7 September 1822 he issued Brazil's declaration of independence and was soon after crowned emperor.
He returned to Portugal to fight for his daughter's right to accede to the Portuguese throne and died aged 35 of tuberculosis.
On his deathbed, the monarch asked that his heart be removed from his body and taken to the city of Porto, where it is kept in an altar in the church of Our Lady of Lapa.
Brazil's indigenous communities fear mining threat over war in Ukraine
Maurício Ye'kwana worries about the future. He comes from the community of Auaris, in northern Brazil, close to the border with Venezuela.
The area, part of the Yanomami Indigenous Territory, is rich in gold, diamonds and minerals – and illegal miners want a piece of it. In all, there are an estimated 20,000 illegal miners on the land.
"It's got worse in the past few years," Maurício says, explaining that during the pandemic, the number of planes, helicopters and boats linked to illegal mining increased.
He's only 35, but it's the younger generation that concerns him – boys increasingly being lured into illegal work.
"The young people are the best boat drivers," he says. They can earn as much as 10,000 Brazilian reais ($2,140; £1,645) for a single trip.
Maurício has come to Brasilia to take part in the Free Land Camp, an annual event that brings together indigenous communities looking to defend their land rights.
On Brasilia's main esplanade, a grand avenue that leads to Congress and the presidential palace, communities from across the country have erected hundreds of tents.
Milling around the camp are indigenous Brazilians, many of them wearing feathered headdresses, intricate beaded jewellery and painted with geometric tattoos identifying their tribe.
This year, the event has taken on an even bigger meaning.
President Jair Bolsonaro has made it his mission to push economic development in the Amazon. In his latest attempt to make inroads into indigenous territories, he has cited the war in Ukraine. Brazil relies heavily on imported fertilisers for its agribusiness industry – more than 90% of its fertilisers come from abroad, and Russia is its most important partner.
"A good opportunity arose for us," Mr Bolsonaro said of Russia's invasion of Ukraine. He has argued that by mining in indigenous territories, Brazil can build more of its own potassium reserves.
It's an argument questioned by some experts.
"Only 11% of the reserves are inside indigenous lands and other states like São Paulo and Minas have reserves," says politician Joenia Wapichana, the first indigenous woman voted into Congress in 2018. "It's a false narrative that tries to confuse the minds of the Brazilians, making them believe it's important, that people won't have food on their table."
Also, it's not a short-term fix.
"From a technological and environmental perspective, the licences needed and the infrastructure – it all takes time. Being able to offer these products to the Brazilian market would probably take seven to 10 years," says Suzi Huff, Prof of Geology at the University of Brasilia. "We're talking about an extremely sensitive area in which care needs to be taken. It's false to say that it will solve Brazil's problems."
The bill has been in the works since 2020. But last month, the lower house voted to consider it under emergency provisions, removing the need for committee debates.
"It's very clearly blackmail," says Prof Huff. "Bolsonaro saw an opportunity to continue with this project of allowing mineral exploration including in indigenous lands and used the scarcity of fertilisers in Brazil to move forward with this project."
It was expected to be voted on in the lower house this week, but that hasn't happened – and few believe, in this election year, that it will. Not even the big players in the industry agree with it, with the Brazilian Institute of Mining last month saying it was a bill "not suitable for its intended purposes", and calling for broader debate.
While a delay in voting is seen as a relief by indigenous leaders, it's still a challenge on the ground.
"A fiery political discourse encourages invasions in indigenous lands," says Joenia Wapichana. "The fact that Bolsonaro says he supports mining, that he will regulate mining in indigenous lands already exposes the indigenous people and makes them more vulnerable."
The discourse is, of course, deeply political, especially with elections around the corner. On Tuesday, former president Lula da Silva – and the man leading in the polls to win October's vote – made a visit to the camp.
"Today the headlines are about a government that doesn't have scruples when it comes to offending and attacking the indigenous communities who are already on this land," he said.
The response was huge cheers of "out with Bolsonaro" – but there are still six months until the elections. And this is Brazil – much can change in politics here, and the future of Brazil's indigenous tribes is more uncertain than ever.
Read from: https://www.bbc.com/news/world-latin-america-61093258