'Mother Meral': The woman trying to drive Turkey's Erdogan from office
So presidential candidate Meral Aksener is going from town to town collecting these colorful pieces ..
So presidential candidate Meral Aksener is going from town to town collecting these colorful pieces of cloth, known as "yemeni," from her supporters.The 61-year-old is leading what she calls the yemeni revolution to bring an end to the aggression of Turkish politics. If she becomes the one to finally end President Recep Tayyip Erdogan's long reign, she will put the headscarves on display in Cankaya, the former presidential palace in Ankara."Turkey has been ruled by a very harsh male for a very long time," she told CNN in the southern city of Adana, on the campaign trail.Some abroad call Aksener Turkey's Iron Lady, but others at home call her Asena, a mythical blue she-wolf that led Turkic tribes away from danger. But there are other names she prefers. "Some people call me sister, but there are many young people who call me 'Mother Meral,' and I like being a mother," Aksener said.Aksener is the only woman running for president in the June 24 elections, but her appeal is not based solely on her gender. Her conservative and longtime nationalist credentials are what make her most likely to lure support from Erdogan's base, even though she polls third. The main opposition candidate, Muharrem Ince, is in second place and has galvanized his own center-left base. But he is unlikely to split the conservative vote in the way Aksener can.
Aksener's rise
Aksener and her envisaged revolution have been drawing crowds across Turkey. Women at the Adana rally eagerly handed their headscarves up to the candidate on stage. Esra Demirkol, a fervent supporter who waited for hours to get a photo, jumped on stage to hug the candidate."For the future, for our kids, for our country for many reasons, I will vote for Meral Aksener. A woman's touch makes everything better. I want a mother to rule our country," said a breathless Demirkol as she returned from stage.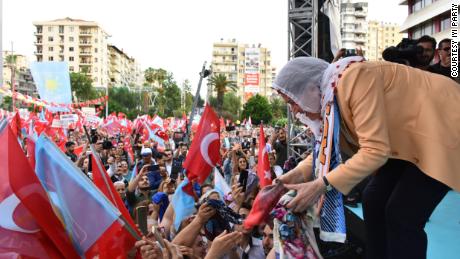 Aksener's Iyi Party (Good Party) is new to the political scene, but Aksener is a veteran politician. She served as interior minister for eight months at the height of the dirty war against Kurdish separatists when human-rights abuses were rampant in Turkey. When questioned about those allegations, Aksener is defiant, claiming there was not a single human-rights violation by the government during her time as minister."There was a human rights group at those times, they were publishing lists for missing people. I sent them a signed paper saying, 'Let us search for your missing together.' And they did not have any other publications for the rest of my ministry period," she said.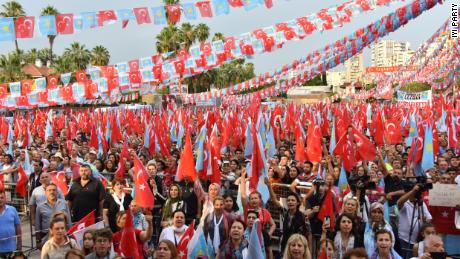 But during her stint as interior minister, she also gained credibilty for standing up to the military, which tried to overthrow the civilian government in the 1997 so-called "post-modern coup."Once again, it is her defiance that is fueling her popularity — Aksener broke with her longtime Nationalist Movement Party, MHP, last year over its alliance with the President.
'We do not have checks and balances'
Aksener, like all the opposition candidates, has vowed to roll back a change to Turkey's political system that Erdogan won last year in a referendum.He was widely accused of a power grab with the vote, in which he sought to change the country's parliamentary system to an executive presidential one, giving himself sweeping new powers. The vote was seen as unfair, as his government has imprisoned dissidents and crushed the free media following a failed coup in 2016. He won by a narrow margin, and a radical change to Turkey's system will come into effect after the election."I have been struggling with Erdogan and his extrajudicial behavior for the last two-and-a-half, three years," Aksener said. "The elections we are going into, it is what Erdogan wants. It is not a presidential system as in Western democracies. We do not have checks and balances."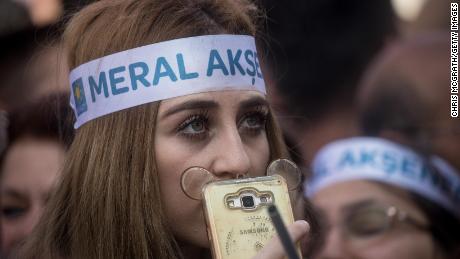 With Ince polling second, Aksener may not be the opposition candidate to face off against Erdogan, should the vote go to a run-off round. But she has already been instrumental in shaping this election. In the previous presidential vote, opposition parties banded together to back a single candidate to challenge the incumbent. This time around, Aksener refused to join and announced her own candidacy. Soon other opposition parties followed and put forward their strongest candidates, giving more options for people to vote against Erdogan.Opposition parties including Aksener's have committed to support whoever faces off with Erdogan, should the vote go to a second round.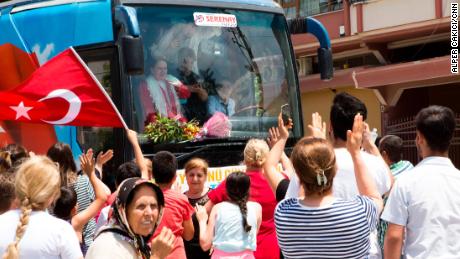 Mustafa Koseler, a 76-year-old supporter of MHP, Aksener's former party, will back the Iyi Party after decades of loyalty. He fears that Turkey will end up a "one-man dictatorship like Bashar Assad, like Hafez Assad, like (Mohamed) Morsy, like (Moammar) Gadhafi" under Erdogan's rule. He is looking to Aksener to preserve the country's democracy and prevent the change to Turkey's political system. "We do not want one-man rule," he said at the rally in Adana. "We want our republic, democracy and parliament to function as it is today. We want our members of parliament to have a say. In the new system, they won't."What Aksener is promising is a new dawn for her country. Her Iyi Party's blue logo is emblazoned with a golden sun, promising the optimism of a new movement. When voter Guler Yasa in Adana is asked why she supports Aksener, she refers to this logo. "Because she is turning her face to the sun. She will make a new sun rise over our country," Yasa said.
CNN's Jomana Karadsheh contributed to this report.
Original Article
Turkey presidential election decides if Erdogan should have five more years
Turks are voting in a momentous presidential run-off to decide whether or not Recep Tayyip Erdogan should remain in power after 20 years.
His challenger Kemal Kilicdaroglu, backed by a broad opposition alliance, called on voters to come out and "get rid of an authoritarian regime".
The president, who is favourite to win, promises a new era uniting the country around a "Turkish century".
But the more pressing issue is rampant inflation and a cost-of-living crisis.
Voters have nine hours to cast their ballots before 17:00 (14:00 GMT) and many were already waiting outside a polling station in central Ankara before the doors opened. One woman of 80 had set her alarm for 05:00 to be sure of arriving on time.
Turnout in the first round was an impressive 88.8%, and Mr Erdogan's lead was 2.5 million votes. That is why both candidates have their eye on the eight million who did not vote – but could this time.
Ahead of the run-off Mr Kilicdaroglu accused his rival of foul play, by blocking his text messages to voters while the president's messages went through. After voting in Ankara he urged Turks to protect the ballot boxes.
Opposition parties are deploying an army of some 400,000 volunteers in a bid to ensure no vote-rigging takes place, both at polling stations and later at the election authority. But among the volunteers, they need lawyers such as Sena to accompany the ballot boxes.
International observers spoke of an uneven playing field after the first round. But there was no suggestion that any irregularities in voting would have changed the result.
As he voted in Istanbul, President Erdogan said Turkish democracy was going through a second round in a presidential election for the first time and suggested Turks should make use of it.
Mr Kilicdaroglu promised a very different style of presidency on his final day of campaigning: "I have no interest in living in palaces. I will live like you, modestly… and solve your problems."
It was a swipe at Mr Erdogan's enormous palatial complex on the edge of Ankara which he moved to when he switched from prime minister to president in 2014. After surviving a failed coup in 2016 he took on extensive powers, detained tens of thousands of people and took control of the media.
So it was laden with symbolism when he paid a campaign visit on Saturday to the mausoleum of a prime minister executed by the military after a coup in 1960.
"The era of coups and juntas is over," he declared, linking Turkey's current stability to his own authoritarian rule.
Turkey, however, is deeply polarised, with the president reliant on a support base of religious conservatives and nationalists, while his opposite number's supporters are mainly secular – but many of them are nationalist too.
For days the two men traded insults. Mr Kilicdaroglu accused the president of cowardice and hiding from a fair election; Mr Erdogan said his rival was on the side of "terrorists", referring to Kurdish militants.
But after days of inflammatory rhetoric about sending millions of Syrian refugees home, the opposition candidate returned to Turkey's number-one issue – the economic crisis, and in particular its effect on poorer households.
A 59-year-old woman and her grandson joined him on stage to explain how her monthly salary of 5,000 lira (£200; $250) was now impossible to live on as her rent had shot up to 4,000 lira (£160; $200).
It may have been staged, but this is the story across Turkey, with inflation at almost 44% and salaries and state help failing to keep pace.
Economists say the Erdogan policy of cutting interest rates rather than raising them has only made matters worse.
The Turkish lira has hit record lows, demand for foreign currency has surged and the central bank's net foreign currency reserves are in negative territory for the first time since 2002.
"The central bank has no foreign currency to sell," says Selva Demiralp, professor of economics at Koc University. "There are already some sort of capital controls – we all know it's hard to buy dollars. If they continue with low interest rates, as Erdogan has signalled, the only other option is stricter controls."
East of Ankara, gleaming tower blocks have been springing up in Kirikkale. It looks like boom-time for this city, run by the president's party.
But many people here are struggling.
Fatma has run a hairdresser's for 13 years but for the past two, work has dried up, and the cost of rent and hair products has soared.
She voted for an ultranationalist candidate who came third, and does not trust the two men left in the race.
A few doors up the street, Binnaz is working a sewing machine at a shop for mending clothes.
People cannot afford new dresses so she is earning much more, even if her monthly rent has trebled to to 4,000 lira. Despite Turkey's stricken economy, she is putting her faith in the president.
Outside a supermarket, Emrah Turgut says he is also sticking with Mr Erdogan because he has no faith in the other option, and believes the president's unfounded allegations that the biggest opposition party co-operates with terrorists.
Turkey's second-biggest opposition party, the HDP, denies any link to the militant PKK, but President Erdogan has used their backing for the rival candidate to suggest a link to terrorists.
Whoever wins on Sunday, Turkey's parliament is already firmly in the grip of Mr Erdogan's Islamist-rooted AK Party and its far-right nationalist ally, the MHP.
The AKP also has the youngest MP, who arrived in parliament on the eve of the presidential vote.
Zehranur Aydemir, 24, believes if Mr Erdogan wins then he will lay the foundations for a century in which Turkey will become a global power: "Now Turkey has a bigger vision it can dream bigger."
It is another grandiose Erdogan project, but Turkey's economy is likely to prove a more pressing task, whoever wins the run-off.
Read from: https://www.bbc.com/news/world-europe-65732194
Corriere della Sera: Belgian judges exerted illegal & undue pressure on Eva Kaili
Madrid Journal – Italian and Greek media seem to lose patience with how the Belgian authorities are dealing with corruption case in the European Parliamentary. The ill treatment of the Belgian judiciary became very obvious where the prosecution is practically employing blackmail as a tactic to get Eva Kaili to confess despite her pleading innocence from day one. According to the report of the Italian newspaper, the Belgian judges investigating the Qatargate scandal allegedly exerted illegal undue pressure on Eva Kaili, suggesting that she confess her guilt, with the promise that she will be released from prison.
It should be noted that after the conclusion of the last hearing, the lawyers of Eva Kaili complained that their client was kept in solitary confinement for six hours, speaking of torture reminiscent of the Middle Ages and a violation of human rights.
Today the Italian newspaper brings to light the aforementioned claim of the well-known criminologist Michalis Dimitrakopoulos.
"She has not agreed to confess to something she has not done" 
"From the first moment they suggested that Eva Kaili plead guilty and be released from prison so that she can finally hug her daughter again," says Dimitrakopoulos, clarifying however that his client , who has been claiming innocence since day one, has always denied it.
"Despite the fact that being away from her little girl is the greatest psychological torture, she has not agreed to confess to something she has not done," adds the Greek lawyer.
As also stated in the publication "she does not want her daughter to inherit the stigma that her mother was a corrupt female politician, because it is not true".
The same publication also states that: "The former Greek TV journalist was immediately acquitted by her partner Giorgi, but the investigators did not believe the couple's version, convinced that the woman belonged to Pantzeri's network and tried to help him disappear the money from the funds. In fact, they accused her of bribery and of trying to hide the fruits of a crime."
What will be her next move
The next moves Dimitrakopoulos plans for Eva Kaili are to build a profile of a woman deeply scarred by the month and a half she spent behind bars in Haren prison, the newspaper says.
"She was shaking as she told the judge, who was also a woman, about the torture she suffered, not in prison, but in a police cell. What he experienced – says the lawyer – is reminiscent of the movie 'Midnight Express', but unfortunately this is happening in the center of Europe".
The indictment against the allegedly aggressive methods of the Belgian justice system ends with the announcement of the next legal move by Eva Kaili's defense team: "Next week we will appeal to the Supreme Court, announces Dimitrakopoulos. When someone is arrested they are immediately protected by the law. I wonder if it was the same in Brussels."
The 5 best resorts and boutique hotels in Italy 2023
Seehof Nature Retreat /Naz-Sciaves (Bressanone)
Adults-only resort overlooking the shores of a private lake, the Seehof Nature Retreat has 40 rooms, including suites and doubles, with lake view or garden view. The wellness rite to clarify ideas about what to do in the future is carried out in the spa, it is the Aufguss, the infusion of vapors with essential oils which is carried out by a sauna master. The swimming pool is heated and can therefore also be used in winter, while the lake is frozen, so only the bravest will go and get their feet wet after a session in the sauna. Those who can't sit still can go skiing in the Gitschberg/Jochtal and Plose/Bressanone areas, on the way back, massage with alpine herb pads or with arnica and St. John's wort to soothe the muscles. The stay is all-inclusive (with a four-course gourmet dinner); the half board is on request.
Langhe House / Cerretto Langhe (Cuneo)
The Alta Langa is a land of great reds and also of sparkling wines, hazelnuts, cheeses and castles. Heritage of biodiversity, it is a land that tries to defend its relationship with nature, limiting highways and new constructions.
The result is Casa di Langa, a five-star resort amidst hazelnut groves and vineyards, which renounces single-use plastic, focuses on energy independence and recycles water for the irrigation of its vineyards and biodynamic vegetable gardens which Luigi Merlo, the gardener, takes care of Daniel Zeilinga, the executive chef, with two years of experience alongside Enrico Crippa at the Piazza Duomo restaurant in Alba. Aromatic herbs, edible flowers, ancient varieties all that grows is needed at the Sorì Cocktail Bar, which favors infusions for drinks, the Fàula restaurant, which has just entered the Michelin guide, and the Spa.
Villa Gelsomino / Santa Margherita Ligure
An 18th-century villa, Art Nouveau details and 5 sea-view suites, with original frescoes and Genoese grit floors. Villa Gelsomino is the project of three friends, who transformed the house into a boutique hotel reserved for adults only. The structure uses green energy, is plastic-free, and compensates for C02 emissions by planting trees around the world. You stay among a few guests and in the quiet, on request, there are private yoga and pilates lessons and you get around with electric scooters and e-cycles.
Gallicantu / Luogosanto (Sassari)
They are the new refuges for travelers who have already experienced everything; the pens, the rural settlements where the animals are rounded up, in the Sardinian Gallura are small treasure properties, created among the blocks of granite, sheltered from the confusion of the coast (but the beaches are always short range). Gallicantu, a micro-resort revisited by architect Jean Claude Lesuisse, with just five rooms and two suites, is close to Luogosanto (its name comes from the 22 country churches in the area), Tempio, where Fabrizio De André had chosen to live, and the beautiful Aggius, which is part of the authentic villages of Italy. If you wish, instead of reaching the Costa Smeralda, you can stop by the pool, among the olive trees. There is also a wellness area with sauna, Turkish bath, emotional showers. The pre-nuragic cave of the property is instead intended for the tasting of wines, cold cuts and cheeses.
Cape of Senses / Torri del Benaco (Verona)
55 lake view suites, three swimming pools, one of which is sports and two infinity, adults-only Spa, with fitness and yoga platforms, two restaurants, a 15,000-metre property among the retreats in Italy that will make headlines in 2023 is the Cape of Senses, which will open in July in Albisano, above Torri del Benaco, on Lake Garda. Designed by Hugo and Alessia Demetz, the hotel will be an oasis where you can stay for three days or more: upon request, you can sleep in a mobile structure, in direct contact with the stars. Two restaurants, At sunset, with gourmet à la carte cuisine, and La Pergola, with traditional cuisine served on the panoramic terrace.
This article was originally published on GQ (Italiana Edition)