Victory up to fourth with comfortable win over Mariners
Melbourne Victory moved up to fourth place on the A-League ladder without ever having to get into top gear to beat Central Coast 4-1 in front of 16,508 fans at AAMI Park on Sunday night.
The wonder of this game – if that is the right word for a contest that was rarely in doubt – is not that Melbourne Victory won so comfortably.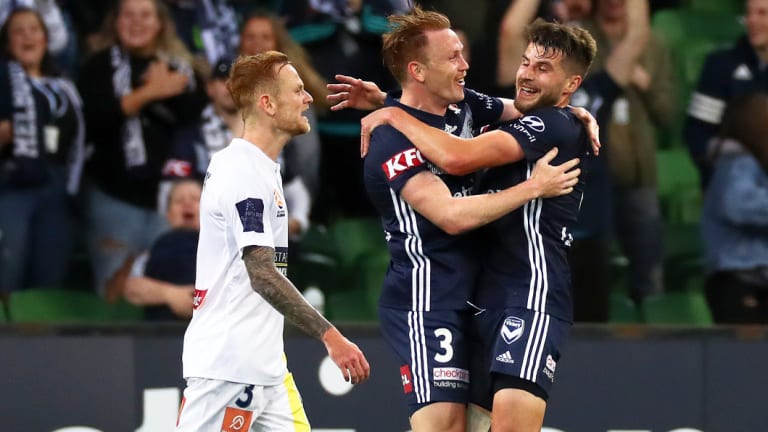 No, the real surprise is that it took them around 35 minute of the first half to establish the two goal cushion that was always going to ensure they chalked up their second win in a row following their confidence-boosting success in Newcastle last week.
The fact that they were able to score a third before half time only rubbed salt into the wound, and put any hope of an improbable Mariners second-half fightback into the realms of fantasy.
Advertisement
Central Coast were probably the ideal round four opponents for Kevin Muscat's team as Victory looked to ease itself back into the A-League's leading pack, following the stuttering start to its title defence which saw it lose its first two games.
After all, coming into this Sunday evening clash the Mariners were at the foot of the table with two draws from their three games, and had conceded five goals so far at an average of almost two per game.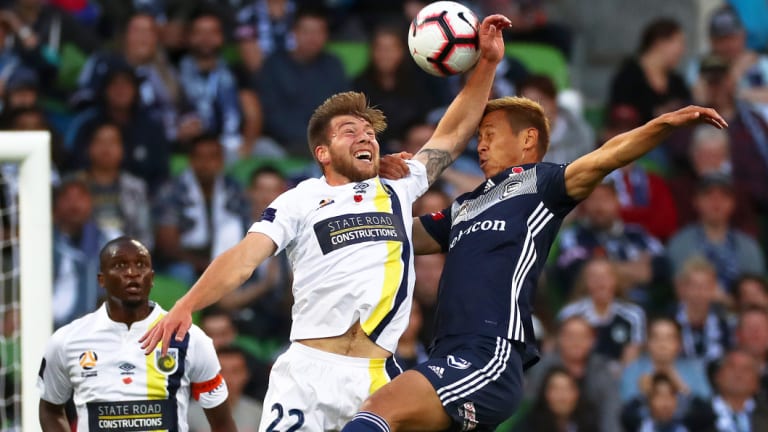 Victory was always going to get chances to score against a team with that sort of record. They were also never likely to be under much pressure at the other end, given the Mariners best hopes of getting something out of this game would be to defend in depth and try to stem the blue tide they knew would be coming at them for most of the 90 minutes.
Not even an injury to Jai Ingham in the pre-match warm up could put Victory off its stride.
Even though Swedish World Cup striker Ola Toivonen was now fit enough to be included on the teamsheet for the first time since joining the club in the off season, Muscat resisted the temptation to throw the Scandinavian beanpole on as a replacement at that point.
So stalwart Leigh Broxham was summoned off the bench to slot into midfield in a rejigged Victory structure, the veteran relishing the chance for what might be a rare enough start this campaign in a stronger than usual Victory squad.
One of the reasons for that strength is Keisuke Honda, the Japanese superstar who has quickly become a pin up boy for the AAMI Park faithful.
The former Japan international's quality stands out every time he gets in or near the action and he is always there, presenting himself as a target or an option whenever a team-mate is under pressure or simply looking for a pass to a colleague in space.
It was he who had Victory's first attempt on goal, an eighth-minute shot that took a deflection wide of Ben Kennedy's post.
It was a warning of what was to come. A few minutes later Kennedy had to palm away a Troisi shot before the goalkeeper was again called into action to save a Honda free kick.
Victory was moving the ball nicely, getting forward, pressing their opponents and looking dangerous with every forward thrust.
The ever-busy Terry Antonis found James Troisi, whose cut back eluded his team-mates. Kosta Barbarouses then headed over a Storm Roux cross.
Broxham had a rare chance to get on the score sheet when Troisi's cross was deflected into his path but he could only shoot wide. Troisi was then the architect of a terrific chance for Barbarouses with a deft flick over the top into the striker's path: the Kiwi international only had Kennedy to beat but blazed over the bar.
The home fans must have been wondering, even at this early stage (only a quarter of the game had elapsed), if this was going to be one of those nights. But any fears they had of further frustration were erased on the half hour, courtesy of a dreadful error by Anthony Golec.
The big Mariners centre back was far too casual as he tried to pass his way out of defence and instead of finding a team-mate he directed the ball straight to Honda.
The Japanese accelerated forward and gleefully smashed the ball past Kennedy for his second goal of the season. He might not get many others presented to him on a plate like this one.
Five minutes later the game was effectively over after Victory doubled their lead through Troisi.
The former Socceroo looks a far livelier player than that who disappointed for much of last season, and he was alert to the possibilities when Antonis picked the ball up on the left of the Mariners penalty area.
Troisi sprinted into space as Mariners captain Kalifa Cisse ambled in pursuit, and when Antonis slipped a pass through on an acute angle he had the presence of mind to look up and chip Kennedy for his first goal of the season.
Victory made it three in first-half stoppage time when another new signing, full back Corey Brown, got his first goal for the club. Again he was able to take advantage of lax Mariners defending when Antonis shot from a Broxham cross was deflected into his path to shoot past Kennedy.
The visitors got one back just after the hour mark when Mario Shabow deflected Ross McCormack's shot past Lawerence Thomas, but it was merely consolation. Josh Hope restored the three goal lead by slotting his first senior goal in stoppage time, thanks to an assist from Ola Toivonen who debuted in the 79th minute after coming on to replace Terry Antonis.
To their credit the Mariners didn't stop trying and they showed terrific heart in pressing forward to try to get a second goal that might have made things interesting. But in reality they were never likely to snap a losing streak that now stretches to 16 games.
Michael Lynch, The Age's expert on soccer, has had extensive experience of high level journalism in the UK and Australia. Michael has covered the Socceroos through Asia, Europe and South America in their past three World Cup campaigns. He has also reported on Grands Prix and top class motor sport from Asia and Europe. He has won several national media awards for both sports and industry journalism.