Ask any foreign player who signs for Melbourne Victory what the greatest difference is to playing overseas, and invariably they will respond how strange it feels to train at what is effectively a public park.
The fact that Gosch's Paddock provides no shield from the prying eyes of any fans who turn up to watch or even opposition scouts is a culture shock.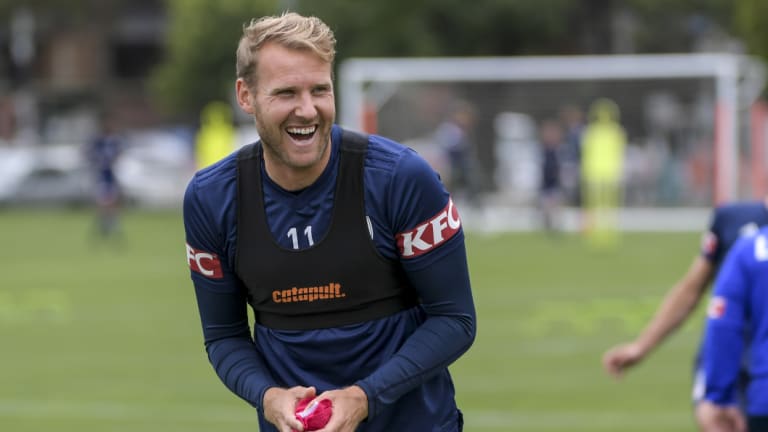 That's one thing for Victory's Swedish international Ola Toivonen.
But getting used to playing a key league game against one of the competition's biggest clubs at a ground that looks a couple of grades above a suburban venue is quite another.
Advertisement
Victory continued their good start to the season with a win on the road over Sydney FC at Kogarah's Jubilee Oval last Sunday, a game in which Toivonen made his starting debut and marked his first full appearance with a goal in the 2-1 triumph.
Ask Toivonen about the experience and the atmosphere, and the thing that he most seems to remember is the ground itself – and how different it was to the stadia that he was playing in when he plied his trade in his native Sweden, the Netherlands, France and briefly in England.
''It felt weird. There were no stands. It was weird but it was fun. It's a new experience … you put it in the bag,'' the striker said.
Toivonen had to wait until round five to make his first appearance, a calf injury sustained in the lead-up to the opening round game against Melbourne City restricting him to one cameo off the bench against Central Coast Mariners in the previous game.
The Swede wasn't particularly thrilled with his personal contribution, and feels that he, and the team, can improve in time.
''It was nice to start and get a win as well. Everything feels good. It was a little bit unfortunate the injury, but it happens in football.''
Though he was pleased with the end result, he was not happy with his own performance.
''You can always be better. It helps a lot to score, especially when you are not playing a good game.
''I think Sydney played good, they had good possession. We struggled a little bit, we didn't play a really good game, but we took the three points with us.''
Time is still needed for Victory and their coaching staff to blend the disparate talents of their big-name signings.
''It can take 10 days, it can take 14, but it can also take two months. You never know when you reach the top of the team. Hopefully you are never going to reach the top because you always want to progress as a team.
''We are learning each other more and more, we are learning the tactics more and more.''
Toivonen has spent his career operating across the front line, but has warned fans not to look to him as the focal point of attack, saying personal goal tallies don't interest him.
''Im not a 25-goal scoring guy. I think I did 26 one season in my career, totally with all the Cups and European games and everything
''Im going to score some goals and score some assists and be important for the team.
''I know as well that Im going to create spaces for the others in the team.
''Maybe Im going to drag two players on me and thats the space for other players to fill.''
Muscat has mixed up his starting players this season but Toivonen was full of praise for the skill set offered by wide man Kosta Barbarouses.
''He is a fast player, likes to always be on the line and play just onside. He is a really good finisher.''
Michael Lynch, The Age's expert on soccer, has had extensive experience of high level journalism in the UK and Australia. Michael has covered the Socceroos through Asia, Europe and South America in their past three World Cup campaigns. He has also reported on Grands Prix and top class motor sport from Asia and Europe. He has won several national media awards for both sports and industry journalism.
Most Viewed in Sport