Canberra set to bid for NRL women's State of Origin hosting rights
The ACT government will consider bidding for the rights to host the women's State of Origin in 2020 and beyond after being approached by the NRL to start discussions about future fixtures.
Canberra could also emerge as a destination for more international matches in the coming years after hosting World Cup games and the final Anzac Test last year.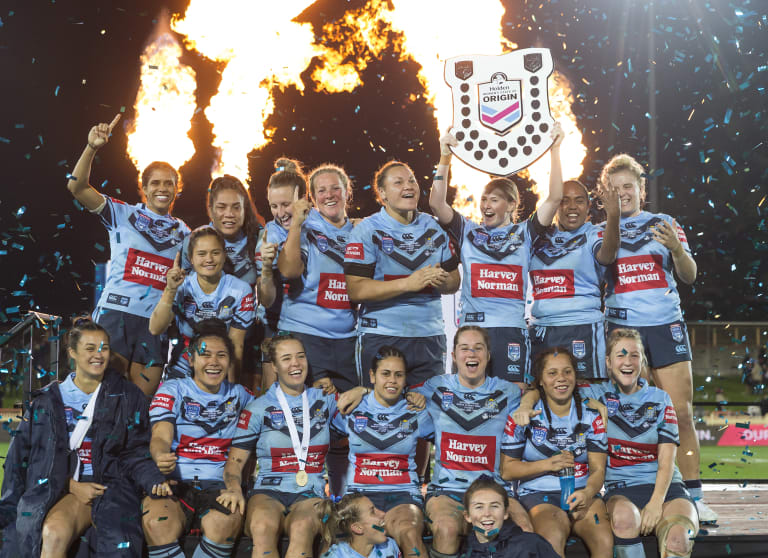 It's understood NRL officials raised the prospect of moving the booming women's State of Origin clash to the capital in a meeting with the government.
Budget restrictions, however, prevented the government from tabling an offer to host the game next year, with Canberra instead setting its sights on 2020.
Advertisement
The NRL reinvented the women's NSW v Queensland contest this year, rebranding it as a State of Origin match instead of an "interstate challenge".
Almost 7000 fans watched the match at North Sydney Oval as NSW held on for a tense 16-10 victory. It was widely regarded as a watershed moment for women's rugby league and is expected to grow again in the coming years.
The NRL is yet to finalise a venue for the game next year, but Canberra was on the radar.
"While no announcement has been made over the venue for the 2019 Womens State of Origin, it is certainly encouraging that there is strong interest in the match from various regions after the success of the first ever womens Origin match," an NRL spokesperson said.
"Canberra has always been a strong option for elite rugby league matches and it will continue to be."
It's believed the NRL also views Canberra as a viable option for men's and women's Test matches given the success of an Australia-New Zealand last year.
A government spokeswoman confirmed NRL officials were keen to explore the chance to play a marquee women's game in the capital.
"The prospect of hosting a womens NRL State of Origin was raised with the territory during regular discussions about content options," the spokeswoman said.
"Due to the budget cycle, it could not be considered for 2019. The government will explore content opportunities with the NRL, potentially including a womens state of origin game for 2020 and beyond."
ACT Sport Minister is keen for Canberra to become the No. 1 destination for female sport in Australia, signalling her intentions by snubbing the men's cricket Twenty20 World Cup to focus on the women's event.
Canberra will host five women's Twenty20 World Cup fixtures in 2020 after the government decided not to spend money on luring second-tier men's games to Manuka Oval.
Canberra is also a part of Australia's bid to host the women's FIFA World Cup in 2023, has a AFL Women's match scheduled for March and is home to the Capitals and Canberra United.
""You can't be what you cant see. Having these athletes coming to Canberra and engaging with women and girls who are aspiring to be elite athletes themselves, thats what its all about," Berry said earlier this year.
"Theres two parts. Having those elite athletes come along to be role models for future generations of girls is very important. Its also important we make sure there is space in amongst our aspiring players in the junior ranks for young women and girls too."
Chris Dutton is the sports editor at The Canberra Times.
Most Viewed in Sport