If worse comes to worse, the Canberra Capitals will use Kristy Wallace's knee injury as a motivating force to drive their WNBL championship dream.
Capitals coach Paul Goriss said Wallace had scans on Thursday to check whether she's torn her anterior cruciate ligament for the second time, with results expected by Friday.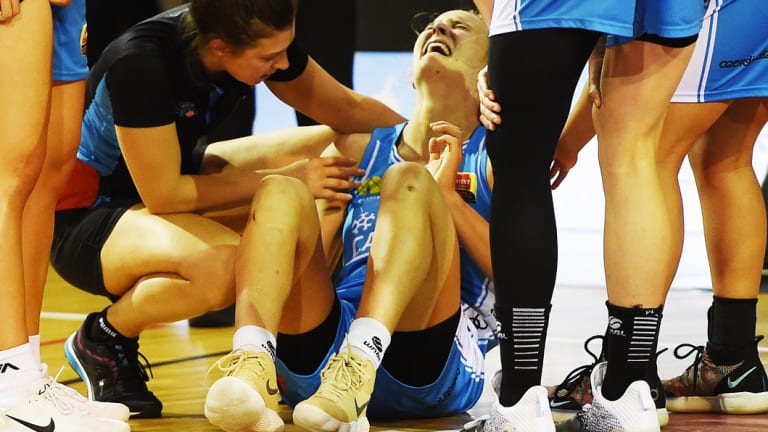 Regardless of the outcome, Goriss said teams now feared the Capitals, who will look for back-to-back wins over the Townsville Fire at the National Convention Centre on Friday night.
They thrashed the Fire 81-55 in Townsville on Sunday, who will again be without star centre Suzy Batkovic (neck).
Advertisement
But before they take on the Fire for the second time within a week, they're hoping scans might scupper their fears Wallace will have to undergo her second knee reconstruction.
She hurt her knee in her second game back – against Townsville on Sunday.
Capitals co-captain Kelsey Griffin said that game was one of the hardest she's ever had to play in.
"Seeing her go down and her knowing right away that it felt like her first one that she did was really difficult," she said.
"But we knew that if we didn't go out and play well we weren't doing her or the time and effort that she's put into her rehab justice.
"That's definitely going to be a driving force moving forward and a motivating factor.
"That being said we haven't got the scans back yet so everything's crossed that it isn't what we think it is and she's right and it will be a quick rehab."
The second-placed Capitals could draw level with the Melbourne Boomers at the top of the WNBL ladder with a win over the second-bottom Fire.
They then head to Melbourne to face the Dandenong Rangers on Sunday.
Goriss said the Capitals had so many offensive weapons and had hit such a rich vein of form that teams now feared them.
They have three players in the league's top 10 for average points – Griffin (20.3), Kia Nurse (16.5) and Marianna Tolo (15) – and have won their last three games by an average margin of 28.3 points.
But Goriss was expecting a hungrier Fire to descend on Canberra after their hefty home loss.
"We've strung together three really impressive performances defensively and we're on a roll," he said.
"It's at a point of the season that we're playing great basketball at both ends of the court. We can score with any team and defensively we're holding teams to 55-60 points.
"We're getting to a point where we're starting to click as a group and getting Marianna (knee) back has definitely helped with that.
"Teams now don't want to play us and that's a great way to be. Teams are coming in fearing to play us."
WNBL ROUND 12
Friday: Canberra Capitals v Townsville Fire at the National Convention Centre, 7pm. Tickets available from Ticketek.
David Polkinghorne covers the Canberra Raiders, local rugby league, Canberra Cavalry, racing and cycling, along with every other sport, for The Canberra Times.
Most Viewed in Sport