Congratulations roll in for Ash Barty's comeback victory
Rob Barty watched his youngest daughter play in the most anticipated match of her life from his in-laws' television set in Leicester. As congratulations have flown in from past greats, Evonne Goolagong Cawley and Margaret Court, her father was modest in his excitement.
"We were all very excited and we're just so happy for her," he told The Age and Sydney Morning Herald from London, at around 7am local time.
The family had planned their overseas trip around her upcoming match in Wimbledon where she will play on grass, her favoured court surface. Their itinerary and pre-match nerves were signs of how surprising her triumphant run on the clay courts has been.
"It's her least favourite surface and there are so many good players out there. The depth in womens tennis is amazing and anyone can pick it up and win something."
Advertisement
He spoke to her immediately after the game and said she was "fairly low key" but incredibly happy.
Growing up, he said he could never have imagined that she would win her first grand slam at 23 years' old and described her as a lovely and wonderful person: "What you see is what you get with Ash."
The family is quietly content that she returned to tennis after making a career switch to cricket in 2015.
"That wasnt for us to stay or push. It had to be completely her decision," he said.
To celebrate, they'll be playing a round of golf in London – a sport some close to her joke could make her third career.
Barty has also received praise from tennis trailblazer Evonne Goolagong Cawley after becoming the second Indigenous Australian to win the French Open.
"Im almost scared to say it but its now 48 years ago since I won my first slam there too," Goolagong Cawley said in a statement.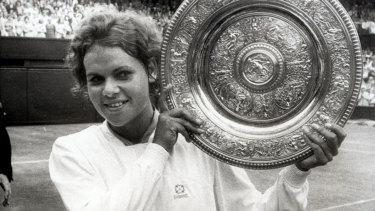 "What a wonderful result for Australia and how exciting that another Aboriginal has won at the French Open.
"Tennis Australia and all lovers of tennis here and around the world will be delighted by the natural skills and flair Ash possesses."
Goolagong Cawley is a Wiradjuri woman who was named the Australian Sportsman of the Year in 1972 and was inducted into the International Tennis Hall of Fame in 1988. She had a remarkable career, in which she won 92 pro tournaments, was a finalist in 18 grand slam singles events and was the first Indigenous Australian to win at the French Open.
Barty took a little more than an hour to claim her first grand slam win at Roland Garros, beating 19-year-old Czech Marketa Vondrousova 6-1, 6-3. In her victory speech, she praised Goolagong Cawley for leading the way.
"It's amazing how she's created this path for Indigenous tennis in Australia and I think now it's becoming more nationwide," the 23-year-old Queenslander said.
"There's more opportunities for kids to play tennis, both male and female, and I hope we can continue to create those opportunities and let kids know that this is an option for a career. And even if it's not, it's a sport that they can play for life."
Barty and her sisters learnt their great-grandmother was a member of the Ngaragu people from southern NSW and north-eastern Victoria when she was around 12 years old. The three girls registered with their clan to begin learning about their ancestry.
"My heritage is really important to me," she told Good Weekend in 2017. "Ive always had that olive complexion and the squished nose, aRead More – Source