Nicky Winmar: From moment to monument
It was a moment, then a photo, and now a monument. One dimension that became two, then three.
It was the moment of Nicky Winmar's life, and now is larger than that life, one-and-a-half times larger to be precise. Winmar knows because he measured up then and has been measured up now.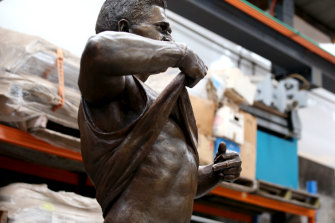 Winmar laughs to think that his spontaneous gesture in the face of howling racism at Victoria Park all those 26 years ago has solidified into a statue and will be unveiled at Optus Stadium before the western derby on Saturday. Family will come from all points for the inauguration, including five grandchildren from Ballarat. The generations to come are already here.
Leigh Matthews once said that the statue of him at the MCG was greatest of his many decorations. Winmar feels the same. "To see it finished, it means so much, not only to me, but to the family as well, to my people, too, the Noongar family, Aborigines Australia-wide," he said. He had a place in Australian history anyway; this sets it in stone.
Advertisement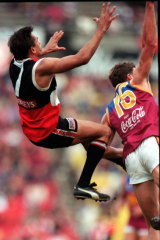 Winmar has only one regret as he looks at his old svelte self. "The 12-pack is not really there any more," he said. "We can't have what we used to have. We can't bring it back any more." If only sculptor Louis Laumen could chisel off a bit here and there!
The intervening years have been eventful. There was the balance of his eminent 250-game career. Winmar was a mercurial footballer, but what is often forgotten is that he was also the first Indigenous player to get to 200 games.
There was some turmoil in his personal life, a heart attack in 2012 and the coming out of his son Tynan in 2016. Heartache and the fight against vilification have been constant companions.
Winmar would like it to be known that he did play a few pretty good games. "If anyone stops me now to talk about that incident, [they will always say] you were a great footy player to watch," he said.
He works now as a lollipop man, controlling Perth traffic, but even in that role is still recognisable to many as Nicky Winmar. He was always at home in traffic.
Soon enough, the conversation always turns back to that fateful day at Victoria Park, immortalised in Wayne Ludbey's photo that appeared on the front page of The Sunday Age. You only have to talk to Winmar for a short time to know that he is a sensitive soul. It meant he was easily provoked in his playing days. When sniped, he could not hide his hurt, as others did, or shrug it off, or appear to.
It stays with him. "I still get angry over it," he said.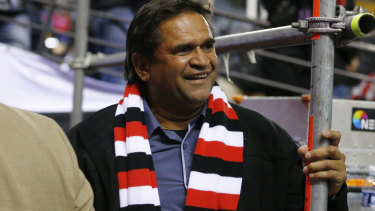 His stance in 1993 and Michael Long's in the Anzac Day game two years later are recognised as lines in the sand in the fight against racism in the AFL and more broadly. Winmar is gratified that there has been change, but says more is needed. The Adam Goodes story testifies to it.
Winmar hasn't seen either of the new Goodes documentaries. He doesn't have to. "It's very sad the way he left the game," he said. "Everywhere he was bRead More – Source