The power behind Marc Marquez's MotoGP throne
Marquez has broken record after record in his relatively short career and redefined what is possible..
Marquez has broken record after record in his relatively short career and redefined what is possible in the saddle of a multi-million-dollar MotoGP bike.Throughout the 26-year-old Catalan's time in the premier class, Hernandez has been his shadow. Watch any MotoGP weekend and the affable 44-year-old is there, clipboard in hand, whispering advice into Marquez's ear and marshaling the intense activity in the garage around him. The two appear inseparable; friends with an unbreakable bond.Marquez himself speaks with obvious affection for his fellow Spaniard. "I started to work with him in 2011," the multiple champion tells CNN Sport. "Of course, in that time, there have been great moments, bad moments, but it's like he's not my chief mechanic, he's my friend."
Like a marriage
But most friends don't have to play the role of both good and bad cop as a world champion's chief engineer."The thing is that you need to separate your personal relationship," Hernandez tells CNN Sport."When I start, I don't want to be friends with the rider, because this is a job, we're in a professional world. Whether you're a good friend or not, when you are with a champion, or any rider, they want the result."Personality counts for nothing, he says: "You can be nice, a funny guy, but at the end, if you are not doing your job well…", Hernandez smiles, whistles and makes a gesture with his thumb, "you are out."The crew chief is generous enough to credit Marquez for the pair's special bond."You can be with a rider for 10 years and never be a friend, the relationship is just professional. With Marc it's different," says Hernandez. "But it's not to say everything is right when we're working; many times, we fight, many times we're looking for what is the best way to do something, and many times we are not agreeing … but this is part of the job."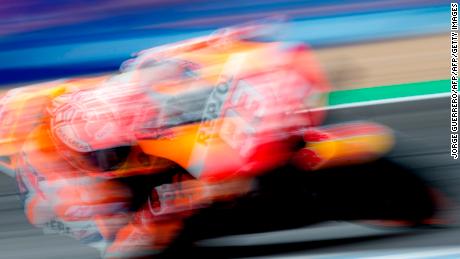 READ: Japan's rising star could be its two-wheeled saviorJournalist David Emmett, one of the MotoGP paddock's pre-eminent voices and editor of the influential MotoMatters site, has watched the relationship between Hernandez and Marquez blossom."It really is like a successful marriage," Emmett told CNN Sport. "Marc trusts Santi, and Santi is open to Marc's ideas. They spend hours every day poring over data, discussing ways of improving every aspect of racing, both at the track and at home."They win together, and they lose together, they accept both the praise and the blame together."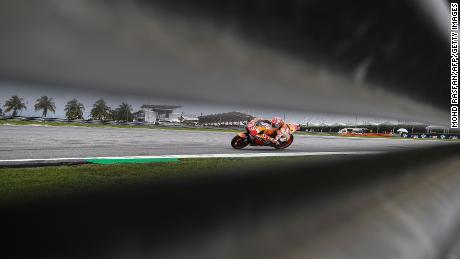 The racing bug
Hernandez was born into the world of engineering — his father worked as a mechanic — and he raced scooters as a child. His brother raced in the Spanish championship, but the young Hernandez was more interested in soccer than MotoGP. It's noticeable how often he uses soccer as an analogy for his work.Gradually he started to get the motorbike bug. Then as a teenager, he got a lucky break.While studying to be a mechanic and working in a shop, an opportunity came up to work at legendary suspension manufacturer Showa."They needed a young guy for an apprenticeship, and to teach him about everything about suspension, and I was lucky that I knew some people working in the world championship, and they gave me the opportunity. And now, here I am."The MotoGP calendar is a slog. With 19 races across five continents, teams travel more than 76,000 miles (123 kilometers) over the course of a season.
It is enough to put a strain on anyone, and Hernandez admits it can be hard."I have a daughter, she is living in London, I am in Barcelona; but it's not only my daughter, I have my partner, my father, my brother, my uncles, the whole family, you need that."Between races the Barcelona-based Hernandez tries to make it home when he can, but it isn't always possible."It depends: for example, the last three races of the season, in Asia, you go forward, because you are away for three weeks in a row," he explains."Right now, I prefer to go home between races, even if it's just for one week or five days. Of course, when I was younger, I would want to stay, because everything is new, but after 22 years, not so much."
READ: The King of COTA is deposed
No respite
Even in the off-season, there is little respite.There is a post-season test in November, an analysis of how the team has done to be conducted as well as briefing Japanese engineers in preparation for the next championship.But, Hernandez says, rest is vital."It's like the riders," he says. "They have to stop, they cannot keep going in the gym, keep in the physical condition every day, because they need to also recover."Me too — you need to switch off, I mean, take two or three weeks, enjoy with the family, with friends, because this job is such a sacrifice, because you don't do anything with friends of family, so for that reason, that time is very important to recharge the batteries."The Marquez era has been a golden one for Honda, and the manufacturer dominates the sport. But success, Hernandez explains, only increases the pressure."It's like in soccer, when you are with a team that has to win the league, the championship, the European league, everything, if you win nothing it's a disaster."Here it's the same. When you are with a rider like Marc, every year you start the season thinking about winning the world championship, not to finish in the top five. Every time you don't get your target, it's not a good result."
READ: From a roar to a whirr — MotoGP goes electric
The pressure to win
Hernandez believes seeing a result in context is vital after a race, but also says that pressure is important."Of course, after the race you have to look at the bigger picture, because many things can happen, maybe you finish third, but it's quite good because maybe there are many crashes, or an injury, many things."But when you are with a rider like Marc, there's one thing only: to win. But the moment I don't feel that pressure, I have to go home, I cannot be here."Two-wheeled racing is, by its nature, heavily influenced by the weather. At April's MotoGP of the Americas in Austin, teams were faced with wet, dry and windy conditions on different days.So what happens when a crew is confronted with such a weather forecast?"Well, yeah, you say 'f***', Hernandez laughs. "The thing is, the bike is never perfect. You always want to improve, improve, improve, and even if you have 10 days, you need one more."This is the same in a race weekend. If tomorrow maybe every session is in the wet, and Sunday is dry, you have only two sessions to make the bike set-up."You have to manage for the weather, and maybe sacrifice some things today to be ready, and focus on the biggest things, like the Read More – Source
Freddy Rincón: Former Colombia captain in critical condition with severe head injuries after car crash
Former Colombia soccer captain Freddy Rincón is in critical condition with severe head injuries after being involved in a car crash in Cali, the hospital treating him said in a statement.
The 55-year-old Rincón was admitted to hospital on Monday following a car accident in the early hours of the day, CNN en Español reported, citing local media.
The accident involved a van with four occupants, including the former player, and a bus, the Undersecretary of Mobility of Cali, Edwing Candelo, told the newspaper, El País Cali.
Five people were injured in the crash, added Candelo.
Rincón underwent surgery which lasted nearly three hours, the Imbanaco Clinic said in a statement later Monday, adding that he has been transferred to intensive care, where he remains in critical condition.
World Cup glory
Rincón played in three World Cups — 1990, 1994 and 1998 — and scored 17 goals in 84 games for Colombia.
He was born in 1966 in Buenaventura, in western Colombia, and was one of the key players of his country's golden generation in the 1990s.
Notably, he scored against West Germany at the 1990 World Cup in Milan's San Siro stadium, his goal coming late in the game to secure a 1-1 draw giving Colombia a place in the round-of-16 after the country's 28-year absence from the tournament.
Rincón also scored two goals in a famed 5-0 win against Argentina in Buenos Aires in 1993.
In Colombia, he played for Santa Fe and América de Cali, with whom he won three trophies.
In 1994, Rincón joined Brazilian club Palmeiras, before then moving to Europe. He played for Italian club Napoli and then joined Spanish giant Real Madrid, becoming the first Colombian footballer to play for the La Liga club.
Rincón returned to Brazil in 1996, where he won three local titles and a Club World Cup with Corinthians.
He retired as a player in 2004 and later coached third division teams in Brazil. He was an assistant to former Brazil coach Vanderlei Luxemburgo at Atlético Mineiro in 2010 and to Jorge Luis Pinto at Millonarios de Colombia in 2019.
Fantasy Premier League tips gameweek 19: Cristiano Ronaldo, Son Heung-min, Bukayo Saka and more
Cristiano Ronaldo
The news of Liverpool vs Leeds' postponement leaves a lot of managers in the lurch. Most of us have at least three players who will not be playing on Boxing Day, with captaincy favourite Mohamed Salah one of them. Where do we turn with our most reliable points-scorer suddenly wiped out?
It requires a bit of restructuring and probably a -4 hit but moving to Ronaldo, who travels to Newcastle, may not be a bad idea. Though Salah could return quickly against Leicester and Chelsea, the Africa Cup of Nations is fast approaching and Manchester United's fixtures are strong, with an expected double gameweek on the horizon.
Son Heung-min
A more straightforward move is Salah to Son. Many managers could do it with their weekly free transfer and there is good reason to back the Tottenham winger, who scored against Liverpool last time out and has an enticing run of fixtures coming up and a likely double in gameweek 22.
Crystal Palace's defensive numbers are still among the more impressive this season but are stronger at home than away and have faltered slightly of late, while Tottenham's attack is gradually picking up under Antonio Conte. After the visit from Patrick Vieira's side, Spurs face back-to-back trips to Southampton and Watford.
Bukayo Saka
After three consecutive impressive wins, Arsenal assets are all the rage this week, with heavy investment in the band of young, exciting attacking players at Mikel Arteta's disposal. Gabriel Martinelli was a late call-up to our picks last time around and duly delivered, while Emile Smith Rowe keeps on scoring even as a substitute.
If we had to pick one for this weekend's trip to Norwich though, it would still be Saka. He has a better chance of starting long-term than Martinelli and he has more impressive underlying numbers than Smith Rowe. In fact, those numbers have gradually ticked up after a slow start to the season, with an average of 0.6 non-penalty xG+xA over the last six games.
Kieran Tierney
While Saka, Gabriel Martinelli and Emile Smith Rowe are all popular picks this week, one thing to look out for is an unusual split coming up in Arsenal's fixtures, where their schedule is a lot better from a defensive perspective than an attacking one.
With that in mind, 4.8m-rated Tierney offers a slightly more adventurous route into Arsenal's backline than either goalkeeper Aaron Ramsdale or the cheaper Ben White. The concern with Tierney, as ever, is injury and whether he can be trusted to start games during a tight schedule, but at a low ownership of 6.4%, he may be worth the risk.
Armando Broja
With all these heavy hitters to swap around and squad restructuring to do, it can be useful to leave money in the bank for flexibility. But at the same time, we need a deep squad in order to cope with the postponements and rotation. It is difficult to find players in the cheap but reliable sweet spot.
Broja is one of the better budget options. He carries a rotation risk himself and can get substituted early but, with Che Adams and Adam Armstrong still making their way back from injury, the 5.1m-priced Southampton striker should get enough minutes going forward to earn points, while freeing up funds to spend elsewhere.
Real Madrid tied with Cadiz
Real Madrid tied with Cadiz without goals in the match that brought them together today in the eighteenth round of the Spanish Football League "La Liga".
With this result, Real Madrid raised its score to 43 points at the top of the standings of the Spanish League teams, and Cadiz raised its score to 14 points in 19th place.