London: England hope the recall of left-arm spinner Jack Leach for the second Test can help them put the brakes on a runaway Ashes for Steve Smith, but Tim Paine is confident the Australia No.4 can "adapt on the spot" to whatever comes his way at Lords.
Veteran England seamer Stuart Broad said during the first Test, won by 251 runs by Australia, that Joe Roots team and their bowlers had been studying a dossier on each of the tourists batsmen. Whether they have ripped up the manual on Smith after his twin centuries at Edgbaston is unclear, but they are aware of is his more modest record against one particular kind of bowler – the left-arm orthodox – than all the rest.
Smith has previously played down those numbers – he averages only 34.9 against such bowlers as opposed to nearly 63 overall – believing they are skewed by him facing Rangana Herath in Sri Lanka and Ravindra Jadeja in India.
But with frontline off-spinner Moeen Ali having struggled with the ball in Birmingham and being a sitting duck against Nathan Lyon with the bat, the re-introduction of Leach in his place at Lords is part of Englands plan to try and dislodge Smith before too much damage is done.
Advertisement
It is a ploy that is not likely to concern Australia or the worlds best batsman himself as he returns to the scene of his first Test double century four years ago and where he and Paine made their debuts alongside each other against Pakistan in 2010.
"Steve Smith averages over 60 in Test cricket, so I think the beauty of Steve is you can come up with a plan but he's good enough to adapt really quickly," Australia's captain Paine said.
"I've seen him do it between balls. I've seen him do it when guys have targeted him from one end a certain way and a completely different way from the other end. I think that's what makes him the best player in the world, his ability to adapt to any plan that is thrown at him. I think he processes it quicker than other players and adapts on the spot."
Australia fast bowler Mitchell Starc added that he didn't feel any sympathy for his England counterparts. "Not a bit. Im glad hes on our team," Starc said.
Somerset bowler Leach has played five Tests and was man of the match in Englands win over Ireland at Lords last month when he scored 92 as a nightwatchman.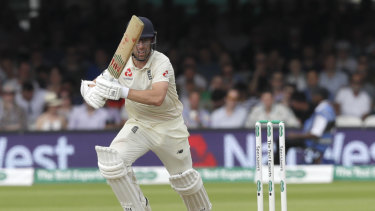 On top of his inclusion, there will be great interest in what kind of pitch is prepared in north-west London, with England set to hand a hugely anticipated debut to fast bowler Jofra Archer in place of the injured James Anderson.
Paine, speaking after Australias three-day match against Worcestershire was called off after lunch on Friday due to rain, said he was "not too fussed" with what England were doing.
"We need to focus on Read More – Source