Rookie Sharks prop Braden Hamlin-Uele's favourite memory in the NRL to date was the moment he carted the ball back from a kick-off against St George Illawarra and sat James Graham on his backside.
Andrew Johns was commentating on the round-11 derby and as he watched replays of Graham hitting the deck said "I can't believe he got up, how did he get up''.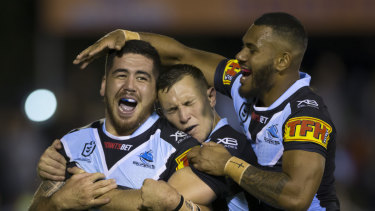 Now the infectious Hamlin-Uele would love to skittle a few more Dragons as he all but agreed with St George Illawarra coach Paul McGregor's comments that Sunday afternoon would be a ''street fight'' and the Sharks ''will be coming out and bullying us''.
"I want to say something but I don't want to say it,'' a smiling Hamlin-Uele said.
Advertisement
"I'm ready for the derby. The street fight happened when I bumped off James Graham off the kick-off.
"I'll be looking to carry that on. I didn't iron him out, but it was a good moment for me.
"I got the ball, they're a big team, sometimes you look at players and think 'I'll run at you', but there was nowhere to run this day. I saw him run out a bit to try and put a shot on me, but I turned. It was a memorable moment.
"That typified to me I could run with the big boys. I'd like a few more of those moments.''
Hamlin-Uele, who looks like a young Andrew Fifita, has been nothing short of brilliant for the Sharks. He will need to step up again with Fifita ruled out of the Shire battle with a knee injury.
As for McGregor's bullying claims about Cronulla, Hamlin-Uele said: "I wouldn't say it's bullying, but you definitely want to get over your opposite number. The first team that cracks loses, and we don't want to be that team. Unfortunately we've shown that in some games.
We need to get back into that and be really physical. I love that stuff.

Braden Hamlin-Uele
"The Sharks were always known as a tough team to play against. Nobody liked coming here to play. Even when they were getting flogged, they would always bash people.
"We need to get back into that and be really physical. We did that against the Cowboys and Rabbitohs, we smothered them, and we need to get back to that. I love that stuff.
"When he [McGregor] says 'street fight' I think he means it will be a tough game. Nobody throws punches and there won't be any blues, but it will be aggressive and full on.''
While the Sharks lose Fifita, they do welcome the returnRead More – Source