France and Germany propose EU overhaul after Brexit upheaval
BRUSSELS: France and Germany put aside bilateral tensions on Tuesday (Nov 26) to call for an overhau..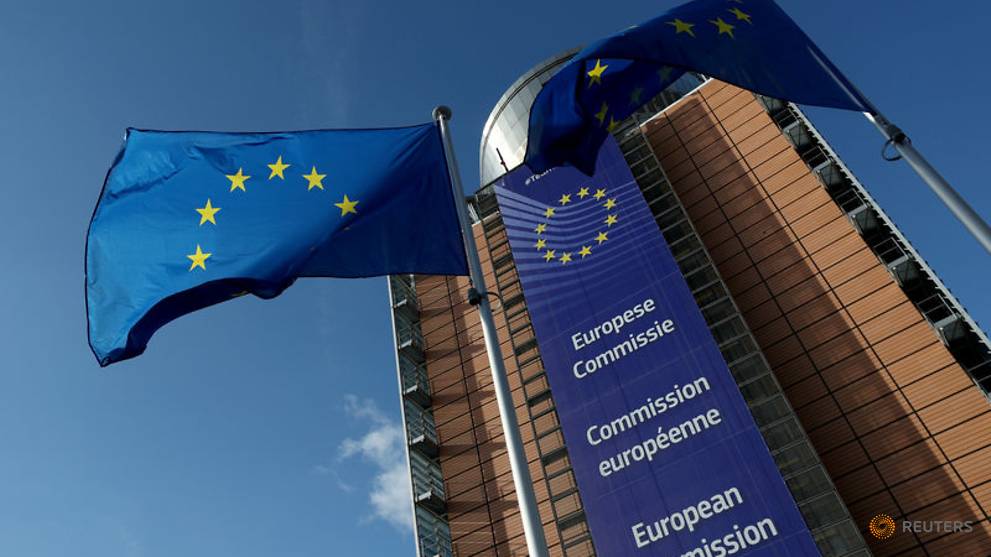 BRUSSELS: France and Germany put aside bilateral tensions on Tuesday (Nov 26) to call for an overhaul of the EU, which has been buffeted over the past decade by a euro zone debt crisis, an influx of migrants and refugees, rising eurosceptic populism and Brexit.
Some European Union leaders fear that regional and political rifts could tear apart a project they credit with keeping peace and prosperity on the continent, including in eastern Europe after the collapse of the Soviet bloc.
Advertisement
Advertisement
Paris and Berlin, long seen as the axis of the continent's post-World War Two unification process, said a "Conference on the Future of Europe" was necessary to make the EU "more united and sovereign" across a range of challenges.
These include Europe's role in the world and its security, they said in a document that comes amid growing concern that Europe is ill-equipped to deal with new security and economic challenges, especially from a rising China.
Earlier this month, French President Emmanuel Macron described the NATO transatlantic military alliance as "brain dead", urging Europe to bolster its capacity to act because it cannot rely eternally on an unpredictable United States.
The two-page Franco-German paper said other areas where Europe needed to be more united included its near neighbours, digitalisation, climate change, migration, the fight against inequality, the "social market economy" and the rule of law.
Advertisement
Advertisement
It said a reflection lasting more than two years should consider reforms that would, among other aims, promote democracy and the functioning of a bloc that will group 27 countries after Britain's expected departure on Jan 31.
Many EU citizens feel their voices are not heard in Brussels and have little trust in its institutions, sentiments that drove Britain's 2016 referendum vote to leave the bloc.
The EU's two heavyweights said citizens would need to be closely involved in the reflection on Europe's future through a "bottom-up process" of consultations.
"BACKROOM DEALS"
They said recommendations agreed at a closing conference in the first half of 2022 should be presented to the European Council of member states' leaders for debate and implementation.
Diplomats said the document sent a message, ahead of an EU summit on Dec 12-13, that member states must be closely involved in reflections on Europe's future amid institutional jockeying for a leading role.
A new European Commission, the EU's executive, which starts its five-year mandate on Dec 1, has already proposed a 2020-2022 conference.
Manfred Weber, leader of the centre-right European People's Party in the European Parliament, said in an opinion column on Tuesday that it is the role of an assembly directly elected by EuropeanRead More – Source
Dozens of Palestinians injured in police clashes as Jewish extremists chanting 'Death to Arabs' march in Jerusalem
Clashes between Palestinians from east Jerusalem and Israeli police around the Damascus gate entrance to the Old City erupted in a night of unrest that earlier saw Jewish extremists marching through another city street shouting "Death to Arabs."
The violence marks a high point so far in a new phase of complex heightened tensions in the city which began a week and half ago around the start of Ramadan, and prompted an unusual statement Friday morning from the US embassy in Jerusalem in which it called on "all responsible voices [to] promote an end to incitement."
Hundreds of Palestinians gathered in the area around the Damascus gate Thursday evening to protest the closure of the plaza space in front of the gate, a popular place for young Palestinians to hang out, especially during Ramadan.
Glass bottles and rocks were thrown at police, who used stun grenades, rubber bullets and water cannons spraying foul-smelling 'skunk water,' in an effort to disperse the crowds.
At one point, a group of young men managed to break down a pole with a security camera mounted on top and set it alight, temporarily creating a barricade.
The Palestinian Red Crescent said 105 Palestinians were injured, of which 22 required treatment in hospital.
Close by, police used barricades of their own to prevent a march by hundreds of supporters of the Jewish extremist 'Lehava' movement from reaching the same area.
Videos on social media show hundreds of people marching down one of Jerusalem's main thoroughfares, Jaffa Street, towards Damascus Gate chanting repeatedly "Death to Arabs."
Israeli media reports Lehava supporters threw rocks at police, and videos on social media show police water cannon being used to disperse them.
Lehava has been emboldened by the recent election to the Israeli parliament of several extremist-racist politicians, all of whom have been openly courted by Prime Minister Benjamin Netanyahu in his ongoing attempts to form a new government.
Tensions have been heightened further by a number of videos posted to Tik Tok over the last couple of weeks apparently showing acts of assault, including one purporting to show a Palestinian youth slapping two religious Jews riding the city's light rail tram service
.
The violence continued well into Friday morning with incidents reported across the city, including one captured on video apparently showing Palestinian youths repeatedly kicking a Jewish man in east Jerusalem as he lies on the ground attempting to protect his head.
Spain drafts new foreign policy that incorporates gender perspective
The Spanish government has updated its guidelines for international relations. A draft of the 2021-2024 Foreign Action Strategy, which the Cabinet is planning to send to parliament on Tuesday, discusses the "opportunity" to improve relations with the United States now that Joe Biden is the new US president. It also emphasizes the need for "a feminist foreign policy" and "humanitarian diplomacy."
This document will replace the previous foreign policy strategy drafted in 2015. Although it only represents the government's opinion, other sources were consulted – including regional, provincial and local authorities, and national agencies such as the Council of State, the government's top advisory body.
The 100-page text draws a somber picture of a fractured global scenario where the concept of multilateralism is in crisis. "We live in an increasingly volatile and fragmented world that tends to generate two opposing trends: an outward force of disunity marked by the rise of populisms and exclusionary nationalisms, and an inward force with inclusive answers to global challenges," reads the document.
In this context, Spain hopes to gain added relevance in the international arena with a policy based on "reformed and reinforced multilateralism." The strategy, drafted in the middle of the coronavirus pandemic, holds that the health crisis has accelerated processes that were already underway, but that it is still too soon to know whether we are immersed in "an era of change or in a change of era."
The following are some of the main points:
United States. The Biden administration "opens up a more optimistic scenario" and "an opportunity that has to be taken." Spain wants "a broader agenda for bilateral relations in the economic and trade spheres," and will seek to get "unfair unilateral trade measures lifted," alluding to tariffs on olive oil and wine. The existing cooperation on defense issues should be maintained, and the Cervantes Institute will open a new branch in Los Angeles, adding to the ones in New York, Chicago and New Mexico.
Europe. Spain will encourage "a more federal European Union" with greater strategic autonomy, competence over more policy areas, and more matters that may be approved through qualified majorities rather than unanimous votes. Spain will play an active role in the Conference on the Future of Europe, which will address necessary reforms for the EU, and encourage the integration process when it holds the six-month rotating EU presidency in the second half of 2023. The document calls for the consolidation of permanent tools of joint debt issue and for Europe to create its own resources, as well as for a harmonized tax system that ends competition within the EU. The United Kingdom's withdrawal from the EU is described as "a great opportunity for Spain to take on greater leadership towards a more global Europe."
Feminism. Spain will approve a Feminist Foreign Policy Strategy to incorporate gender issues "in all areas of foreign action" and it will "lead by example" by encouraging a greater presence of women in Spain's external activities. Women currently represent 28% of diplomats and 20% of mission heads. Spain will also lead initiatives to promote diversity, "particularly LGTBI rights and the rights of all communities that are underprivileged or discriminated against."
Latin America. Spain will encourage relations between the EU and Latin America and support the completion of an agreement with the Mercosur trade bloc. The king and queen will visit Chile to celebrate the 500th anniversary of the first documented circumnavigation of the globe. Several Central American countries, as well as Peru and Mexico, are also celebrating the bicentennial of their independence. The latter country is also observing the controversial 500th anniversary of Hernán Cortés' conquest, and Spain will work towards "a constructive dialogue about the celebration of historical milestones." In Venezuela, "the priority will be restoring the democratic framework and providing support for overcoming the political and humanitarian crisis." As for Cuba, the country is "updating its political and economic model" and Spain must stimulate this process "through critical yet constructive support."
Immigration. Spain supports a European System of Immigration and Asylum guided by the principles of solidarity and equally shared responsibility. It wants to see "integral management of borders," a zero-tolerance policy against smuggling rings, and the creation of "safe, regular and orderly migration channels."
Health. Spain will support the European Commission's efforts to create the foundations for "a European health union," as well as the reform and reinforcement of multilateral global institutions such as the World Health Organization (WHO).
United Nations. Spain will apply to sit on the UN Human Rights Council for the 2025-2027 period. The technological platform for the UN system in Quart de Poblet (Valencia) will be consolidated and expanded.
China. Spain will seek "more balanced relations" with China, especially on economic issues, avoiding "dynamics of confrontation." It will encourage a strategic relationship through the EU, without ignoring "clear elements of rivalry in terms of values and interests" especially on human rights issues and unfair competition.
Development aid. The document maintains a commitment to earmark 0.5% of Spain's gross domestic product (GDP) to development aid. A new law on international cooperation for sustainable development will be passed, and the Spanish International Cooperation Agency will undergo reform.
Climate. Spain wants to lead agreements on climate change with a "climate diplomacy." It will encourage an international coalition on green hydrogen (hydrogen production from water) and will commit to the protection of biodiversity.
Western Sahara. Spain's priority with regard to its former colony is to "contribute to the UN's efforts to reach a political solution to the conflicts in the region in accordance with international parameters."
Gibraltar. Gibraltar is only mentioned in reference to the recent agreement of December 31 laying out the groundwork to incorporate the British Overseas Territory into the Schengen space. Spain will "encourage the negotiation process for an agreement between the EU and the UK with regard to Gibraltar."
Read from source: https://english.elpais.com/politics/2021-01-26/spain-drafts-new-foreign-policy-that-incorporates-gender-perspective.html
Ukraine nursing home fire: Four arrested after Kharkiv blaze leaves 15 dead
Ukrainian authorities have arrested four people in connection with a deadly fire at a retirement home in Kharkiv.
15 people were killed after a blaze ripped through the nursing home on Thursday afternoon in the eastern Ukrainian city, according to emergency services.
Nine others were rescued, five of whom have been taken to hospital for treatment.
Pictures from the scene showed blackened rooms and barred windows on the upper floor of the two-storey building, which had been converted into a home for the elderly. 50 firefighters attended the incident to extinguish the flames.
In a statement on Facebook, the country's attorney general, Iryna Venediktova, said four people have been arrested.
The suspects include those who owned and rented the building, as well as the manager of the retirement home. Authorities say they are investigating if the fire was started by arson or the short circuit of an electrical appliance.
Ukraine's President Volodymyr Zelensky visited the centre in Kharkiv and has announced a national day of mourning for Saturday.
In an earlier tweet, the President called on local authorities to do "everything possible" to help victims and relatives who had lost loved ones.
Read from source: https://www.euronews.com/2021/01/21/ukraine-nursing-home-fire-15-dead-and-five-hospitalised-after-blaze-in-kharkiv