US National Archives removes exhibit that altered images of Women's March
WASHINGTON: The US National Archives, home to foundational documents such as the Bill of Rights, apo..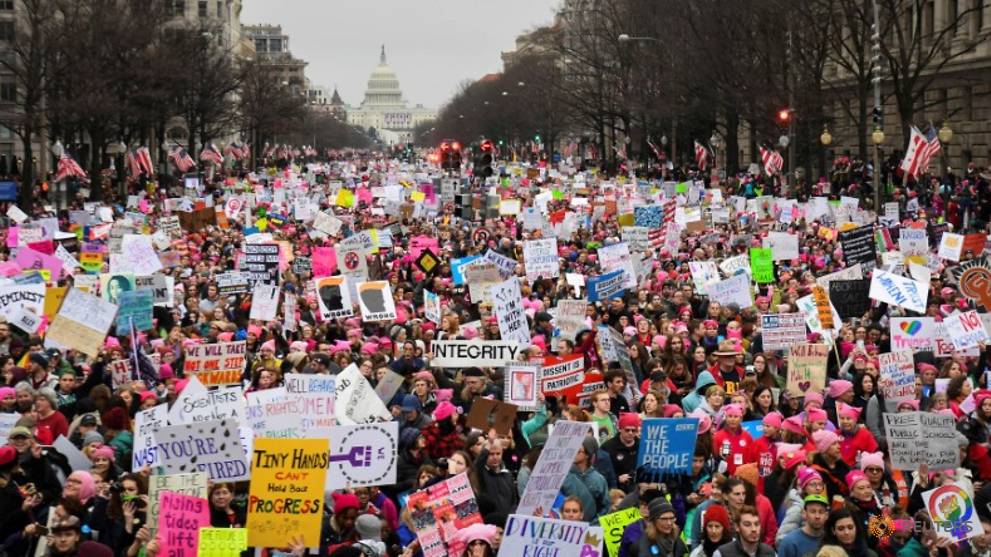 WASHINGTON: The US National Archives, home to foundational documents such as the Bill of Rights, apologised on Saturday (Jan 18) for altering images critical of President Donald Trump at an exhibit on women's fight for voting rights and said it had removed the display.
The entrance to the Washington exhibit had featured interlaced photographs of a 1913 women's suffrage march and the Women's March that took place on Jan 21, 2017, each visible from a different angle. In the 2017 photograph, the word "Trump" had been blurred in at least two signs carried by demonstrators, including one that originally read "God Hates Trump".
Advertisement
Advertisement
The word "vagina" and other anatomical references were also obscured.
"We apologise, and will immediately start a thorough review of our exhibit policies and procedures so that this does not happen again," the Archives said in statement.
The photo-editing was first reported by The Washington Post on Friday and witnessed by a Reuters reporter on Saturday at the same time as demonstrators attending this year's Women's March strolled through downtown Washington in the cold and drizzle.
The Post reported on Friday that the Archives had said in a statement last week that as a non-partisan agency it had altered the image "so as not to engage in current political controversy."
Advertisement
Advertisement
Roughly an hour after Reuters witnessed the altered image, however, the Archives issued a public apology in which it said it had removed the display and would replace it as soon as possible with one that uses the unaltered image.
"We made a mistake. As the National Archives of the United States, we are and have always been completely committed to preserving our archival holdings, without alteration," it said.
Along with its popular Washington museum which includes exhibits of founding documents, the agency preserves government records and oversees research centers and presidential libraries inRead More – Source
Benjamin Netanyahu calls to block Israel's newly formed coalition
Israel's Benjamin Netanyahu has lashed out at a newly agreed coalition which looks set to remove him from power after 12 years as prime minister.
Mr Netanyahu called on right-wing members of parliament to block the coalition from taking office.
Eight opposition parties reached an agreement to work together to form a new government late on Wednesday.
But the group, from across Israel's political spectrum, still needs parliamentary backing to take office.
No date has so far been set for such a vote in the Knesset (parliament). But it is expected to take place next week at the latest, and there is still a chance this newly formed coalition could be upended by defections.
In his first comments since the coalition was announced, Mr Netanyahu urged members of the Knesset "elected by votes from the right" to oppose the coalition.
In a post on Twitter, he criticised them as "left-wing" and "dangerous". He has previously called the proposed new government the "fraud of the century", saying it endangered the state and people of Israel.
Observers have already noted that Mr Netanyahu – who failed to form his own coalition despite his Likud party winning the most seats in the March vote – is likely to try to prevent the group getting the support it needs.
News of a fresh coalition emerged late on Wednesday, when Yair Lapid, leader of the centrist Yesh Atid party, called President Reuven Rivlin to let him know that agreement had been reached.
He pledged to form a government which would "work in the service of all Israeli citizens… respect its opponents and do everything in its power to unite and connect all parts of Israeli society".
However, Mr Lapid will not become prime minister immediately. Under a rotation arrangement, the head of the right-wing Yamina party, Naftali Bennett, would serve as prime minister first before handing over to Mr Lapid in August 2023.
The coalition members span the full spectrum of Israeli politics with little in common apart from their plan to replace Mr Netanyahu. For the first time in decades, the government will include an Israeli Arab party.
An image carried on Israeli media showed Mr Lapid, Mr Bennett and Mansour Abbas, leader of the Arab Islamist Raam party, signing the agreement, a deal many thought impossible.
The other five parties included in the agreement are:
Kahol Lavan (Blue and White) (centrist) – led by Benny Gantz (eight)
Israel Beiteinu (centre-right to right-wing nationalist) – led by Avigdor Lieberman (seven)
Labor (social-democratic) – led by Merav Michaeli (seven)
New Hope (centre-right to right-wing)- led by Gideon Sa'ar (six)
Meretz (left-wing, social-democratic) – led by Nitzan Horowitz (six)
If the coalition fails to win the support of a majority in the 120-seat Knesset, there is a risk of a fifth election in two years. All eight parties were needed to secure the 61-seat majority.
Reaction to the agreement has been mixed. According to news agency AFP, other parties representing Israeli Arabs – who make up 20% of the population – have said they will oppose a government led by Mr Bennett, who rejects the concept of a Palestinian state.
Meanwhile, right-wing politicians have also voiced concerns. "The left is celebrating but it is a very sad day for the State of Israel," Miki Zohar, a prominent Likud member wrote on Twitter, saying the right-wing parties in the coalition "should be ashamed".
But elsewhere there was jubilation. Protesters who had been demanding Mr Netanyahu's resignation danced in the street.
Some were just relieved at the prospect of an end to the political turmoil which has seen Israel hold four elections in just two years as politicians struggled to find someone to unite behind.
"I think that the political situation has been deadlocked for too long," protester Zvi Yosef told Reuters news agency. "We have to try something new, even though it's a little bit scary and there's a lot of unknowns. But at the moment, I don't see any other option."
Read from source: https://www.bbc.com/news/world-middle-east-57340973
Federation of African Journalists "dismayed" by UAE attempts to manipulate African Journalists
Agencies – Federation of African Journalists accused UAE of "attempts" to manipulate the work of African Journalists. During a conference held this week, the federation issued an urgent resolution which attacked United Arab Emirates due to its efforts to affect the work of the federation and African journalists.
The press release said, "We, the delegates attending the African Journalists Leaders' Conference from five regions of the African Continent, being held in Accra, Ghana, from 1st to 2nd June 2021, under the auspices of the Federation of African Journalists (FAJ) and hosted by the Ghana Journalists Association (GJA)"
The press release announced a number of points stating:
"With dismay recent attempts by external elements from the United Arab Emirates who deliberately tried to manipulate journalists' organisations in Africa to issue public statements or campaign against 2022 FIFA World Cup, that will be hosted by the State of Qatar."said the statement
The organisation expressed serious concerns about how UAE is trying to push for political disputes and drag African journalists into activities beyond their primary interests, scope and mandate.
It also added that "Serious challenges facing journalists in Africa in covering adequately global events such as the World Cup."
The federation rejected what it described as "despicable attempts"to use and manipulate African journalists and their organisations as tools to challenge the organisation of 2022 FIFA World Cup in Qatar.
It reiterated its full support of the Federation of African Journalists (FAJ) to the position taken by the International Trade Unions Confederation (ITUC) about the labour rights situation in Qatar and note the unparalleled progress so far made.
It has also demanded that African jour alista have full access to 2022 FIFA 2022 World Cup so they inform African peoples about these global soccer events.
It has called upon the Confederation of African Football (CAF) and the qualifying National teams from Africa to be vigilant about these manipulative attempts and ensure Africa's dignified and prominent participation in the 2022 FIFA World Cup.
The statement made an appeal to CAF and FIFA to investigate and penalize the people and forces behind this unprecedented interference in global soccer events which has the potential to compromise African journalists reporting on the world's biggest football event.
It also added that, "Mandate the Steering Committee of FAJ to develop a close working relationship with CAF to facilitate and advance the work and interests of African journalists."
Dozens of Palestinians injured in police clashes as Jewish extremists chanting 'Death to Arabs' march in Jerusalem
Clashes between Palestinians from east Jerusalem and Israeli police around the Damascus gate entrance to the Old City erupted in a night of unrest that earlier saw Jewish extremists marching through another city street shouting "Death to Arabs."
The violence marks a high point so far in a new phase of complex heightened tensions in the city which began a week and half ago around the start of Ramadan, and prompted an unusual statement Friday morning from the US embassy in Jerusalem in which it called on "all responsible voices [to] promote an end to incitement."
Hundreds of Palestinians gathered in the area around the Damascus gate Thursday evening to protest the closure of the plaza space in front of the gate, a popular place for young Palestinians to hang out, especially during Ramadan.
Glass bottles and rocks were thrown at police, who used stun grenades, rubber bullets and water cannons spraying foul-smelling 'skunk water,' in an effort to disperse the crowds.
At one point, a group of young men managed to break down a pole with a security camera mounted on top and set it alight, temporarily creating a barricade.
The Palestinian Red Crescent said 105 Palestinians were injured, of which 22 required treatment in hospital.
Close by, police used barricades of their own to prevent a march by hundreds of supporters of the Jewish extremist 'Lehava' movement from reaching the same area.
Videos on social media show hundreds of people marching down one of Jerusalem's main thoroughfares, Jaffa Street, towards Damascus Gate chanting repeatedly "Death to Arabs."
Israeli media reports Lehava supporters threw rocks at police, and videos on social media show police water cannon being used to disperse them.
Lehava has been emboldened by the recent election to the Israeli parliament of several extremist-racist politicians, all of whom have been openly courted by Prime Minister Benjamin Netanyahu in his ongoing attempts to form a new government.
Tensions have been heightened further by a number of videos posted to Tik Tok over the last couple of weeks apparently showing acts of assault, including one purporting to show a Palestinian youth slapping two religious Jews riding the city's light rail tram service
.
The violence continued well into Friday morning with incidents reported across the city, including one captured on video apparently showing Palestinian youths repeatedly kicking a Jewish man in east Jerusalem as he lies on the ground attempting to protect his head.