The story of cheaper batteries, from smartphones to Teslas
EnlargeAurich Lawson / Getty
In 2010, a lithium-ion battery pack with 1 kWh of capacity—enough to po..
In 2010, a lithium-ion battery pack with 1 kWh of capacity—enough to power an electric car for three or four miles—cost more than $1,000. By 2019, the figure had fallen to $156, according to data compiled by BloombergNEF. That's a massive drop, and experts expect continued—though perhaps not as rapid—progress in the coming decade. Several forecasters project the average cost of a kilowatt-hour of lithium-ion battery capacity to fall below $100 by the mid-2020s.
That's the result of a virtuous circle where better, cheaper batteries expand the market, which in turn drives investments that produce further improvements in cost and performance. The trend is hugely significant because cheap batteries will be essential to shifting the world economy away from carbon-intensive energy sources like coal and gasoline.
Batteries and electric motors have emerged as the most promising technology for replacing cars powered by internal combustion engines. The high cost of batteries has historically made electric cars much more expensive than conventional cars. But once battery packs get cheap enough—again, experts estimate around $100 per kWh for non-luxury vehicles—electric cars should actually become cheaper than equivalent gas-powered cars. The cost advantage will be even bigger once you factor in the low cost of charging an electric car, so we can expect falling battery costs to accelerate the adoption of electric vehicles.
Batteries are a key technology for de-carbonizing electric power, too. We've seen robust growth of solar and wind energy sources over the last decade. But these carbon-free energy sources have a big downside: they only generate power some of the time. Customers, of course, expect power all the time.
Batteries provide an obvious solution. But here again, high costs have been an obstacle. Current prices still make it cost-prohibitive to use batteries to distribute daytime solar energy evenly over 24 hours. Rather, most utility-scale battery installations today are used to smooth out shorter-term fluctuations in supply and demand. A lack of storage limits how much solar and wind energy can be usefully integrated into the electric grid.
So continued declines in battery prices over the next decade will be a huge help as the world tries to de-carbonize, too.
Batteries have already gotten six times cheaper within the last decade, and that trend looks to continue to a lesser extent moving forward—but how did we get here? A number of factors from increased demand to smart grid solutions have been a factor. And perhaps most notably, Tesla has played an important role throughout this process. Tesla obviously helped to popularize the concept of a long-range battery electric car, but Tesla has been a battery company as much as it is a car company. Tesla recognized the potential scale of the battery market before most other companies and has become a leading player in the market for grid storage—a market that's poised to become much bigger over the coming decade.
Cheap, powerful batteries made electric cars possible
Getting data on the true cost of batteries is difficult because so much of the market involves big companies negotiating private deals—often with substantial volume discounts. BloombergNEF is a research and consulting organization that has relationships with a wide variety of players in the battery business.
"We leverage our contacts across all sectors of the value chain," said James Frith, the lead author of BloombergNEF's battery surveys. "We talk to both end users as well as manufacturers and other people working in the industry. We talk to most of the large auto makers who are active in the electric vehicle space and the majority of the tier 1 battery manufacturers in China, Europe, the US, and South Korea."
Their data shows battery costs falling more than sixfold since 2010. Cheaper batteries have expanded the market, which has helped to drive costs even lower.
This process was going on even before 2010. Think back to 2003, the year Tesla was founded. At the time, a booming market for laptops and cell phones was rapidly expanding the market for lithium-ion batteries. Companies were pouring millions of dollars into research and development to make batteries cheaper and more powerful.
JD Straubel, an electrical engineer who went on to become the CTO of Tesla, realized that these batteries had gotten good enough—and would soon be cheap enough—that you could use a few thousand of them to power an electric car. He brought the idea to Elon Musk, who provided early funding to Tesla based on the concept. A decade later, Tesla and Panasonic built a massive battery factory in Nevada called the Gigafactory that was designed to produce 50 GWh worth of battery packs annually. The investment made Tesla one of the world's biggest producers—and users—of lithium-ion batteries.
In Tesla's early days, batteries were still so expensive that it was only viable to sell the Roadster, a battery electric sports car with a six-figure price tag. But as batteries continued improving in cost and performance, Tesla was able to build the lower-cost Model S and then the much cheaper Model 3, which consumers can now buy for less than $40,000.
Enter the Roadster
"Model S was designed and introduced about five years after the Roadster, and we saw improvements of around 40 percent on the battery technology, the fundamental chemistry, the packaging of the battery pack itself," Straubel said in 2014. "That directly translated into how we can get close to 300 miles of range in a Model S, almost 85 kWh of energy storage in a pack that's actually smaller than the Roadster pack."
Today, of course, people still buy many more cell phones and laptops than electric cars. But a battery electric car needs so much battery capacity—40 to 100 kWh, thousands of times more than a smartphone—that they've significantly increased the global demand for lithium-ion batteries. That has helped drive additional price declines, which have started to make it cost-effective to use batteries to improve the electric grid.
How batteries are improving the electric grid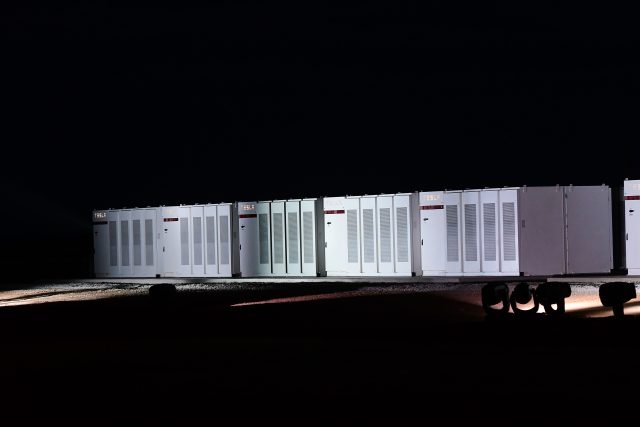 In 2017 Tesla completed installation of a massive battery system at the Hornsdale Wind Farm in South Australia. The wind farm's storage capacity was 129 MWh—about as much as 2,000 Model 3s or 10 million smartphones. The system's owner, the French renewable company Neoen, considers it such a success that it plans to expand its capacity by 50 percent.
The battery is designed to deliver energy at a rate of 100 MW. With 129 MWh of storage capacity, that means that it can run out in a little more than an hour. But an hour of spare capacity can be hugely valuable. To ensure uninterrupted service, electric utilities rely on "peaker plants"—often gas-fired generators—that can be powered up at a moment's notice during times of stress. Because these plants may only run for a few hours a year, the per-hour cost can be very high. Australian utilities have sometimes been forced to buy power on the spot market from suppliers who are able to charge as much as 50 times the usual rate.
The Hornsdale battery has allowed the region's electric utility to largely opt out of this spot market. Neoen claims that the battery has already saved customers in the region tens of millions of dollars, while simultaneously making the region's grid less susceptible to blackouts.
Saving utilities money during peak loads is nice for the utilities, but the environmental benefits may not be very significant. The big environmental benefits will come in the next phase, when the electric grid has enough batteries to store a significant fraction of the day's energy demand. That will allow the grid to store up several hours worth of solar energy during the daytime and discharge it at night—allowing renewable energy to supply most or eventually all of the electricity. With enough capacity, we could even store energy across seasons, holding an excess of solar power from the summer to keep electrons flowing during the winter.
Short term and long term
The sorts of small, fast-response batteries that help balance out short-term fluctuations may not be the best option for these longer-term storage needs. There are a number of other battery technologies in development—most notably flow batteries—that may be better-suited to this sort of storage. And whatever battery technology that is used will have to compete with alternate energy storage methods. Some of those, like pumped hydro, compressed air, and heat storage, are already in use in limited cases. Others, like using electricity for the production of fuels, are still in development.
The Hornsdale battery might have been the biggest in the world at the time, but its capacity is still tiny compared to US electricity demand. The US consumes roughly 10 terawatt-hours each day—more than 70,000 times the capacity of the Hornsdale plant. With battery costs continuing to fall and renewable power sources proliferating, demand for utility-scale battery installations will only increase in the coming years. In its quarterly earnings report last month, Tesla said it had multiple orders to build battery systems even bigger than the Hornsdale battery at sites around the world.
How rising demand drives falling prices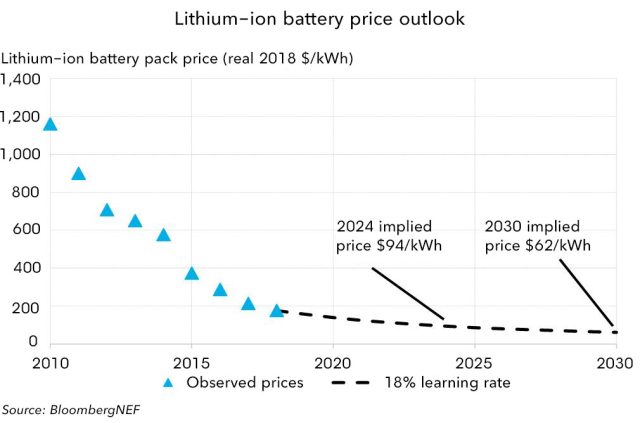 The more units of something that get manufactured, the lower the cost per unit tends to be. Economists define the learning rate as the percentage decrease in cost for every doubling of manufacturing output. Last year, BloombergNEF estimated the learning rate for batteries at 18 percent. That is, battery costs have tended to fall by 18 percent every time global battery output has doubled.
This is a key factor in the group's estimate for future price declines. They assume that the market will continue to expand as people buy more electric cars and electric utilities buy more grid storage systems. And BloombergNEF believes that the market will have grown enough by 2023 to push the cost per kWh down to $100.
Several factors contribute to these cost reductions. One is sheer economies of scale. There are upfront costs involved in developing a new battery technology. Further capital expenditures are needed to build a factory to manufacture it. The more units a factory produces, the more these costs can be spread out, allowing each unit to be a bit cheaper.
"We've seen the size of factories themselves increase, going from 1 or 2 GWh in 2010 to now 30 GWh," Frith told Ars.
Larger scale also gives battery manufacturers more purchasing power. Suppliers almost always offer customers discounts if they commit to large orders—partly because the suppliers have economies of scale, too.
In a 2014 talk, Straubel explained how the scale of Tesla's gigafactory—which was about to begin construction—would help drive down battery costs:
We're going far upstream in the cell manufacturing process. We're not just looking at how do we do a winding of a cathode or anode better, but we're looking at coating, we're looking at the material synthesis to build the cathode and anode, we're actually going all the way back to literally some of the places where the raw materials come from. If you start breaking down the cost and build a big pie chart of what's driving cost of a lithium-ion battery today, the materials are actually a reasonable part of that. But even those material prices can be reduced if you drive the right volume and drive purchasing power into how you're buying them.
Technological improvements also play a role in driving down battery costs. Frith points out that the term lithium-ion battery is actually an umbrella term for a number of different battery chemistries. Over time, scientists have created new mixtures that deliver more and more energy per kilogram. This not only lowers the cost of the chemically active parts of the battery, it also means that batteries can be physically smaller and lighter for a given power budget, which reduces the per-kWh cost of every other component.
Frith told Ars that a common battery technology in the last decade was "NMC 111" batteries with equal parts nickel, magnesium, and cobalt. Now companies are starting to move to NMC ratios of 811—with eight times as much nickel as manganese orRead More – Source
Apple Christmas sales surge to $111bn amid pandemic
Apple sales have hit another record, as families loaded up on the firm's latest phones, laptops and gadgets during the Christmas period.
Sales in the last three months of 2020 hit more than $111bn (£81bn) – up 21% from the prior year.
The gains come as the pandemic pushes more activity online, fuelling demand for new technology.
Apple now counts more than 1.65 billion active devices globally, including more than 1 billion iPhones.
Apple's gains follow the release of its new iPhone 12 suite of phones, which executives said had convinced a record number of people to switch to the company or upgrade from older models.
The firm said growth in China – where the pandemic has already loosened its grip on the economy – was particularly strong, helped in part by demand for phones compatible with new 5G networks.
Sales in the firm's greater China region, which includes Hong Kong and Taiwan, jumped 57%. In Europe, sales roles 17%, and they rose 11% in the Americas.
"The products are doing very well all around the world," said Luca Maestri, Apple's chief financial officer. "As we look ahead into the March quarter, we're very optimistic."
Analyst Dan Ives of Wedbush Securities said he thought the firm was just at the beginning of a "super-cycle" as Apple devotees finally trade in old phones, coinciding with upgrades to telecommunications networks.
"With 5G now in the cards and roughly 40% of its 'golden jewel' iPhone installed base not upgrading their phones in the last 3.5 years, [Apple chief Tim] Cook & Co have the stage set for a renaissance of growth," he wrote.
Big Tech is having an exceptionally lucrative pandemic.
It's hard not to be wowed by some of these figures.
That Apple recorded more than $100bn in sales in just three months is simply astonishing.
Facebook figures are also well up on where they were last year.
As other companies have struggled to survive, Big Tech has flourished.
There are other reasons for some of these incredible figures. Certainly it seems iPhone enthusiasts were holding out for the new 5G enabled iPhone12.
But it's not just Apple and Facebook, all of the massive tech companies are having a bumper year.
Covid-19 means people are spending more time indoors – buying things online, watching things online and chatting online.
Perhaps then it's no surprise that these companies are posting record breaking figures.
But others point to these figures as yet more evidence that Big Tech has become too big to fail.
These figures are impressive. But they also attract the attention of politicians who are increasingly asking difficult questions – like are these tech mega companies operating in a market that is fair and with enough competition?
Facebook Apple feud
Apple said profits in the quarter reached nearly $28.8bn, up 29% compared with the same quarter last year.
The gains seen by technology firms like Apple contrast with losses hitting many other economic sectors, as the virus restricts activity and keeps shoppers at home.
Other tech firms, such as Microsoft and Facebook, have also enjoyed strong growth.
Facebook on Wednesday said increased online shopping during the pandemic helped lift ad revenue in the quarter by 30%.
The number of people active on its apps – which also include WhatsApp and Instagram – also rose to 2.6 billion daily, up 15% compared to 2019.
It said ad spending could slow as the Covid crisis relaxes and shopper appetite returns for services like travel rather than products.
The Spanish YouTuber who made €1 million in a week
"YouTube needs people to spend all day watching videos," says Romuald Fons, an entrepreneur and YouTuber, with 721,000 subscribers to his channel on how to get websites rated in Google's top search results.
Fons, 43, from Barcelona, knows all about YouTube. He spent two years maneuvering his channel into position and analyzing other channels to see what works best. His most viral video wasn't even related to digital marketing – it was about how he got a six-pack in six months. "It was an experiment," he explains to EL PAÍS from his office in Barcelona's Poblenou neighborhood.
In December, he put all his advice in a course called CreceTube, which he sold for a week for €700 as a special introductory offer. Around 1,500 people bought it, according to the documents Fons showed to EL PAÍS, earning him over €1 million in seven days.
Attention-harvesting algorithms that promote extreme viral and extreme content are the subject of growing controversy. YouTube is one of the main platforms accused of pushing users into ever more radical political positions by promoting increasingly outrageous videos to keep them hooked.
But this is not Fons' field of concern. "YouTube's algorithms can be hacked," he says. "It's not like Google [YouTube and Google are owned by the same company, Alphabet]. Google has to show the user what they want to find because otherwise, they will stop using it. YouTube promotes clickbait [content designed to drive traffic to a website] in an extreme way."
His course is for people who are starting out on YouTube and want to grow their audience. It includes tricks with names like SEOshock, Instaclick and SEOcreto to improve video content and rankings – if you type "YouTube course" into Google and YouTube, Fons' videos are in the top results. "I've bought every course there is and I explain things that have never been explained," he says. "We explain how to use Google so you know what type of content to create." Among the comments on the course, there are, of course, users who think it's a scam, and have created their own YouTube videos with their own explanations. But Fons is unfazed: "Clickbait is what you have to do," he says.
Neither is Fons concerned about the Spanish YouTubers who make off to Andorra for tax reasons. "It's not my place to give my opinion on what they do," he says. "I am not strictly a YouTuber. I am an entrepreneur who has a YouTube channel. It is different. In my case, the money coming in is part of the business. I generate wealth in Spain and will continue to be taxed here. I don't have that option [to go to a tax haven]. If I wanted to do that I would have to take advantage of legal loopholes and I'm not going to."
Fons' main global competitor is the Briton Neil Patel, who has 100,000 more subscribers than Fons but fewer total views despite having posted more videos. Forty percent of Fons' audience is in Latin America – YouTube provides YouTubers with this kind of data in the form of graphs. "It has one that shows the average retention of all YouTube videos of the same length as yours," he says. "If your video is above average, it promotes you."
Rags to riches
Fons' recent success is the latest step forward in a long, and not always successful, career in digital marketing that started in earnest in 2013 when he decided to specialize in search engine optimization (SEO) – the name given to strategies to increase website traffic from search engines. Today SEO is a basic tool for most companies with digital interests: businesses that do not appear on page one of Google's results, do not exist. Now, as Fons points out, the coronavirus pandemic has meant that even long-established businesses have had to close their doors if they have failed to devise a digital strategy.
In January 2013, Fons did nothing but create websites in order to get them to show up in Google searches, place ads on them and attract hits. The first month, he created 10 websites and made €2.48. He could be forgiven for feeling discouraged.
But, the self-taught Fons plowed on. In order to learn which criteria Google rewarded in its results, he ended up creating 1,430 websites. Each one had something different. "I was seeing which ones worked well and which ones didn't," he says. "I started to create my own positioning strategy."
The choice of sites was not random. He looked for the ones that had the most searches and paid the most for ad clicks: "Paella, Inem courses [courses run by the National Institute of Employment], outlets," he says. "For recipes, I had the 220 keywords with the most traffic: mojitos, baked chicken…." Fons wrote the content for each page and used Adsense, a Google tool, to fill the pages with ads. When someone clicked, Fons earned money. Within a year, he was earning €1,500 a month. In 2016, three years after starting out, he was making more than €18,000 a month.
Put like that, it sounds easy, but Fons scarcely made €1,300 in the whole of 2013. At the time, he was living in Spain's Valencia region and was making a living by writing texts at night for €4 each for the website, Fiber.
Fons' story is typical of a tech entrepreneur – he's had several failures, has fully committed to getting better at what he does, has made a video that leads to something new and has put in long working hours. His first failure was as a student and musician. After enrolling to study architecture, he left university to go on a six-year tour as a singer of a band called Rembrandt42, which is still on the music-streaming site Spotify. He met his ex-wife during a concert and, subsequently settled down to a job at a family-run water treatment company. "We were cleaning legionella tanks," he recalls.
But Fons had big dreams. "I wanted to do like [Facebook founder Mark] Zuckerberg and blow things apart," he says. First, he created a social network for collectors, called Nakoko. "It wasn't much of a start-up," he says. "It was just me putting all my work and money into it. I went totally broke." After that, he tried to set up a Spanish eBay, called lovende. "I got even more broke," he says. "When I couldn't even afford to pay for my son's optional vaccinations, everything changed. They cost €80 and I didn't have the money. That's when I stopped blaming others."
During this period, he had, however, learned something about SEO and digital marketing. Then he saw a video of entrepreneur Pat Flynn, who was earning passive income from Google. "I thought, if this guy can do it, so can I," he says.
"Companies would call me and ask me why I was being ranked above them," he says. "That's when I set up the agency." After two years of quietly carving his own niche, he began to make a name for himself. Now, his business BIGSEO Agency, has a staff of 41. Each client pays him more than €30,000 a year for his services. In 2020, his company had a turnover of €4 million.
Thanks to his own personal journey, Fons has been able to observe the evolution of SEO. Google has always aimed to be the gateway to the internet. If the search engine didn't work well, users would not be using the site millions of times a day. According to Fons, typing in the keywords is no longer enough. Google should also know whether someone searching for Nike sneakers wants to buy a pair for running or is an Air Jordan collector. "It's about understanding the user's intent even if the keyword isn't there," he says. "Whether the search is for boilers or cheap flights, the question is – what's the problem?" Google will reward whichever website knows how to answer this best. "Getting customers for boilers is no longer about positioning 'boiler service' in Google," he clarifies.
As a YouTuber, Fons has been a public figure with an impact on thousands of people. His community of followers is called Marketing Furious and they have a Facebook page with 75,000 members. That has also led him to address mental health issues that members of his community are increasingly open about. "Our brains are not wired to absorb thousands of opinions about us a day," he says. "YouTuber El Rubius is under brutal pressure. But over a thousand people have paid me more than €700 to teach them something. The pressure is cranked up. Your subconscious gets the better of you. You think you're strong and you can do it, but you can't." Fons has also encountered angry followers out and about. "When you have millions of views, anything can happen," he says. "Think of a full Barça [soccer] stadium; 100,000 people. I'm sure there are 10 that are nuts."
Fons is focused on video survival in an era when the apps TikTok and Instagram Reels are taking off. In his favor, his old videos keep popping up at the top of digital marketing searches. "On the other networks, you make a video and after eight hours no one sees it," he says. "You can reach an audience, but turning it into a business is another matter. TikTok is all about short attention spans."
Read from source: https://english.elpais.com/science_tech/2021-01-22/the-spanish-youtuber-who-made-1-million-in-a-week.html
Google suspends 'free speech' app Parler
Google has suspended "free speech" social network Parler from its Play Store over its failure to remove "egregious content".
Parler styles itself as "unbiased" social media and has proved popular with people banned from Twitter.
But Google said the app had failed to remove posts inciting violence.
Apple has also warned Parler it will remove the app from its App Store if it does not comply with its content-moderation requirements.
On Parler, the app's chief executive John Matze said: "We won't cave to politically motivated companies and those authoritarians who hate free speech!"
Launched in 2018, Parler has proved particularly popular among supporters of US President Donald Trump and right-wing conservatives. Such groups have frequently accused Twitter and Facebook of unfairly censoring their views.
While Mr Trump himself is not a user, the platform already features several high-profile contributors following earlier bursts of growth in 2020.
Texas Senator Ted Cruz boasts 4.9 million followers on the platform, while Fox News host Sean Hannity has about seven million.
It briefly became the most-downloaded app in the United States after the US election, following a clampdown on the spread of election misinformation by Twitter and Facebook.
However, both Apple and Google have said the app fails to comply with content-moderation requirements.
Analysis: Necessary or draconian action?
By Shayan Sardarizadeh, BBC Monitoring
For months, Parler has been one of the most popular social media platforms for right-wing users.
As major platforms began taking action against viral conspiracy theories, disinformation and the harassment of election workers and officials in the aftermath of the US presidential vote, the app became more popular with elements of the fringe far-right.
This turned the network into a right-wing echo chamber, almost entirely populated by users fixated on revealing examples of election fraud and posting messages in support of attempts to overturn the election outcome.
In the days preceding the Capitol riots, the tone of discussion on the app became significantly more violent, with some users openly discussing ways to stop the certification of Joe Biden's victory by Congress.
Unsubstantiated allegations and defamatory claims against a number of senior US figures such as Chief Justice John Roberts and Vice-President Mike Pence were rife on the app.
Google and Apple say they are taking necessary action to ensure violent rhetoric is not promoted on their platforms.
However, to those increasingly concerned about freedom of speech and expression on online platforms, it represents another example of draconian action by major tech companies which threatens internet freedom.
This is a debate which is certain to continue beyond the Trump presidency.
In a statement, Google confirmed it had suspended Parler from its Play Store, saying: "Our longstanding policies require that apps displaying user-generated content have moderation policies and enforcement that removes egregious content like posts that incite violence.
"In light of this ongoing and urgent public safety threat, we are suspending the app's listings from the Play Store until it addresses these issues."
Apple has warned Parler it will be removed from the App Store on Saturday in a letter published by Buzzfeed News.
It said it had seen "accusations that the Parler app was used to plan, coordinate, and facilitate" the attacks on the US Capitol on 6 January.
Mr Matze said Parler had "no way to organise anything" and pointed out that Facebook groups and events had been used to organise action.
But Apple said: "Our investigation has found that Parler is not effectively moderating and removing content that encourages illegal activity and poses a serious risk to the health and safety of users in direct violation of your own terms of service."
"We won't distribute apps that present dangerous and harmful content."
In a related development, Google has kicked Steve Bannon's War Room podcast off YouTube, saying it had repeatedly violated the platform's rules.
The ex-White House aide's channel had more than 300,000 subscribers.
"In accordance with our strikes system, we have terminated Steve Bannon's channel 'War room' and one associated channel for repeatedly violating our Community Guidelines," Google said in a statement.
"Any channel posting new videos with misleading content that alleges widespread fraud or errors changed the outcome of the 2020 US Presidential election in violation of our policies will receive a strike, a penalty which temporarily restricts uploading or live-streaming. Channels that receive three strikes in the same 90-day period will be permanently removed from YouTube."
The action was taken shortly after the channel posted an interview with Donald Trump's personal lawyer Rudy Giuliani, in which he blamed the Democrats for the rioting on Capitol Hill on Wednesday.
One anti-misinformation group said the action was long overdue after "months of Steve Bannon calling for revolution and violence".
"The truth is YouTube should have taken down Steve Bannon's account a long time ago and they shouldn't rely on the labour of extremism researchers to moderate the content on their platform," said Madeline Peltz, Senior Researcher at Media Matters for America.
Read from source: https://www.bbc.com/news/technology-55598887