On this day… May 24
REUTERS: ON THIS DAY – MAY 24
May 24, 1995
Advertisement
Advertisement
SOCCER – Ajax Amsterdam&#..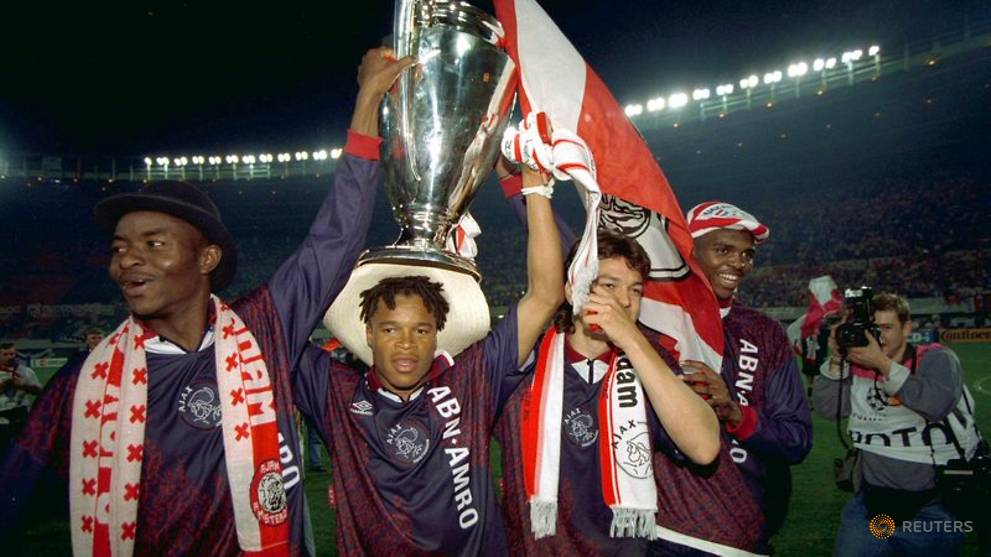 REUTERS: ON THIS DAY – MAY 24
May 24, 1995
Advertisement
Advertisement
SOCCER – Ajax Amsterdam's Edgar Davids lifts the Champions League trophy aloft as he celebrates with Finidi George, Jari Litmanen and Nwankwo Kanu after they beat AC Milan in the final in Vienna.
Ajax had defeated Milan twice in the group stage to top the standings ahead of the holders and followed it up by thrashing Bayern Munich 5-2 in the semi-finals.
Louis van Gaal's Ajax side had an average age of just 23 and they stunned overwhelming favourites Milan 1-0 with 18-year-old substitute Patrick Kluivert scoring the winner in the 85th minute.
May 24, 2001
Advertisement
Advertisement
SOCCER – Tens of thousands of enthusiastic Bayern fans congregate in downtown Munich on the famous Marienplatz to celebrate the club's double-winning season.
Bayern won the Bundesliga title by one point on the final day of the season in the dying seconds with a late equaliser against Hamburg to pip Schalke to the title.
In the Champions League, Bayern defeated Manchester United and Real Madrid on the way to the final, where they drew 1-1 with Valencia before beating the Spaniards 5-4 in a penalty shootout.
May 24, 2001
FORMULA ONE – McLaren-Mercedes' Scottish driver David Coulthard looks in his rear view mirror during the first free practice session of the Monaco Grand Prix in Monte Carlo.
Coulthard, who hit a barrier and damaged his car in practice, claimed his second pole position of the season in the qualifying session two days later ahead of Ferrari's Michael Schumacher and team mate Mika Hakkinen.
However, a stalled engine at the start of the formation lap saw him moved to the back of the grid, allowing Schumacher and Rubens Barrichello to give Ferrari a one-two finish after Hakkinen retired with a steering problem.
May 24, 2008
BASKETBALL – Detroit Pistons' Antonio McDyess sits on the sideline during the second quarter of their 94-80 defeat by the Boston Celtics in Game 3 of the NBA Eastern Conference Finals.
The Celtics went on to win the series 4-2, sealing a berth in the NBA finals, where they defeated the Los Angeles Lakers 4-2 to seal their 17th championship.
McDyess also enjoyed stints with the Denver Nuggets, Phoenix Suns, New York Knicks and San Antonio Spurs before retiring in 2011.
May 24, 2009
HALF MARATHON – Kenya's David Tarus sprints to victory in the inaugural Sotokoto Safari Half Marathon at Nairobi National Park.
Tarus stayed with the lead pack for the majority of the race but broke away from the rest of the field towards the back end of the race to win in one hour, two minutes and 29 seconds.
With the victory, Tarus, a silver medallist in the Mumbai Marathon earlier that year, pocketed 1.2 million Kenyan shillings.
May 24, 2011
TENNIS – Spain's Rafa Nadal celebrates victory against American John Isner in the French Open first round at Roland Garros in Paris.
World number one Nadal avoided a stunning upset as he recovered from two sets to one down to win 6-4 6-7(2) 6-7(2) 6-2 6-4.
Having received an early wake-up call, Nadal went on to drop just one more set in the tournament as he claimed a sixth French Open title.
May 24, 2012
CYCLING – Italy's Andrea Guardini celebrates after crossing the finish line to win the 149-km, 18th stage of the Giro d'Italia.
Guardini, considered the future of Italian sprinting at the time, fought off the challenge from hot favourite Mark Cavendish to pick up his maiden stage victory on the grand tour.
Canada's Ryder Hesjedal won the overall race, overtaking Spain's Joaquim Rodríguez on the final stage.
May 24, 2017
SOCCER – Manchester United manager Jose Mourinho celebrates with coaching staff after the club's 2-0 victory over Ajax Amsterdam in the Europa League final in Stockholm.
Paul Pogba's deflected shot put them ahead in the 18th minute and Henrikh Mkhitaryan's sixth Europa LeaguRead More – Source
Diego Maradona: Argentina legend dies aged 60
Football legend Diego Maradona, one of the greatest players of all time, has died at the age of 60.
The former Argentina attacking midfielder and manager suffered a heart attack at his Buenos Aires home.
He had successful surgery on a brain blood clot earlier in November and was to be treated for alcohol dependency.
Maradona was captain when Argentina won the 1986 World Cup, scoring the famous 'Hand of God' goal against England in the quarter-finals.
Argentina and Barcelona forward Lionel Messi paid tribute to Maradona, saying he was "eternal".
"A very sad day for all Argentines and football," said Messi. "He leaves us but does not leave, because Diego is eternal.
"I keep all the beautiful moments lived with him and I send my condolences to all his family and friends."
In a statement on social media, the Argentine Football Association expressed "its deepest sorrow for the death of our legend", adding: "You will always be in our hearts."
Declaring three days of national mourning, Alberto Fernandez, the president of Argentina, said: "You took us to the top of the world. You made us immensely happy. You were the greatest of them all.
"Thank you for having existed, Diego. We're going to miss you all our lives."
Maradona played for Barcelona and Napoli during his club career, winning two Serie A titles with the Italian side. He started his career with Argentinos Juniors, also playing for Sevilla, and Boca Juniors and Newell's Old Boys in his homeland.
He scored 34 goals in 91 appearances for Argentina, representing them in four World Cups.
Maradona led his country to the 1990 final in Italy, where they were beaten by West Germany, before captaining them again in the United States in 1994, but was sent home after failing a drugs test for ephedrine.
During the second half of his career, Maradona struggled with cocaine addiction and was banned for 15 months after testing positive for the drug in 1991.
He retired from professional football in 1997, on his 37th birthday, during his second stint at Argentine giants Boca Juniors.
Having briefly managed two sides in Argentina during his playing career, Maradona was appointed head coach of the national team in 2008 and left after the 2010 World Cup, where his side were beaten by Germany in the quarter-finals.
He subsequently managed teams in the United Arab Emirates and Mexico and was in charge of Gimnasia y Esgrima in Argentina's top flight at the time of his death.
World pays tribute
Brazil legend Pele led tributes to Maradona, writing on Twitter: "What sad news. I lost a great friend and the world lost a legend. There is still much to be said, but for now, may God give strength to family members. One day, I hope we can play ball together in the sky."
Former England striker and Match of the Day host Gary Lineker, who was part of the England team beaten by Argentina at the 1986 World Cup, said Maradona was "by some distance, the best player of my generation and arguably the greatest of all time".
Ex-Tottenham and Argentina midfielder Ossie Ardiles said: "Thank dear Dieguito for your friendship, for your football, sublime, without comparison. Simply, the best football player in the history of football. So many enjoyable moments together. Impossible to say which one was the best. RIP my dear friend."
Juventus and Portugal forward Cristiano Ronaldo said: "Today I bid farewell to a friend and the world bids farewell to an eternal genius. One of the best of all time. An unparalleled magician. He leaves too soon, but leaves a legacy without limits and a void that will never be filled. Rest in peace, ace. You will never be forgotten."
Boca Juniors, where Maradona enjoyed two spells and finished his career, gave "eternal thanks" to their former player.
Paris St-Germain and Brazil forward Neymar posted a photo of him as a youngster with Maradona, calling the Argentine a "legend of football".
England captain Harry Kane and forward Marcus Rashford also paid tribute.
Barcelona was the first club outside of Argentina that Maradona played for. He scored 22 goals in 36 appearances between 1982 and 1984.
Another of Maradona's former clubs, Napoli, paid tribute. He played for the club between 1984 and 1991, making 188 appearances.
'It was in football he found his peace' – analysis
He was an everyman Argentine, who lived out a national fantasy with the way he scored his two goals in that 1986 quarter-final win over England.
Scoring those goals, against that opponent, turned Maradona almost into a deity in the eyes of some of his compatriots – with disastrous consequences. Living the aftermath was not easy.
Without the discipline of football, the second half of his life was a chaotic affair.
But it was in football that he seemed to find his peace. As a fan he would turn up at the stadium of his beloved Boca Juniors, take off his shirt, swirl it around his head and lead the chanting.
For many his spontaneity and fallibility were part of the appeal.
His admirers thrived on the way he would fall down only to get back up again. It humanised a figure whose epic life was as mazy as one of his left-footed dribbles.
 Read from source: https://www.bbc.com/sport/football/54810392
Zlatan Ibrahimovic suffers a hamstring injury and faces a month out of action
If AC Milan's 3-1 victory away to Napoli on Sunday really made people sit up and begin to take the Rossoneri seriously as Scudetto contenders, Zlatan Ibrahimovic's hamstring injury suffered in the same match has done just as much to temper expectations within the club.
The Swedish forward has been the talisman for the Italian giants for pretty much all of the time since he returned to the club in January, however he now faces a month on the sidelines through injury.Fortunately for Stefano Pioli, Ibrahimovic isn't thought to be at risk of missing the top-of-the-table clashes with both Lazio and Juventus, which are due to be played on December 23 and January 6, but there will need to be a certain amount of reshuffling to replace a player who has already found the net 10 times in six Serie A matches this term.
He left his mark on the match with Napoli by scoring a brace, and he brings so much leadership to the team, as well as goals.His hamstring will be reassessed in 10 days' time, but the usual recovery timeframe for these injuries is around 3-4 weeks.Whilst the Juventus match shouldn't be impacted, Ibrahimovic will miss crucial Europa League matches against Lille and Celtic, whilst Fiorentina will relish facing Milan without the Swede on November 29
Read from source: https://www.marca.com/en/football/international-football/2020/11/23/5fbbf91622601d3e768b4616.html
FC Barcelona to hold election on January 24
FC Barcelona's presidential elections will be held on January 24, 2021, as decided by the club's interim managerial board on Thursday evening. Due to the coronavirus pandemic, voting will be decentralized rather than being held solely in the club's usual Camp Nou ground.
Speculations about the date had occurred in the last few weeks, with some reporting the elections would take place on January 15.
This comes after scandal-ridden ex-president Josep Maria Bartomeu quit on October 27 to be replaced by current interim president Carles Tusquets.
Bartomeu's departure came ahead of a censure motion planned for the weekend following his exit. He stated his decision to leave the position was due to coronavirus concerns over the possible vote of no confidence.
Ten pre-candidates will be announced for members to choose from, seven have already been confirmed officially whilst three others are expected to in the coming days.
Decentralized voting
Although decentralization has been agreed, the exact voting process remains to be decided.
Telematic voting has been virtually ruled out. The two leading options would be setting up different polling stations across Catalonia or extending the voting period over two days.
In the end, the club will be forced to adapt to the evolving Covid-19 situation in the area, and they will meet at the weekend with the Catalan health and sports ministers to further discuss the issue.
The date of the start of the electoral campaign has, however, yet to be revealed. It is expected that once it begins, this will cut out around half of the possible presidential candidates, as they all need 2,257 endorsements to make the cut.
New hope
Much hope is being placed on the presidential election after a string of bad events for the men's football team. In the Champions League, the club suffered their worst defeat, 2-8 against Bayern Munich in August.
This was followed by the surprise announcement by football star Leo Messi that he wanted to quit the club last September, although he did not quite following a legal back and forth with Bartomeu.
Read from source: https://www.catalannews.com/sports/item/fc-barcelona-to-hold-election-on-january-24