Search engine startup asks users to be the customer, not the product
Enlarge / Neeva doesn't even have a logo yet, let alone any useful screenshots—so enjoy this re..
In November 2017, Sridhar Ramaswamy—the head of Google's $95 billion advertising arm—left the company after a scandal concerning advertisements for major corporations found on YouTube videos that put children in questionable situations. Ramaswamy told The New York Times that shortly after that incident, he decided that he needed to do something different in his life—because "an ad-supported model had limitations."
Ramaswamy's startup company, Neeva, is that "something different"—and though it, too, is a search engine, it seeks to sidestep some of Google's problems by avoiding the ads altogether. Ramaswamy says that the new engine won't show ads and won't collect or profit from user data—instead, it will charge its users a subscription fee.
Neeva's approach follows an old truism that says if you pay for something, you're a customer—but if you get it for free, you're a product. That's likely to be a very difficult sell, to a public that has come to expect a service to be "free" and doesn't often care very much about privacy aspects. Even if we handwave the difficulty of acquiring a market, other privacy-focused players are expressing significant doubt about Neeva's approach.
Privacy-focused competitors have doubts
Search engine DuckDuckGo is probably the best-known privacy-focused Google competitor. DuckDuckGo serves ads but doesn't track its users individually—its CEO, Gabriel Weinberg, says the ads are a practical necessity. "If you want the most impact to help the most people with privacy, you have to be free," he said, "because Google will be free forever."
However, DuckDuckGo may not be the most relevant comparison to Neeva. The new search engine is planned to be a second-tier provider, with public results sourced from Bing, Weather.com, Intrinio, and Apple. It also plans to offer its users the ability to link cloud accounts such as Google G Suite, Microsoft Office 365, and Dropbox. In addition to providing search results directly from these private sources, Neeva will include that data in building a profile to personalize search results for each user.
Startpage is a closer analogue to Neeva's proposed model. Like Neeva, Startpage sources search results externally—in its case, directly from Google. Unlike Neeva, Startpage still shows Google ads and collects a cut of the proceeds. But it shows those ads without attempting to personalize them for the user—no profile is built, and the user's potentially identifying information is stripped from the queries passed along to Google as well.
Startpage CEO Robert E.G. Beens reached out to Ars by email shortly after Neeva's launch. He expressed extreme skepticism about Neeva's model—he describes the connections to private data, personal profile building, and long-term data retention as "a hacker's dream, and a user's nightmare." He expressed equally strong opinions about Neeva's actual privacy policy, calling it "a joke—and not a funny one," after remarking that "marketing messages can claim almost anything, but a privacy policy has legal status."
We should note that there are two different sections of Neeva's site that appear to address privacy concerns—a Digital Bill of Rights prominently featured in the company's about page, and the official Privacy Policy, linked more austerely from the footer of each page.
Problematic privacy policy
Neeva's Digital Bill of Rights appears to be just the sort of marketing message Beens alluded to. It makes lofty statements about users' rights to privacy, controls to data collection, data usage transparency, and user ownership of their own data. It further declares that companies in general should respect those rights—but it makes no outright promises about whether or how Neeva will respect them. The closest thing to a concrete statement of policy on the page is a line at the bottom stating "we at Neeva stand by [these values], in solidarity with you."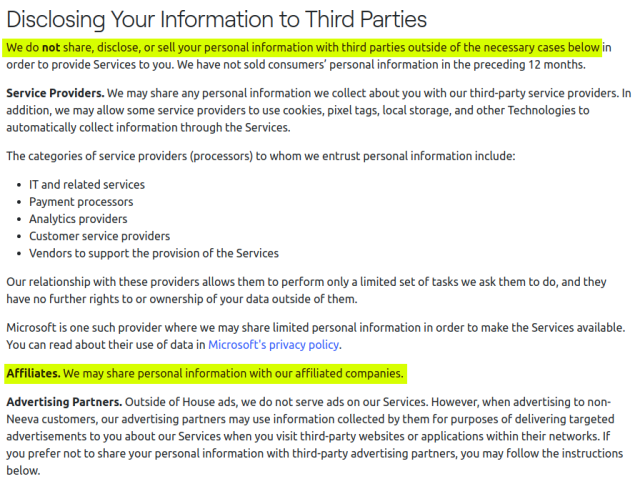 Apple shares drop on iPhone 13 production fears
bbc– Apple's shares dropped on Tuesday following reports it could slash its iPhone 13 production targets due to the ongoing global computer chip shortage.
The electronic giant had expected to make 90 million iPhones in the last quarter of 2021, reported Bloomberg.
However, Apple was now having to tell its partners that the total will be lower by as many as 10 million units, sources told the business magazine.
Apple shares fell 1.2% in after-hours trading on the news.
Semiconductor manufacturers Broadcom and Texas Instruments were also down 1%, as sources said they were struggling to deliver enough chips to Apple in time.
The BBC has approached Apple, Broadcom and Texas Instruments for comment.
In September, Apple launched four new iPhone 13 models: iPhone 13, iPhone 13 mini, iPhone 13 Pro and iPhone 13 Pro Max. Pre-orders started on 17 September and started shipping on 24 September.
Widespread chip shortage
Millions of products across multiple industries today rely on computer chips to run and semiconductor makers' plants are currently working flat-out to meet demand.
Smartphone makers like Apple – some of the biggest chip purchasers in the world – have been severely impacted, but also other sectors like the car industry and the makers of video game consoles.
In July, Apple chief executive Tim Cook warned investors that the semiconductor shortage could affect sales of the iPhone and the iPad.
Investment firm Wedbush estimates that Apple will be running a shortage of more than five million iPhone 13 units for the holiday season, if consumer demand continues to keep pace with the number of iPhones being shipped for the rest of this year.
However, Wedbush analysts Daniel Ives and John Katsingris stressed that the chip shortage was a "not a worry" as they expected the smartphones to be available in the early part of 2022.
"Taking a step back, 5 million to 10 million units moving out of the December quarter into the March quarter due to well-understood supply chain issues is not a worry for us and ultimately speaks to a stronger demand trajectory than Wall Street had been anticipating," they said.
"We view today's news as nothing more than a speed bump on a multi-year supercycle iPhone 12/13 that continues to play out."
Their views are shared by several other analysts, who have forecast that the new iPhone 13 models will have a strong sales year as consumers look to upgrade devices for 5G networks.
Twitter Blue subscription service launches in Australia and Canada
Twitter is launching its new subscription service, Twitter Blue, in Australia and Canada on Thursday.
The paid-for extra service will add features such as an "undo tweet" button, bookmarks, and a reader mode, Twitter said.
The limited launch is designed to "gain a deeper understanding" of what customers are looking for.
But the company also said the free-to-use version of the platform would also remain.
"We've heard from the people that use Twitter a lot, and we mean a lot, that we don't always build power features that meet their needs," the company said in a statement.
"We took this feedback to heart, and are developing and iterating upon a solution that will give the people who use Twitter the most what they are looking for: access to exclusive features and perks that will take their experience on Twitter to the next level."
Twitter said the new subscription was not designed to undermine the free experience, but to offer "enhanced and complementary" features "for those who want it".
It will cost $3.49 in Canadian dollars and $4.49 in Australian dollars per month, Twitter said.
No date has been announced for other countries, but previous listings in mobile app stores have suggested it will eventually cost $2.99 in the US and £2.49 in the UK.
Blue perks
Twitter said subscribers will get "perks" – giving examples such as customisable app icons for phone home screens and what it calls "fun colour themes" for the app.
But they will also have access to a "dedicated" customer support, the company says.
The additional features that Twitter says were inspired by user requests include:
Bookmark folders, designed to help users organise saved tweets more easily
Undo tweet, which will let users set a timer of up to 30 seconds after posting before it appears publicly – to allow quick correction of obvious mistakes
Reader mode, which turns long threads of tweets into easier-to-read text
"We will be listening to feedback and building out even more features and perks for our subscribers over time," it said.
It does not, however, include verification in the form of a "blue tick" on a user profile, which cannot be bought.
Twitter recently re-opened its verification applications for the fist time in years, but was forced to shutter the programme for a few days after just a week of accepting them, because it was inundated with requests.
Twitter made no secret of plans to charge its top users a small fee for some extra perks – but it's only dipping its wing in the water for now.
The much-asked-for undo tweet button is undoubtedly top of the list, for all of us who've ever had a screamer of a typo, or – even worse – accidentally tweeted something we meant to search for.
But other features are squarely targeted at the Twitterati elite.
When Twitter bought web reader firm Scroll in May, it made a big deal about Twitter being for news and discussion. Bookmarks and the reader feature for long threads are firmly targeted there.
Twitter's growth in active users has slowed in recent years – a potential problem for any social network, where perceived value is often based on numbers. Twitter has never had the users that Facebook has – it boasts hundreds of millions, but not billions.
But many of its biggest users are media personalities, politicians, and business leaders – the type of people for whom a small monthly fee might not be too much to ask.
This is new territory. Unfounded rumours that Facebook might one day ask for a fee have led to digital panic in the past – so Twitter's two-country opener is a test to see if the idea will fly.
Read from source: https://www.bbc.com/news/technology-57348456
Flubot: Warning over major Android 'package delivery' scam
A text-message scam that infects Android phones is spreading across the UK, experts have warned.
The message – which pretends to be from a package delivery firm, prompts users to install a tracking app – but is actually a malicious piece of spyware.
Called Flubot, it can take over devices and spy on phones to gather sensitive data, including online banking details.
Network operator Vodafone said millions of the text messages were already being sent, across all networks.
"We believe this current wave of Flubot malware SMS attacks will gain serious traction very quickly, and it's something that needs awareness to stop the spread," a spokesman said.
Customers should "be especially vigilant with this particular piece of malware", he said, and be very careful about clicking on any links in a text message.
The malware also has the ability to send more text messages to an infected user's contacts, helping it spread.
"The seriousness of these malicious text messages is underlined by Vodafone making the decision to alert its customers," said Ben Wood, chief analyst at CCS Insight.
"This has the potential to become a denial-of-service attack on mobile networks, given the clear risk that a rogue application can be installed on users' smartphones and start spewing out endless text messages.
"The broader risk for users is a loss of highly sensitive personal data from their phones," he added.
While text message scams claiming to be about a package delivery firm are common, they have mostly focused on phishing – trying to trick the user into filling in a form with bank details and other information.
This newest wave differs because it tries to install malicious software on the phone itself – and because of the scale of its spread.
One version of the scam reported online pretends to be a text message from DHL, with a link to a website for parcel tracking.
If someone using an Android phone clicks on the link, they will be taken to a page "explaining" how to install the parcel tracking app using something called an APK.
APK files are a way of installing Android apps outside of the secure Google Play store. By default, such applications will be blocked for security reasons, but the scam page includes instructions on how to allow the installation.
That can be confusing, as there are some niche genuine cases for installing those kind of apps – such as downloading the Fortnite video game, which was removed from the official app store amid a major legal row between its owner and Google.
Apple iPhone users are not affected as those phones cannot install Android APKs.
In a blog post detailing the scam, security expert Paul Morrison wrote that he expects the "success rate would be low" due to the hurdles involved.
But he said: "With the number of SMS being sent out, just a 0.1% success rate could be very profitable."
The Flubot malware has also spread in other countries in recent months – notably Spain, Germany and Poland.
Industry body Mobile UK said it was "pro-actively co-ordinating its response with the National Cyber Security Centre (NCSC) to minimise any potential damage".
Users who receive a suspicious message should forward it to 7726 to report it, a spokesman said – and then delete the message.
Read from source: https://www.bbc.com/news/technology-56859091