Seven Quebec Politicians Isolating After Longueuil Mayor Tests Positive
MONTREAL—Three Quebec cabinet ministers and Montreal Mayor Valerie Plante are self-isolating after a..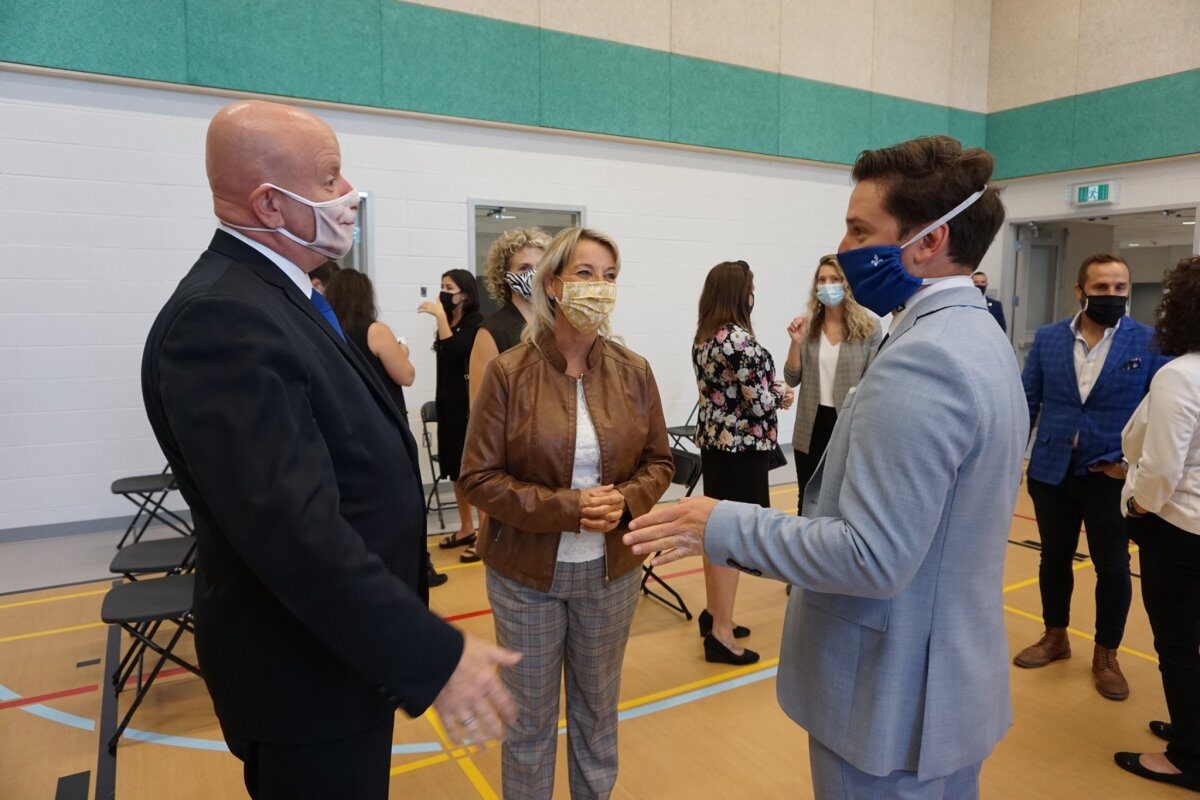 MONTREAL—Three Quebec cabinet ministers and Montreal Mayor Valerie Plante are self-isolating after a suburban mayor contracted COVID-19.
Justice Minister Simon Jolin-Barrette, Transport Minister Francois Bonnardel and Chantal Rouleau, the minister responsible for the Montreal region, have been placed in isolation after learning Longueuil Mayor Sylvie Parent tested positive for the virus.
All three ministers and members of their staff met with Parent last week and were to be tested Tuesday for COVID-19.
Plante says she had not met with Parent but did meet with Rouleau in the last few days.
"I will put myself, as a precaution, in preventive isolation until Ms. Rouleaus test results are known," Plante tweeted.
National assembly members Ian Lafreniere and Catherine Fournier and Laval Mayor Marc Demers also said they will self-isolate and get tested after attending events last week where Parent was present.
The news came as the province introduced a regional alert system in the hopes of stifling a potential second wave of the novel coronavirus.
Provincial Health Minister Christian Dube unveiled the four-level, colour-coded system Tuesday. The levels are green for vigilance, yellow for an early warning, orange for moderate alert and red for maximum alert.
"We are observing an increase in public (outbreaks)," Dube told a news conference in Montreal. "I repeat, health instructions need to be followed. Each and every one can make a big, big difference in containing the virus."
The levels carry different measures to be enacted depending on the status of an outbreak, including reducing the number of people in private gatherings, restricting travel between regions and curtailing commercial activities.
Dube stressed that approaches will be different for each region and that "temporary measures" could be enacted in specific areas, depending on transmission.
Health officials been evaluating different Quebec regions since the week of Aug. 15. Four regions—Quebec City, Laval, Outaouais and Estrie—are at the early warning, or yellow, level, Dube said.
Montreal is currently at green after entering the yellow level last month.
"The virus is present. Its a traitor, it will stab us in the back," public health director Horacio Arruda warned. "So we need these levels."
Meanwhile, the Quebec government says up to 120 schools may have already been affected by COVID-19 since classes began last week.
The government released a list of schools that have either confirmed or potential cases of the novel coronavirus among students and staff.
Seventy schools had recorded at least one case as of the end of day Friday, ranging from elementary through high school.
Another 50 schools, including 19 in the Montreal area, are listed as having potential cases. The government Read More – Source
Cultural Influences on Marketing Strategies
Culture plays a significant role in consumer behavior. It influences everything from how people consume products to the way they look. Creating marketing campaigns that take into account these differences will help your business to succeed.
To begin with, different cultures have their own unique customs and rituals. This includes everything from the number 7 being good luck in the Czech Republic to eating dinner at the end of the day in Ireland.
Another important example is the way language is used to communicate. People in countries like Italy and France tend to eat a lot more packaged pasta and chocolate bars than their American counterparts.
Similarly, different languages can also lead to different marketing messages and branding issues. For example, an American company might create a slogan promoting its latest product. However, if this slogan is translated into a different language, it can lose its original meaning.
Some other aspects that can affect a marketer's message include business norms, color, and aesthetics. The most important thing to remember when marketing to a foreign country is to understand their culture.
Other cultural differences include religion. Different religions have different beliefs and attitudes about marketing and business. Therefore, it is important to understand how religion impacts how a marketer communicates.
Similarly, different cultures have different attitudes about clothing. Women in many Middle Eastern and Muslim nations are required to wear modest clothing. Likewise, an evening meal in the United States is called dinner, while a similar dinner in Ireland is called tea.
Pakistan floods: Desperation and displacement in Sindh province
The Prime Minister of Pakistan has said the "magnitude of the calamity" is bigger than expected, after visiting flood-hit areas.
Shehbaz Sharif was speaking from Sindh province – which has had nearly eight times its average August rainfall.
The floods have killed nearly 1,000 people across Pakistan since June, while thousands have been displaced – and millions more affected.
As the BBC drove through Sindh, there were displaced people in every village.
The full scale of the devastation in the province is yet to be fully understood – but the people described it as the worst disaster they've survived.
Floods are not uncommon in Pakistan, but people here said these rains were different – more than anything that's ever been seen. One local official called them "floods of biblical proportions".
Near the city of Larkana, thousands of mud homes have sunk under water. For miles all that's visible is treetops. Where the water level is slightly lower, thatched roofs creep out from underneath the water.
In one village, the people are desperate for food. In another, many children have developed waterborne diseases.
When a mobile truck pulled over, scores of people immediately ran towards it. Children carrying other children made their way to the long queue.
One 12-year-old girl said she and her baby sister had not eaten for a day.
"No food has come here, but my sister is sick, she has been vomiting," the girl said. "I hope they can help."
The desperation was evident in every community. People ran towards car windows to ask for help – anything.
On one of the main streets out of the city of Sukkur, hundreds of people have settled.
Many of them walked from remote villages, and were told that help is easier to get in the urban areas. But there's not much difference here.
On Friday, PM Sharif said 33 million people had been hit by the floods – about 15% of the country's population.
He said the losses caused by floods this season were comparable to those during the floods of 2010-11, said to be the worst on record. The country has appealed for more international aid.
In Sindh, it's not that local authorities are not trying, but they admit that they are out of their depth.
The provincial government says this is a "climate change catastrophe" and that the people of Pakistan, especially in the poorer communities, have been the worst affected.
The solutions will not be quick – acres of land are waterlogged and the water is not receding fast enough for any rebuilding to take place here.
There's not much to do for the people but to wait – wait for the rains to stop, wait for the water to go down, wait for more resources to be allocated to these kinds of communities.
In the meantime, life continues to be difficult.
Read from: https://www.bbc.com/news/world-asia-62699886
Burkina Faso military says it has seized power
The military in Burkina Faso says it has seized power and overthrown President Roch Kaboré.
The announcement was made on state television by an army officer, who cited the deteriorating security situation for the military takeover.
Mr Kaboré had faced growing discontent over his failure to stem an Islamist insurgency.
His whereabouts are unclear, but the officer said that all those detained were in a secure location.
The coup comes a day after troops seized barracks, and gunshots were heard in the capital, Ouagadougou.
Earlier, the ruling People's Movement for Progress (PMP) party said that both Mr Kaboré and a government minister had survived an assassination attempt.
On Sunday, mutinying troops demanded the sacking of military chiefs and more resources to fight militants linked to the Islamic State (IS) group and al-Qaeda.
The army statement said Mr Kaboré had failed to unite the nation and to deal effectively with the security crisis which "threatens the very foundations of our nation".
The statement was issued in the name of a group not heard of previously, the Patriotic Movement for Safeguard and Restoration or MPSR, its French acronym.
Although read out by another officer, the statement was signed by Lt-Col Paul-Henri Sandaogo Damiba, who is believed to be the coup leader and a senior commander with years of experience fighting the Islamist militants.
The statement said that parliament and the government had been dissolved, and the constitution suspended, but promised a "return to constitutional order" within a "reasonable time".
The military also announced the closure of Burkina Faso's borders.
UN chief António Guterres condemned the coup and called on the military to "ensure the protection and the physical integrity" of Mr Kaboré.
Earlier, the news of his detention was received with cheers and celebrations in Ouagadougou, reports the BBC's senior Africa correspondent Anne Soy.
Earlier video footage from the capital appeared to show armoured vehicles – reportedly used by the presidency – peppered with bullet holes and abandoned in the street.
Mobile internet services have been disrupted, though fixed-line internet and domestic wi-fi are working.
Mr Kaboré has not been seen in public since the crisis began, but two posts appeared on his Twitter account before the officer announced he had been toppled.
The later one called on those who had taken up arms to lay them down "in the higher interest of the nation". Earlier, Mr Kaboré congratulated the national football team on their win in an Africa Cup of Nations match.
It is unclear who posted the tweets.
Some security sources say the president and other government ministers are being held at the Sangoulé Lamizana barracks in the capital.
On Sunday, hundreds of people came out in support of the soldiers and some of them set fire to the ruling party's headquarters.
The coup comes a week after 11 soldiers were arrested for allegedly plotting to overthrow Mr Kaboré.
But discontent has been growing in Burkina Faso over the government's failure to defeat an Islamist insurgency in the country since 2015.
That escalated in November, when 53 people, mainly members of the security forces, were killed by suspected jihadists. And on Saturday, a banned rally to protest against the government's perceived failure led to dozens of arrests.
Mutinying soldiers made several demands, including: the removal of the army's chief of staff and the head of the intelligence service; more troops to be deployed to the front line; and better conditions for the wounded and soldiers' families.
Similar troubles in neighbouring Mali led to a military coup in May 2021 – one that was broadly welcomed by the public.
Burkina Faso is now the third West African country to witness a military takeover in recent years. Guinea and Mali have had sanctions imposed on them by Ecowas to press them to return to constitutional order.