Paul Rusesabagina: Hotel Rwanda hero charged with terrorism
Related Topics
Rwandan genocide
image copyrightReuters
The man portrayed as a hero in a Hollywood ..
Related Topics
The man portrayed as a hero in a Hollywood movie about the Rwandan genocide has been charged with terrorism, murder among other crimes.
Paul Rusesabagina declined to enter any pleas in court but his lawyers denied the charges against him.
Mr Rusesabagina is the leader of the opposition MRCD group which is said to have an armed wing, the FLN, which stages attacks on Rwanda.
He was brought to the court under heavy security in Rwanda's capital, Kigali.
Mr Rusesabagina is a fierce critic of President Paul Kagame and had been living abroad.
An ethnic Hutu, he became well known after the 2004 film Hotel Rwanda depicted his efforts a decade earlier during the genocide to save hundreds of Tutsis at a hotel where he was a manager.
Paul Rusesabagina's family allege the political exile was kidnapped in Dubai earlier this month and taken to Rwanda.
Mr Rusesabagina, who is also a Belgian citizen and a US green-card holder, left his home in San Antonio, Texas, and landed in Dubai at the end of August, his family told the BBC.
"We believe he was kidnapped because he would never go to Rwanda on his own will," his daughter told the BBC.
Rwandan officials said Mr Rusesabagina, 66, was arrested under an international warrant for leading "terrorist movements".
Why was he charged now?
Mr Rusesabagina's name featured recently in a terrorism case in Rwanda. The court had heard allegations that the National Liberation Front (FLN) rebel group had received help from Zambia's President Edgar Lungu because of his close friendship with Mr Rusesabagina.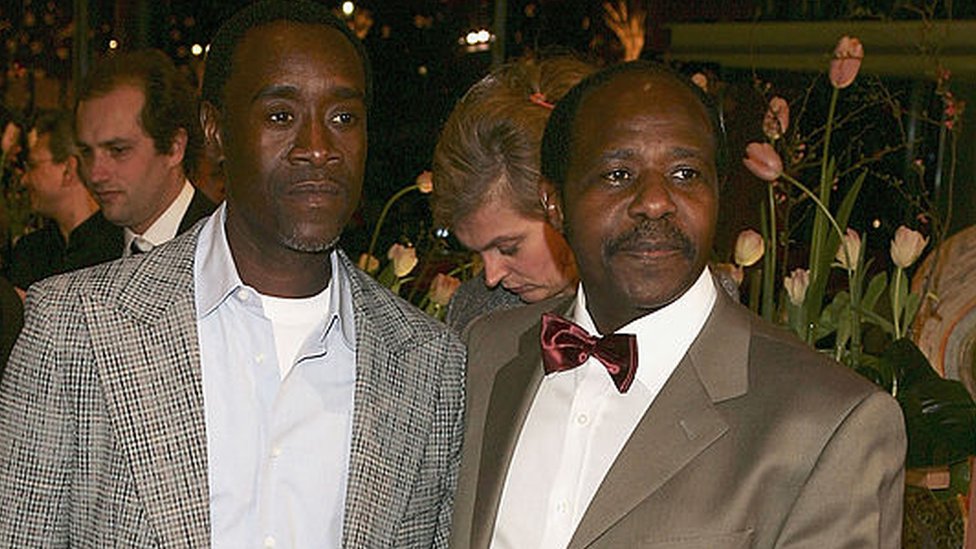 Mr Lungu's spokesman denied the allegation in a BBC interview.
In 2011, Mr Rusesabagina was accused of funding subversion in Rwanda, but no charges were brought.
At the time, he denied any wrongdoing and said there was a smear campaign against him.
President Kagame's critics accuse him of not tolerating any opposition. Several opposition leaders have been jailed and others fled into exile. He says he is trying to prevent a return of ethnic hatred.
What is Hotel Rwanda about?
The 2004 film Hotel RwaRead More – Source
Qatar's Ali bin Samikh Al Marri to preside over the 111th ILO conference
Qatar's Minister of Labour, Ali bin Samikh Al Marri, will take center stage as he chairs the 111th session of the International Labour Conference of the International Labour Organization (ILO) in Geneva from 5 to 16 June 2023. This prestigious conference brings together delegates from 187 Member States to address pressing issues, such as sustainable economies, quality apprenticeships, and worker protection. Qatar's commitment to these objectives makes it a fitting host for this significant gathering.
Recognizing Qatar's Reforms:
According to observers, Qatar's notable progress in the field of workers' rights and the improvement of its laws and regulations over the years have placed it in the fore and instilled trust in its ability to lead the world's most important labour conference. Minister Al Marri's assumption of the conference presidency is a testament to Qatar's remarkable efforts in the field of workers' rights. He has been actively involved in numerous human rights committees and initiatives, including the National Human Rights Committee and the Global Alliance of National Human Rights Institutions. Al Marri's leadership has played a crucial role in Qatar's accession to various human rights conventions, protocols, and covenants, elevating its standing on the global stage.
Promoting Workers' Welfare:
Al Marri's tenure as the Qatari Minister of Labour has been marked by an unwavering dedication to improving the working and living conditions of migrant workers, particularly in the construction industry. Al Marri is a global human rights figure who garners universal respect, as evidenced by his active participation in international conferences. He also has extensive experience in international work related to the protection and promotion of human rights at local and international levels. During his tenure as Chairman of the National Human Rights Committee, he was instrumental in Qatar's accession to several human rights conventions, protocols, and covenants. Al Marri was responsible for numerous beneficial initiatives, including the establishment of the Arab Network of National Human Rights Institutions, which enriched the Arab human rights field, and the establishment of the West Asia office of the Asia Pacific Forum of National Human Rights Institutions. Given his accomplishments, Al Marri faced defamation and incitement campaigns, including during the attack on Qatar during its hosting of the 2022 FIFA World Cup. He did, however, continue to gain international respect, eventually reaching the presidency of the International Labour Conference at its next session. His efforts have focused on enhancing transparency, accountability, and addressing issues of labor exploitation. Under his leadership, reforms have been implemented to protect workers, ensuring their social and legal well-being.
Collaboration with ILO:
The partnership between Minister Al Marri and the ILO has been instrumental in driving labor reforms. Together, they have worked on initiatives related to occupational safety and health, combating forced labor and human trafficking, and supporting companies in aligning their policies with new legislation.
"Recent labour reforms by the State of Qatar have brought positive results. I thank Minister Al Marri for their commitment to pursue these reforms and their implementation, in line with Qatar's vision 2030. The ILO is ready to continue supporting the State of Qatar, to bring further improvements that benefit all workers," Director-General Houngbo
In May 2021, a new Ministerial Decision was introduced to protect workers during the hottest months of the year (From 1 June to 15 September) particularly outdoor workers who are exposed to the heat, humidity and the sun, must work between 10 am and 3:30 pm. On 3 November 2022, Ali bin Samikh Al Marri had a meeting with the Director-General of the International Labour Organization (ILO) Gilbert F. Houngbo, in Geneva, and during the meeting, the progress was noticed in the continuous technical cooperation program between the ILO and Qatar. Their continuous technical cooperation program has yielded positive results, gaining international recognition for Qatar's commitment to improving workers' rights.
Global Recognition and Respect:
Al Marri's contributions to human rights and his international engagement have garnered him universal respect. His active participation in international conferences and extensive experience in the protection and promotion of human rights at various levels have solidified his position as a global champion. Despite facing defamation and incitement campaigns, Al Marri's accomplishments have prevailed, leading him to assume the presidency of the International Labour Conference—an esteemed position that further underscores his dedication to advancing workers' rights.
Cultural Influences on Marketing Strategies
Culture plays a significant role in consumer behavior. It influences everything from how people consume products to the way they look. Creating marketing campaigns that take into account these differences will help your business to succeed.
To begin with, different cultures have their own unique customs and rituals. This includes everything from the number 7 being good luck in the Czech Republic to eating dinner at the end of the day in Ireland.
Another important example is the way language is used to communicate. People in countries like Italy and France tend to eat a lot more packaged pasta and chocolate bars than their American counterparts.
Similarly, different languages can also lead to different marketing messages and branding issues. For example, an American company might create a slogan promoting its latest product. However, if this slogan is translated into a different language, it can lose its original meaning.
Some other aspects that can affect a marketer's message include business norms, color, and aesthetics. The most important thing to remember when marketing to a foreign country is to understand their culture.
Other cultural differences include religion. Different religions have different beliefs and attitudes about marketing and business. Therefore, it is important to understand how religion impacts how a marketer communicates.
Similarly, different cultures have different attitudes about clothing. Women in many Middle Eastern and Muslim nations are required to wear modest clothing. Likewise, an evening meal in the United States is called dinner, while a similar dinner in Ireland is called tea.
Pakistan floods: Desperation and displacement in Sindh province
The Prime Minister of Pakistan has said the "magnitude of the calamity" is bigger than expected, after visiting flood-hit areas.
Shehbaz Sharif was speaking from Sindh province – which has had nearly eight times its average August rainfall.
The floods have killed nearly 1,000 people across Pakistan since June, while thousands have been displaced – and millions more affected.
As the BBC drove through Sindh, there were displaced people in every village.
The full scale of the devastation in the province is yet to be fully understood – but the people described it as the worst disaster they've survived.
Floods are not uncommon in Pakistan, but people here said these rains were different – more than anything that's ever been seen. One local official called them "floods of biblical proportions".
Near the city of Larkana, thousands of mud homes have sunk under water. For miles all that's visible is treetops. Where the water level is slightly lower, thatched roofs creep out from underneath the water.
In one village, the people are desperate for food. In another, many children have developed waterborne diseases.
When a mobile truck pulled over, scores of people immediately ran towards it. Children carrying other children made their way to the long queue.
One 12-year-old girl said she and her baby sister had not eaten for a day.
"No food has come here, but my sister is sick, she has been vomiting," the girl said. "I hope they can help."
The desperation was evident in every community. People ran towards car windows to ask for help – anything.
On one of the main streets out of the city of Sukkur, hundreds of people have settled.
Many of them walked from remote villages, and were told that help is easier to get in the urban areas. But there's not much difference here.
On Friday, PM Sharif said 33 million people had been hit by the floods – about 15% of the country's population.
He said the losses caused by floods this season were comparable to those during the floods of 2010-11, said to be the worst on record. The country has appealed for more international aid.
In Sindh, it's not that local authorities are not trying, but they admit that they are out of their depth.
The provincial government says this is a "climate change catastrophe" and that the people of Pakistan, especially in the poorer communities, have been the worst affected.
The solutions will not be quick – acres of land are waterlogged and the water is not receding fast enough for any rebuilding to take place here.
There's not much to do for the people but to wait – wait for the rains to stop, wait for the water to go down, wait for more resources to be allocated to these kinds of communities.
In the meantime, life continues to be difficult.
Read from: https://www.bbc.com/news/world-asia-62699886