Investigative Report Charges Pakistan Chairman of Chinas Belt and Road Initiative With Corruption
A top aide of Pakistans Prime Minister and the Chairman of the China-Pakistan Economic Corridor proj..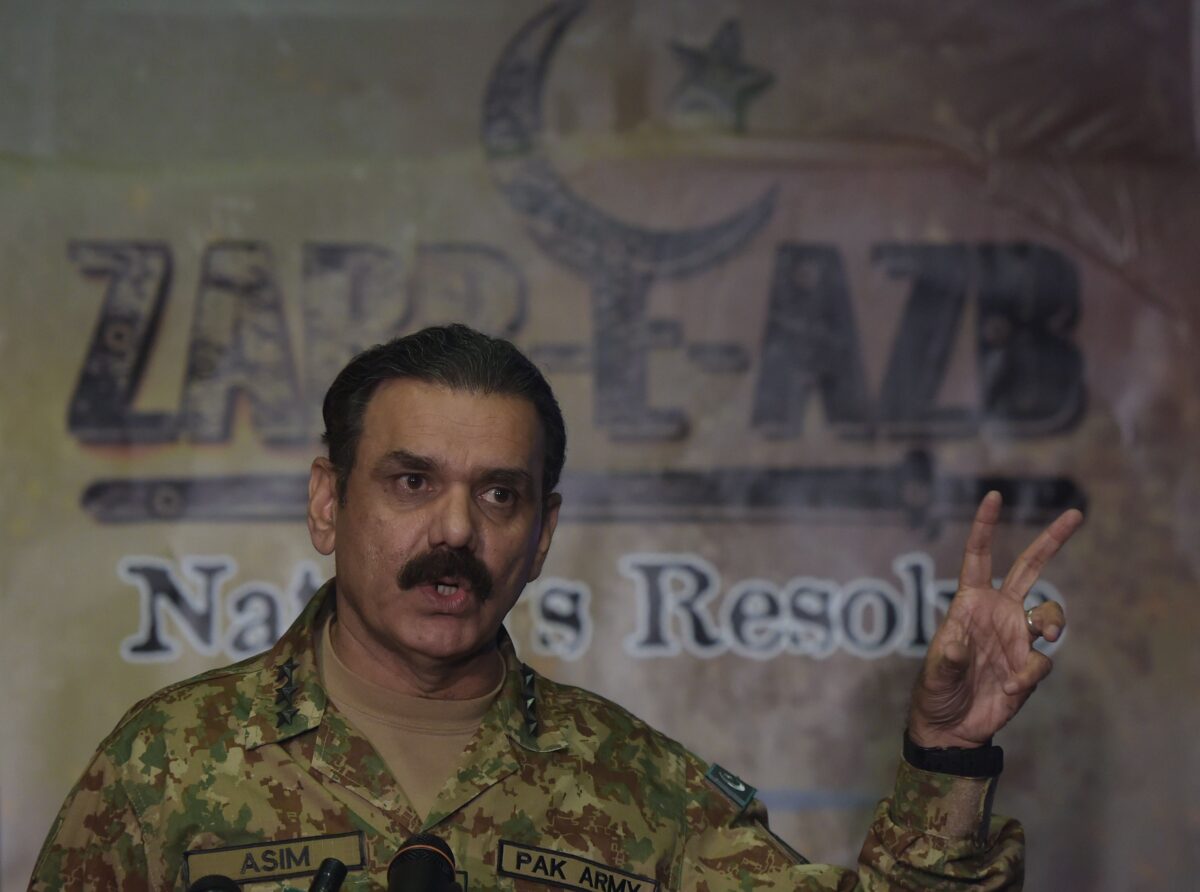 A top aide of Pakistans Prime Minister and the Chairman of the China-Pakistan Economic Corridor project, Lt Gen (Retd) Asim Saleem Bajwa, found himself under pressure to resign after an investigative report in a local media outlet alleged he is guilty of corruption and misappropriation of his military rank for the benefit of his family business in four countries, including the United States.
The 15-year-old China-Pakistan Economic Corridor project (CPEC) worth $62 Billion is a flagship project of Chinas Belt and Road Initiative (BRI), and Bajwa is the Chairperson of China-Pakistan Economic Corridor (CPEC) Authority, Pakistans government body that oversees the project.
According to an investigative report published by a Pakistan media outlet called FactFocus on Aug. 27, "Bajwa family business empire grew in four countries in sync with Asim Bajwas rise in military." FactFocus describes itself as "a Pakistan based digital media news organization working on data-based investigative news stories." It has 256,600 followers on Twitter.
Lt Gen. Bajwa, who is currently also a special assistant to Prime Minister Imran Khan for information and broadcasting, served the Pakistan army as the Commander of the Southern Command and the Director-General of Pakistans Inter-service Public Relations before he retired and was appointed as the Chairperson of the CPEC, which made him a key person in the Pakistan-China relationship.
In a press release on Sep. 3, Bajwa described the investigative report as an attempt to damage his reputation. "I strongly rebut the baseless allegations leveled against me and my family," he wrote in a message on Twitter.
"This certainly gives a bad name to CPEC. There are already allegations of corruption and financial irregularities in CPEC and this scandal will further inflame the controversy," Adnan Aamir, an independent journalist covering belt and road in Pakistan told The Epoch Times in an email.
A malicious propaganda story published on an unknown site, against me and my family, (just uploaded on social media) is strongly rebutted

— Asim Saleem Bajwa (@AsimSBajwa) August 27, 2020
After the FactFocus allegations, Bajwa resigned as the special assistant to Khan for information and broadcasting but continued to chair the CPEC. Khan later didnt accept his resignation.
A Pakistan government report earlier this year had reported widespread corruption in the CPEC. A nine-member committee was appointed last year to study the high cost charged for power despite CPEC projects.
The report indicated "corruption and collusion between influential people on both the Pakistani and Chinese sides," according to a commentary by the European Foundation for South Asian Studies.
Aamir however points out that the current allegations against Bajwa are not linked with China and CPEC in any way.
"China and CPEC are dragged in this scandal because General Bajwa is the chief of Belt and Road in Pakistan," said Aamir.
I strongly rebut the baseless allegations levelled against me and my family. Alhamdolillah another attempt to damage our reputation belied/exposed.I have and will always serve Pakistan with pride and dignity. pic.twitter.com/j185UoGhx1

— Asim Saleem Bajwa (@AsimSBajwa) September 3, 2020
Allegations
The FactFocus investigation said that the growth of the Bajwa familys business in the United States and later in Pakistan progressed proportionally with Lt. Gen Bajwas rising "power" within the army.
"Asim Bajwas younger brothers opened their first Papa Johns pizza restaurant in 2002, the year he went to work for General Pervez Musharraf as a lieutenant colonel on the military dictators staff," said the investigative report by journalist and co-founder of FactFocus, Ahmad Noorani.
Musharraf had come to power by leading a coup against the then Prime Minister, Nawaz Sharif in 1999 and had appointed himself as the President of Pakistan in 2001 while continuing to head the army.
The massive FactFocus report includes, among other information, the following: a database of the 99 companies set up by Bajwa family along with all the relevant documents; year-by-year details of the setting up of Papa John franchises, along with the estimated investment required; and details of the commercial and residential properties purchases, along with relevant documents; and a graphical timeline of the developments that took place in the Bajwa family business.
This detailed array of circumstantial evidence basically asks the question of how someone on an army salary with no prior evidence of wealth came to have extensive holdings in four countries outside Pakistan.
A Pakistani political analyst on conditions of anonymity explained what the report provides evidence for. "Its saying that General Bajwa used his power in the military to make illegal money and then laundered them abroad where his family invested them in businesses."
The report says that from 2002, when Lt Gen Bajwa joined Musharaffs staff, to 2008, the family purchased 53 franchises of Papa Johns Pizza worth $16 million and registered 19 companies in the United States, two in Pakistan, and four in Canada. The report lists and tabulates details year-wise how the Bajwa familys wealth increased as his "power" in the army increased.
The editor of the report said the group managing investments to these companies avoided questions about where the initial investments for the business in the early 2000s came from.
The report says that when the lt. general was appointed as the assistant to Khan for information and broadcasting he declared in his statement of assets and liabilities that he and his wife did not have any "Immovable Property Held outside Pakistan" and also did not have "Business Capital outside Pakistan," which contradicts the familys business assets within and outside the country uncovered by FactFocus.
The Epoch Times reached out to Papa Johns Pizza for a statement on the allegations against the Bajwa familys business but is yet to receive a reply.
"The records of US state governments and other records related to companies show that some of these American companies (all jointly owned by Asims wife Farrukh Zeba) also have investments in the real estate sector and own some thirteen commercial properties in the United States including two shopping centers," said the FactFocus report, adding that the total worth owned by Zeba is $ 52.7 million.
The report said the familys global business is managed by a company called Bajco Global Management LLC thats registered in the United States and has a liaison office in Pakistan.
"The official documents of this parent company show that Asim Bajwas wife, FarrukRead More – Source
Qatar's Ali bin Samikh Al Marri to preside over the 111th ILO conference
Qatar's Minister of Labour, Ali bin Samikh Al Marri, will take center stage as he chairs the 111th session of the International Labour Conference of the International Labour Organization (ILO) in Geneva from 5 to 16 June 2023. This prestigious conference brings together delegates from 187 Member States to address pressing issues, such as sustainable economies, quality apprenticeships, and worker protection. Qatar's commitment to these objectives makes it a fitting host for this significant gathering.
Recognizing Qatar's Reforms:
According to observers, Qatar's notable progress in the field of workers' rights and the improvement of its laws and regulations over the years have placed it in the fore and instilled trust in its ability to lead the world's most important labour conference. Minister Al Marri's assumption of the conference presidency is a testament to Qatar's remarkable efforts in the field of workers' rights. He has been actively involved in numerous human rights committees and initiatives, including the National Human Rights Committee and the Global Alliance of National Human Rights Institutions. Al Marri's leadership has played a crucial role in Qatar's accession to various human rights conventions, protocols, and covenants, elevating its standing on the global stage.
Promoting Workers' Welfare:
Al Marri's tenure as the Qatari Minister of Labour has been marked by an unwavering dedication to improving the working and living conditions of migrant workers, particularly in the construction industry. Al Marri is a global human rights figure who garners universal respect, as evidenced by his active participation in international conferences. He also has extensive experience in international work related to the protection and promotion of human rights at local and international levels. During his tenure as Chairman of the National Human Rights Committee, he was instrumental in Qatar's accession to several human rights conventions, protocols, and covenants. Al Marri was responsible for numerous beneficial initiatives, including the establishment of the Arab Network of National Human Rights Institutions, which enriched the Arab human rights field, and the establishment of the West Asia office of the Asia Pacific Forum of National Human Rights Institutions. Given his accomplishments, Al Marri faced defamation and incitement campaigns, including during the attack on Qatar during its hosting of the 2022 FIFA World Cup. He did, however, continue to gain international respect, eventually reaching the presidency of the International Labour Conference at its next session. His efforts have focused on enhancing transparency, accountability, and addressing issues of labor exploitation. Under his leadership, reforms have been implemented to protect workers, ensuring their social and legal well-being.
Collaboration with ILO:
The partnership between Minister Al Marri and the ILO has been instrumental in driving labor reforms. Together, they have worked on initiatives related to occupational safety and health, combating forced labor and human trafficking, and supporting companies in aligning their policies with new legislation.
"Recent labour reforms by the State of Qatar have brought positive results. I thank Minister Al Marri for their commitment to pursue these reforms and their implementation, in line with Qatar's vision 2030. The ILO is ready to continue supporting the State of Qatar, to bring further improvements that benefit all workers," Director-General Houngbo
In May 2021, a new Ministerial Decision was introduced to protect workers during the hottest months of the year (From 1 June to 15 September) particularly outdoor workers who are exposed to the heat, humidity and the sun, must work between 10 am and 3:30 pm. On 3 November 2022, Ali bin Samikh Al Marri had a meeting with the Director-General of the International Labour Organization (ILO) Gilbert F. Houngbo, in Geneva, and during the meeting, the progress was noticed in the continuous technical cooperation program between the ILO and Qatar. Their continuous technical cooperation program has yielded positive results, gaining international recognition for Qatar's commitment to improving workers' rights.
Global Recognition and Respect:
Al Marri's contributions to human rights and his international engagement have garnered him universal respect. His active participation in international conferences and extensive experience in the protection and promotion of human rights at various levels have solidified his position as a global champion. Despite facing defamation and incitement campaigns, Al Marri's accomplishments have prevailed, leading him to assume the presidency of the International Labour Conference—an esteemed position that further underscores his dedication to advancing workers' rights.
Cultural Influences on Marketing Strategies
Culture plays a significant role in consumer behavior. It influences everything from how people consume products to the way they look. Creating marketing campaigns that take into account these differences will help your business to succeed.
To begin with, different cultures have their own unique customs and rituals. This includes everything from the number 7 being good luck in the Czech Republic to eating dinner at the end of the day in Ireland.
Another important example is the way language is used to communicate. People in countries like Italy and France tend to eat a lot more packaged pasta and chocolate bars than their American counterparts.
Similarly, different languages can also lead to different marketing messages and branding issues. For example, an American company might create a slogan promoting its latest product. However, if this slogan is translated into a different language, it can lose its original meaning.
Some other aspects that can affect a marketer's message include business norms, color, and aesthetics. The most important thing to remember when marketing to a foreign country is to understand their culture.
Other cultural differences include religion. Different religions have different beliefs and attitudes about marketing and business. Therefore, it is important to understand how religion impacts how a marketer communicates.
Similarly, different cultures have different attitudes about clothing. Women in many Middle Eastern and Muslim nations are required to wear modest clothing. Likewise, an evening meal in the United States is called dinner, while a similar dinner in Ireland is called tea.
Pakistan floods: Desperation and displacement in Sindh province
The Prime Minister of Pakistan has said the "magnitude of the calamity" is bigger than expected, after visiting flood-hit areas.
Shehbaz Sharif was speaking from Sindh province – which has had nearly eight times its average August rainfall.
The floods have killed nearly 1,000 people across Pakistan since June, while thousands have been displaced – and millions more affected.
As the BBC drove through Sindh, there were displaced people in every village.
The full scale of the devastation in the province is yet to be fully understood – but the people described it as the worst disaster they've survived.
Floods are not uncommon in Pakistan, but people here said these rains were different – more than anything that's ever been seen. One local official called them "floods of biblical proportions".
Near the city of Larkana, thousands of mud homes have sunk under water. For miles all that's visible is treetops. Where the water level is slightly lower, thatched roofs creep out from underneath the water.
In one village, the people are desperate for food. In another, many children have developed waterborne diseases.
When a mobile truck pulled over, scores of people immediately ran towards it. Children carrying other children made their way to the long queue.
One 12-year-old girl said she and her baby sister had not eaten for a day.
"No food has come here, but my sister is sick, she has been vomiting," the girl said. "I hope they can help."
The desperation was evident in every community. People ran towards car windows to ask for help – anything.
On one of the main streets out of the city of Sukkur, hundreds of people have settled.
Many of them walked from remote villages, and were told that help is easier to get in the urban areas. But there's not much difference here.
On Friday, PM Sharif said 33 million people had been hit by the floods – about 15% of the country's population.
He said the losses caused by floods this season were comparable to those during the floods of 2010-11, said to be the worst on record. The country has appealed for more international aid.
In Sindh, it's not that local authorities are not trying, but they admit that they are out of their depth.
The provincial government says this is a "climate change catastrophe" and that the people of Pakistan, especially in the poorer communities, have been the worst affected.
The solutions will not be quick – acres of land are waterlogged and the water is not receding fast enough for any rebuilding to take place here.
There's not much to do for the people but to wait – wait for the rains to stop, wait for the water to go down, wait for more resources to be allocated to these kinds of communities.
In the meantime, life continues to be difficult.
Read from: https://www.bbc.com/news/world-asia-62699886