We found out who makes Walmarts new Gateway laptops, and its bad news
Enlarge / Fun colors—but we're waiting to see what the innards look like.Gateway
Back in 2007,..
Back in 2007, Taiwan-based PC manufacturer Acer bought the once-iconic Gateway brand in order to stick a thumb in the eye of rival OEM Lenovo and increase its US market presence. In the 13 years since, the Gateway brand has languished largely unused, while Acer built up its own name in the United States directly. The cow is officially back now, though, with a new line of mostly budget, Walmart-exclusive Gateway laptops.
The new line ranges from $180 to $1,000, and several models seem interesting—but when we looked closer, we found a familiar and not particularly attractive name behind the brand. Gateway is also making two models of Android tablet—an 8" GWAT8-1 which doesn't appear to be available retail yet, and a 10" model available at Walmart for $67. Trying to find more detail on the GWAT8-1 led us to a surprising discovery—it's actually made (or imported) by EVOO.
In June of this year, we reviewed and absolutely despised a $140 EVOO laptop—a device powered by an AMD A4-9120e CPU, just like the cheapest model of Gateway laptop in the table above. The new GWTN116-1BL has twice the RAM and storage compared to the effectively uncooled, drastically underclocked, and absolutely bletcherous EVOO EV-C-116-5—but when we went sleuthing, we discovered shipping records indicating that it, too, is an EVOO system.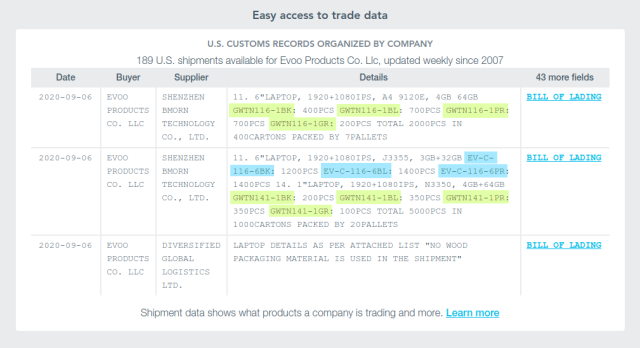 More accurately, EVOO imports devices made by Shenzhen Bmorn Technology, a Chinese national brand. We found US Customs records of EVOO importing from Bmorn, with devices under both the Gateway brand and EVOO's own inside the same shipment.
An Acer representative confirmed later that, although Acer does own the Gateway brand, it is not directly involved in the production or manufacture of these devices.
The new Gateway laptop lineup
| | | | | |
| --- | --- | --- | --- | --- |
| Model | CPU | RAM | Storage | Price |
| 11.6" FHD Ultra Slim GWTN116-1BL | AMD A4-9120e | 4GiB | 64GB | $180 |
| 11.6" FHD 2-in-1 Convertible GWTC116-1PR | Intel Celeron N3350 | 4GiB | 64GB | $200 |
| 14.1" FHD Ultra Slim GWTN141-2PR | AMD Ryzen 3 3200U | 4GiB | 128GB | $350 |
| 15.6" FHD Ultra Slim GWTN156-1BL | Intel Core i5-1035G1 | 16GiB | 256GB | $500 |
| 15.6" Creator Series GWTN156-2BK | AMD Ryzen 5 4600H | 8GiB | 256GB | Read More – Source |
Elon Musk and Mark Zuckerberg agree to hold cage fight
Two of the world's most high-profile technology billionaires – Elon Musk and Mark Zuckerberg – have agreed to fight each other in a cage match.
Mr Musk posted a message on his social media platform Twitter that he was "up for a cage fight" with Mr Zuckerberg.
Mr Zuckerberg, the boss of Facebook and Instagram parent company Meta, then posted a screenshot of Mr Musk's tweet with the caption "send me location".
"The story speaks for itself," a Meta spokesperson told the BBC.
Mr Musk then replied to Mr Zuckerberg's response with: "Vegas Octagon."
The Octagon is the competition mat and fenced-in area used for Ultimate Fighting Championship (UFC) bouts. The UFC is based in Las Vegas, Nevada.
Mr Musk, who turns 52 later this month, also tweeted: "I have this great move that I call "The Walrus", where I just lie on top of my opponent & do nothing."
He also tweeted: "I almost never work out, except for picking up my kids & throwing them in the air."
Meanwhile, 39-year-old Mr Zuckerberg has already been training in mixed martial arts (MMA) and has recently won jiu-jitsu tournaments.
Twitter did not provide a statement when contacted by the BBC for comment.
The exchanges have gone viral with social media users debating who would win the bout, while others have posted memes including mocked up posters advertising the fight.
Earlier this month, Meta showed staff plans for a text-based social network designed to compete with Twitter, sources have told the BBC.
It could allow users to follow accounts they already follow on Instagram, Meta's image-sharing app.
It could potentially allow the company to bring over followers from decentralised platforms such as Mastodon.
A Meta spokesperson confirmed to the BBC that the platform was in development.
The text-based network – which has a working title of P92 – could turn out to be a greater rival to Elon Musk's Twitter than either BlueSky or Mastodon.
Read from: https://www.bbc.com/news/business-65981876
Spain's competition watchdog opens disciplinary case against Google
Spain's competition watchdog, the 'Comisión Nacional de los Mercados y la Competencia' (CNMC) has opened a disciplinary case against Google for alleged anti-competitive practices affecting publishers and Spanish news agencies, it said in a statement on Tuesday.
CNMC said it was investigating whether Google had abused its dominant position in the Spanish market. The proceedings involve Google LLC, Google Ireland Ltd, Google Spain, SL., and the overall parent company Alphabet Inc.
The alleged practices also include distorting free competition and imposing unfair conditions on press publishers and Spanish news agencies, CNMC said.
The watchdog's investigation was sparked by a complaint from the Spanish Reproduction Rights Centre (CEDRO).
CNMC will investigate the case over the next 18 months, during which both sides can present their arguments.
According to RTVE, Spain's national broadcaster, Google will analyse the file and respond to the 'doubts' of the CNMC. They said that Google 'works constructively with publishers in Spain and Europe' and would 'need time to analyse the details … as the nature of the claims is still not clear'.
It is not the first action by the Spanish competition regulator against Google, nor the first in which its dominant position in the media sector stands out. In 2021, CNMC already warned that this company and another technology giant, Amazon, monopolised 70% of internet advertising in Spain.
Other lawsuits in the Netherlands and the UK have previously accused the technology company of abusing its dominance in the digital advertising market to harm its competitors. France also fined Google in 2021 for not negotiating in good faith compensation for the media for using its news content.
Read from: https://www.spainenglish.com/2023/03/28/spain-competition-watchdog-opens-disciplinary-case-against-google/
How does technology affect reading and writing?
Technology has dramatically changed the way we read and write in the 21st century. From e-books and online articles to social media and instant messaging, technology has made reading and writing more accessible and convenient. However, it has also brought about new challenges and concerns.
One of the biggest benefits of technology is the increased access to information. With just a few clicks, people can access an endless supply of books, articles, and other written materials from all over the world. This has made reading and writing more accessible for people who may not have had the opportunity to do so in the past. It has also allowed for greater collaboration, as people can now share their writing and receive feedback from a global audience.
Technology has also made writing and reading more interactive. Social media and blogs have made it possible for people to engage with written content in real-time, sharing their thoughts, opinions, and experiences with others. This has led to a more dynamic and engaged reading and writing community, with people able to communicate and connect with each other in new and meaningful ways.
However, there are also concerns about how technology is affecting our ability to read and write. One of the biggest concerns is the decline of attention span. With so much information available at our fingertips, it can be difficult to stay focused and absorb what we are reading. Many people find it difficult to concentrate on longer written works, and are instead drawn to shorter, more bite-sized pieces of content.
Additionally, technology has led to an increase in informal writing. The widespread use of text messaging and instant messaging has led to the widespread use of shorthand and abbreviations. This has created concerns about the impact it may have on people's writing skills, as well as the way they communicate with others.
Another concern is the rise of "fake news." With the ease of publishing content online, it has become increasingly difficult to differentiate between credible and unreliable sources. This has led to a decline in trust in the media, and has created a need for critical thinking and media literacy skills.
Despite these concerns, technology has also provided new opportunities for writing and reading. E-books and online platforms have made it easier for people to self-publish their work, giving them greater control over the distribution and promotion of their writing. This has created a more democratized publishing industry, and has made it possible for voices and perspectives that may have previously been excluded to be heard.
In conclusion, technology has had a profound impact on reading and writing. While there are certainly challenges and concerns, the increased access to information, the ability to connect and engage with others, and the opportunities for self-publishing have all made reading and writing more accessible and dynamic. As technology continues to evolve, it will be important to address the challenges it presents and embrace the opportunities it provides.