UK government signs contract for first coronavirus human challenge studies
Up to 19 volunteers at a time will take part in the tests, to be held at the Royal Free Hospital in ..
Up to 19 volunteers at a time will take part in the tests, to be held at the Royal Free Hospital in London, which houses a Biosafety Level 3 ward. They will be run by hVIVO, a medical research company that specializes in running challenge trials, in partnership with Imperial College London. These clinical trials will be a little different from most.For the current Covid-19 vaccine candidates that are in Phase 3 — the final stage of testing — tens of thousands of volunteers are given an experimental vaccine and then released to live their everyday lives; researchers assume that a certain percentage of them will be exposed to the virus naturally.In a challenge trial, by contrast, participants are deliberately dosed with virus.Proponents of challenge trials say that they are more efficient, requiring far fewer volunteers — likely in the hundreds — because researchers know for certain that everyone will be exposed to the virus, and that they can deliver scientific data more quickly. Critics worry about exposing people to a virus for which there is no fail-safe treatment, and say that the young, healthy volunteers are not representative of the wider population.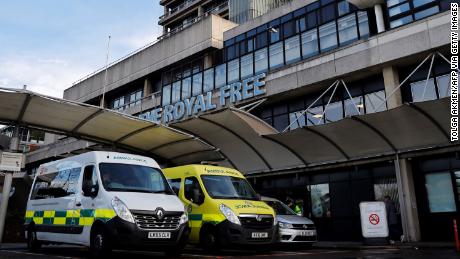 "We are doing everything we can to fight coronavirus, including backing our best and brightest scientists and researchers in their hunt for a safe and effective vaccine," said Alok Sharma, the UK's Business Secretary. "The funding announced today for these ground-breaking but carefully controlled studies marks an important next step in building on our understanding of the virus and accelerating the development of our most promising vaccines which will ultimately help in beginning our return to normal life."
Characterization study
As a first step, hVIVO, a subsidiary of the Irish company Open Orphan, will conduct a characterization study at the beginning of 2021. That involves deliberately exposing a small number of healthy volunteers to the coronavirus, to determine the minimum dose that leads to symptomatic infection. "We want to find out right from the word go how the human body reacts to a dose of the virus," Dr. Martin Johnson, Senior Medical Director at hVIVO, told CNN.The company plans to be able to test the efficacy of up to three vaccine candidates sometime next year.A September article in the New England Journal of Medicine argued that challenge trials could "accelerate development of later rounds of vaccine candidates," as well as help researchers better see how the virus attacks the human body.Several potential vaccines are already nearing the end of traditional phase 3 trials using "natural" exposure to the virus, but simply showing that as vaccine has some effectiveness in preventing the onset of Covid-19 does not mean it is the best that scientists can do.The characterization study, and vaccine trials, will still need ethics approval from UK regulators. England's Health Research Authority tells CNN that it has already set up an ethics committee to assess any challenge trial proposals.Volunteers will be rigorously screened to ensure they are in good health, with no pre-existing conditions. They will need to be between the ages of 18 and 30, hVIVO says. They will be compensated for their participation, but regulators will want to ensure that the amount does not appear coercive.Volunteers will remain in residence at the Royal Free Hospital for the duration of the trial, which could last several weeks. hVIVO has isolated a strain of the virus taken from a British Covid-19 patient, and will expose the volunteers to the virus through the nose, using a pipette."We are actually going to take the very smallest dose," Dr. Johnson said. "What we're trying to do is we're trying to get the minimum number of symptoms that are safe."As soon as a patient has displayed symptoms of Covid-19, he said, doctors will administer the antiviral remdesivir. Scientists at hVIVO point out that unlike coronavirus patients who are admitted to the hospital, challenge trial volunteers will be treated at the first sign of infection. However, there are no treatments shown to help patients early on in the course of the virus.
Vaccine trials
Once the characterization study is complete, hVIVO will ready itself for testing up to three vaccine candidates, as determined by the UK's government-led Vaccine Taskforce. Those candidates could be vaccines that are not yet in Phase 3 trials, or field-tested vaccines for whiRead More – Source
Ursula von der Leyen offers speedy response to Ukraine's bid to join EU
European Commission chief Ursula von der Leyen said the civilian deaths in the Ukrainian town of Bucha showed the "cruel face" of Russia's army and pledged to try to speed Ukraine's bid to become a member of the European Union.
During a visit to Bucha on Friday, where forensic investigators started to exhume bodies from a mass grave, Von der Leyen looked visibly moved by what she saw in the town northwest of Kyiv where Ukrainian officials say hundreds of civilians were killed by Russian forces.
Russia denies targeting civilians and has called the allegations that Russian forces executed civilians in Bucha while they occupied the town a "monstrous forgery".
As EU officials were about to arrive in Kyiv, at least 50 people were killed and many more wounded in a missile strike at a railway station packed with civilians fleeing the threat of a major Russian offensive in eastern Ukraine.
At a news conference, Von der Leyen condemned what she called "the cynical behaviour" of those who wrote "for our children" on the weapons found near the scene.
Saying the EU could never match the sacrifice of Ukraine, Von der Leyen offered it a speedier start to its bid for bloc membership.
Handing the president, Volodymyr Zelenskiy, a questionnaire which will form a starting point for a decision on membership, she said: "It will not as usual be a matter of years to form this opinion but I think a matter of weeks."
Zelenskiy told the same news conference he would come back with answers in a week.
"Russia will descend into economic, financial and technological decay, while Ukraine is marching towards the European future, this is what I see," Von der Leyen said.
Earlier in Bucha, she told reporters: "The unthinkable has happened here. We have seen the cruel face of Putin's army. We have seen the recklessness and the cold-heartedness with which they have been occupying the city."
Von der Leyen's trip to Kyiv was aimed at offering Zelenskiy moral and some financial support.
She pledged her support for Ukraine to "emerge from the war as a democratic country", something, she said, the European Union and other donors would help with.
Josep Borrell, the EU's chief diplomat, said he hoped the EU could allocate a further €500m (£420m) to Ukraine for arms purchases in a couple of days.
Zelenskiy has urged Brussels to do more to punish Russia, including banning purchases of Russian oil and gas, and has called on the EU to accept Ukraine as a full member.
Earlier, Borrell said oil sanctions were "a big elephant in the room", with some concerns that a move to cut out Russian crude could cause a spike in prices that would be painful to European economies. He said a decision on exports would be raised on Monday in Brussels.
Dutch officials drop case against Rijksmuseum over 'racist' word
The director of the Rijksmuseum said he was "happy" as Dutch prosecutors announced they would not proceed with an investigation into complaints over a newly opened exhibition on Indonesian independence, the first of its kind in Europe.
The exhibition, Revolusi! Indonesia Independent, at the Netherlands' national museum, has been a source a controversy since one of its curators, Bonnie Triyana, said the term "bersiap", or stand by, would not be used in reference to the violent upheaval that followed a declaration of independence from the Dutch state.
Triyana claimed that use of the word, a battle cry for young Indonesians seeking independence, "takes on a strongly racist connotation" in the Netherlands today that "always portrays primitive, uncivilised Indonesians as perpetrators of the violence". He said: "The team of curators has decided not to use the word bersiap as a common term referring to the violent period in Indonesia."
In a sign of the ongoing sensitivity in Dutch society over the country's colonial history, the comments drew a furious response in some quarters, with the head of the Federation of Dutch Indonesians, Hans Moll, accusing the Rijksmuseum of genocide denial by ignoring that "thousands of Dutch people were brutally tortured, raped and murdered by Indonesians because of their Dutch or European ethnicity".
Complaints were made to the general prosecutor last month but Taco Dibbits, the Rijksmuseum's director, said he had learned on the eve of the exhibition's opening on Thursday that the justice ministry would not be proceeding with the case.
"I'm happy and had expected the decision that the case is not viable," he said. "But I think it is very good that there is discussion about these concepts. It is our duty to broaden our view of history."
Dibbits said the exhibition did make reference to the term bersiap but put it in the context of violence endured by a large range of people, and that the show explored the entire period from 1945 to 27 December 1949 when the Dutch withdrew.
He said: "The term 'bersiap' is used in the Netherlands by different communities that had to flee Indonesia and were repatriated during the revolution. It marks a very specific moment in time in the four and a half years of the revolution, the moment of the fall of 1945, when Indonesia has just declared itself independent and groups of insurgents executed extreme violence against several groups: Indo-Europeans, Moluccans on the Dutch side, and Chinese and others they thought were on the Dutch side. It takes place in the chaos just after the declaration of independence.
"We explain the source of the word, which started to be used in the Netherlands in the 1980s, and give it a historical context, but also speak about the violence against other groups during the revolution. We speak about violence in a much broader sense."
Dibbits said he felt it was a "pity" that complaints had been made to the prosectors before the exhibition had opened. A second complaint, which is also not being pursued, was filed with prosecutors after Dibbits clarified before the opening that the bersiap concept would be referenced.
Dibbits said: "One claimed that not using the term was against history and the second complaint said the using of the term was against history."
Indonesia became a member of the United Nations in 1950 and today the country counts about 270 million inhabitants across more than 17,000 islands.
The exhibition explores the personal stories of independence fighters, artists, diplomats, politicians, journalists and those seeking to maintain Dutch hold over the territory by displaying more than 200 objects, including privately owned keepsakes and paintings.
Dibbits said among the most powerful artefacts was a bundle of baby clothes made out of book covers, belonging to a young woman called Julia Nelisse. She had given birth to a daughter, Merani, in a leper colony in Pelantungan, modern-day Java, on 6 September 1947.
Corpses of fighters and civilians were regularly washing up on the river shore, which Nelisse laid out on cloth shrouds. Due to the lack of remaining cloth, she had to take the covers from books in the abandoned colony library to make into clothes. On show is a vest, a pillow and a nappy. "It is very emotional to see and brings it very close," Dibbits said.
Heidelberg shooting: One dead in gun attack on German students
A lone gunman has killed one person and seriously injured three others inside a lecture hall at Heidelberg University in the south-west of Germany, before shooting himself dead.
He was an 18-year-old German student.
German police said the shooter, who was armed with two guns, had used a "long gun", and fired shots around the amphitheatre "wildly".
The bloodshed triggered a large operation at the university's campus in the Neuenheimer Feld area.
Police asked people to avoid the area so rescue workers and emergency services could move around freely.
German media reported that the gunman appeared to have no religious or political motive.
Police have searched his flat in the city of Mannheim, and found a WhatsApp message he had sent shortly beforehand, in which he spoke of punishing people.
Heidelberg is a university town with about 160,000 inhabitants.
The country has some of the strictest gun laws in Europe, and school shootings are rare. Anyone under 25 is required to pass a psychological evaluation before getting a gun licence.
Police initially said four victims had been wounded, with a later update confirming one had died in hospital.