UK government signs contract for first coronavirus human challenge studies
Up to 19 volunteers at a time will take part in the tests, to be held at the Royal Free Hospital in ..
Up to 19 volunteers at a time will take part in the tests, to be held at the Royal Free Hospital in London, which houses a Biosafety Level 3 ward. They will be run by hVIVO, a medical research company that specializes in running challenge trials, in partnership with Imperial College London. These clinical trials will be a little different from most.For the current Covid-19 vaccine candidates that are in Phase 3 — the final stage of testing — tens of thousands of volunteers are given an experimental vaccine and then released to live their everyday lives; researchers assume that a certain percentage of them will be exposed to the virus naturally.In a challenge trial, by contrast, participants are deliberately dosed with virus.Proponents of challenge trials say that they are more efficient, requiring far fewer volunteers — likely in the hundreds — because researchers know for certain that everyone will be exposed to the virus, and that they can deliver scientific data more quickly. Critics worry about exposing people to a virus for which there is no fail-safe treatment, and say that the young, healthy volunteers are not representative of the wider population.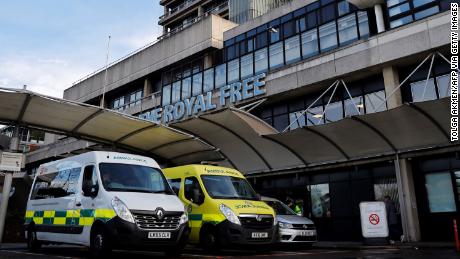 "We are doing everything we can to fight coronavirus, including backing our best and brightest scientists and researchers in their hunt for a safe and effective vaccine," said Alok Sharma, the UK's Business Secretary. "The funding announced today for these ground-breaking but carefully controlled studies marks an important next step in building on our understanding of the virus and accelerating the development of our most promising vaccines which will ultimately help in beginning our return to normal life."
Characterization study
As a first step, hVIVO, a subsidiary of the Irish company Open Orphan, will conduct a characterization study at the beginning of 2021. That involves deliberately exposing a small number of healthy volunteers to the coronavirus, to determine the minimum dose that leads to symptomatic infection. "We want to find out right from the word go how the human body reacts to a dose of the virus," Dr. Martin Johnson, Senior Medical Director at hVIVO, told CNN.The company plans to be able to test the efficacy of up to three vaccine candidates sometime next year.A September article in the New England Journal of Medicine argued that challenge trials could "accelerate development of later rounds of vaccine candidates," as well as help researchers better see how the virus attacks the human body.Several potential vaccines are already nearing the end of traditional phase 3 trials using "natural" exposure to the virus, but simply showing that as vaccine has some effectiveness in preventing the onset of Covid-19 does not mean it is the best that scientists can do.The characterization study, and vaccine trials, will still need ethics approval from UK regulators. England's Health Research Authority tells CNN that it has already set up an ethics committee to assess any challenge trial proposals.Volunteers will be rigorously screened to ensure they are in good health, with no pre-existing conditions. They will need to be between the ages of 18 and 30, hVIVO says. They will be compensated for their participation, but regulators will want to ensure that the amount does not appear coercive.Volunteers will remain in residence at the Royal Free Hospital for the duration of the trial, which could last several weeks. hVIVO has isolated a strain of the virus taken from a British Covid-19 patient, and will expose the volunteers to the virus through the nose, using a pipette."We are actually going to take the very smallest dose," Dr. Johnson said. "What we're trying to do is we're trying to get the minimum number of symptoms that are safe."As soon as a patient has displayed symptoms of Covid-19, he said, doctors will administer the antiviral remdesivir. Scientists at hVIVO point out that unlike coronavirus patients who are admitted to the hospital, challenge trial volunteers will be treated at the first sign of infection. However, there are no treatments shown to help patients early on in the course of the virus.
Vaccine trials
Once the characterization study is complete, hVIVO will ready itself for testing up to three vaccine candidates, as determined by the UK's government-led Vaccine Taskforce. Those candidates could be vaccines that are not yet in Phase 3 trials, or field-tested vaccines for whiRead More – Source
Denmark asylum: Law passed to allow offshore asylum centres
Denmark has passed legislation allowing it to relocate asylum seekers to third countries outside the European Union while their cases are reviewed.
The project, proposed by the Social Democrat-led government, would seek partner countries to run camps and fund agencies along migration routes.
But the European Commission said it had concerns about the law, and a leading NGO said it was irresponsible.
Denmark has repeatedly tightened its immigration policies in recent years.
This follows a peak of more than 21,000 asylum seekers arriving in Denmark in 2015.
MPs voted for the bill by 70 votes to 24.
"If you apply for asylum in Denmark, you know that you will be sent back to a country outside Europe, and therefore we hope that people will stop seeking asylum in Denmark," said government spokesman Rasmus Stoklund, quoted by Reuters news agency.
The asylum cases would be reviewed in the third country and the applicant could potentially be given protection in that country.
But the European Commission was critical of the law.
"External processing of asylum claims raises fundamental questions about both the access to asylum procedures and effective access to protection," said spokesman Adalbert Jahnz, quoted by Reuters news agency.
The Danish Refugee Council (DRC), a leading NGO, said in a statement that MPs had "effectively voted in the blind", as the model they had backed did not yet exist.
"The idea to externalise the responsibility of processing asylum seekers' claims is both irresponsible and lacking in solidarity. We have repeatedly called on the Danish members of parliament to reject this bill," it said.
The council added that there was now a risk of countries hosting larger numbers of refugees would also opt out.
Denmark recently signed a migration deal with Rwanda leading to speculation that it intends to open a facility there.
Two weeks ago it became the first European country to revoke residence status for more than 200 Syrian refugees.
Danish authorities say parts of Syria are safe enough to return to but the move has sparked protests from activists and community groups.
Last year the UK considered building an asylum processing centre on Ascension Island, a remote territory in the Atlantic Ocean, but decided not to proceed.
Russia to pull troops back from near Ukraine
After weeks of tension over a build-up of Russian troops close to Ukraine's border, Russian Defence Minister Sergei Shoigu has ordered a number of units in the area back to their bases.
The EU estimated that more than 100,000 Russian soldiers had amassed near the border as well as in Crimea, which was seized and annexed by Russia in 2014.
Speaking in Crimea, Mr Shoigu said units on exercise would return to base.
The aims of the "snap checks" had been achieved, he added.
Ukrainian President Volodymyr Zelensky, who earlier challenged Russian President Vladimir Putin to meet him in the conflict zone, welcomed the decision to "de-escalate" tensions at the border.
"The troops have demonstrated their ability to provide a credible defence for the country," the Russian defence minister said, adding that he had instructed the commanders of units from the 58th and 41st armies as well as several airborne divisions to start returning to their permanent bases on Friday and to complete the operation by 1 May.
President Zelensky raised the troop build-up with European leaders last week. Ukraine's armed forces chief said Russian military units had been moving into the Rostov, Bryansk and Voronezh regions as well as Crimea, while battalion tactical groups were stationed on the border.
Following Mr Shoigu's announcement, Nato said that any move towards reversing the escalation would be "important and well overdue". It added that the Western military alliance remained vigilant.
Nato leaders have called a summit in June when Russia will be high on the agenda.
Although Russia has shrugged off the build-up as training exercises in response to "threatening" actions from Nato, it is also said to be planning to cordon off areas of the Black Sea to foreign shipping. Ukraine fears its ports could be affected.
Russia said all along that these were nothing more than military exercises.
But Moscow knew very well that its troop movements close to Ukraine and in annexed Crimea were making a lot of people very nervous: in Ukraine, Europe and in America.
Moscow may well have been using the build-up of troops to send a signal to Kyiv, Brussels and, especially, to Washington that Russia is a force to be reckoned with.
US President Joe Biden took notice. Last week, he telephoned President Putin and proposed a summit. True, he also imposed a new round of sanctions over Russia's "malign activity". But inside Russia these were perceived as not particularly tough.
A reduction in tension, however, does not mean the end of tension. Russia's defence minister has made it clear that "Russia is taking measures in response to threats from Nato".
For example, Moscow is planning to block areas of the Black Sea to foreign shipping for six months.
In a state-of-the-nation address on Wednesday, President Putin warned the West against "crossing a red line".
Speaking to reporters after the order for troops to return to base, Mr Putin said as far as bilateral relations were concerned "we are ready to welcome the president of Ukraine at any time that is convenient for him", but in Moscow.
However, he stressed if Mr Zelensky wanted to discuss eastern Ukraine, then he should first meet the leaders there.
Conflict in eastern Ukraine broke out in 2014, after the seizure of Crimea from Ukraine. Russian-backed troops captured large areas of the Luhansk and Donetsk regions and declared them both peoples' republics.
There have been a number of breaches of a ceasefire in the east in recent weeks. A Ukrainian soldier was fatally wounded in shelling on Thursday, in what Ukrainian forces said was a deliberate violation of the ceasefire. Some 14,000 people have died since the conflict began.
European Parliament meeting assess migrant workers conditions in Gulf region
By Lailuma Sadid
Qatar is the first county that brings changes into it's landmark reforms in the Gulf.
The first country in the gulf region is Qatar who introduces a non-discriminatory minimum wage, which is part of a series of landmark reforms to the country's labour laws. Success in the GCC countries depend on having solid labour laws that are linked to international standards and convections and the implementation of these laws. If the law isn't good enough then the implementation will be a non-starter.  Mr Houtan addedd.
He said that the collaboration of some international and national organisations brought up really solid laws. They are not being perfectly implemented at once since all revolutionary changes in the labour market takes time and if they happen overnight, it's not sustainable he added.
In the mean time he also mentions how these labor laws benefit both employers and employees.
Indeed, these laws allow employers to find more local workers with the same skills at a lower cost and employees to be more satisfied because they benefit from a greater power to negotiate and discuss. It's a win- win situation. The wage issue is a common issue acrosse the GCC region , he said.
According to Mr. Houtan  access to Justice variesfrom  country to country. It is very common to hear that an employee who has worked for the past six months is only paid for the last three months of his work and according to some this is fair and justice has been done. This is no rocket science, this is not justice.
He said: No worker should go a day without being paid or receive their salary a day late. This matter is serious and needs to be more focused on. To overcome this problem, we have the structures in place in the regions that are working, although they need to be improved. They work because everyone comes together, with the support of the European  Unions, trade union and employers etc.
According to Mr. Houtan, That's is success model that we need to replicate across the GCC countries. In addition, it is obvious that we should not denigrate the importance of Labour inspection and occupational safety and health. It has to be considered as a priority.
Also, another very important point is engaging with the private sector which is key, the role is fundamentally important.
Of course the trade unions as well as the government, the ministry of Labour have been really keen pushing forward the agenda but if the employers don't play ball again it will be a very slow progress.
The key word for him is coordination and cooperation between different organizations to achieve successful changes in the GCC countries.
Hassan AL-Thawadi is representing of Qatar Ambassador in this meeting, he said:Qatar's commitment to improving labour related matters and improving lives is constant. The commitment is intrinsic to our national values.
The commitment is intrinsic to our national values enshrined in our constitution and ais the key tenants to our Islamic principles. He added
Mr. Hassan said, these reforms combined with bolstered enforcement mechanisms including electronic based wage protection system demonstrates a commitment to sustainable long-term change that I mentioned previously however we acknowledge that there is a long journey ahead of us and more needs to be done as of the case in every nation of the world. In some countries still not possible to change employers without permission in other countries, but in Qatar it is possible.
Mark from European Delegation, with the contribution for workers to the numbers is only 500,000 workers 50 years ago and 25 million demanded today for the whole Peninsula. However, much more needs to be done to ensure access to dignified living and working conditions of Migrant workers and their families.
In addition to the basic minimum monthly wage of 1000 Qatari riyals 275 $, the legislation ensures that employers must pay allowances of at least 300 and 500 QAR for food and accommodation respectively, if they do not provide them.
Legislation passed last year provided for a six-month transition period for employers to prepare for the new minimum thresholds. First country in the region is Qatar to introduce a non-discriminatory minimum wage, which is part of a series of landmark reforms to the country's labor laws.