Nigeria Sars protest: Unrest in Lagos after shooting
Related Topics
#EndSars protests
Buildings have been set aflame and there are reports of gunfire i..
Related Topics
Buildings have been set aflame and there are reports of gunfire in Nigeria's biggest city after demonstrators were shot at a protest.
Rights group Amnesty International said at least 12 people were killed when soldiers opened fire in Lagos on Tuesday.
Authorities have imposed an indefinite round-the-clock curfew on the city and elsewhere, but some defied the order.
Protests against a police unit have been taking place for two weeks.
Demonstrators have been using the social media hashtag #EndSars to rally crowds against the Special Anti-Robbery Squad (Sars).
President Muhammadu Buhari disbanded Sars on 11 October. But protests have continued, with demands for more changes in the security forces, as well as reforms to the way the country is run.
Witnesses have told the BBC what they saw when men in military camouflage opened fire on Tuesday evening.
On Wednesday, buildings were set alight across Lagos and police put up roadblocks. A major Nigerian TV station with links to a ruling party politician was on fire after people attacked it with petrol bombs.
Police in different districts of the city fired shots in the air to disperse protesters defying the curfew, the BBC's Nduka Orjinmo reports from the capital, Abuja. He also reports that the palace of the most senior traditional leader in the city was looted, though the leader had been evacuated beforehand.
Authorities deny anybody was shot dead on Tuesday, saying that a number of people were wounded in the incident.
What happened in Lagos?
Witnesses said uniformed men opened fire on a crowd of around 1,000 demonstrators in the wealthy Lekki suburb on Tuesday.
Soldiers were seen barricading the protest site moments before the shooting, BBC Nigeria correspondent Mayeni Jones reports. Social media footage streamed live from the scene shows protesters tending to the wounded.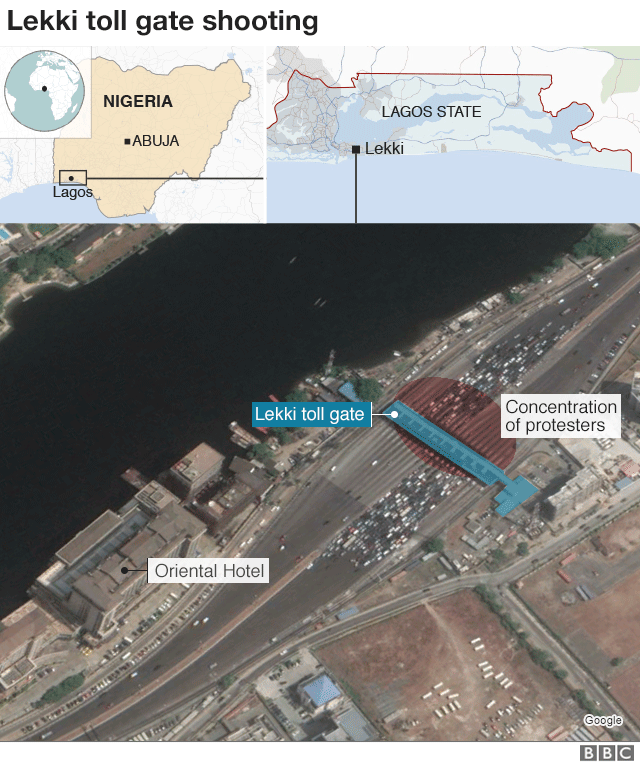 A witness who did not want to be named told BBC News that shortly before 19:00 local time (18:00 GMT) soldiers "pulled up… and they started firing directly" at peaceful protesters.
"They were firing and they were advancing straight at us. It was chaos. Somebody got hit straight beside me and he died on the spot," he said.
The protesters had gathered at the Lekki toll gate for the last two weeks to block cars from using the road.
Shortly before a curfew was due to start, officers turned up and began to kettle in the demonstrators. The street lights were then shut off before the shooting began.
In a statement, Amnesty International Nigeria said at least 12 protesters were killed in Lagos on Tuesday.
Evidence from hospital records and witnesses showed "the Nigerian military opened fire on thousands of people who were peacefully calling for good governance and an end to police brutality" at Lekki toll gate, the organisation said.
Apart from the shooting in Lekki, at least two people were killed and one "critically injured" in the Alausa district by "a team of soldiers and policemen" at about 20:00, the group added.
"Soldiers clearly had one intention – to kill without consequences," said Osai Ojigho, Amnesty International Nigeria country director.

Demonstrators defy the curfew in Lagos
By Mayeni Jones, BBC Nigeria Correspondent
This morning we drove over the Lekki-Ikoyi toll bridge, passing through gates that had been burned out the night before. Broken glass from a number of businesses was scattered on the floor, cash machines burned out.
Closer to Lekki, where there are a number of shopping centres, the streets were mainly empty. It's a bustling area usually, but no cars were on the road, just young men on foot.
At the Lekki toll gate itself there were around 200 people, who crowded round us, wanting to tell their stories of the night before, angry but also determined to stand their ground. Pools of blood could be seen on the floor.
Protesters were waving flags that looked covered in blood – they told me that the Nigerian flag, usually green-white-green, turned green-red-green yesterday from all the killing. Many of them had been at the site of the shooting the night before and recounted horrifying stories of seeing other protesters shot before their eyes.
The calls for police reform have morphed into chants that President Buhari must go. Demonstrators say they are sick and tired of the status quo.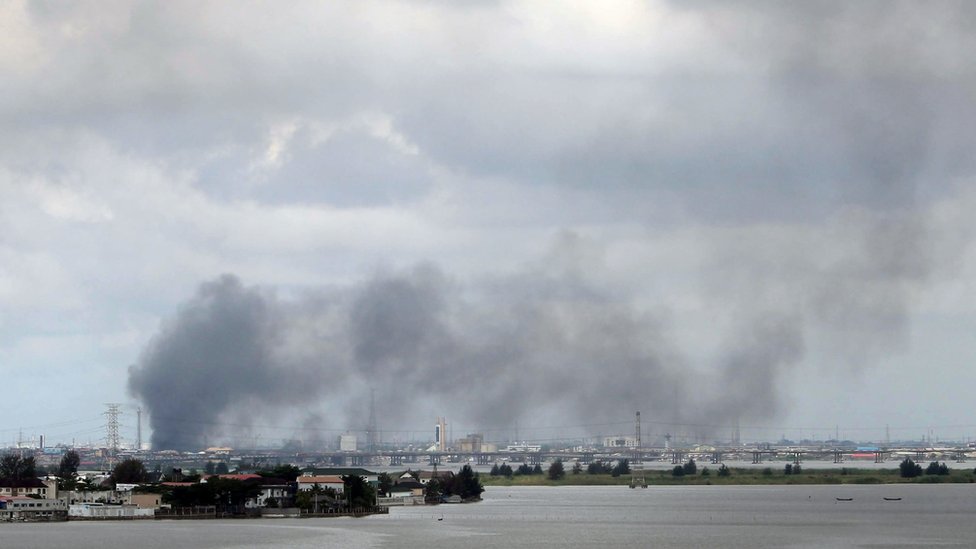 How have officials responded?
Lagos state governor Babajide Sanwo-Olu said about 25 people had been wounded, adding that authorities were investigating the death of one man by "blunt force trauma to the head". It is unclear if he was a demonstrator.
On Wednesday he called for flags to be lowered at government buildings and an "immediatRead More – Source
Burkina Faso military says it has seized power
The military in Burkina Faso says it has seized power and overthrown President Roch Kaboré.
The announcement was made on state television by an army officer, who cited the deteriorating security situation for the military takeover.
Mr Kaboré had faced growing discontent over his failure to stem an Islamist insurgency.
His whereabouts are unclear, but the officer said that all those detained were in a secure location.
The coup comes a day after troops seized barracks, and gunshots were heard in the capital, Ouagadougou.
Earlier, the ruling People's Movement for Progress (PMP) party said that both Mr Kaboré and a government minister had survived an assassination attempt.
On Sunday, mutinying troops demanded the sacking of military chiefs and more resources to fight militants linked to the Islamic State (IS) group and al-Qaeda.
The army statement said Mr Kaboré had failed to unite the nation and to deal effectively with the security crisis which "threatens the very foundations of our nation".
The statement was issued in the name of a group not heard of previously, the Patriotic Movement for Safeguard and Restoration or MPSR, its French acronym.
Although read out by another officer, the statement was signed by Lt-Col Paul-Henri Sandaogo Damiba, who is believed to be the coup leader and a senior commander with years of experience fighting the Islamist militants.
The statement said that parliament and the government had been dissolved, and the constitution suspended, but promised a "return to constitutional order" within a "reasonable time".
The military also announced the closure of Burkina Faso's borders.
UN chief António Guterres condemned the coup and called on the military to "ensure the protection and the physical integrity" of Mr Kaboré.
Earlier, the news of his detention was received with cheers and celebrations in Ouagadougou, reports the BBC's senior Africa correspondent Anne Soy.
Earlier video footage from the capital appeared to show armoured vehicles – reportedly used by the presidency – peppered with bullet holes and abandoned in the street.
Mobile internet services have been disrupted, though fixed-line internet and domestic wi-fi are working.
Mr Kaboré has not been seen in public since the crisis began, but two posts appeared on his Twitter account before the officer announced he had been toppled.
The later one called on those who had taken up arms to lay them down "in the higher interest of the nation". Earlier, Mr Kaboré congratulated the national football team on their win in an Africa Cup of Nations match.
It is unclear who posted the tweets.
Some security sources say the president and other government ministers are being held at the Sangoulé Lamizana barracks in the capital.
On Sunday, hundreds of people came out in support of the soldiers and some of them set fire to the ruling party's headquarters.
The coup comes a week after 11 soldiers were arrested for allegedly plotting to overthrow Mr Kaboré.
But discontent has been growing in Burkina Faso over the government's failure to defeat an Islamist insurgency in the country since 2015.
That escalated in November, when 53 people, mainly members of the security forces, were killed by suspected jihadists. And on Saturday, a banned rally to protest against the government's perceived failure led to dozens of arrests.
Mutinying soldiers made several demands, including: the removal of the army's chief of staff and the head of the intelligence service; more troops to be deployed to the front line; and better conditions for the wounded and soldiers' families.
Similar troubles in neighbouring Mali led to a military coup in May 2021 – one that was broadly welcomed by the public.
Burkina Faso is now the third West African country to witness a military takeover in recent years. Guinea and Mali have had sanctions imposed on them by Ecowas to press them to return to constitutional order.
India Covid: Booster shots start for priority groups as cases surge
India has begun giving booster doses of the Covid-19 vaccine to priority groups amid a surge in infections.
Health and frontline workers and people above 60 years old with comorbidities are currently eligible to take the jab.
The drive began as India battles a spike in Covid cases fuelled by the Omicron variant of the coronavirus.
Early studies from other countries have suggested that a booster vaccine may provide more protection against Omicron.
The highly transmissive Omicron variant was first discovered in South Africa in November.
Since then, several countries have expanded their booster programmes or shortened the gap between jabs to shore up protection against the variant.
In India, the booster shot – dubbed a "precaution dose" by Prime Minister Narendra Modi – will be the same vaccine that was given to a person for their first and second doses.
India has been mainly administering two locally-manufactured vaccines, Covishield and Covaxin, since its vaccination drive began in January 2021.
On Sunday, India reported more than 179,000 new infections for the past 24 hours, driven by a steep rise in cases in big cities such as the national capital Delhi and financial centre Mumbai.
On the same day, Mr Modi chaired a review meeting with top officials, and asked for "technical support" to be provided to states reporting more cases.
The government had begun administering vaccines to 15-18-year-olds last week – it has said that 31% of Indians in this age group have been given the first dose so far.
More than 91% adults have been partially vaccinated so far, while 66% have received both doses.
But experts say that still leaves millions of unvaccinated people – many with underlying health problems that could increase the severity of the infection – at risk.
The spread of Omicron has also increased worries – India has confirmed a total of 4,003 cases of Omicron, with Maharashtra state reporting the highest (1,126), followed by Rajasthan (529) and Delhi (513).
The country has so far recorded more than 35 million Covid cases and about 483,000 deaths from the virus.
Last year, a devastating second wave overwhelmed the country's health system, leading to a shortage in oxygen, hospital beds and critical drugs.
Emily in Paris Fans Think Kim Cattrall Will Make an Appearance in Season 3
instyle– Fans are speculating a major pop-culture crossover in season 3 of Emily in Paris. After Kim Cattrall infamously turned down the chance to revive her Sex and the City character, Samantha Jones, for the reboot, fans couldn't help but wonder if Jones could make an appearance in the next season of the cult-favorite Netflix show.
If you're watching And Just Like That … (and even if you're not), you know that Cattrall's character is supposedly off working her public relationships magic in London, England, just a quick trip from Emily (Lily Collins) and her booming marketing firm, Savoir.
RELATED: Everything You Need to Know About Emily in Paris Season 2
Fans noticed major parallels between the characters, from their location to their sex positivity to their career in communications. Plus, both series were created by big-time Hollywood producer Darren Star — with SATC costume designer Patricia Field now responsible for Emily's kitschy, Parisian looks — making a collab that much more believable.
One Twitter user wrote, "Current theory: Samantha has supposedly moved overseas, hence her lack of presence in the new SATC TV series. Then she shows up by total surprise in a crossover episode of EMILY IN PARIS. I would watch Samantha try to tolerate Emily, 100 percent."
Collins fueled the flames by teasing a possible season 3. The actress posted photographs from her Vogue Hong Kong cover featuring a jet-black shag haircut and dark makeup writing, "Season 3 pivot?? Who's with me? …" Collins used the same caption when reposting a fan's Tweet with the magazine images that read, "Emily in Berlin."