Nigeria Sars protest: Unrest in Lagos after shooting
Related Topics
#EndSars protests
Buildings have been set aflame and there are reports of gunfire i..
Related Topics
Buildings have been set aflame and there are reports of gunfire in Nigeria's biggest city after demonstrators were shot at a protest.
Rights group Amnesty International said at least 12 people were killed when soldiers opened fire in Lagos on Tuesday.
Authorities have imposed an indefinite round-the-clock curfew on the city and elsewhere, but some defied the order.
Protests against a police unit have been taking place for two weeks.
Demonstrators have been using the social media hashtag #EndSars to rally crowds against the Special Anti-Robbery Squad (Sars).
President Muhammadu Buhari disbanded Sars on 11 October. But protests have continued, with demands for more changes in the security forces, as well as reforms to the way the country is run.
Witnesses have told the BBC what they saw when men in military camouflage opened fire on Tuesday evening.
On Wednesday, buildings were set alight across Lagos and police put up roadblocks. A major Nigerian TV station with links to a ruling party politician was on fire after people attacked it with petrol bombs.
Police in different districts of the city fired shots in the air to disperse protesters defying the curfew, the BBC's Nduka Orjinmo reports from the capital, Abuja. He also reports that the palace of the most senior traditional leader in the city was looted, though the leader had been evacuated beforehand.
Authorities deny anybody was shot dead on Tuesday, saying that a number of people were wounded in the incident.
What happened in Lagos?
Witnesses said uniformed men opened fire on a crowd of around 1,000 demonstrators in the wealthy Lekki suburb on Tuesday.
Soldiers were seen barricading the protest site moments before the shooting, BBC Nigeria correspondent Mayeni Jones reports. Social media footage streamed live from the scene shows protesters tending to the wounded.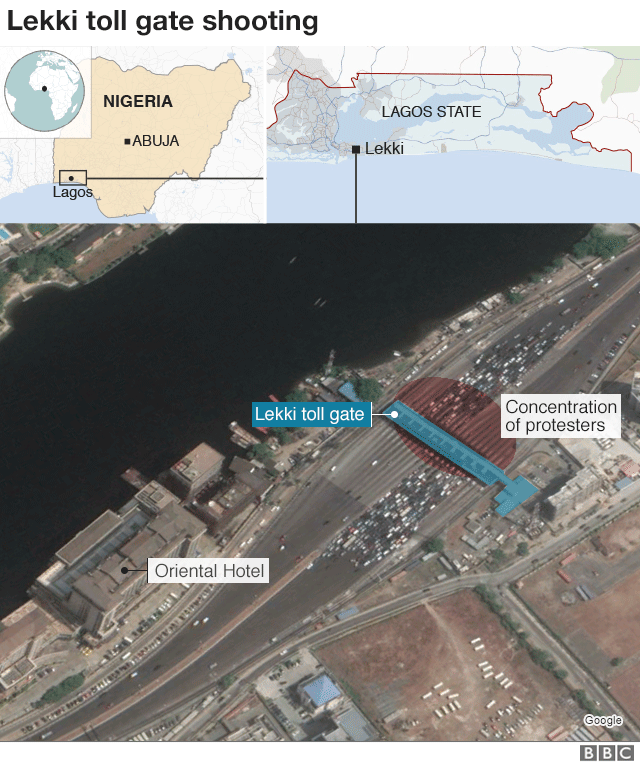 A witness who did not want to be named told BBC News that shortly before 19:00 local time (18:00 GMT) soldiers "pulled up… and they started firing directly" at peaceful protesters.
"They were firing and they were advancing straight at us. It was chaos. Somebody got hit straight beside me and he died on the spot," he said.
The protesters had gathered at the Lekki toll gate for the last two weeks to block cars from using the road.
Shortly before a curfew was due to start, officers turned up and began to kettle in the demonstrators. The street lights were then shut off before the shooting began.
In a statement, Amnesty International Nigeria said at least 12 protesters were killed in Lagos on Tuesday.
Evidence from hospital records and witnesses showed "the Nigerian military opened fire on thousands of people who were peacefully calling for good governance and an end to police brutality" at Lekki toll gate, the organisation said.
Apart from the shooting in Lekki, at least two people were killed and one "critically injured" in the Alausa district by "a team of soldiers and policemen" at about 20:00, the group added.
"Soldiers clearly had one intention – to kill without consequences," said Osai Ojigho, Amnesty International Nigeria country director.

Demonstrators defy the curfew in Lagos
By Mayeni Jones, BBC Nigeria Correspondent
This morning we drove over the Lekki-Ikoyi toll bridge, passing through gates that had been burned out the night before. Broken glass from a number of businesses was scattered on the floor, cash machines burned out.
Closer to Lekki, where there are a number of shopping centres, the streets were mainly empty. It's a bustling area usually, but no cars were on the road, just young men on foot.
At the Lekki toll gate itself there were around 200 people, who crowded round us, wanting to tell their stories of the night before, angry but also determined to stand their ground. Pools of blood could be seen on the floor.
Protesters were waving flags that looked covered in blood – they told me that the Nigerian flag, usually green-white-green, turned green-red-green yesterday from all the killing. Many of them had been at the site of the shooting the night before and recounted horrifying stories of seeing other protesters shot before their eyes.
The calls for police reform have morphed into chants that President Buhari must go. Demonstrators say they are sick and tired of the status quo.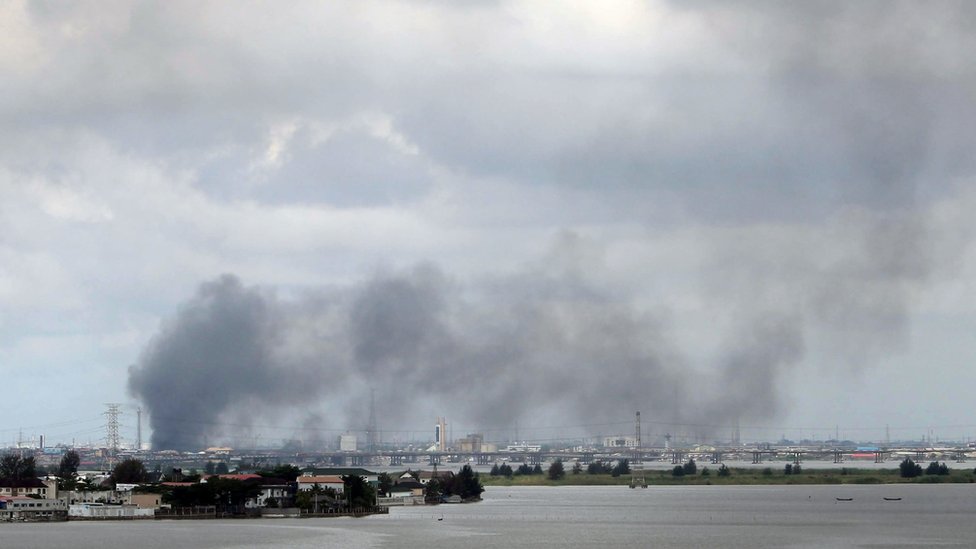 How have officials responded?
Lagos state governor Babajide Sanwo-Olu said about 25 people had been wounded, adding that authorities were investigating the death of one man by "blunt force trauma to the head". It is unclear if he was a demonstrator.
On Wednesday he called for flags to be lowered at government buildings and an "immediatRead More – Source
Cultural Influences on Marketing Strategies
Culture plays a significant role in consumer behavior. It influences everything from how people consume products to the way they look. Creating marketing campaigns that take into account these differences will help your business to succeed.
To begin with, different cultures have their own unique customs and rituals. This includes everything from the number 7 being good luck in the Czech Republic to eating dinner at the end of the day in Ireland.
Another important example is the way language is used to communicate. People in countries like Italy and France tend to eat a lot more packaged pasta and chocolate bars than their American counterparts.
Similarly, different languages can also lead to different marketing messages and branding issues. For example, an American company might create a slogan promoting its latest product. However, if this slogan is translated into a different language, it can lose its original meaning.
Some other aspects that can affect a marketer's message include business norms, color, and aesthetics. The most important thing to remember when marketing to a foreign country is to understand their culture.
Other cultural differences include religion. Different religions have different beliefs and attitudes about marketing and business. Therefore, it is important to understand how religion impacts how a marketer communicates.
Similarly, different cultures have different attitudes about clothing. Women in many Middle Eastern and Muslim nations are required to wear modest clothing. Likewise, an evening meal in the United States is called dinner, while a similar dinner in Ireland is called tea.
Pakistan floods: Desperation and displacement in Sindh province
The Prime Minister of Pakistan has said the "magnitude of the calamity" is bigger than expected, after visiting flood-hit areas.
Shehbaz Sharif was speaking from Sindh province – which has had nearly eight times its average August rainfall.
The floods have killed nearly 1,000 people across Pakistan since June, while thousands have been displaced – and millions more affected.
As the BBC drove through Sindh, there were displaced people in every village.
The full scale of the devastation in the province is yet to be fully understood – but the people described it as the worst disaster they've survived.
Floods are not uncommon in Pakistan, but people here said these rains were different – more than anything that's ever been seen. One local official called them "floods of biblical proportions".
Near the city of Larkana, thousands of mud homes have sunk under water. For miles all that's visible is treetops. Where the water level is slightly lower, thatched roofs creep out from underneath the water.
In one village, the people are desperate for food. In another, many children have developed waterborne diseases.
When a mobile truck pulled over, scores of people immediately ran towards it. Children carrying other children made their way to the long queue.
One 12-year-old girl said she and her baby sister had not eaten for a day.
"No food has come here, but my sister is sick, she has been vomiting," the girl said. "I hope they can help."
The desperation was evident in every community. People ran towards car windows to ask for help – anything.
On one of the main streets out of the city of Sukkur, hundreds of people have settled.
Many of them walked from remote villages, and were told that help is easier to get in the urban areas. But there's not much difference here.
On Friday, PM Sharif said 33 million people had been hit by the floods – about 15% of the country's population.
He said the losses caused by floods this season were comparable to those during the floods of 2010-11, said to be the worst on record. The country has appealed for more international aid.
In Sindh, it's not that local authorities are not trying, but they admit that they are out of their depth.
The provincial government says this is a "climate change catastrophe" and that the people of Pakistan, especially in the poorer communities, have been the worst affected.
The solutions will not be quick – acres of land are waterlogged and the water is not receding fast enough for any rebuilding to take place here.
There's not much to do for the people but to wait – wait for the rains to stop, wait for the water to go down, wait for more resources to be allocated to these kinds of communities.
In the meantime, life continues to be difficult.
Read from: https://www.bbc.com/news/world-asia-62699886
Burkina Faso military says it has seized power
The military in Burkina Faso says it has seized power and overthrown President Roch Kaboré.
The announcement was made on state television by an army officer, who cited the deteriorating security situation for the military takeover.
Mr Kaboré had faced growing discontent over his failure to stem an Islamist insurgency.
His whereabouts are unclear, but the officer said that all those detained were in a secure location.
The coup comes a day after troops seized barracks, and gunshots were heard in the capital, Ouagadougou.
Earlier, the ruling People's Movement for Progress (PMP) party said that both Mr Kaboré and a government minister had survived an assassination attempt.
On Sunday, mutinying troops demanded the sacking of military chiefs and more resources to fight militants linked to the Islamic State (IS) group and al-Qaeda.
The army statement said Mr Kaboré had failed to unite the nation and to deal effectively with the security crisis which "threatens the very foundations of our nation".
The statement was issued in the name of a group not heard of previously, the Patriotic Movement for Safeguard and Restoration or MPSR, its French acronym.
Although read out by another officer, the statement was signed by Lt-Col Paul-Henri Sandaogo Damiba, who is believed to be the coup leader and a senior commander with years of experience fighting the Islamist militants.
The statement said that parliament and the government had been dissolved, and the constitution suspended, but promised a "return to constitutional order" within a "reasonable time".
The military also announced the closure of Burkina Faso's borders.
UN chief António Guterres condemned the coup and called on the military to "ensure the protection and the physical integrity" of Mr Kaboré.
Earlier, the news of his detention was received with cheers and celebrations in Ouagadougou, reports the BBC's senior Africa correspondent Anne Soy.
Earlier video footage from the capital appeared to show armoured vehicles – reportedly used by the presidency – peppered with bullet holes and abandoned in the street.
Mobile internet services have been disrupted, though fixed-line internet and domestic wi-fi are working.
Mr Kaboré has not been seen in public since the crisis began, but two posts appeared on his Twitter account before the officer announced he had been toppled.
The later one called on those who had taken up arms to lay them down "in the higher interest of the nation". Earlier, Mr Kaboré congratulated the national football team on their win in an Africa Cup of Nations match.
It is unclear who posted the tweets.
Some security sources say the president and other government ministers are being held at the Sangoulé Lamizana barracks in the capital.
On Sunday, hundreds of people came out in support of the soldiers and some of them set fire to the ruling party's headquarters.
The coup comes a week after 11 soldiers were arrested for allegedly plotting to overthrow Mr Kaboré.
But discontent has been growing in Burkina Faso over the government's failure to defeat an Islamist insurgency in the country since 2015.
That escalated in November, when 53 people, mainly members of the security forces, were killed by suspected jihadists. And on Saturday, a banned rally to protest against the government's perceived failure led to dozens of arrests.
Mutinying soldiers made several demands, including: the removal of the army's chief of staff and the head of the intelligence service; more troops to be deployed to the front line; and better conditions for the wounded and soldiers' families.
Similar troubles in neighbouring Mali led to a military coup in May 2021 – one that was broadly welcomed by the public.
Burkina Faso is now the third West African country to witness a military takeover in recent years. Guinea and Mali have had sanctions imposed on them by Ecowas to press them to return to constitutional order.