Black women are the backbone of the Democratic Party. And they feel the heavy burden of this election.
She is racing to wrap up her job as a grant-writing consultant. She is racing to get her 10-year-old..
She is racing to wrap up her job as a grant-writing consultant. She is racing to get her 10-year-old son logged in to start remote learning at home since a case of coronavirus shut down his school. She is racing to drive her two-year-old daughter over to grandma's house for daycare. But now on top of that, three times a week, 29-year-old Caldwell-Liddell is racing to get Detroit voters, especially the black community, to, in her words, "wake up." Four years after Donald Trump became the first Republican to win Michigan since 1988, Caldwell-Liddell is working as a one-woman canvassing machine in downtown Detroit to prevent it from happening again, fighting against what she says is an apathy within the community toward politics. Trump's Michigan victory was one of the biggest surprises of 2016. He won the state by just 10,704 votes. Wayne County, which includes Detroit, the largest Black-majority city in the country, was critical to that result. Hillary Clinton still won the county by a large margin — but she received about 76,000 fewer votes than President Barack Obama did in 2012. Visit CNN's Election Center for full coverage of the 2020 race. While Caldwell-Liddell is motivated and focused on preventing Trump's re-election, she also says, "the Democratic Party has not done a good job at all in taking care of communities like ours." And it's she clear she struggles with that burden."(Democrats) take us for granted because they know that Black women are going to help them get the big wins they need, where it matters. But they also know that they can give us the bare minimum, knowing that we aren't going to choose the other side," she said. ""It says we still got a long way to go when the backbone of the country is the most neglected piece of the country," she said.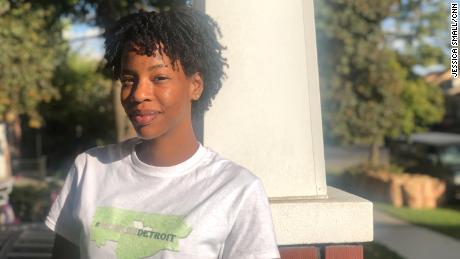 She isn't coordinating with any campaign, but she is pounding the pavement at bus stops and outside convenience stores to try to make sure Detroiters are registered to vote and are going to vote. Many of them are disillusioned by the systemic racism they see within their city, the President's response to the coronavirus pandemic that has hit minority communities hardest and the economic inequality that has persisted for decades in Detroit and is only made worse by the pandemic. "I know for a fact that if just a portion of the folks who sat home in 2016 made it to the polls, had someone to empower them to do it, that could have changed the outcome for Michigan," Caldwell-Liddell said."On countless days when I go out and canvass, I will go up and talk to someone and they'll say, 'Listen, lady, I know that what you're saying is probably right. I know that you just want me to get out and vote. But I'm sorry. I've got gotta feed my kids. I don't even have time to listen to what you're saying,'" she said. "That's a part of why I started doing this work with Mobilize Detroit…because at this point, this is our survival now. What happens politically is a part of our survival. And there's no escaping that."
Fighting against apathy
Amber Davis, 29, is one of those people who sat out the 2016 election after supporting Obama in 2012. "I didn't like Trump and I didn't like Hillary," Davis said. "I didn't really care who won that election." Davis, a part-time massage therapist and full-time student pursuing a career in IT, says she cares now. She's voting for Biden, even though she says she doesn't really like him either. "If I get Trump out of office by voting for Biden, then so be it," she said. Davis adds it is the President's handling of the pandemic that clinched her vote this time. "This coronavirus and everything that's going on, it is horrible. So he got to go."She says she is disillusioned by politics in general because she says no matter which party wins the White House, her life doesn't get any easier.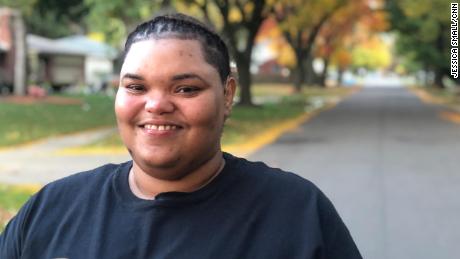 "We feel like our votes don't matter. We feel like it's just a waste of time," Davis said. Caldwell-Liddell knows what it is like to not have time for politics, especially presidential politics. In just the past year, she says her family was forced out of a home they had rented for the past four years. Then the next home had plumbing issues and instead of fixing it, the landlord simply just had the water shutoff, requiring Caldwell-Liddell to take them to court to get anything fixed. In the midst of all of this, she lost her pregnancy."I ended up having a stillbirth at seven months pregnant, living in a house with no water in a city that did not care to take care of me," she said. "And things like that are allowed to happen because when folks like me are too worried about surviving to pay attention to what's happening down at City Hall."She is now turning that apathy into action. "I know that as a voter and as a Black woman, that there is a job that I have to do in order to get a representative who will come close to protecting my people in office. But I'm not necessarily excited about having another representative there who really does not inherently understand the needs of our community."Caldwell-Liddell is voting for Democratic presidential nominee Joe Biden, spending free time that she doesn't have trying to get others in Detroit to vote for him, but she's not excited about it. This election for her is more a vote against Trump. "I don't really have many feelings towards Joe Biden one way or the other," she says. "Kamala (Harris) makes me feel a lot better than Joe, to be honest with you." She says getting Trump out of office means life or death for her community. "Donald Trump is a president that does not care about people that look like me, about people like me, in any shape or form."Sitting out any election is something 63-year-old Markita Blanchard simply does not understand. "I've always voted straight down the street," she says while sitting in her backyard filled with the plants and flowers she shows off with pride. "There is no justifiable excuse not to.""People died for that right for us to have the opportunity to vote," she added. Like Caldwell-Liddell, Blanchard has also lived in Detroit her whole life. She and her three brothers still live in the house they grew up in, now all taking care of their 93-year-old mother.Blanchard works as a janitor at a local public school. While she describes her childhood in the westside of Detroit as a "fairytale," she describes life today as a struggle. "We're not exactly living paycheck to paycheck. I consider myself living paycheck and a half to paycheck," she said. The main street in her neighborhood looks nothing like how Blanchard describes it from her childhood. A "ghost town" now sits where grocery stores, dry cleaners, Black-owned gas stations and a movie theatre once stood. This economic collapse is one reason Blanchard is voting for Biden. She says she's with him "100%," reserving more colorful language to describe Trump.
Arizona GOP chair Kelli Ward rejects calls for audit of party elections
Kelli Ward on Friday rejected calls for an audit into her recent reelection as the chair of the Arizona Republican Party and other party races, arguing that the state GOP does not have the structure to review them.
"We don't have the structure to be able to do an audit," she said on KFYI's radio show "The Conservative Circus with James T. Harris," adding, "But we welcome their input to make elections bigger."
She added that the structure for an audit "doesn't exist in our process, our procedures, our bylaws, in statute."
Ward, one of the most fervent proponents of former President Donald Trump's false claim that the 2020 election was stolen from him, claimed not only that an audit was not possible, but that calls for it were being pushed as a way to attack her.
She argued that the only people demanding an audit are Sergio Arellano — a Tucson small business owner who challenged Ward for the top state party job — and people who were part of his campaign.
Arellano did not respond to CNN's request for a response to Ward on Friday.
Last week, Ward secured a second stint as chair of the state party, beating Arellano by 3 percentage points. Arellano on Thursday requested an audit of the votes cast in the race for Arizona GOP chair and other party elections.
"I anticipate the State GOP will do a solid job here and provide election officials around the state with an example of how to conduct a timely audit and how important ballot security and paper backups are," Arellano said in a statement posted to Facebook.
He claimed that a "reversal of the stated results" in another party race prompted a "number of state committeemen" to raise concerns and reach out to him to ask that he request an audit. Sandra Dowling was announced the winner of a bid for Arizona's 8th congressional district's member-at-large committee, only to have the win pulled back because of an error.
During the radio interview, Ward went on to attack the media, saying stories about the possible audit were trying to "gin up something that just doesn't exist" and that "everything was above board" with the election.
Ward's tenure as chair of the party has been defined by her unwavering support for Trump, having repeatedly backed his maneuvers to overturn the presidential election results, including in Arizona, which Joe Biden won by more than 10,000 votes.
The former vice president became the second Democrat since Harry Truman in 1948 to win Arizona in 2020. In the wake of Biden's win, Ward lashed out at some Republicans who backed the new President, including Cindy McCain, the late Sen. John McCain's widow, and former Republican Sen. Jeff Flake.
Senate impeachment trial arguments to start February 9
The second Senate impeachment trial of former President Donald Trump is scheduled to begin on February 9 after Senate leaders reached a deal to push it back, giving Trump's legal team more time to prepare and Senate Democrats a chance to consider Covid-19 legislation and to confirm President Joe Biden's Cabinet.
House Democrats will formally walk over the single article of impeachment against Trump to the Senate on Monday evening, but the agreement between Senate Majority Leader Chuck Schumer and Senate Minority Leader Mitch McConnell will push back the substance of the trial until February. Without an agreement, the trial would have started the afternoon after the article was transmitted to the Senate.
"We have made good progress in our efforts to determine the timing and structure of the impeachment trial of Donald J Trump," Schumer said Friday evening announcing the trial schedule, saying it would begin the week of February 8.
Under the agreement, the ceremonial functions of the trial will occur next week, with the articles being presented on Monday and senators being sworn in as jurors on Tuesday. Then the trial will pause, while the House impeachment managers and Trump's legal team exchange pre-trial briefs for two weeks. The final briefs would be due on February 9, allowing the trial itself to begin.
A delay to the impeachment trial also makes sense for Democrats because the trial had threatened to stall the confirmation of Biden's Cabinet, as well as put a stop to any consideration of another Covid stimulus package, as Senate Republicans said Friday they would not allow the Senate to confirm nominees at the same time the trial is going on. The trial's timing had been one of several logistical hurdles the Senate is tackling amid broader negotiations between Schumer and McConnell over how the 50-50 Senate will be governed.
McConnell had proposed delaying the trial until early February, arguing that Trump's legal team should be given ample time to prepare after the House's swift impeachment of Trump for "incitement of insurrection" earlier this month. The timeline Schumer announced Friday evening is one week earlier that what McConnell had proposed, but the Kentucky Republican's team praised the agreement Friday." This is a win for due process and fairness," said McConnell spokesman
The length of the trial is still an open question and will depend both on whether the House impeachment managers seek to call witnesses and the length of senators' questions for the legal teams. But sources say most believe the trial will be shorter than the three-week 2020 impeachment trial for Trump.
The timing for the trial had remained unsettled on Friday morning as the negotiations continued between Senate leaders. On Friday morning, Schumer and House Speaker Nancy Pelosi said the House would transmit the impeachment article to the Senate on Monday, in effect setting a deadline for the Senate to cut a deal on the trial timing.
"We are respectful of the Senate's constitutional power over the trial and always attentive to the fairness of the process, noting that the former president will have had the same amount of time to prepare for trial as our Managers," Pelosi said Friday. "Our Managers are ready to begin to make their case to 100 Senate jurors through the trial process."
Republicans made clear Friday that Biden's agenda would have been frozen until the Senate finished the trial, had it taken place next week.
"We won't be doing any confirmations, we won't be doing any Covid-19 relief, we won't be doing anything else other than impeaching a person who's not even president," said Sen. John Cornyn of Texas, a member of Senate GOP leadership.
Cornyn said Republicans haven't given consent to bifurcate the trial days to take up nominations during the trial. "No, it's not gonna happen," he said.
In order to convict Trump, Democrats need a two-thirds majority, meaning at least 17 Republicans would have to vote to convict Trump, assuming that all 50 Democrats do. Ten House Republicans joined with Democrats to impeach.
Alaska Sen. Lisa Murkowski, considered a swing GOP vote, said Friday that the process "has to be fair."
"My thought process is to see what happens as this unfolds," she said. "You know, we learned this morning that Speaker Pelosi is going to transmit the article on Monday. As I understand, right now, there hasn't been an agreed-to schedule on the pre-trial. I think what McConnell laid down was eminently reasonable, in terms of making sure that we got process. Got to have process and the process has to be fair. So yeah, so we've got to get started, I guess."
The Biden administration has publicly taken a hands-off approach to the impeachment process has publicly taken a hands-off approach to the impeachment process. Biden has never had a strong appetite for impeaching Trump, advisers say, but he also has little desire for allowing the Senate trial to drag out any longer than necessary.
"We need to move past this," a Biden official told CNN. "The only way for that to happen is for the trial to begin."
But Biden said at a White House announcement Friday that he saw the upside to waiting on the trial. "The more time we have to get up and running and meet these crises, the better," he said.
'It will be a full trial'
A faction of Senate Republicans has argued that the impeachment trial would be unconstitutional because Trump has already left office. It's an argument that Sen. Lindsey Graham, a South Carolina Republican, has suggested Trump's legal team should adopt.
"I think it's obvious that the post-presidential impeachment has never occurred in the history of the country for a reason, that it's unconstitutional, that it sets a bad precedent for the presidency and it continues to divide the nation," Graham said Friday.
But Schumer pushed back on that argument, noting that both liberal and conservative legal scholars have said there is precedent for an impeachment trial of a former official.
"The Senate will conduct a trial of the impeachment of Donald Trump," Schumer said. "It will be a full trial. It will be a fair trial. But make no mistake, there will be a trial, and when that trial ends, senators will have to decide if they believe Donald John Trump incited the insurrection against the United States."
McConnell said Friday that the Senate should give Trump a "full and fair process" to mount his impeachment defense.
"This impeachment began with an unprecedentedly fast and minimal process over in the House. The sequel cannot be an insufficient Senate process that denies former President Trump his due process or damages the Senate or the presidency itself," McConnell said. "Senate Republicans strongly believe we need a full and fair process where the former president can mount a defense and the Senate can properly consider the factual, legal, and constitutional questions at stake."
'QAnon Shaman' Jake Angeli charged over pro-Trump riots
A prominent follower of the baseless conspiracy theory QAnon has been charged over the US Capitol riots.
Jacob Anthony Chansley, known as Jake Angeli, is in custody on charges including violent entry and disorderly conduct.
Mr Chansley, who calls himself the QAnon Shaman, is allegedly the man pictured with a painted face, fur hat and horns inside Congress on Wednesday.
Donald Trump faces another impeachment charge for his role in the unrest.
Democrats accuse the president of encouraging the riots, in which five people died.
The FBI has been appealing to the public to help bring the assailants to justice.
Mr Chansley has not commented publicly on the charges.
A statement from the federal attorney for Washington DC said: "It is alleged that Chansley was identified as the man seen in media coverage who entered the Capitol building dressed in horns, a bearskin headdress, red, white and blue face paint, shirtless, and tan pants.
"This individual carried a spear, approximately 6 feet in length, with an American flag tied just below the blade."
The statement said police had also detained a man from Florida believed to have been photographed carrying House Speaker Nancy Pelosi's lectern from the House of Representatives chamber.
Adam Johnson, 36, is being held on charges including one count of theft of government property and one count of violent entry.
Also among those charged is West Virginia lawmaker, Derrick Evans. He is alleged to have posted a video of himself online, standing outside the building with Trump supporters, and then going inside.
He was arrested on Friday and is also accused of violent entry and disorderly conduct on Capitol Grounds, the Department of Justice statement said.
More than a dozen people have now been charged in offences related to the assault on the Capitol building. They include an Alabama man allegedly found with 11 Molotov cocktails near the unrest.
Mr Trump is due to leave office in 11 days. Democrats in the House of Representatives plan to introduce an article of impeachment against him on Monday, for "incitement of insurrection".