Black women are the backbone of the Democratic Party. And they feel the heavy burden of this election.
She is racing to wrap up her job as a grant-writing consultant. She is racing to get her 10-year-old..
She is racing to wrap up her job as a grant-writing consultant. She is racing to get her 10-year-old son logged in to start remote learning at home since a case of coronavirus shut down his school. She is racing to drive her two-year-old daughter over to grandma's house for daycare. But now on top of that, three times a week, 29-year-old Caldwell-Liddell is racing to get Detroit voters, especially the black community, to, in her words, "wake up." Four years after Donald Trump became the first Republican to win Michigan since 1988, Caldwell-Liddell is working as a one-woman canvassing machine in downtown Detroit to prevent it from happening again, fighting against what she says is an apathy within the community toward politics. Trump's Michigan victory was one of the biggest surprises of 2016. He won the state by just 10,704 votes. Wayne County, which includes Detroit, the largest Black-majority city in the country, was critical to that result. Hillary Clinton still won the county by a large margin — but she received about 76,000 fewer votes than President Barack Obama did in 2012. Visit CNN's Election Center for full coverage of the 2020 race. While Caldwell-Liddell is motivated and focused on preventing Trump's re-election, she also says, "the Democratic Party has not done a good job at all in taking care of communities like ours." And it's she clear she struggles with that burden."(Democrats) take us for granted because they know that Black women are going to help them get the big wins they need, where it matters. But they also know that they can give us the bare minimum, knowing that we aren't going to choose the other side," she said. ""It says we still got a long way to go when the backbone of the country is the most neglected piece of the country," she said.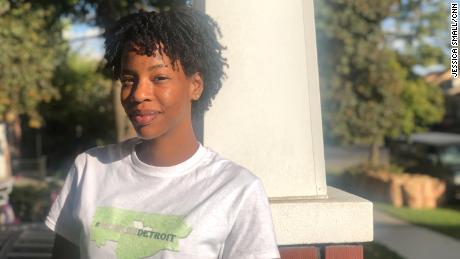 She isn't coordinating with any campaign, but she is pounding the pavement at bus stops and outside convenience stores to try to make sure Detroiters are registered to vote and are going to vote. Many of them are disillusioned by the systemic racism they see within their city, the President's response to the coronavirus pandemic that has hit minority communities hardest and the economic inequality that has persisted for decades in Detroit and is only made worse by the pandemic. "I know for a fact that if just a portion of the folks who sat home in 2016 made it to the polls, had someone to empower them to do it, that could have changed the outcome for Michigan," Caldwell-Liddell said."On countless days when I go out and canvass, I will go up and talk to someone and they'll say, 'Listen, lady, I know that what you're saying is probably right. I know that you just want me to get out and vote. But I'm sorry. I've got gotta feed my kids. I don't even have time to listen to what you're saying,'" she said. "That's a part of why I started doing this work with Mobilize Detroit…because at this point, this is our survival now. What happens politically is a part of our survival. And there's no escaping that."
Fighting against apathy
Amber Davis, 29, is one of those people who sat out the 2016 election after supporting Obama in 2012. "I didn't like Trump and I didn't like Hillary," Davis said. "I didn't really care who won that election." Davis, a part-time massage therapist and full-time student pursuing a career in IT, says she cares now. She's voting for Biden, even though she says she doesn't really like him either. "If I get Trump out of office by voting for Biden, then so be it," she said. Davis adds it is the President's handling of the pandemic that clinched her vote this time. "This coronavirus and everything that's going on, it is horrible. So he got to go."She says she is disillusioned by politics in general because she says no matter which party wins the White House, her life doesn't get any easier.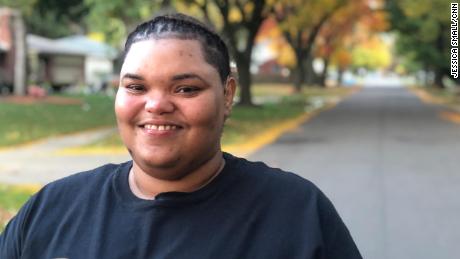 "We feel like our votes don't matter. We feel like it's just a waste of time," Davis said. Caldwell-Liddell knows what it is like to not have time for politics, especially presidential politics. In just the past year, she says her family was forced out of a home they had rented for the past four years. Then the next home had plumbing issues and instead of fixing it, the landlord simply just had the water shutoff, requiring Caldwell-Liddell to take them to court to get anything fixed. In the midst of all of this, she lost her pregnancy."I ended up having a stillbirth at seven months pregnant, living in a house with no water in a city that did not care to take care of me," she said. "And things like that are allowed to happen because when folks like me are too worried about surviving to pay attention to what's happening down at City Hall."She is now turning that apathy into action. "I know that as a voter and as a Black woman, that there is a job that I have to do in order to get a representative who will come close to protecting my people in office. But I'm not necessarily excited about having another representative there who really does not inherently understand the needs of our community."Caldwell-Liddell is voting for Democratic presidential nominee Joe Biden, spending free time that she doesn't have trying to get others in Detroit to vote for him, but she's not excited about it. This election for her is more a vote against Trump. "I don't really have many feelings towards Joe Biden one way or the other," she says. "Kamala (Harris) makes me feel a lot better than Joe, to be honest with you." She says getting Trump out of office means life or death for her community. "Donald Trump is a president that does not care about people that look like me, about people like me, in any shape or form."Sitting out any election is something 63-year-old Markita Blanchard simply does not understand. "I've always voted straight down the street," she says while sitting in her backyard filled with the plants and flowers she shows off with pride. "There is no justifiable excuse not to.""People died for that right for us to have the opportunity to vote," she added. Like Caldwell-Liddell, Blanchard has also lived in Detroit her whole life. She and her three brothers still live in the house they grew up in, now all taking care of their 93-year-old mother.Blanchard works as a janitor at a local public school. While she describes her childhood in the westside of Detroit as a "fairytale," she describes life today as a struggle. "We're not exactly living paycheck to paycheck. I consider myself living paycheck and a half to paycheck," she said. The main street in her neighborhood looks nothing like how Blanchard describes it from her childhood. A "ghost town" now sits where grocery stores, dry cleaners, Black-owned gas stations and a movie theatre once stood. This economic collapse is one reason Blanchard is voting for Biden. She says she's with him "100%," reserving more colorful language to describe Trump.
Dr Anthony Fauci to step down from government in December
Anthony Fauci will step down as head of the National Institute of Allergy and Infectious Diseases (NIAID) and chief medical adviser to President Joe Biden.
Dr Fauci, who served as director of the NIAID for 38 years, said he would leave both positions in December to "pursue the next chapter" of his career.
"It has been the honour of a lifetime to have led the NIAID," Dr Fauci, 81, said in a statement.
He became the face of the nation's Covid-19 response during the pandemic.
On Monday, Mr Biden thanked him for his "spirit, energy, and scientific integrity".
"The United States of America is stronger, more resilient, and healthier because of him," the president wrote in a statement.
In July, Dr Fauci said he would retire before the end of Mr Biden's current term.
Dr Fauci first joined the National Institutes of Health in 1968, when Lyndon Johnson was president.
He was appointed to director of the NIAID, the infectious national disease branch, in 1984, while the AIDS epidemic raged. He has served under seven presidents since – from Republican Ronald Reagan to Democrat Joe Biden.
It wasn't until 2020, with the onset of the coronavirus pandemic, that he became the most famous doctor in America.
Dr Fauci became a frequent media presence in the US and abroad as he emerged as the face of America's fight against coronavirus. He also became polarising figure during that time.
While he gained fans – a petition to name him People magazine's "Sexiest Man Alive" in 2020 gathered more than 28,000 signatures – he also angered some on the right who saw him as the public face of lockdowns and mask mandates.
And he occasionally clashed with former president Donald Trump over the pandemic response.
Though Dr Fauci is leaving government, he made clear on Monday that he was not retiring from medicine altogether.
"I plan to pursue the next phase of my career while I still have so much energy and passion for my field," he said.
Dr Fauci, who will turn 82 on 24 December, did not set an exact date for his departure.
Read from: https://www.bbc.com/news/world-us-canada-62637432
White House officials growing anxious over anticipated surge of migrants next month
White House officials are increasingly anxious about an expected migrant surge at the end of May coinciding with the repeal of a restrictive Trump-era border policy that has let them turn people away.
The political fallout over the Biden administration's decision to terminate a Trump-era pandemic restriction, known as Title 42, on the US-Mexico border has put into sharp focus the precarious position for the White House — between its goals to welcome immigrants and weighing using drastic Trump-era policies to try to stem the flow of migrants arriving at the border.
"People are worried about where this is going and weathering the storm," a source familiar with discussions told CNN.
One source who is in regular contact with senior-most administration officials about immigration policy said concern at the White House about the situation at the border has only grown as the midterm elections approach — and all the more so in recent days after the announcement that Title 42 will officially end in May.
"It was always going to be hard," the person said, "and now they're closer to the midterms."
Another source close to the White House described a "high level of apprehension" in recent weeks.
"They watch the border numbers every day," the person said. "They're very aware of what the situation is at the border."
White House chief of staff Ron Klain and President Joe Biden's domestic policy adviser Susan Rice — two powerful political voices in the administration — are among the top administration officials who have been intimately involved in discussing the situation.
A political minefield
Issues related to the US-Mexico border and the entry of migrants into the country have long been politically fraught for both Republican and Democratic administrations.
Biden, who campaigned against Trump-era immigration policies, has received heated criticism from Republicans for his handling of border enforcement. But he's also faced pushback from inside his own party for continuing to implement some of his predecessor's policies that are unpopular with progressives.
White House press secretary Jen Psaki highlighted the administration's plans in a Thursday press briefing, saying: "I would note the Department of Homeland Security also put together a preparedness plan to continue addressing irregular migration that involves surging personnel and resources to the border, improving border processing, implementing mitigation measures and working with other countries in the hemisphere to manage migration."
In the span of a year, Biden has already grappled with a record number of unaccompanied migrant children at the US southern border and thousands of primarily Haitian migrants who camped in deplorable conditions under a bridge in Del Rio, Texas. Those incidents — which were used as fodder for Republicans looking to criticize the administration — are still fresh on the minds of officials bracing for busy weeks ahead.
"We can't have another Del Rio happen to us," US Border Patrol Chief Raul Ortiz said last month.
Avoiding that, though, might include the continued use of policies the administration has repeatedly criticized, like the Trump-era "remain in Mexico" policy that requires non-Mexican migrants to stay in Mexico until their US immigration court date. The policy, which restarted late last year after a court ruling, marked an unprecedented departure from previous protocols. Even so, the end of one Trump-era policy may give away to another growing in numbers.
"We will employ much greater numbers post-Title 42," a Homeland Security official recently told reporters, referring to the "remain in Mexico" policy, which is formally called Migrant Protection Protocols.
"We are under a court order to reimplement MPP in good faith and as part of those good faith efforts, we have been systematically increasing our enrollment under MPP," the official added.
The Department of Homeland Security has twice issued a memo trying to terminate the "remain in Mexico" policy, outlining its shortcomings and arguing it puts migrants in harm's way, but the court ruling forced the administration to restart the policy. The administration is appealing the ruling.
As of April 3, nearly 2,000 people have been sent back to Mexico under the policy, according to the International Organization for Migration. That number is expected to grow, though given long-processing times and numerous other safeguards the administration has tried to implement, it's unlikely to expand enough to stem the flow of migrants
Tens of thousands of migrants could surge to the border once restrictions lift
Still, Republicans and some Democrats have expressed concern over the US Centers for Disease Control and Prevention's decision to revoke Title 42 next month, arguing that it's a reckless decision amid pent-up demand to come to the US among migrants who are facing deteriorating conditions at home.
Intelligence assessments have found that people are in a "wait and see" mode and trying to determine when they have the best likelihood of entry into the US, according to a federal law enforcement official, adding that some of the 30,000 to 60,000 people could seek entry within hours if the CDC rule is repealed.
The White House has held interagency meetings about the intelligence and the situation more broadly, the official said.
By pulling back Title 42, the administration is returning to the usual operating procedures that have been in place for decades for processing migrants. That includes releasing migrants who claim asylum into the US, sometimes under an alternative form of detention, or detaining migrants and deporting them back to their home country.
But given conditions in Latin America, which was hit particularly hard by the coronavirus pandemic, more migrants may want to journey to the US southern border.
"As a result of the CDC's termination of its Title 42 public health order, we will likely face an increase in encounters above the current high levels. There are a significant number of individuals who were unable to access the asylum system for the past two years, and who may decide that now is the time to come," US Customs and Border Protection Commissioner Chris Magnus said in a statement.
The Department of Homeland Security released detailed plans for varying scenarios that could unfold at the US-Mexico border in the coming weeks.
Three planning scenarios have been devised to trigger what resources might be needed. The first scenario is where current arrest figures are, the second scenario is up to 12,000 people a day and the third scenario is up to 18,000 people a day, according to a planning document.
The Department of Homeland Security has set up a "Southwest Border Coordination Center" to coordinate a response to a potential surge among federal agencies. Homeland Security Secretary Alejandro Mayorkas appointed FEMA Region 3's regional administrator, MaryAnn Tierney, in March to head the center.
As part of the preparation, CBP has deployed 400 agents from other parts of the US border to assist operations on the southern border, increased number of Immigration and Customs Enforcement personnel to assist in processing migrants, called on volunteers in the DHS workforce, and contracted to move thousands of migrants if need be.
CBP is also preparing to add new temporary facilities to alleviate any overcrowding. According to the DHS planning document, CBP holding facilities can hold over 16,000 migrants and expand to 17,000 with additional facilities opening in early April. Existing contracts can also be expanded to meet needs if there are up to 30,000 migrants in custody in a worst-case scenario.
But despite those plans, some Democrats are wary about moving forward with a return to the usual protocols on the border. Georgia Democratic Sen. Raphael Warnock, who is up for reelection, doubled down on his opposition to reversing Title 42.
"Senator Warnock believes in protecting the humanity of migrants at the border, but before this policy is rescinded, the Administration should present a plan for how it will ensure our border security has the manpower, infrastructure, humanitarian and legal resources they need to prevent this policy change from making an already dire humanitarian situation worse," a spokesperson for Warnock said in a statement.
LA jail guards routinely punch incarcerated people in the head, monitors find
Los Angeles jail guards have frequently punched incarcerated people in the head and subjected them to a "humiliating" group strip-search where they were forced to wait undressed for hours, according to a new report from court-appointed monitors documenting a range of abuses.
The Los Angeles sheriff's department (LASD), which oversees the largest local jail system in the country, appears to be routinely violating use-of-force policies, with supervisors failing to hold guards accountable and declining to provide information to the monitors tasked with reviewing the treatment of incarcerated people.
The report, filed in federal court on Thursday, adds to a long string of scandals for the department. The monitors – first put in place in 2014 to settle a case involving beatings – suggested that some problems in the jails appeared to be getting worse after they visited the facilities in December 2021.
The monitors, Robert Houston, a former corrections official, and Jeffrey Schwartz, a consultant, alleged that the use of "head shots", meaning punches to the head, had been "relatively unchanged in the last two years or more, and may be increasing". They also wrote that deputies who used force in violation of policy were at times sent to "remedial training" but that "actual discipline is seldom imposed". And supervisors who failed to document violations were also "not held accountable" .
The authors cited one incident in which a deputy approached a resident who had "walked away from him" while he was being escorted. "With no hesitation, Deputy Y grabbed [his] chest and slammed him into the wall. Deputy Y punched [him] 5‐9 times in the head, and Deputy Z punched [him] 6‐8 times in the head as they took [him] to the floor because they 'feared' that the Inmate might become assaultive".
The report also documented an incident on 7 September 2021, when there were reports that a firearm "might have been smuggled" into Men's Central jail. Guards responded by instituting a "shakedown" and strip-search of residents.
"They said they were taken out of their cells in the morning, given no explanation (except for one inmate who said he was told the reason for the search by a deputy), strip-searched, then walked naked en masse through the jail and down to the room with the X‐ray machine," the report said, citing complaints from jail residents. "Passing large numbers of male and female staff members, some of whom … mocked them or made other humiliating comments".
Those interviewed said they eventually got underwear, but still no shoes, and were taken to a yard where they were forced to wait for hours until they returned to their cells later that night.
LASD did not immediately respond to a request for comment about the report on Friday.
The monitors said they had written officials in January to ask if this was standard procedure, and whether the residents were given food, water and access to bathrooms while waiting. According to the monitors, the department responded that it had completed a "report" about the incident with "corrective action plans", but in the three months since, it had not sent documents or further information.
The report raised further concerns about the department's use of the "Wrap" device, which functions like a full-body restraining jacket and is used to "immobilize" people. The Wrap procedures pose a serious risk of asphyxiation, and "the continuing practice … cannot be justified", the monitors said.
The department had failed to fulfill its requirement to write a Wrap policy that the monitors had approved, and it had further misled the monitors about how the jail was using the device, the report alleged: "The practices used with Wrap appear to be almost diametrically opposed to the way in which the Department explained that Wrap was being used."
In 2018, a man in jail in northern California died of asphyxiation after being subjected to the Wrap device, sparking widespread scrutiny of the practice.
The LA jails have for years been plagued by corruption and obstruction of justice scandals, with the former sheriff Lee Baca and his second in command both convicted in cases stemming from misconduct investigations. Guards in the Men's Central jail have also long been accused of being part of a "deputy gang", known for allegedly using excessive force. The department has also faced mounting questions this year about the death of a 27-year-old in solitary confinement.
"These are not one-time incidents – this is the culture and history of the department," said Mark-Anthony Clayton-Johnson, executive director of Dignity and Power Now, a group that has long been fighting to shut down the Men's Central jail. He said the report reminded him of the misconduct allegations and obfuscation from department leaders in a 2012 case. "After 10 years of exposure, 10 years of scandal, 10 years of reform, this department has had a lot of opportunities to get this right … but has continued to revert back to some of the most vicious attacks on Black and brown people.
"It is clear our loved ones are not safe in the custody of the sheriff's department," he added.
Peter Eliasberg, chief counsel at the ACLU Foundation of Southern California, said it was especially disturbing that the problems seemed to be escalating under sheriff Alex Villanueva, who was elected in 2018: "They are treating incarcerated people in the jails in a sub-human manner … There's just an utter lack of accountability, which ultimately goes to the top."
Helen Jones, an organizer whose 22-year-old son died in LA sheriff's custody in 2009, said she wasn't surprised by the report: "It's been this way for so long, it's just the norm. It's out of control, and there are no consequences."